What is Oktoberfest Bier? And what makes it Special?
During the Fall months, with the arrival of pumpkin spice comes Octoberfest beers. While they are exceedingly delicious beers, the question remains; what is Oktoberfest Beer? And what makes one beer an Octoberfest beer and another a seasonal ale? Is it the flavor or is it the Season? And is there a rule for making a beer and Oktoberfest Beer… Let's find out.
What is Oktoberfest Beer?
What began as the celebration of Crown Prince Ludwig's marriage to  Therese of Saxe-Hildburghausen  in 1810, evolved into a Volksfest, now known as Oktoberfest, the largest beer festival and funfair in the world. Oktoberfest is a festival that lasts for 16 to 18 days every year in the German city of Munich. The Oktoberfest starts in mid to late September and runs until the first weekend in October.  (Read more about Oktoberfest in Munich HERE—>Oktoberfest in Germany)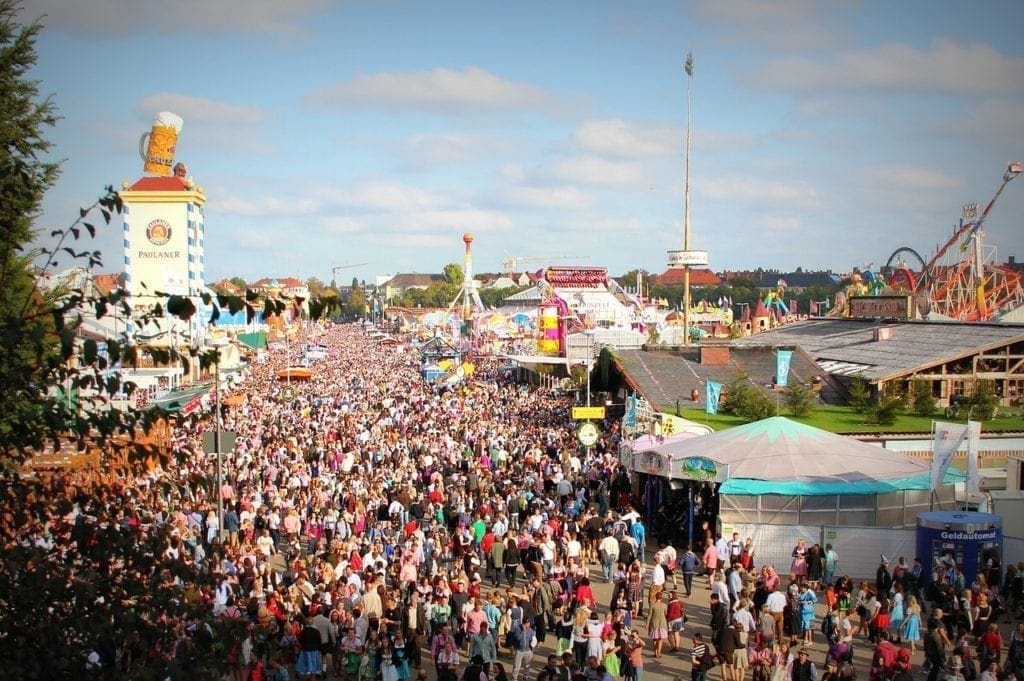 Officials at Oktoberfest only allow beers that conform to certain criteria of the German beer purity law. The original purity law, or Reinheitsgebot, requires that breweries produce their beer according to certain specifications using only these ingredients – water, barley and hops. Yeast, the fourth ingredient, was unknown at the time. The other very important restriction… the beer must be brewed in Munich. 
However, many breweries all over the world make their own Octoberfest style beers. These Oktoberfest style beers are the beers people around the world have come to expect with the changing of the leaves. None of these beers are an official Oktoberfest beer. In fact, there are only six breweries in the world that make real Oktoberfest.
Yes, that's right: only six breweries in the world make real Oktoberfest beer.
Those six breweries are: Augustiner-Bräu, Hacker-Pschorr-Bräu, Löwenbräu, Paulaner, Spatenbräu and Staatliches Hofbräu-München. These breweries are located within the city limits of Munich and conform to the many rules of Germany's beer purity laws. Additionally, all six of these breweries are part of the Club of Munich Brewers, which own the Oktoberfest Beer trademark.
What About American Octoberfest Beer
If only six breweries can make Oktoberfest beer, then where did my local brewery's Octoberfest beer come from?
Due to the popularity of the German Oktoberfest and the beers they serve, beer drinkers from around the world clamored for a chance to have a taste (without paying the airfare). And they also wanted the opportunity to drink the famous beers of Oktoberfest in their homes and local eateries.
While these beers are not official Oktoberfest beers, many breweries do claim to follow the same rules that the six official breweries follow.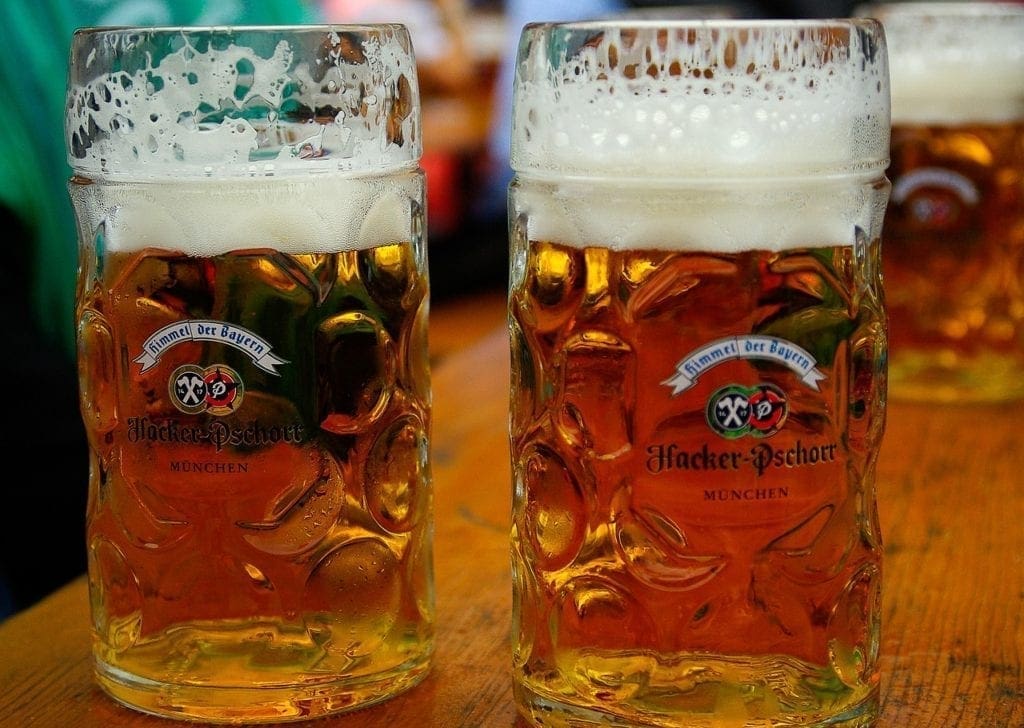 But there is a difference.
American style Octoberfest beer is not the same style of beer as the official beers served during the German festival. This is because Americans prefer a darker version than what Germans have come to expect. In fact, many of the official breweries of Oktoberfest make a separate American style Oktoberfest beer for import to America. (That just sounds sad to me… If you want Oktoberfest Beer, then why not drink Oktoberfest Beer as it is? Otherwise, it's something else, isn't it?)
Unlike the pale and drier tasting official German beers, the American style beer is more amber in color, also known as the Marzen style. The Marzen style is closer to the beer that they served during Oktoberfest in the late 1800s. Attendees of Oktoberfest at the start of the 1800s enjoyed a beer with a very dark color, or a Dunkel lager. Since then the beer has become lighter, to a Helles or Wiesn golden pale lager, which is what they currently serve.
The Marzen style lager that Americans favor uses more caramel malts, giving the beer a sweeter and fuller flavor. Helles and Wiesn beer isn't as sweet as the Marzen; however, it does have a higher alcohol content.  So, beware if you've never had real Oktoberfest Beer… it can sneak up on you.
Which Style of Oktoberfest Beer Is Better?
There's no right answer to this question. It depends upon your flavor palate. Some people prefer a sweeter and darker beer and yet others want higher alcohol content or a crisper tasting beer.
If you like beers from American breweries, you'll prefer the Marzen beers because American brewers trend sweeter. If you prefer IPAs and dry beers, you may prefer the traditional German style. Luckily, the rising popularity of beer has made it easier to find a beer that you desire locally.
Whatever you decide to drink, grab a case of Oktoberfest Beer and some friends, then prepare to have a good time.
Drink Your Oktoberfest Beer from an Official Oktoberfest Stein
These highly collectible mugs are certain to make any Oktoberfest Beer… German or American… taste better!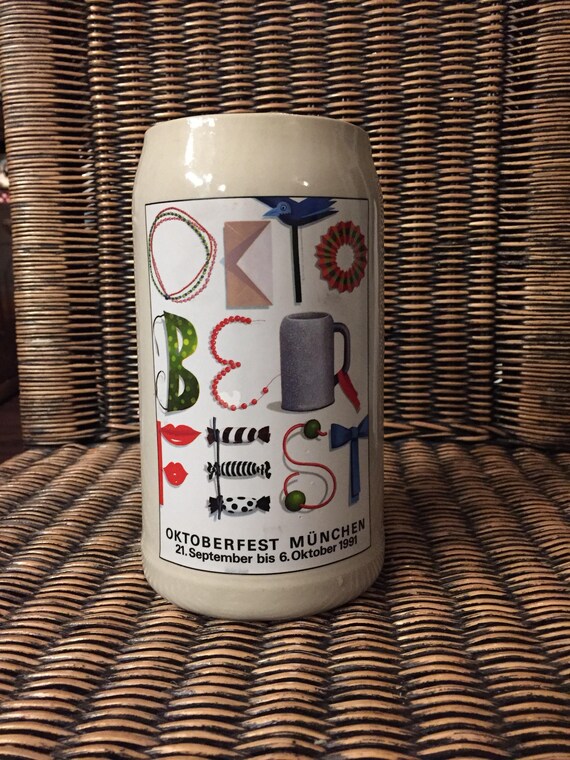 Oktoberfest Munchen Germany Stein 1991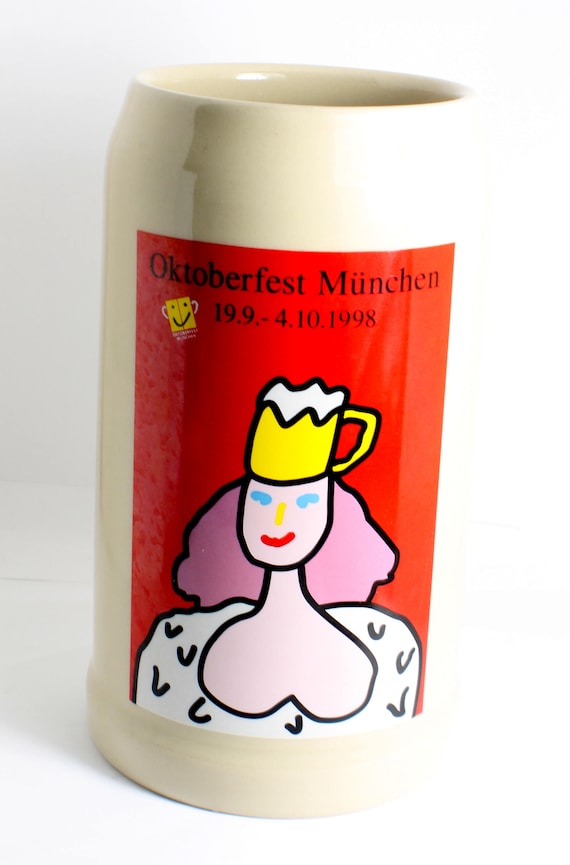 Official Oktoberfest Munchen Collector's Annual Beer Stein 1998

1 Liter Official 2013 Oktoberfest Munich Beer Stein with Lid

Official 2000 MUNICH OCTOBERFEST Beer Stein Mug (MUNCHEN OKTOBERFEST) RASTAL

2011 Munich Oktoberfest Stein – 1 Liter

2008 Munich Oktoberfest Stein – 1 liter

1 Liter Official 2013 Oktoberfest Munich Beer Stein

Official 2012 Munich Oktoberfest Stein – 1 Liter

 or Check HERE–> Beer Stein
Drink Oktoberfest Beer at Oktoberfest!
Guided Tour and Evening in the Höfbrau Tent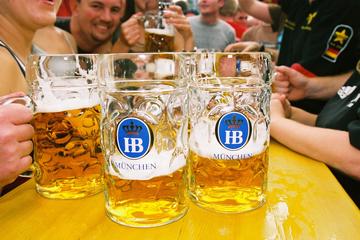 Guided Oktoberfest Tour and Evening at the Hofbräu Tent Including Beer and Oktoberfest Museum Tour
from: Viator