How to Make Spaetlze Noodles- Easy German Spaetzle Recipe
When I was young, I'd watch my mother  make Spaetzle Noodles. She'd fill the Spätzle maker with dough, and down the noodles would fall into the cookpot of boiling water. Spaetzle are as German as…well… potatoes. This noodle side dish is versatile and delicious any way you serve it up. But, like most foods, spätzle taste best when they are hand made (special bonus points if it's your mom cooking, and she's using your Oma's Spaetzle Maker). You can make them yourself with this fairly easy German Spaetzle Recipe.
How to Make Spaetzle
My mom uses the Spaetzle Maker (not the press)… so that is what I'm used to… but there are many other ways to do it. Which ever way you choose, be ready for a wonderful steamy kitchen and a bit of clean up… but it's all worth while when you are eating these wonderful little noodles.
(And remember, if this seems like way too much effort, you can buy pre-made Spaetzle … I've linked them below)
Easy German Spaetlze Recipe
(and I know there are THOUSANDS of Variation out there)
How to Make Spaetlze Noodles- Easy Spaetzle Recipe
Spaetzle, a home made German Noodle, are a wonderful side dish to many meat courses... but also make a delicious main course when baked with cheese.
Ingredients
1

cup

Flour

all purpose

6

Tbl. Milk

2

Eggs

½

tsp

Salt

¼

tsp

Nutmeg

Also… A pot of boiling salted water on the stove.
Instructions
-Mix the flour, salt and nutmeg in a medium bowl

-Whisk the Milk and and Egg together

-Slowly, add the Wet ingredients to the dry ingredients to the dry ingredients. Continuously stirring hard with a wooden spoon!

-Keep stirring until you have a smooth, elastic dough
Shape the Spätzle in one of these ways… :
-Use a

Spätzle maker

… put the dough in the box, and slide it back and forth over the holes, letting the dough fall into the water.

-Use the knife on a board method (see the video below)

Cook the Spätzle for around 8 minutes, stirring occasionally.

Drain and serve
Looking for more great Recipes? Check out my Easy German Cookbook!
80 Classic German recipes made simple for  the American Kitchen!
Easy German Cookbook: 80 Classic Recipes Made Simple

How to Serve Spaetzle
-As a side dish to a roast, covered in gravy –German Roast Beef with Spaetzle
-As a simple side dish … tossed with butter and fresh parsley- Spaetzle with Butter/parsley
-baked with cheese – Oma's German Cheese Spaetzele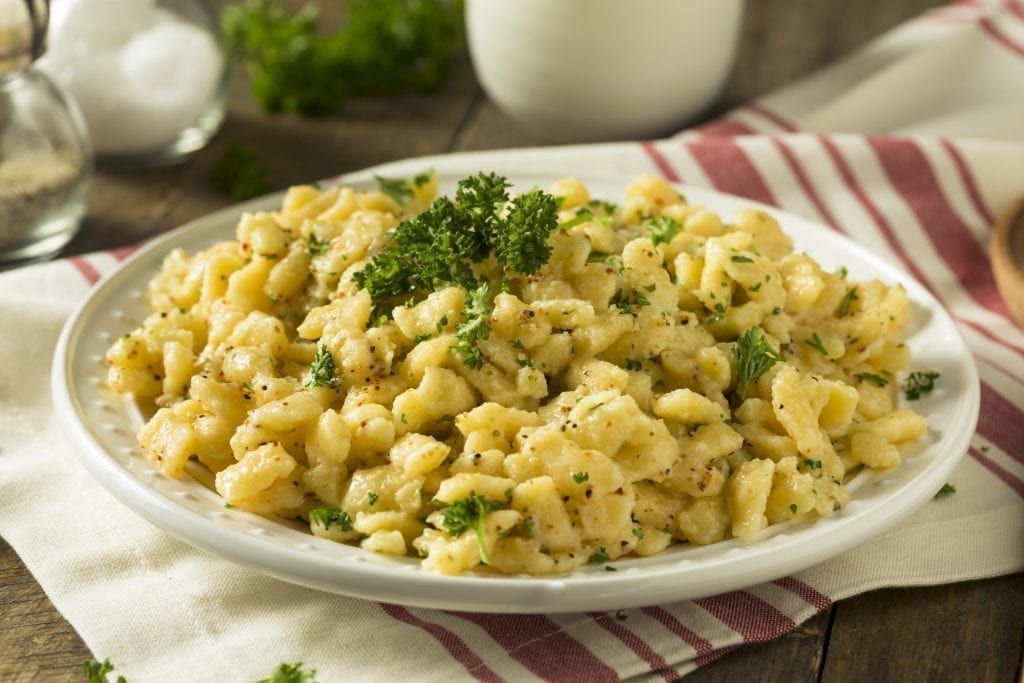 Where to get Spaetzle Makers
You can get any style of Spaetzle Maker you (or your Oma) prefer. My mom liked the one that looks like a cheese grater… but I know a lot of people prefer the press. (And the press can be used for other things like SPAGHETTI EIS!)
SNNplapla German Spaetzle Maker Grade Stainless Steel, Germany Noodle Press, Noodle Maker with Comfort Grip Handle, Spider Strainer and Cleaning Brush

Potato Ricer Stainless Steel with 3 Interchangeable Fineness Discs, Ricer Kitchen Tool for Mashed Potatoes, Cauliflower Rice Maker Masher, Gnocchi Potatoe Spaetzle Press Patoto Masher (Black)

Hicook Stainless Steel Spaetzle Maker Lid with Scraper Traditional German Egg Noodle Maker Pan Pot Spaghetti Strainer

Goldspatz Spaetzle Board & Scraper for Swabian Spaetzle – #2196

OHHHH!!! My cousin just gifted me the most AMAZING Spätzle press….
It's solid, heavy, and works like a dream!
Goldspatz Spaetzle Maker & Potato Press, #2192

Want to see HOW to make Spaetzle?
This is how my mom does it… with a Spaetzle Maker-
Using a Spaetzle Press- (in German, but you can see how it works)
Using a Knife and Board (I love this … clearly she has done it a thousand times)