German Goulash Recipe- A Love Letter From the Kitchen
Goulash frequently showed up on my childhood dinner table. Why not? My mom's recipe tasted delicious, and the meal fills everyone up without argument. Fun added bonus… when things were "tight", the meal could be stretched ….. more sauce, some added veggies, and less meat. Served over everyone's favorite homemade Spätzle, Goulash was a crowd pleaser. I can hear it now, "Goulash isn't German, it's Hungarian". Well, I'm sure that at one point the concept of cooking pieces of meat in a sauce flavored with paprika floated west from Hungary to Germany… but that time was very long ago, and now you'll find Goulash with all of its variations (Wild, Pork, and even Würstchen!) on restaurant menus and dinner tables across Germany.
Now, I realize that like Potato Salad, there isn't one "official" German Goulash Recipe. Regional differences, personal preferences from the cooks, even availability of ingredients means that what my mom makes might be different from what your Oma makes. But the beauty of a dish like this, is that it's open to interpretation and variation. Don't like carrot? Leave them out. Want it "spicey"? Add a dash of Cayenne pepper (it's delicious, trust me). I've even seen a Silesian version made with Sauerkraut (intriguing). I started using Ghee (an Indian clarified butter) for browning the meat, instead of oil, because I like the flavor it imparts. (Don't panic, oil is just fine.) Use this recipe as a starting place, then experiment, if you like.
German Goulash Recipe
A delicious way to warm hearts and fill stomachs.
German Goulash Recipe
This rich and tasty German Goulash is made with chunks of tender beef in a delicious sauce flavored with paprika. Serve with Spätzle, Klöße, or even mashed potatoes.
Ingredients
3

Tablespoons

Vegetable Oil or Ghee

I love the rich flavor Ghee imparts

1 1/2

lbs

Lean Rump Roast

1

Yellow Onion

diced

2

clove

Garlic

chopped

1

Carrot

cut to 1 inch chunks

3

Tablespoons

Tomato Paste

3/4

cup

Red Wine

3

Tablespoons

Sweet Paprika

1

teaspoon

Marjoram

1 3/4

cups

Beef Stock

Salt to taste

I used 1/2 teaspoon
Instructions
Slice the beef into 1 inch chunks. It's best to start by cutting with the grain, then go to across. I find the outcome is better this way. (And yes, you can purchase stew meat... leaner is better)

Heat 2 tablespoons oil (or Ghee) in a Dutch oven or heavy bottomed soup pot over high heat. Add half of the beef chunks to brown. Don't crowd it. You want the beef to just brown, not cook. Remove the pieces to a bowl and set aside, then brown the other half. When done add to beef in bowl. Reduce heat to medium.

Add remaining oil or Ghee to pot. Add onions and garlic, stir to scrape up any bits in the pot. Cook 3-4 minutes to soften. Add carrot pieces if using. Add tomato paste, stir and cook for another minute.

Add red wine, stir, scraping up any cooked bits from the bottom of the pot. Keep the heat on medium, and stir occasionally until the wine has reduced by half.

Add the beef, paprika, marjoram, and beef stock. Bring to a boil, then reduce heat to simmer. Put the lid on the pot, and let it cook for 1 1/2 hours. Stir occasionally.

Take the lid off of the pot, and let the Goulash simmer for another 30 minutes to reduce. Taste for seasoning, and add salt if needed. It should thicken a bit as it reduces. If you want it thicker, mix a tablespoon of cornstarch with a few tablespoons of water, and add to the pot. Stir. It will thicken right up.

Serve over Spätzle, Klöße, or even mashed or boiled potatoes..
Notes
Carrots may not be traditional in all families. My mother always added carrot to the Goulash, both to add flavor, and also to "stretch" the meal a bit further. You can leave them out without affecting the flavor. 
The recipe says 4 portions, but these aren't MASSIVE portions. Feel free to multiply the ingredients to fill/feed your family properly. 
Goulash always tastes great hot off the stove, and is extra tasty as leftovers. You can also freeze it.
Learn how to make Spätzle here… Spaetzle Recipe

Stretch Goulash Flavor Even Farther… Make Goulash SOUP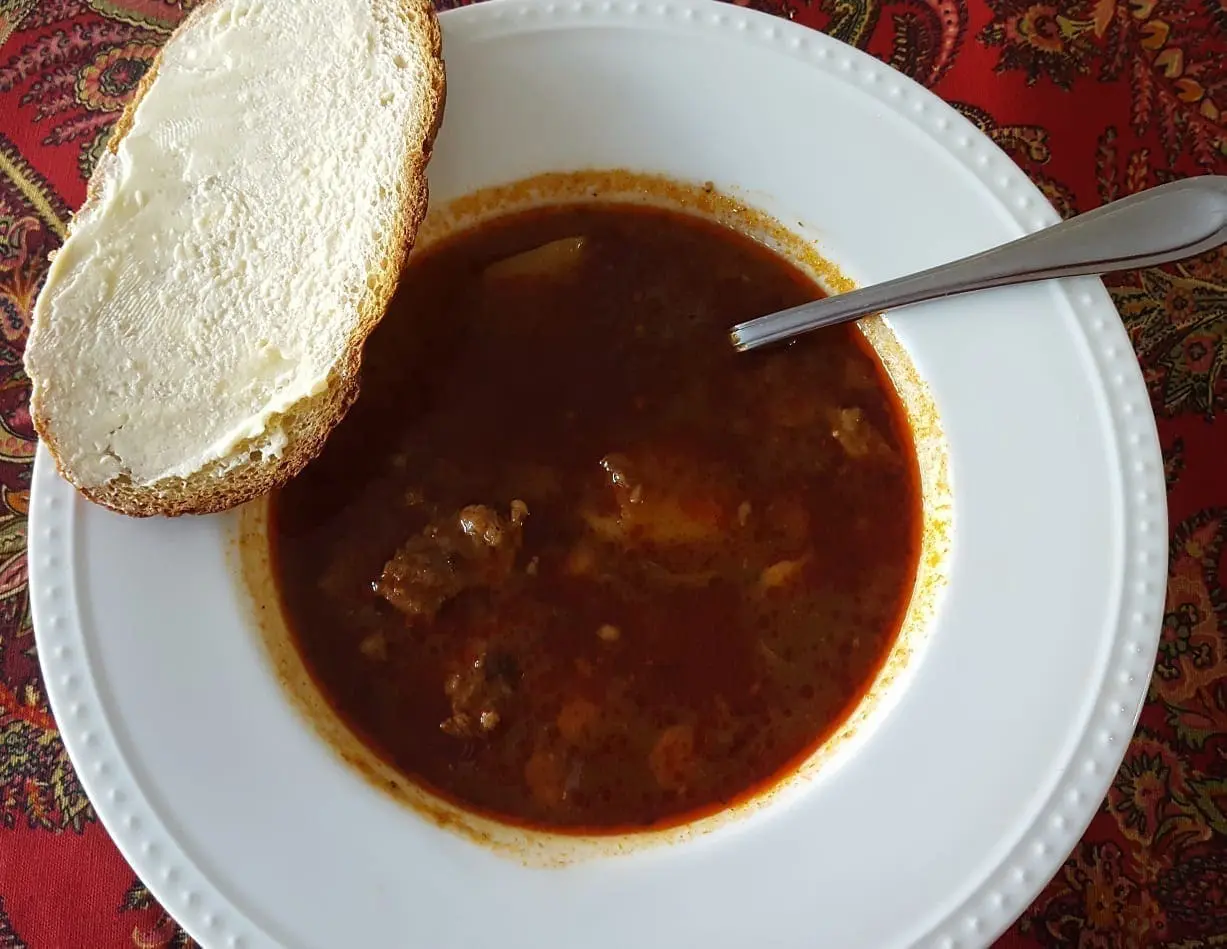 Like this Recipe? Find more in my Easy German Cookbook
80 Traditional German recipes made simple for the American Kitchen
Easy German Cookbook: 80 Classic Recipes Made Simple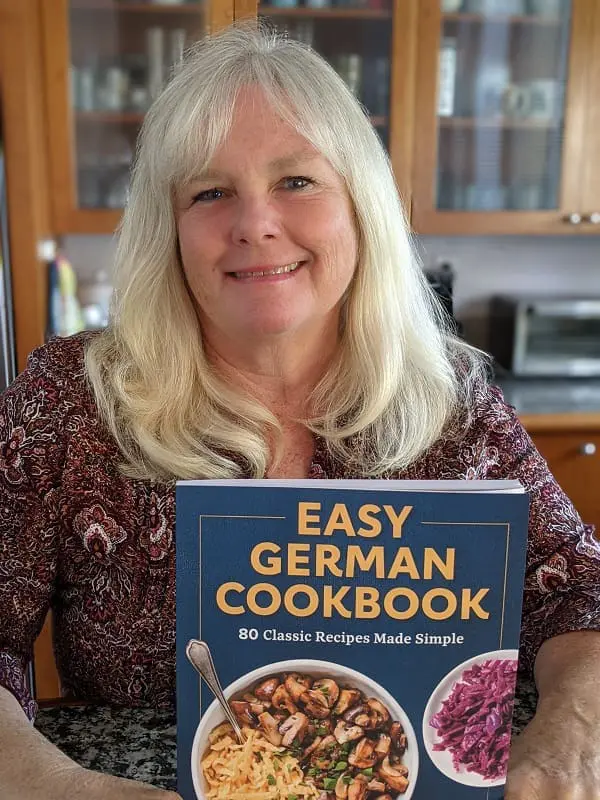 Easy German Cookbook SIGNEDGermanGirl Shop
Make this German Goulash Recipe
Cut the lean beef into cubes… go with and across the grain.
Brown the meat… don't COOK it, just brown it
Soften the onion and garlic, then add the carrot (if using)
After wine reduced, add beef, paprika and marjoram
Add beef stock, bring to a boil, then reduce to simmer… put a lid on it and walk away for a bit.
Stir occasionally
For last 30 minutes, remove the lid so that the liquid reduces
Taste for seasoning, add salt if needed
You will end up with rich thick sauce
(If you find it isn't reducing quickly enough, help it along with a cornstarch slurry)