Spaghetti Eis Recipe- How to Make This Favorite German Ice Cream Dessert at HOME!
I know it's for kids, but whenever I'm in Germany, I have to eat Spaghetti Eis at least once a visit! Honestly, Eis in Germany is the best!! The Spaghetti Eis Recipe (Ice Cream) for those of you who have never had it, is not spaghetti… it's delicious vanilla ice cream pushed through a press to look like pasta. Then it's covered in Strawberry sauce (to look like marinara) and then topped with shaved bits of white chocolate (parmesan cheese). Super simple, but super delicious!
And to make it even more fun, the "noodles" are piled up on a scoop of Sahne (whipped cream), which lightens the dessert, but makes it richer at the same time.
You can make Spaghetti Eis at home! All the kids (and child-like people) in your home will love it!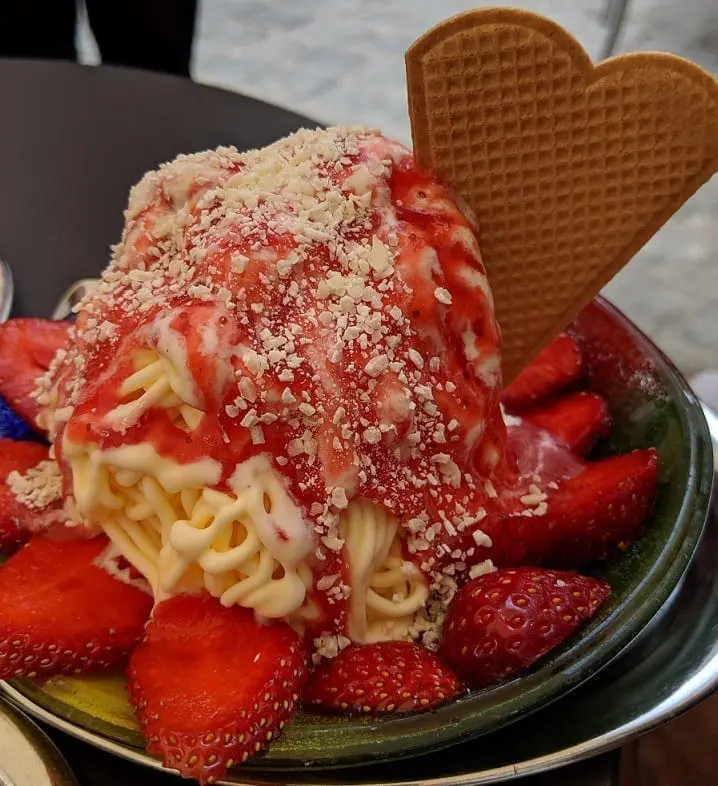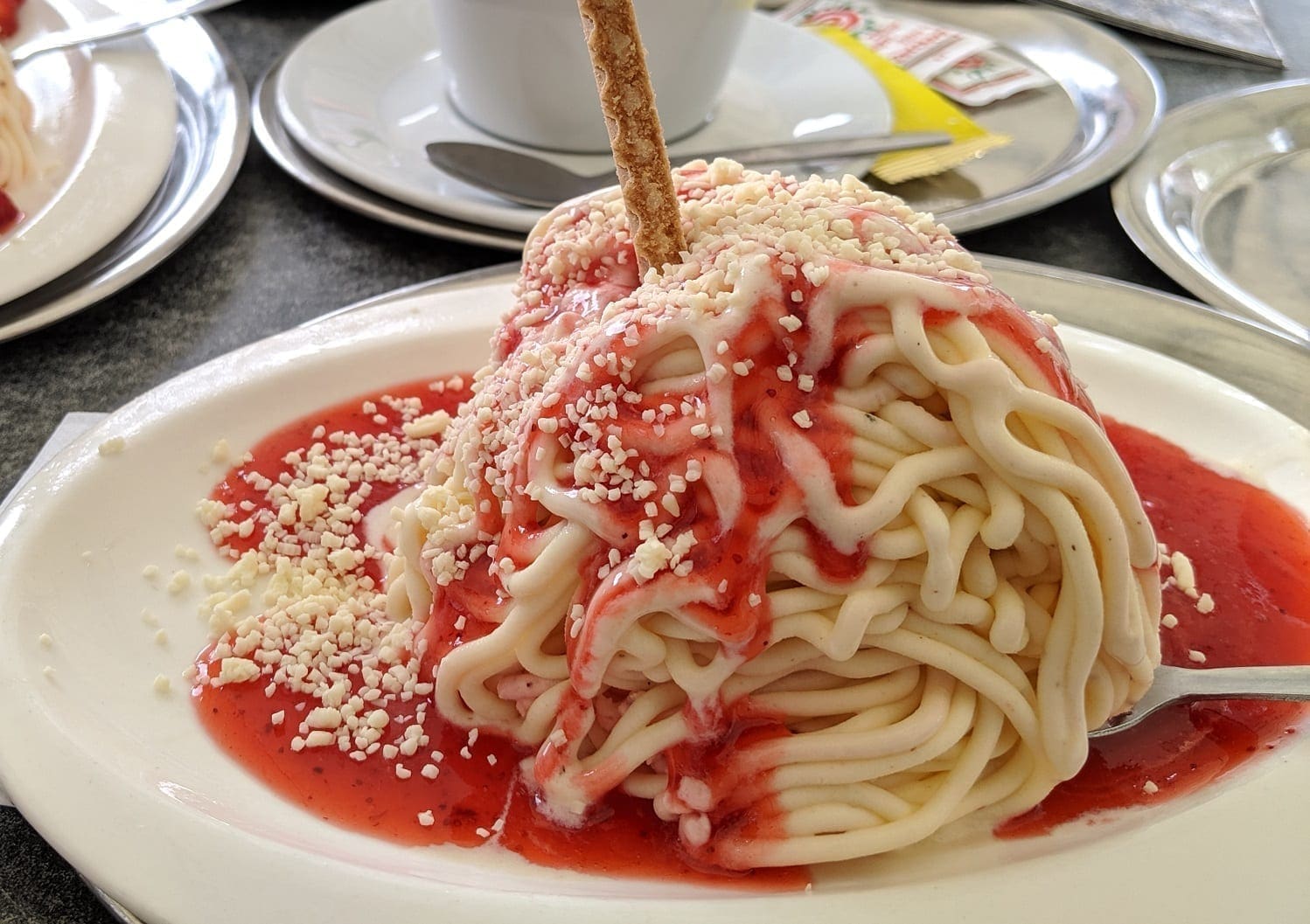 Spaghetti Eis Recipe- How to Make This Favorite German Ice Cream Dessert at HOME!
Ingredients
½

cup

Whipping Cream

1

cup

Strawberries

fresh or frozen

2

Tbl Sugar

2-3

cups

Vanilla Ice Cream

good quality

White Chocolate Bar

Cookie for Garnish
Instructions
Prepare the Strawberry Sauce. Put the Berries (cut in half if fresh) and 2 TBL sugar in a pot over medium heat. Let cook until soft. Mash or Puree with an immersion blender or potato masher. Set aside to cool. This sauce is delicious on ice cream, waffles, eierkuchen or anything….

Whip up the Whipping Cream… add 1-2 Tbl Sugar if you like your Whipped Cream sweetened.

Scoop ¼ of the whipped cream into a dessert dish.

Press the vanilla ice cream through the noodle press over the whipped cream…. sort of move it around and heap it up. It should look like spaghetti noodles.

Spoon some of the cooled strawberry sauce over the ice cream noodles

Grate the white chocolate over the top of the sauce with a fine grater or microplane.

Serve (maybe with a cookie?)
Spaghettieis Tool
To make Spaghetti Eis LOOK LIKE Spaghetti Eis, you will need a special tool.The Spaetzele Press is perfect for making Spaghetti Eis and Spaetzele… as well as mashed potatoes. It's also good for fruit purees.Of course, you can also get the super grand-daddy of all Spaghetti Eis Makers, the Carina Spaghetti Ice Machine…!!!!! The giant hand operated machine will make your ice cream into a number of fun shapes…. Lasagna Eis anyone?
Spaetzle Classic Round Noodle Maker by Westmark

PeakHut Potato Masher / Potato Ricer -100% Food Grade Stainless Steel Perfect for Mashed Potatoes – Potatoes ricer- Baby Food Press, Fruit Press, Vegetable Strainer with 2 Interchangeable Discs

Carina Spaghetti Ice Cream Machine

&
&
&
Special Cookies and Toppings for Spaghetti Eis
Trader Joe's Belgian Butter Waffle Cookie Crisps – 2 Pack

Pirouline Rolled Wafers, Chocolate Hazelnut, 28 Ounce

Torani Puree Blend, Strawberry, 33.8 Ounce

PME Belgian White Chocolate Curls for Decorating Cake Muffin Cupcake Dessert 85g

German Ice Cream Spoons
Just like you get in the Eis Diele…
RSVP Endurance Stainless Steel Ice Cream Spoon with Colorful Handle, Set of 4

FOXAS Dessert Spoons Set, 6-Piece Top Food Grade Stainless Steel Ice Cream Spoons, 5.8-inch

&
YUM! Ice Cream!!

Chocolate Shoppe Ice Cream – 4 Pints
from: Wisconsinmade.com