Eis in Germany – The Summertime Eis Culture in Germany
After breakfast, my Uncle made an announcement…"I'm treating everyone to Eis for lunch today". And we were all delighted! Spaghetti Eis, Coup Danemark, Obst Becher, Raffallo Becher! Eis in Germany (Ice Cream) is considered a dessert OR a meal. And how great is that? Every year Germans consume over 8 liters of Eis PER PERSON (That's 113 scoops!! In a YEAR!) In a fancy dish surrounded by fruit and sauces… or as a take-away scoop (or two) on a cone. Eis is not considered a cheat food or an indulgence, it's as much a part of their summer diet as a slice of cake and coffee at 3pm. And even after a heavy meal, there is always room for an Eis Kugel zum mitnehmen (Scoop of ice cream to take away).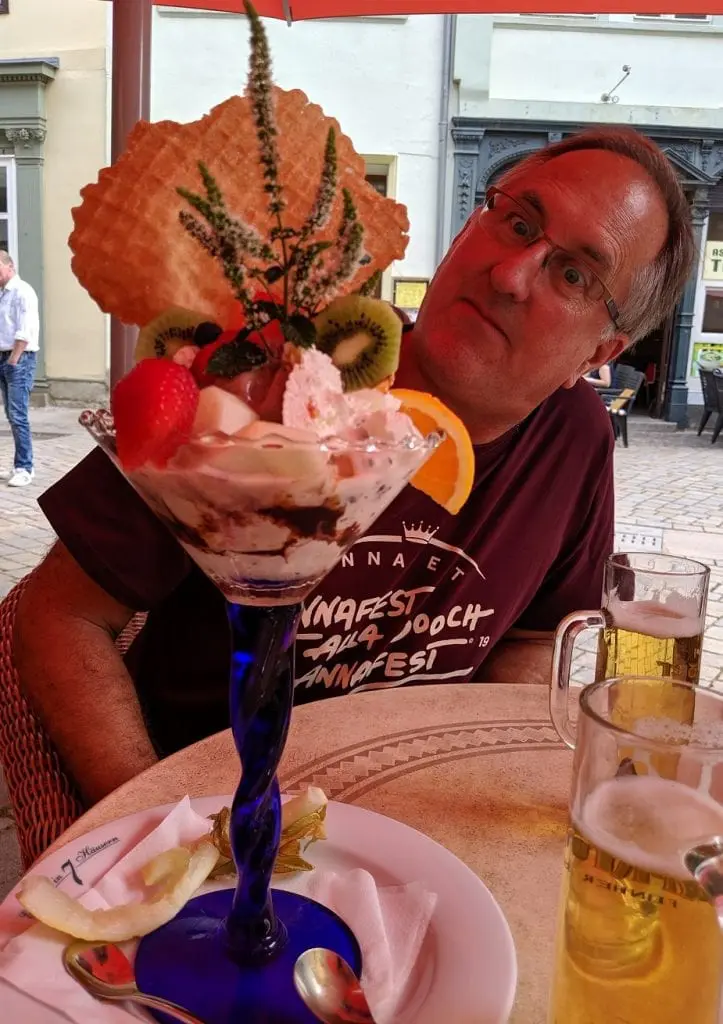 Eis Becher for Zwei (Ich Cream for two) Eis, whipped cream, fruit and chocolate pieces.
And a beer with it….
There is an amazing culture of Eis in Germany. It's much more than a scoop of Rocky Road or an Otter Pop.  Eis in Germany goes back over 100 years! There are around 9000 Eis Dieles (Ice Cream Restaurants) in Germany, and there are freezer bins in most shops containing Eis in coronets or on a stick. Eis in Germany is everywhere, and it's not just for kids, in fact adults over age 55 eat over 40% of it.
Everywhere You Go… There is Eis!
Walk down any city street on a warm summer day in Germany. Everywhere are people eating Eis. Here and there a giant plastic ice cream cone will lure you in.  Then in the windows you will see rectangular bins filled with heaped swirls of colorful Eis. Adults and children line up for simple cone filled with one or more of the many fabulous flavors like Himbeer, Malaga, Stracciatella,  or Mocha that only costs around 1 € each scoop!
A Rainbow of Flavors!
People sit at umbrella shaded tables and enjoy a Becher of their favorite flavors mixed with sauces and fruits topped by a cookie. Alone or with friends! Elaborate concoctions like Schwarzwald Becher, Spaghetti Eis and Mokka Becher are favorites. My girls loved the Biene Maya Eis, and I'm delighted to see that it's still on every menu. Even a simple Eis Kaffee, is not Coffee with Ice Cubes, it's Coffee with ICE CREAM!
Biene Maya Eis… 
My favorite changes daily, and it's almost a challenge to try as many different ones as possible! I always seem to go back to the fruit flavors like Himbeer (raspberry) or Malaga (rum raisin) even though I seldom eat those flavors in the US ….is there anything more disappointing than American Strawberry "flavored" ice cream after you've had Erdbeer Eis?
But how did Eis come to Germany?
Eis Diele (Ice Cream Shops) in Germany are generally named Veneto or Dolomito or Cortina, so it's no surprise that Eis makers came mostly from the valleys of Zoldo and Coldore in Italy. Every spring, starting in the late 1800s they came north over the Dolomites as seasonal workers to Germany and the Netherlands. At first, the Eis makers would leave their families behind in Italy, while they spent the summer selling frozen treats from carts. World War I stopped the flow of Italian Eis sellers until the 1920s. When they returned,  regulations made it more difficult to sell Eis from carts. The solution to the problem was to sell Eis out of the ground floor of their homes through a window, creating the first "Eis Diele" or Ice Cream shops.
Eis Menu… so much to choose from!
The shops became so successful that the wives began to travel north with their husbands to help manage the Eisdiele. World War II and shortages slowed sales for a while, but after the war, the Eis makers returned and sold as much as they could.  In the 1950s Eis became tied to the wave of Italian immigration to Germany. Initially, workers came north to work in the Ruhr Valley, but quite a few switched over to Ice Cream making. Today, most Eis Diele are owned by Italian families who descended from these early immigrants.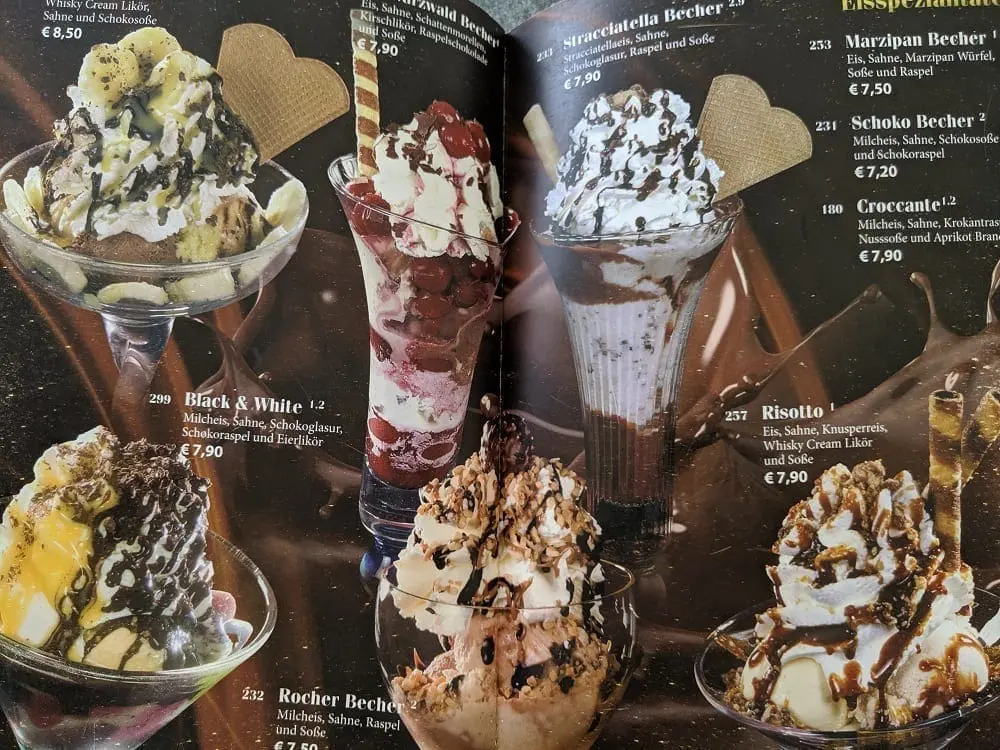 It really is HARD to choose
How is Eis in Germany different from Ice Cream in America?
To me, the Eis in Germany has more flavor and feels less "Heavy" than America Ice Cream. It turns out, there is a good reason for this. In Germany they serve Gelato, which is just a second cousin to Ice Cream. In the US, Ice Cream laws (yes, there are such things) state that to be called Ice Cream, it must have 10% milk fat, and may be whipped until it's 50% air! Gelato is made with milk instead of cream, so it only contains just under 4% fat, and since it isn't whipped as much, it's denser which explains the stronger flavor. Finally, Ice Cream is served colder… since Gelato isn't, the texture feels smoother in your mouth.
Cookie Dough Ice Cream is delicious… but it has NOTHING on my favorite Mokka Eis in Germany.
Spaghetti Eis Changes EVERYTHING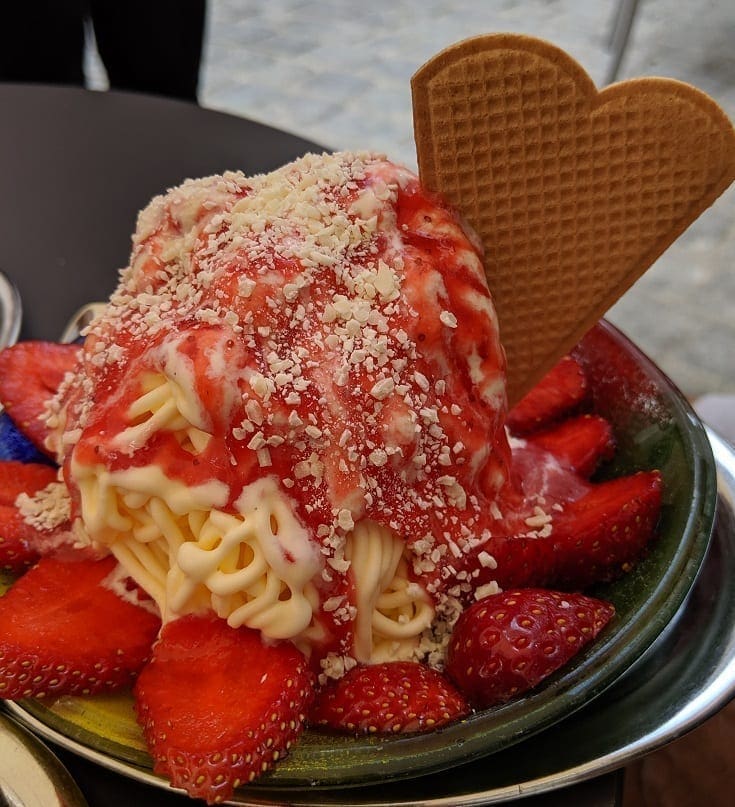 In 1969 Dario Fontanella, son of an Eis immigrant in Mannheim, had the idea to put Vanilla Ice Cream through a Spaetzele press then topped it with strawberry sauce creating the first Spaghetti Eis! (Learn to make Spaghetti Eis HERE) The ultimate fusion of Italian food with Eis!! (Unfortunately, he didn't patent the idea). Today, Spaghetti Eis is a top seller in an Eis market that also has delicious Speise Eis like "Carbonara Eis" and "Schwarzwald Becher"
Carbonara Eis… with Eierlikor
Eis to Go!
And the packaged Eis! I discovered a few new ones this summer… the Toblerone bar … swoon… and the Bueno (both taste remarkably like their chocolate namesakes). But I still have a place in my heart for the flavors of the 1970s. Eis represented freedom! After spending the morning pulling weeds or picking beans, my cousins and I would ride our bikes to the store with the Marks we earned. There we could choose from a big Langese or Eskimo poster on the wall. Cornetto Nuß, Schokolade or Erdbeer, Balla, Tiger Schwanz, and Bum Bum. We had the whole afternoon to decide and enjoy the Eis of our choice in the sunshine.

Toblerone Eis… Smarties Eis… Kit Kat Eis… Even Überraschungsei Eis (Surpise Egg EIs!)
Toblerone Eis
Eis on Every Corner
Just watch for signs and giant ice cream cone statues….

You know it's summer in Germany when the big plastic Ice Cream cones are wheeled out to lure customers to umbrella topped tables. Adults and children make time for Eis. Eis zum mitnehmen (Eis to take along) or they sit for a coffee (or even a beer) and their favorite Eis Becher.
Eis in summertime is as much a part of German culture as pretzels.
Because as my cousin once said after a very full meal… there is always room for an Eis.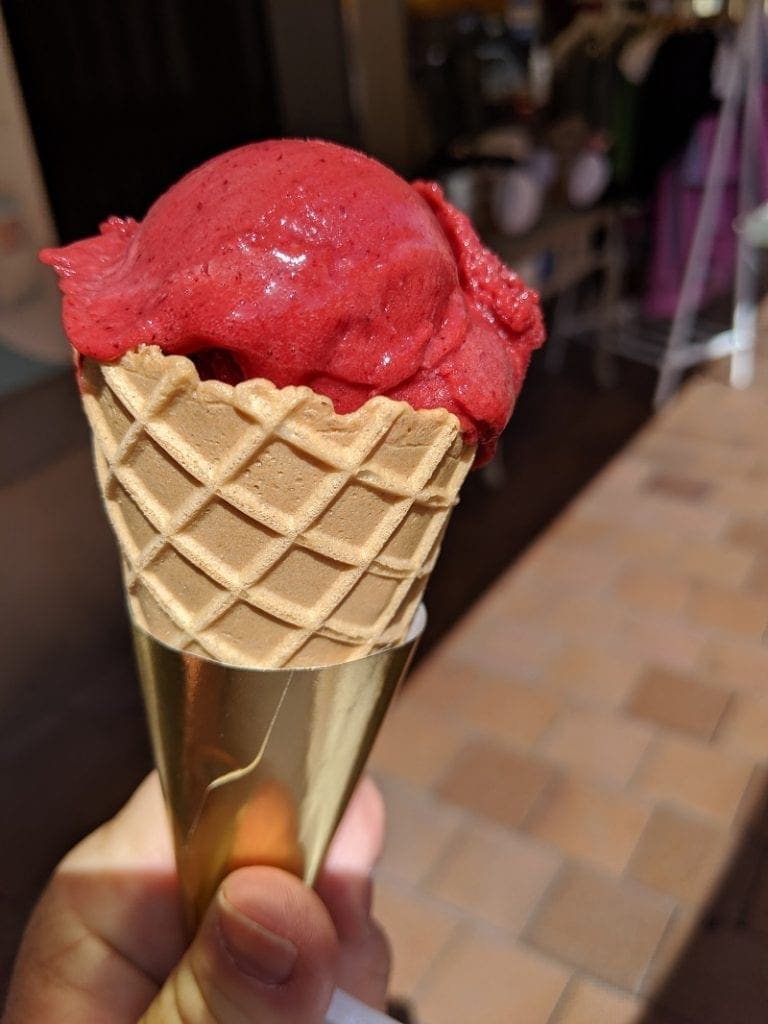 Kitchenaid Eismaschine Rezepte: Neue herrliche Kitchenaid Eis Rezepte zum Verlieben (German Edition)

Eis selber machen: 101 Eis- Rezepte mit und ohne Eismaschine. Italienische Eisrezepte, veganes Eis, Eis am Stiel, Eis speziell für Kinder und auch kalorienarmes Low Carb Eis. (German Edition)

Eis Rezepte – Mit oder Ohne Eismaschine: Das große Kochbuch mit über 200 Rezeptideen von Eiscremes, Sorbets, Parfaits oder Frappes bis hin zu Frozen … Low Carb und Eis für Kinder (German Edition)