Authentic and EASY German Potato Pancakes Recipe- Kartoffelpuffer
According to my daughters, potato pancakes (Kartoffelpuffer) are the BOMB. How can you go wrong with fried potatoes? And, since I use my mother's recipe which adds BACON, these are lick your plate just amazing. File this Authentic German Potato Pancakes recipe into your comfort food file, and make them whenever you need to serve something that makes the whole family smile. With or without the bacon… this easy recipe comes together in a snap, and hits the table in less time than a fast food run.
Edit- Many people felt that my "grate potatoes with a food processor" was not authentic enough. Fine. But I'm still not using a hand grater. I've now included instructions for making Authentic German Potato Pancakes with the food processor AND a small extra step to give it more Pancake texture and less Hash browns texture (I still used the food processor, because I didn't want to add the authentic ends of my fingers that always get scraped off when I use a regular grater).
German Potato Pancakes Recipes
After digging through my stack of German Cookbooks (Heimathäppchen, Landfrauen Kochen, Dr Oetker) trying find a recipe that looked like the recipe I grew up with, I finally called my mom. Those of you who are wondering why I didn't START with that phone  call clearly have never tried to pry a recipe out of a German Cook's brain … "just peel some potatoes, don't forget the onion, you need oil…." I needed exact measurements to share. (Currently I use the same method as mom… "peel a lot of potatoes")  I could find measurements everywhere, but two key steps were confusing me. My mother always made her Kartoffelpuffer in the BLENDER. And she always made them with Bacon bits.
I sort of figured out that she wasn't alone with the Bacon. In the Rhineland and Westphalia it's not unusual to find ham with the Potato pancakes. And since according to my dad when I was growing up, a meal without meat wasn't a meal, in goes the bacon. (He's since learned the joys of salad).
But the Blender?  So I asked…. I was really expecting to get special wisdom, "it increases crispiness" "it makes them taste like magic"… Her answer "I didn't like grating the potatoes because I always cut my fingers on the grater, and I didn't have a food processor." (Sometimes, the obvious answer stands right in front of you. I've used my food processor to do this for years)
But it seems the blender does more than grate the potato… it turns the potato/onion mixture into more of a pancake batter. So I've devised a hybrid that gives you that texture, but still has some crispy bits on the edges.
German Potato Pancakes Recipes
In a way this is 2 recipes. (Or maybe it's one Main recipe with variations?) Think about the flavors you remember from home. My mother didn't add salt to her Potato Pancakes, because my father really liked Zuckerrübensyrup (sugar beet syrup) on them (I know… he also liked meat… it was an entertaining childhood). But we had salt on the table. You can make them with Bacon pieces or without. And you absolutely SHOULD serve them with Apfelmuß (Apple Sauce) or Rübensyrup, if you like that too…
Serve warm (although no one has ever turned them down cold)

Authentic German Potato Pancakes Recipe
Ingredients
Just over 1 pound or 500 Grams Potatoes

I used Russet

1/4 to 1/2

Onion

2

egg yolks

2

tablespoons

Flour

optional-

Salt

Pepper

2-3

strips bacon chopped

Oil for frying. Be generous.

Holding back on oil means that your potato pancakes won't crisp up nicely

Applesauce for serving
Instructions
Set up a work station:
Lay some paper towels on a plate next to the stove top

If you are using bacon, pre-fry the chopped bits until they render much of their fat.

Set the bits aside in a bowl next to the stove

Peel Potatoes

Grate Potatoes on the fine side of the grater. I use a food processor with a fine grater, and it works super fast.

Grate the onion into the potato

Mix them together

Squeeze / Pour off some of the water

Sprinkle Flour over the top

Add the egg yolks

(at this point, you can add salt and pepper to taste)
Smooth Pancake Version:
If you want to take an extra step to make them more like Oma's

Take the grated Potato/Onion, the flour and egg yolks... and put them in blender or food processor bowl. Pulse or chop a few times to get more of a batter consistency.

(And because I LIKE the stringy fried edges, I always add some extra grated potato that I held back)
Fry the Pancakes:
Add Oil to your Frying Pan (I like it to be 1/3 inch deep at least)

When it's HOT (shimmering)

You can add some of the bacon bits into the pan.

Then scoop some of the potato mixture into the oil (on top of the bacon bits if you are using them)

Flatten it out a bit with your spatula (watch out HOT OIL). You want it to be maybe 4+ inches across. (Don't get out a ruler, just eyeball it).

Let it cook 2 minutes

Flip over CAREFULLY

Cook 2 more minutes.

You are looking for golden Brown on both sides! (Go longer if needed)

Be careful with the heat... too hot and it will cook too fast and burn before you get it cooked through. Not hot enough, and your pancakes will be greasy.

It's a feel thing (Sorry). You will get the sense of it after one or two. Remember, hot oil, golden pancake.

When they are ready, put the pancakes on paper towels to soak up the extra oil.

Serve immediately or put on a platter in the oven to keep warm.

Repeat with the rest of the Potato Mixture... add bacon if you want. Add oil as needed (let it get hot before you add more potato)

Serve with Applesauce
Notes
The recipe makes 7 4-5 inch Potato Pancakes (aka a Single Serving for the average teenager). It can be doubled, tripled, or multiplied to feed an army.
Easy German Cookbook
Like this recipe? Want more like it? My Easy German Cookbook is loaded with 80 classic recipes designed for the American Kitchen that you can make delicious German meals at home.
Easy German Cookbook: 80 Classic Recipes Made Simple

How to Make Authentic German Potato Pancakes Step By Step
Peel the potatoes… believe it or not, this is just over a pound, what the recipe calls for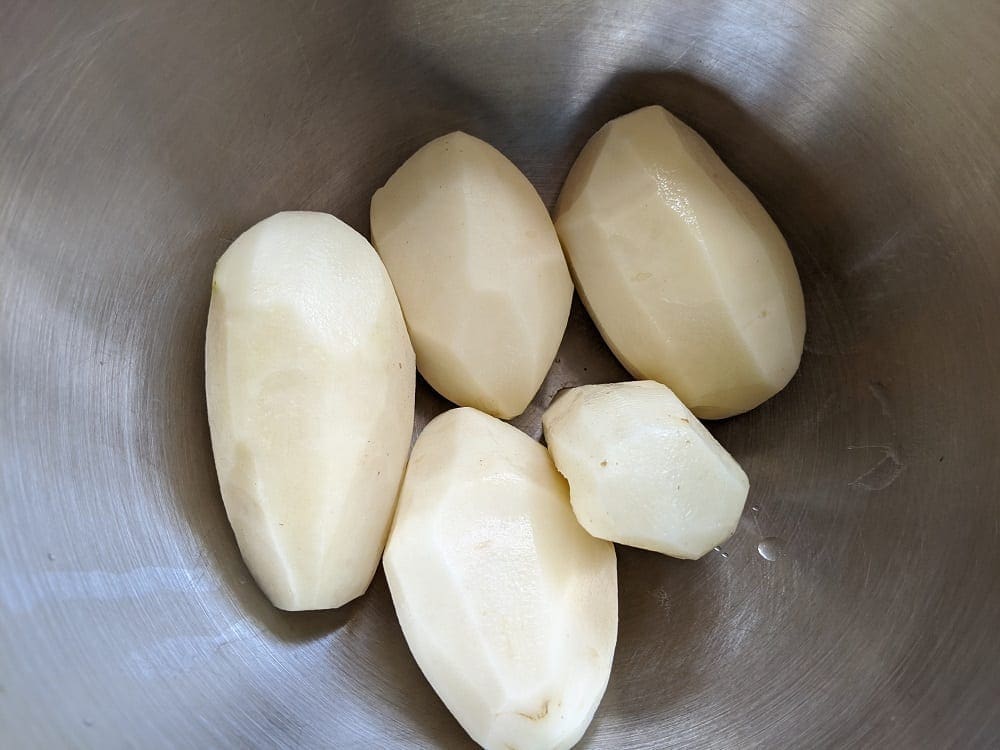 For a SMOOTHER Potato Pancake Batter (and according to many Oma's, a more authentic Pancake)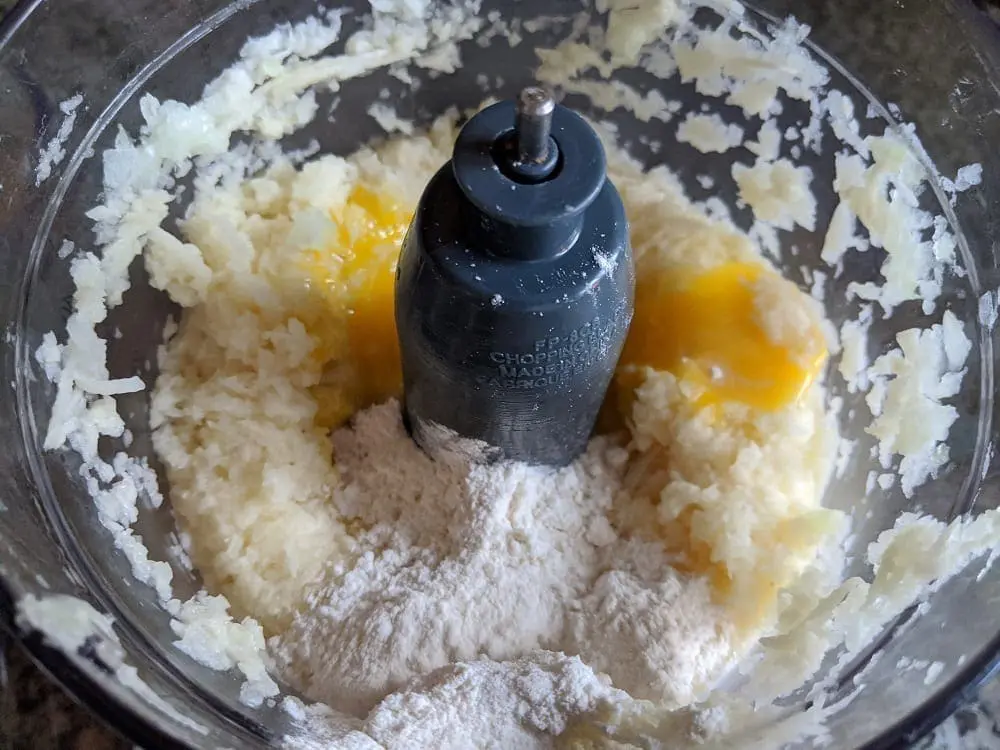 For a more Crispy Potato Pancake
Combine the grated Potato and Onion… use the FINE side of the grater, or the fine grater on the processor. Watch your fingers.
Add egg yolk and flour… mix it up
This is also when you add salt and pepper if you want them purely savory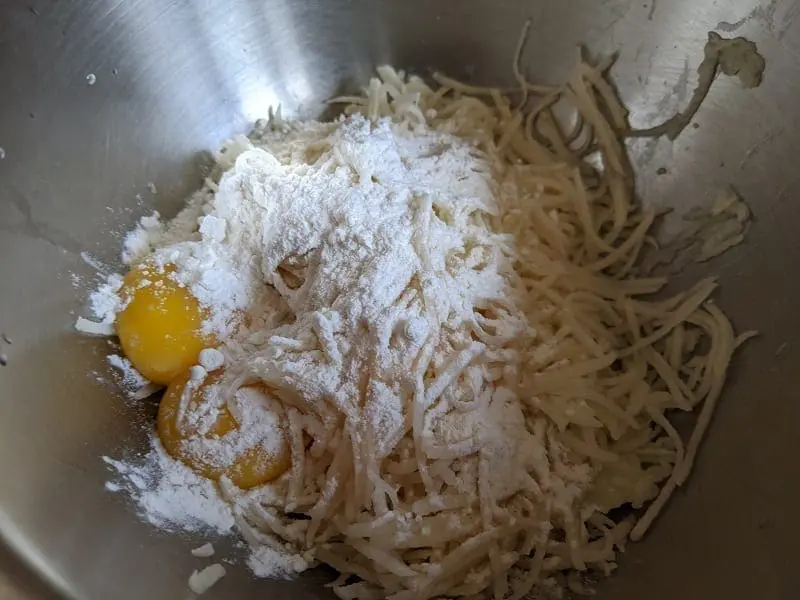 IF YOU ARE ADDING BACON (and why wouldn't you)
Pre fry the bacon bits most of the way

Heat up the oil… add a few bacon bits if you WANT THEM
Then top with 1/2 cup of potato mixture… spread it flat
Or make them without bacon
Flip after 2 minutes… you want golden and crispy edges
Let sit on a paper towel to absorb the extra oil for a minute or two
SERVE and ENJOY