Gebrannte Mandeln- German Roasted Almonds Recipe
Visit any German Christmas Market , German FeFair, and you will smell the sugary, cinnamon, nutty scent of Gebrannte Mandeln. I think they waft the smell around to lure you in (and it works). Grab a bag to munch as you shop. Crunchy, sweet, nutty… so delicious.  But there is no reason to wait until your next visit to a Christmas Market. Use this German Roasted Almonds Recipe to make Gebrannte Mandeln at home! Munch on them as a special treat… serve them to guests along side your cheese plate at a Holiday Party…. or pack some up in a pretty container to give as a gift (just be sure to keep some for yourself).
The recipe for Gebrannte Mandeln is fairly simple. Mostly it's sugar, almonds, and a bit of cinnamon. The difficult part comes in the amount of stirring you need to do. You CAN NOT dump all ingredients into a pot and walk away, you'll end up with a burnt mess. And as the process goes on, the stirring gets more strenuous. (It helps to have a willing teenage helper to trade off stirring).
Note, the recipe uses 2 cups of Almonds… so you end up with 2 1/2 cups of Candied Almonds. Not very many… I imagine you can double the recipe, but it will make stirring a lot tougher. You be the judge.
Gebrannte Mandeln Recipe
Read through the recipe first and make sure you have everything on your counter and ready to go BEFORE you start. You will be stirring and stirring and stirring (no stopping), so you will need everything at hand.
PLEASE be careful of the hot sugar… it burns (I have scars to prove it) Use Potholders and good sense.
Also, if it's raining, don't let the Almonds sit in the open too long. They will get sticky.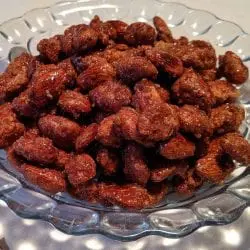 Gebrannte Mandeln German Roasted Almonds Recipe
Ingredients
1/2

cup

Water

1 1/2

cup

Sugar

divided

1

generous teaspoon Vanilla Zucker or Vanilla Extract

1

teaspoon

ground Cinnamon

2

cups

Raw Almonds

skin on

Parchment Paper
Instructions
-Have all of your tools and ingredients ready to go. Once you start... you can't really stop, or you could burn the almonds.

-Cover a cookie sheet with Parchment Paper

-In a HEAVY Pot or larger saucepan (not non-stick), combine water, 1 cup sugar and cinnamon. Cook over heavy heat while constantly stirring with a wooden spoon.

-Bring to a Boil

-Add the almonds

-Cook the Almonds in the boiling sugar water over high heat, stirring CONSTANTLY. The water will boil off, and the almonds will be left looking like they are coated in powder. (This could take a a few minutes, don't rush, it will happen)

-Lower the heat to medium, and keep stirring the almonds. The sugar will melt again, and they will start to look shiny. (This is the most frustrating part. You think it will never happen, and then suddenly it does.)

-Lower the heat again, and add the 1/2 cup sugar plus vanilla sugar or vanilla extract. Stir and stir and stir until the Almonds go through their powder sugar looking phase, and start to go shiny again. It takes time, but it will happen. Just keep stirring.

-When they are shiny with a brown coat of melted sugar with some crunchy sugary bits, pour them out onto the prepared pan.

-Use the wooden spoon, and maybe another spoon to separate them out on the pan (if you leave a big lump, it will stick that way.)

-Enjoy warm, or let cool for later.

STORE AIR TIGHT
Like this Recipe? You'll Find More like it in my Easy German Cookbook!
80 Classic German Recipes made SIMPLE for Christmas, and for everyday.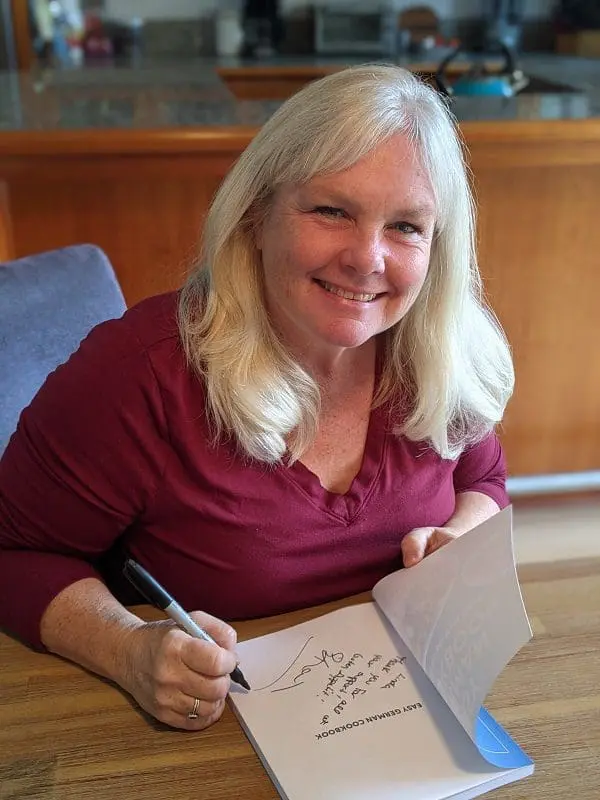 Easy German Cookbook: 80 Classic Recipes Made Simple signedGermanGirl Shop
Easy German Cookbook: 80 Classic Recipes Made SimpleGermanGirl Shop
Step By Step Instruction with PICTURES
Get out all the ingredients, measure them and have them ready to use.
Cover a sheet pan with parchment paper.
In a heavy pot, bring the water, sugar and cinnamon to a boil, then add almonds
Stir and stir 
Then continue to stir until the water evaporates, and you are left with sugar coated almonds
(it will happen, it just takes time and stirring)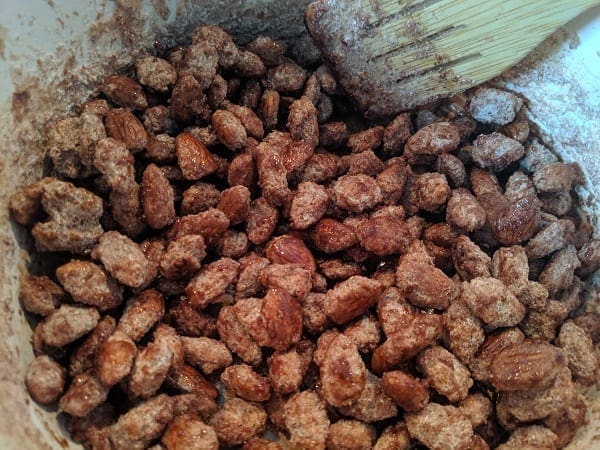 Keep stirring until the Almonds turn shiny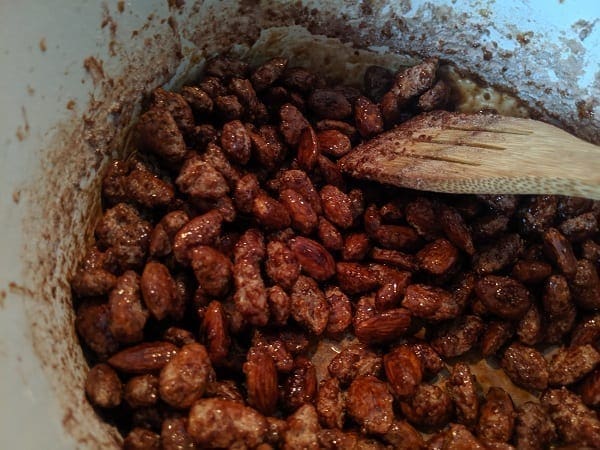 Now add the rest of the sugar with the Vanilla Zucker or Vanilla extract
(I know… you JUST got them shiny, and now they are sugary again… trust me)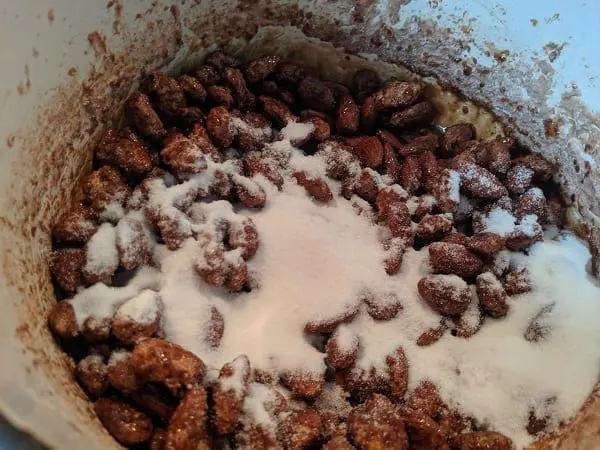 Stir and stir until the Almonds are mostly shiny again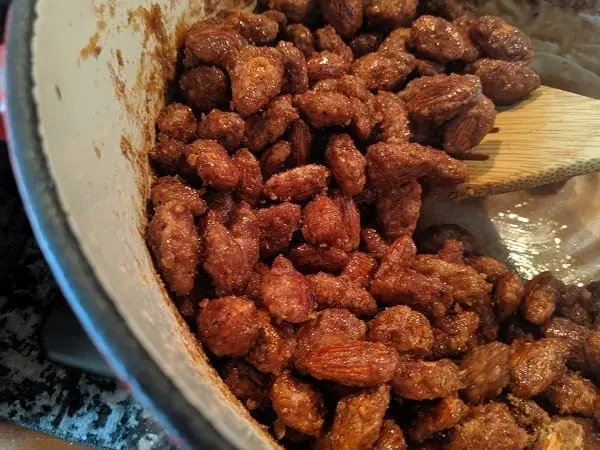 Pour out onto a Parchment Paper covered Cookie sheet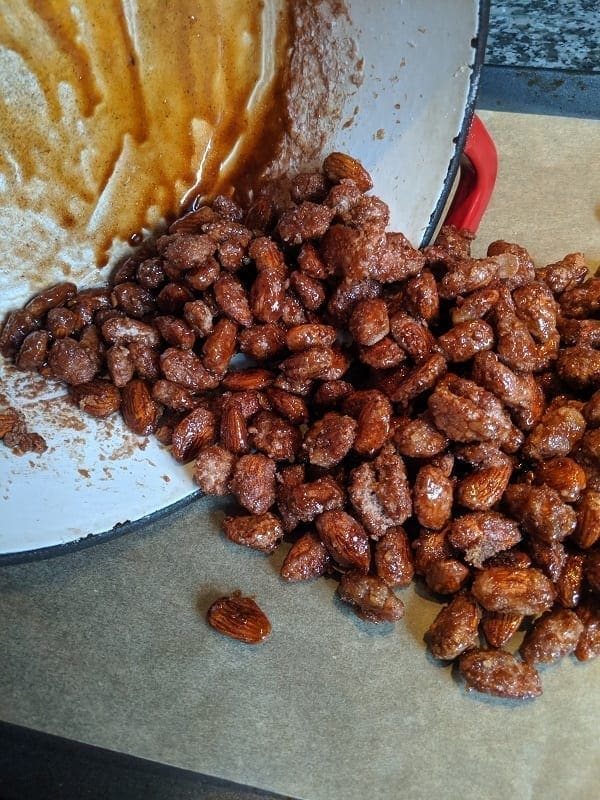 Spread out and let cool
It might be easier to use 2 spoons to spread them out.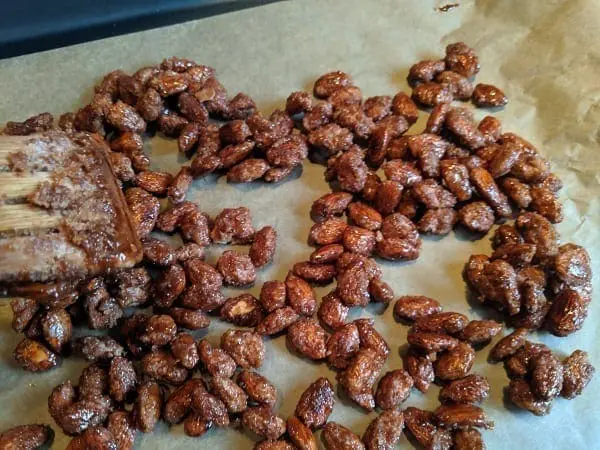 Store AIR TIGHT (after they cool)