What to Buy at German Christmas Markets- Check Our List, then Make Yours!
Headed to Germany for the German Christmas Markets? Prepare to be overwhelmed! There are so many wonderful things to see, smell, taste and most of all,  BUY! But before you go on a crazy spree and spend all your money on the first day…think about what you want or need, and consider your luggage allowance,  just how much room there is on your Christmas Tree, and your partner's tolerance for 13 more Nutcrackers…. Still, you can't leave without buying SOMETHING (or even a few somethings). Here's a short list of what to buy at German Christmas Markets. Of course, there is always something new and wonderful to be found, so don't restrict yourself to the list…. you can always buy another suitcase.
What to Buy at German Christmas Markets
German Christmas Markets have been a part of the German culture during the Advent or pre-Christmas Season since the 1300s. These festive markets are the perfect place to find hand made Christmas Decorations or that special gift that will make someone unbelievably happy. I think the best time to go is after dark when you can get caught up in the magic of the lights and smells. You will see Lanterns and Nutcrackers, Smokers and Pyramids, Ornaments and Nativity Scenes, Wooden toys and Knit Hats.
Whatever you choose to buy, be aware that some booths sell items made it China that look like German items… look at labels, and if you aren't sure, ask. Remember, you get what you pay for.
German Hand-Blown Glass Ornaments
Bride's Tree Ornaments Set of 12 By Inge-Glas, Hand Made in Germany

In the 1820s, Hans Greiner, a descendant of the Hans Greiner who established the first glass works in Lauscha, Germany, (along with Christoph Muller) began producing Glass Ornaments in the shape of fruits and nuts. The process combined blown glass with special molds. Adding mercury or silver nitrate inside glass gave them a beautiful silvery sheen.
Prince Albert, a native of Germany, brought these ornaments with him to England when he married Queen Victora, and in 1846 when a photo of  the Royal Christmas Tree was published in a London newspaper… their popularity spread. In the 1880's, F.W. Woolworth discovered these magical decorations, and began selling them in America. Germany was the primary producer of Hand Blown Glass Ornaments until the 1920's, when Japan and Czechoslovakia began making and exporting their own glass ornaments. During World War 2, and the following occupation, many of the old family molds, which had been passed down for generations, were destroyed. Fortunately, the Muller family was able to save some, and smuggle them to safety.
Today, the 14th generation of the family operates  Inge Glas… and they still produce ornaments in much the same way. Their collection has over 6000 molds, many of which are antique, dating back to the 1850s. German Christmas Markets will have a remarkable collection of Glass Ornaments that you can't find anywhere else.
Make sure they are packed safely in padding and a sturdy box to insure they arrive home safely.
Inge Glas St. Nikolaus 1-007-14 German Blown Glass Christmas Ornament Gift Box

Inge Glas Swarovski Glitzy Bell 1-126-15 German Blown Glass Christmas Ornament

Inge Glas Peach 1-133-14 German Blown Glass Christmas Ornament

Inge Glas Bavaria Hans 1-044-12 German Blown Glass Christmas Ornament Gift Box

Inge Glas Girl Kinder of Caroling 1-037-11 German Glass Christmas Ornament

Inge Glas Heirloom Bible Story Baby Jesus German Glass Christmas Ornament 232706

Vintage German Hand Blown Glass Ornaments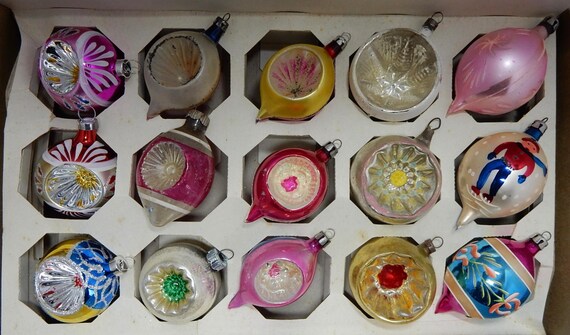 15 Vintage Mercury Glass Fancy Indented Poland & Germany Christmas Tree Ornaments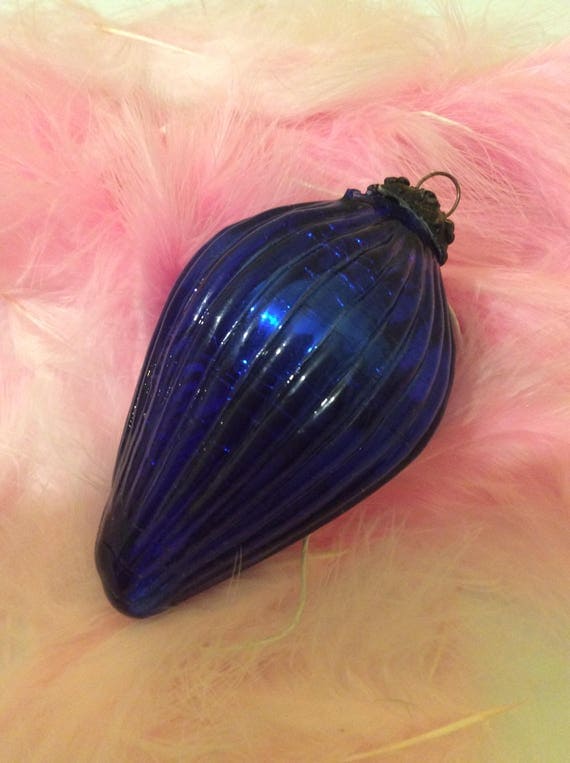 Vintage antique German Kugel cobalt blue hand blown glass Christmas ornament bauble, Bronze cap blue glass antique Christmas ornament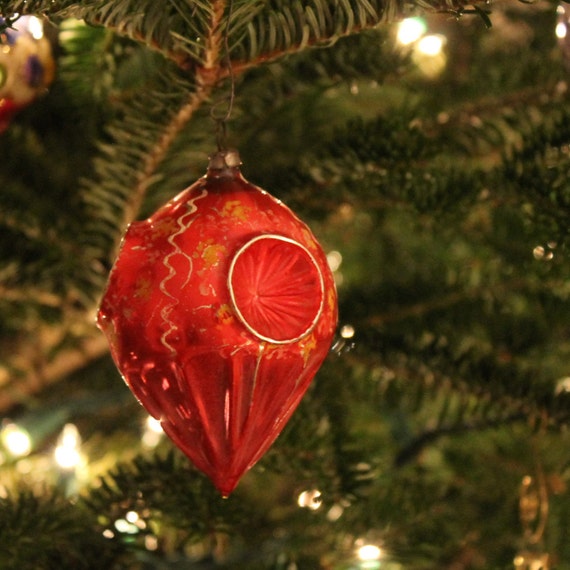 Vintage Red and Gold German Glass Christmas Ornament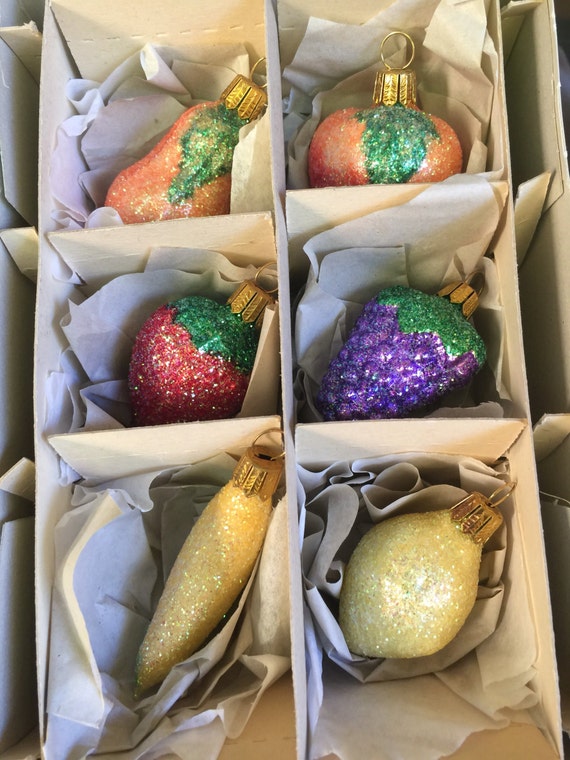 Beautiful Christmas Ornaments RARE Vintage Christmas Tree Ornaments made in Germany Blown Glass Pieces Fruit Shapes

German Christmas Linens
In our house, the table wasn't properly set for Christmas without a nice tablecloth, and maybe a center cloth topper over it. As a result, I have a collection. Hand embroidered, some with lace, others are more casual… with a printed scene. Be sure to measure your table (in centimeters!) before you leave home! (I can't tell you how often shop keepers struggle to help someone who is standing there with arms apart saying "I think it's this long…). You won't just find full tablecloths, you will also see small toppers, cloths for under the Advent Wreath, and even small linen ornaments. Luckily, these treasures are not too fragile, and fit well in the suitcase.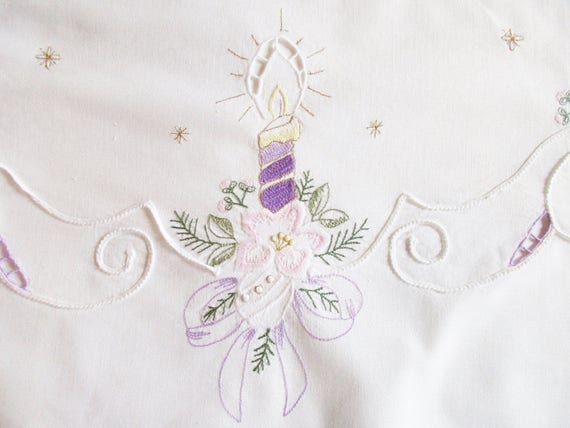 German Vintage White Christmas Cotton Tablecloth with Embroidery and Cutouts Finished with Golden Thread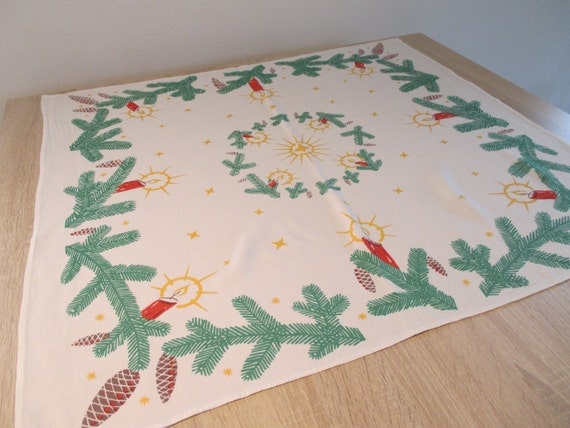 Christmas Tablecloth 30″ Printed White Cotton Square Evergreens Pine Cones Candles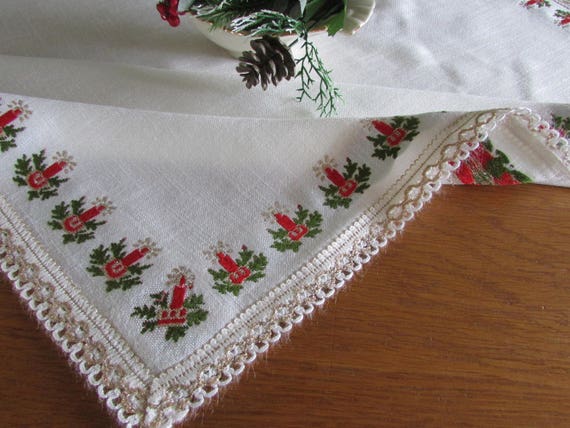 Vintage West German Christmas Tablecloth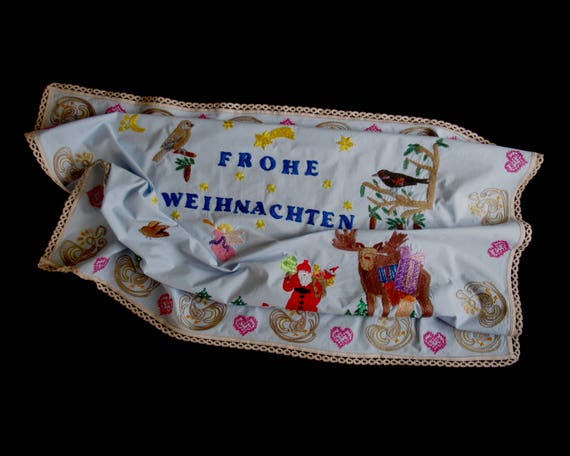 Vintage hand-embroidered Christmas linen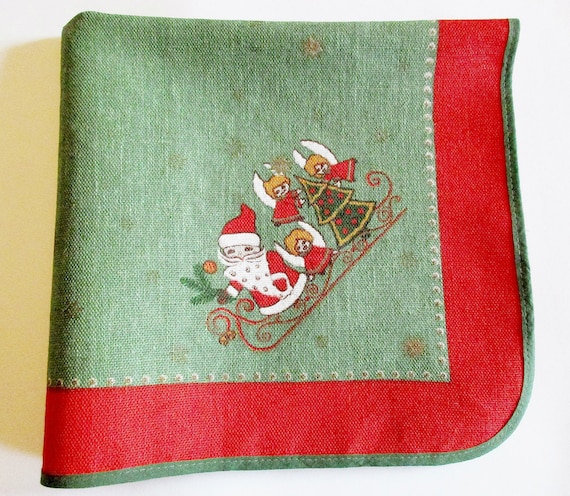 Cute German Vintage Christmas Printed Tablecloth Jute Material with Santa Sledge Angels and Trees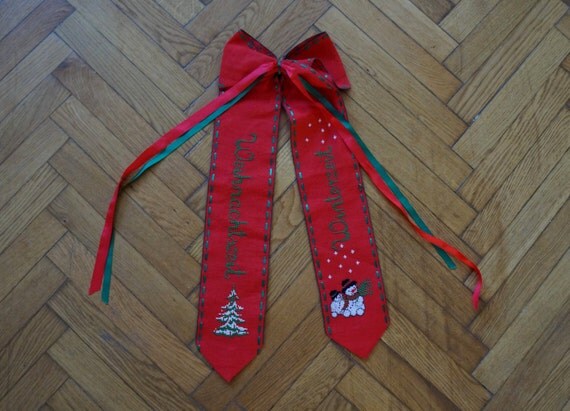 Dirndl Bow Banner

German Wooden Christmas Ornaments 
The first Christmas Trees were decorated with nuts, fruits, and then carved wooden figures were added. Many came out of the Erzgebirge (Ore Mountains). This is primarily a mining area, that is 60% covered with forests. Wood Carving became a common occupation for miners who were out of work, or needed to supplement income during the cold winter months. As early as the 1750s, tradesmen were collecting up wooden toys and ornaments from the Erzgebirge, and taking them to Christmas Markets for sale. Today the tradition carries on. Stiff competition from China and other countries selling cheap machine made wooden ornaments have caused some companies, like Steinbach, to declare bankruptcy… but other companies carry on.The detail work that goes into these hand made wooden Christmas Ornaments makes them well worth seeking out.
Graupner Angel with Cello German Wood Christmas Tree Ornament

Christmas Tree Motif German Wooden Ornament Set of 6 Made in Germany Decorations

Steinbach Collectible Ornament

Christmas Present Motif German Wooden Ornament Set 6 Made in Germany Decoration

Vintage German Wooden Christmas Ornaments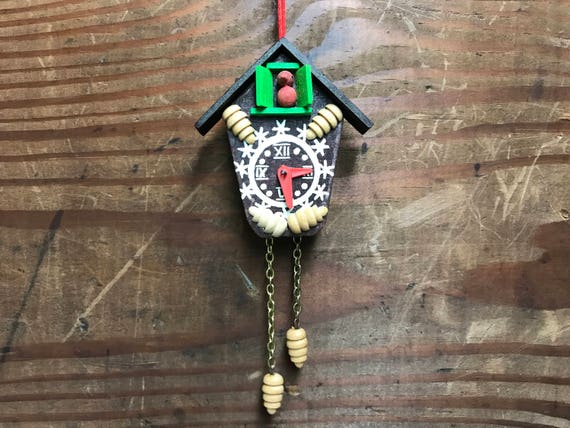 intage Cuckoo Clock Ornament by Steinbach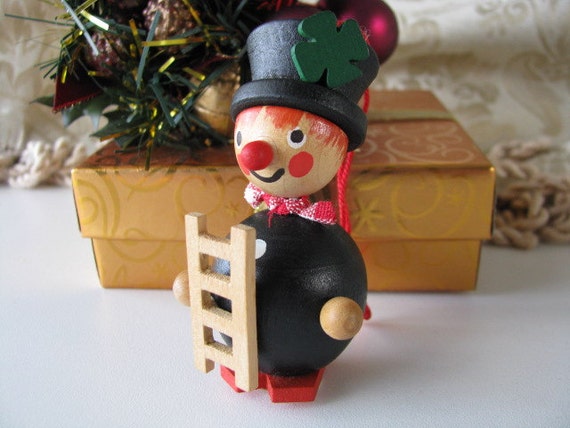 Vintage Holzkunst Christian Ulbricht German wooden Christmas Ornament 1980s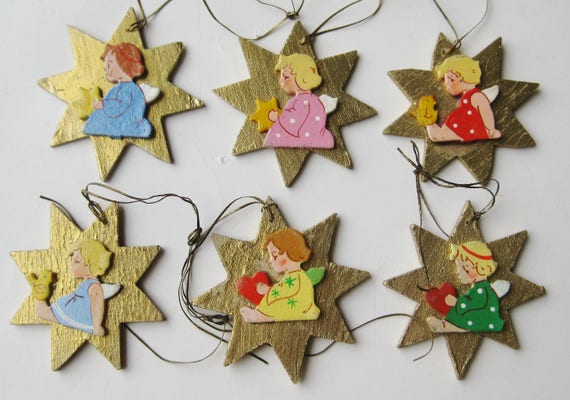 6 Vintage 50s German Hand Made Gold Wooden Angel Star Shaped Flat Christmas Tree Ornaments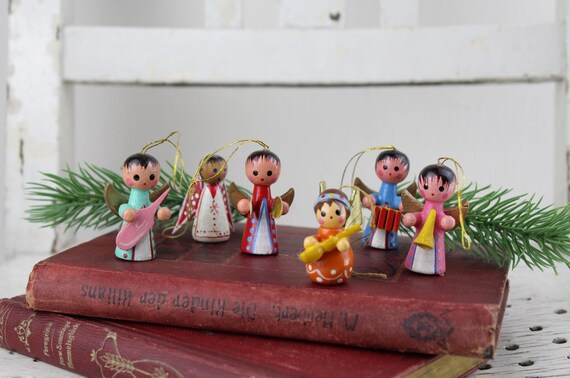 Erzgebirge Vintage wooden figures Christmas decoration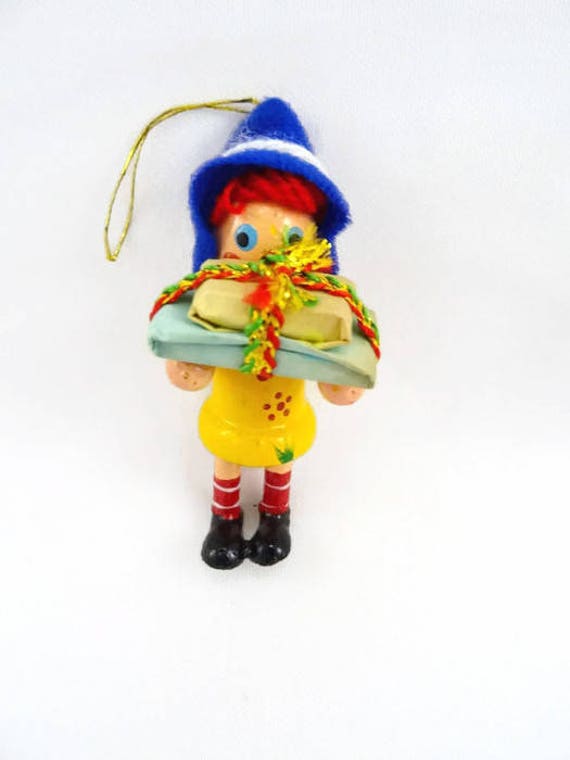 Vintage Christmas Ornament Germany Hand Painted Girl with Felt Hat and Presents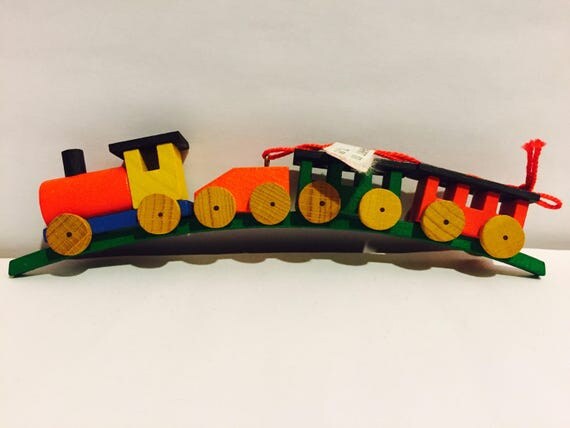 Vintage Kathe Wohlfahrt Collectable Wood Trains Hanging Christmas Ornaments Hand Crafted German wooden train feather tree miniature

German Christmas Stars
Some of the easiest gifts to bring home are the German Christmas Stars. Made from heavy Paper, they generally fold up easily so you can transport them safely home. The Moravian Stars are 3 dimensional multi pointed stars that can be connected together. Interestingly, these ornaments began as a math lesson! (Read more here–>Moravian Stars) Lately, you see more and more brightly colored and cut 5 Pointed Stars that can be fitted with a small electric or LED bulb to make a beautiful lantern. My daughter brought one home for me last year, and I treasure it. These beautiful stars light up the darkest nights of winter.
Because the electrics are different in Germany, it's best to buy the cord and bulb where you live, or HERE–> Paper Lantern Electric Cord
PaperLanternStore.com 24

Fold-Flat Moravian Star – LED Star Light – Folding Star Craft / Decoration, Battery-Powered with Timer (24

Fold-Flat Bethlehem Star Light – LED Star Christmas Decoration, Battery-Powered with Timer), (26

UUOUU Paper Star Lantern Lampshade 12 Inch Handmade Christmas Paper Star Pentagram Lampshade for Valentine's Day Wedding Party Home Hanging Decor(set of 10)

PaperLanternStore.com 23

Celtic Red Paper Star Lamp, Star Lantern Star Light … (Celtic Red Star Lantern)

German Straw Christmas Ornaments
I absolutely LOVE the Legend of the Straw Stars…. Once upon a time, a young shepherdess wanted to make a gift for the Baby Jesus. She sat on her straw mattress staring up at the heavens, and saw the star of Bethlehem. Suddenly she knew what she should make! She wove the straw from her bed into a Star of Straw.
Straw ornaments have been common in Germany, and also in Scandinavia for years. It is closely tied to the symbolism of the Christ Child being born into a bed of straw.
In our home we not only use these on our tree…. but we also hang straw ornaments on arrangements of pine boughs in a vase.
The Christmas Straw Ornament Variety Pack, Traditional European Shapes, 50 Pieces, includes Angels, Stars, Snowflakes, White Gift Box, Red Ribbon Bow, Handmade, By Whole House Worlds

68 Straw Ornaments, Christmas Tree Decoration – Set B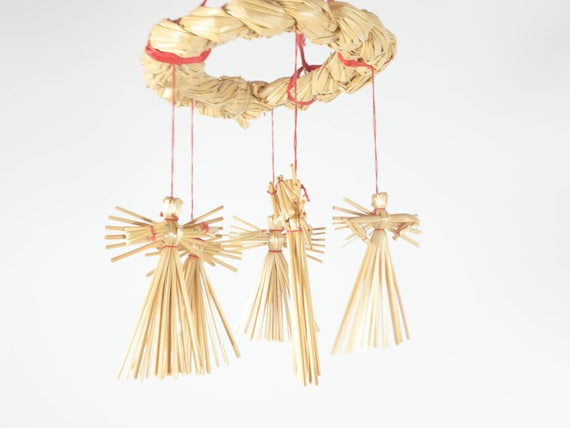 Vintage Christmas Ornaments, straw angels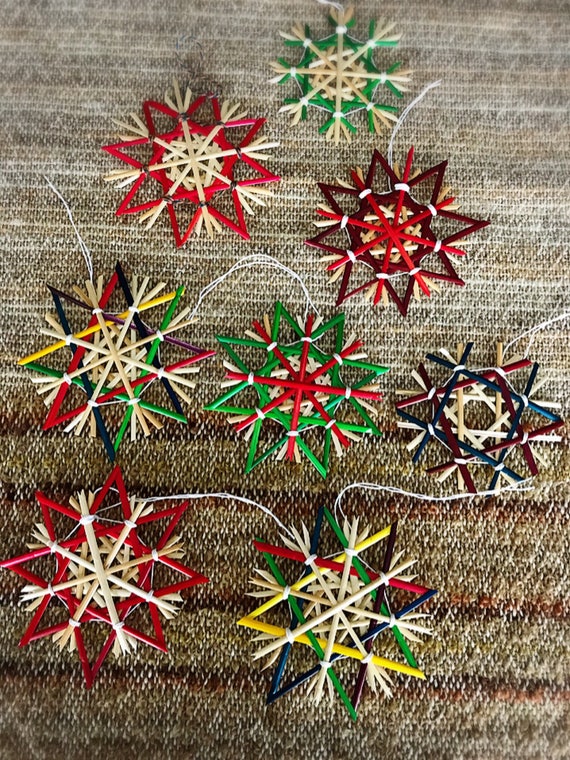 Handmade Traditional German Straw Stars Strohsterne Christmas Weihnachten Ornament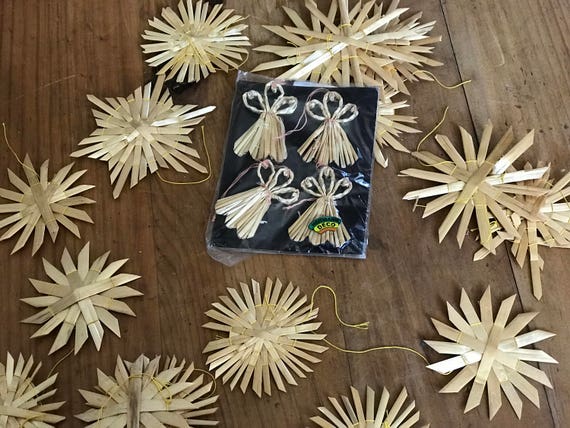 German Straw Ornaments – Lot of 20

Learn to Make Your Own Straw Stars
My German school raised money one year by selling straw stars. I have a wonderful memory of watching all the mothers sitting around a table weaving stars. They were hung from a lattice backdrop for our holiday performance… and afterwards everyone bought a few to take home.
Stimmungsvolle Strohsterne.

Wunderschöne Strohsterne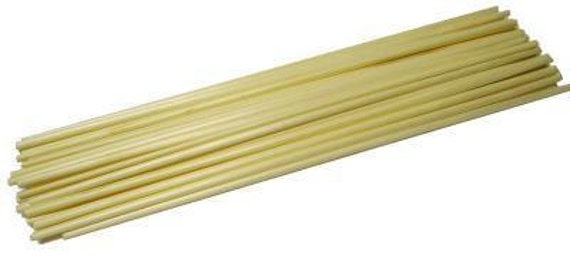 Dried straw for craft or Christmas ornament, a pack of 50 straws, German straw

German Pewter Ornaments 
In the middle of the 19th century, the industrial revolution was in full swing… and it even affected Christmas. Workers in foundries in Nuremburg began casting Pewter Christmas Ornaments. To get the color just right, they were coated in a glaze instead of paint. This made them catch the candle light and sparkle.
The 2 dimensional ornament we see today tend to be elaborate with beautiful Christmas scenes. I've always loved pewter ornaments (and I own a few) not just because they are so lovely, but also because they are so darn sturdy! If they fall off the tree, you can hang them right back up again. You can hang larger ones on the wall as decoration.
Christmas Market in Nuremberg German Pewter Ornament Nurnberg Decoration

Angel with Candles – German Pewter Christmas Tree Ornament

Angel With Wreath- German Pewter Christmas Ornament

Silent Night Chapel German Pewter Christmas Ornament Decoration Made in Germany

Christmas Tree With Toys – German Pewter Christmas Ornament

Snowy Nativity German Pewter Christmas Ornament

Wedding Couple with Flower Child German Pewter Christmas Ornament Made Germany

Vintage German Pewter Ornaments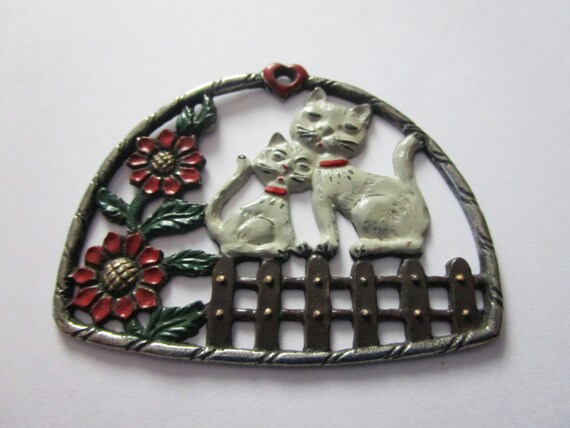 Vintage German cats ornament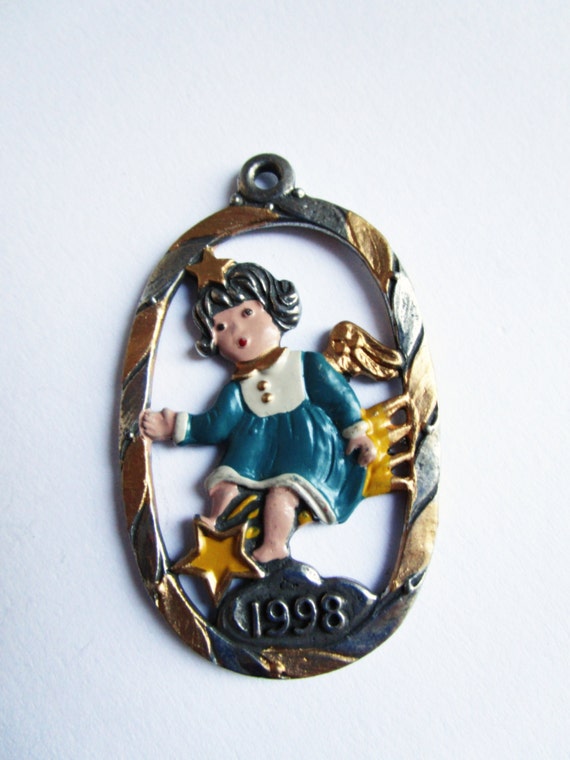 Angel on falling star ornament Christmas tree ornament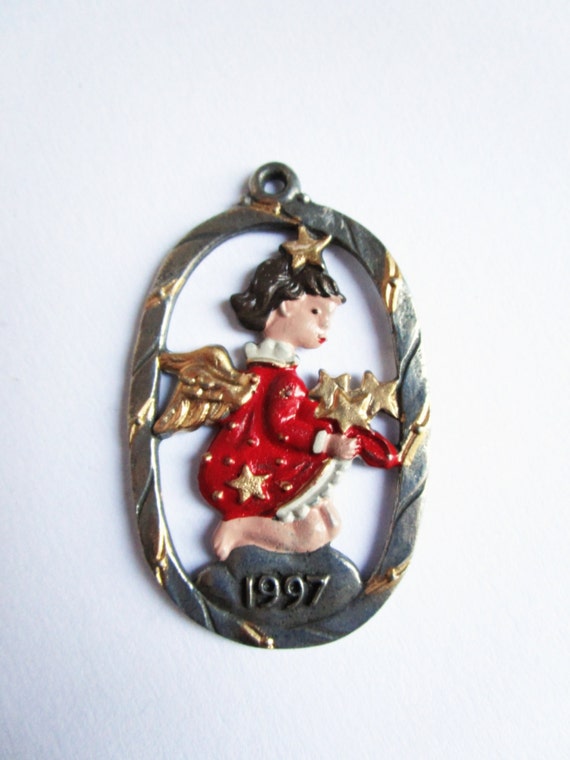 Vintage Angel with Stars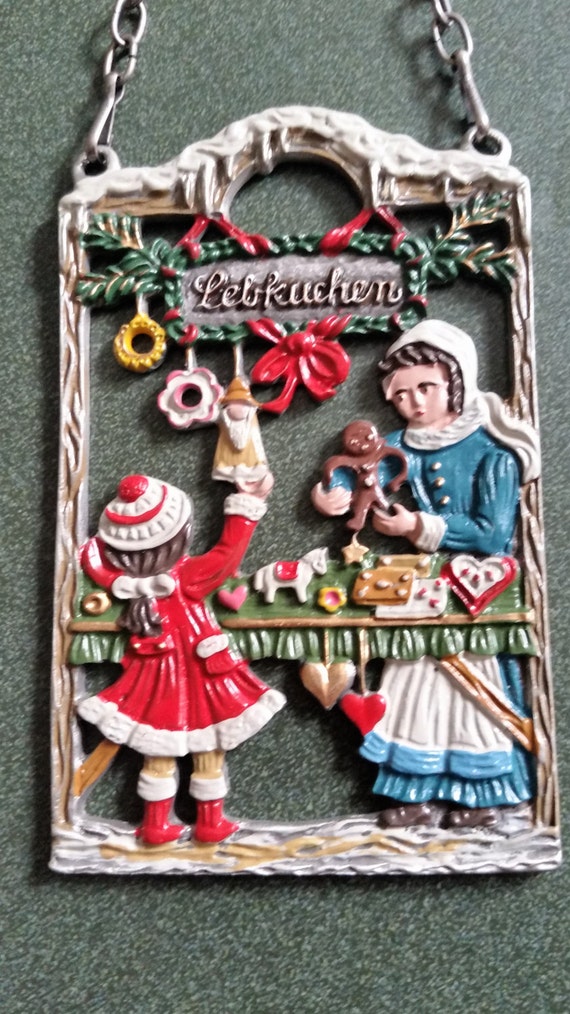 Midcentury Pewter Handpainted Ornament – Little Girl and Woman at Bakery –

Nativity Scenes for Your Home
Munich has the largest Christmas Market devoted entirely to Nativity Scenes and Figures. (They call it the largest Manger Market in Europe). These scenes depict the birth of Christ. According to tradition, we set up our Nativity set on Christmas Eve (and EVERY YEAR my mother likes to remind me that I sat on Baby Jesus when I was 2 and broke his cradle…). I like to have the 3 Kings arrive on January 6, the Epiphany (meanwhile, they just wander around the Living room). The sets come in all sizes and styles, made from wood, papermache or porcelain,  and become immediate family heirlooms.
Colored Arched Miniature Nativity Scene German Wood Christmas Figurine Germany

Bjoern Koehler Kunsthandwerk – Nativity Scene Figures – 12 Pieces

BRUBAKER Christmas Decoration Nativity Set – 3 Inch Nativity Set 11 Figurines in Real Life Nativity Set

German Wood Miniature Nativity Scene Figurine Set of 9 Wood Box Made in Germany

German Pewter Christmas Nativity Scene Display 15 Piece Set Made in Germany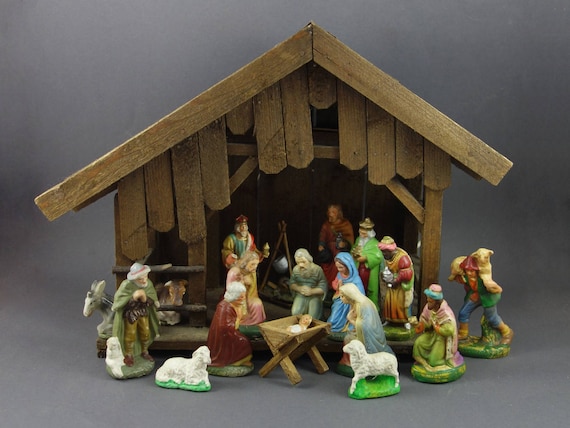 Antique German Nativity Christmas Scene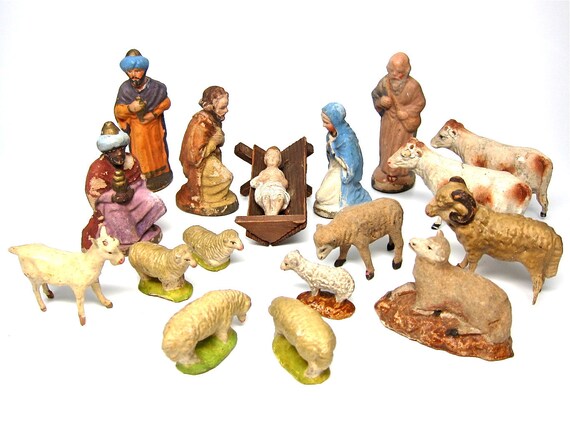 Vintage Nativity Scene German French Paper Mache Creche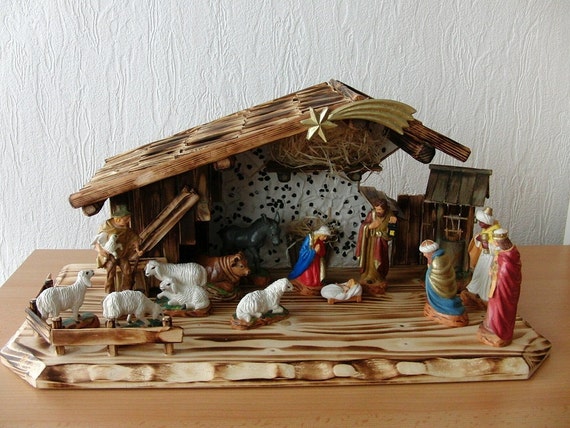 CHRISTMAS NATIVTY SET German Hand-Carved Masterpiece Three Kings Wise Men Christmas Crib

German Christmas Market Food
Don't let yourself go hungry, there are just too many wonderful and tasty things to eat and drink at a German Christmas Market. And some of it can even go home with you as a souvenir! All through the Market you will smell Gebrannte Mandeln (candied Almonds) and grilling Bratwurst. (We all need Protein!) Try a piece of Stollen… or buy a bag of Lebkuchen (and maybe take home a tin for friends.) Of course, you should try the Kartoffelpuffer (potato pancakes) …. hot, crisp, and served with a side of Applesauce….mmmmmm. Don't forget the Gluhwein! it comes in a Souvenir Mug, which makes a sweet memory of your trip to the German Christmas Markets.
Enjoy every moment. Part of the wonder of the market is not just the purchasing, it's the experience.
There are over 150 German Christmas Markets
Download this Guide to Your Kindle… Take it Along..
The Ultimate Guide to the German Christmas Markets–Where to Go and What to Buy

&nbsp