German Christmas Smokers -Räuchermännchen History & Where to Buy One!
German Christmas Smokers may look like a toy, or a simple decoration that goes on the mantle, but they do more, they are incense burners or Räuchermännchen.  This type of Christmas decoration is fairly common in most German households (like Nutcrackers), and there are different types of Smokers- Räuchermännchen are collected by many people. You'll find Santas, Brewers, Beekeepers, Toymakers… all with a pipe in hand or in their mouth. And why? Open up the figure, and you find a platform for a small cone of pungeant incense. This is lit… and the smoke comes out of the hole mimicing pipe smoke. The home fills with delicious smells of pine or Frankinsense.
In more recent years, maybe because fewer people are smoking, woodcarvers produced other sorts of figures to "smoke" without the use of a pipe…. my favorite is the dragon!
Over the years, I've collected a few, and while visiting Seiffen… a few more may have come home with me. (And honestly, the Nightwatchman and Miner stay out year round). But my most recent addition is the vintage Santa with a DDR label. Since the Erzgebirge lie in the former DDR, it totally makes sense, because that is where the story of the German Smoker begins….
What are German Christmas Smokers?
For thousands of years, incense has been treasured. This precious commodity was traded and sold for vast sums of money. As precious as gold, it was even brought to the infant Jesus as a gift from the Three Wise Men.  Incense has been historically used to cleanse evil spirits, and to make the world a better smelling place. In the early 1800s, carvers in the Erzgebirge began carving Räuchermännchen or Smokers to burn incense during the holiday season. They were meant to symbolize the gifts brought on the Epiphany Jan. 6, as well as clear out the spirits of the previous year.
Dregano Bearded Basket Trader Smoker Made in Germany

Christmas Smokers Germany
Once made from dough or paper mache, Smokers are now carved people made from wood.  Some look like Santa or other Christmas characters, but many are carved to look like everyday people who you would find in a typical German village; a Baker, a Wine Maker or a Fisherman.  Some are just made from wood, but others have metal or fur details to make them extra special. Puffs of sweet smelling smoke will come out of the smoker's mouth… making it look like he's smoking (generally, they all have pipes to complete the effect).
KWO Wood Gnome German Christmas Incense Smoker Handcrafted in Germany New

Richard Glaesser Oma Opa Mini Smoker Made in Germany

KWO Baker Cakes Breads German Smoker SMK210X03

(Also, I understand that many people find smoking to be a bad habit, and don't want to glorify it… keep in mind, these are decorations from another time and place… an incense burning Santa will probably not send your child running to get a pack of cigarettes. Fortunately… there are other types of smokers, like a the stove, a House with Smoke Coming from the Chimney, and a Dragon!.)
Unlike the fancy nutcrackers that really shouldn't be used for cracking nuts... a smoker can be used again and again. The smokers have a spot where a cone of Christmas Incense can be inserted. It often has a metal plate to shield the wood from heat damage. They are safe to have around the home, although I wouldn't leave one burning if I was going to leave the house.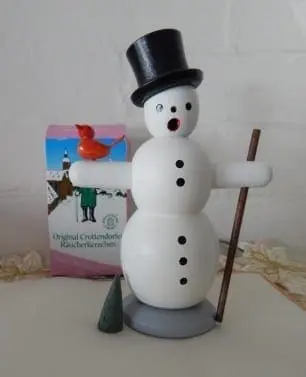 (Sadly, over the years, his pipe for my Snowan was lost, so now we just pretend he's outside breathing cold air).
Many of the best known wood carving companies in the Erzgebirge make Smokers. Steinbach, KWO, Richard Glaesser and Christian Ulbricht. With so many styles to choose from, you can find the perfect smoker for you… and your friends.
These sweet smelling Christmas Decorations can be enjoyed for years to come!
Dregano Mountain Miners House Cabin German Smoker – Approx 5 Inches Tall

Find the Perfect German Smoker for your Home
Whether you like a Santa, a Toy Maker, a traditional Bavarian… or even a dragon… there are loads of beautiful German Smokers available.
Dregano Craftsman Incense Smoker Made in Germany

Dregano Mini Santa Ruprecht Smoker Made in Germany

Dregano Bee Keeper Incense Smoker Made in Germany

Dregano Beer Delivery Man Smoker Made in Germany

Dregano Blue Gnome Smoker Hand Made in Germany

Dregano Mini Snowman Smoker Made in Germany

KWO Toy Vendor German Christmas Incense Smoker Handcrafted in Erzgebirge Germany

KWO Oktoberfest Bavarian Drinking Beer German Smoker – Approx 7.25 in Tall – …

KWO Red Santa German Christmas Incense Smoker Handcrafted in Erzgebirge Germany

Gardner Rake German Smoker SMK210X40

Seiffener Volkskunst German incense smoker dragon, height 12 cm / 5 inch, original Erzgebirge by SV 19069

Seiffener Volkskunst German incense smoker nurse, height 11 cm / 4 inch, original Erzgebirge by SV 19123

Vintage German Christmas Smokers
Find authentic Vintage German Christmas smokers perfect for the collector.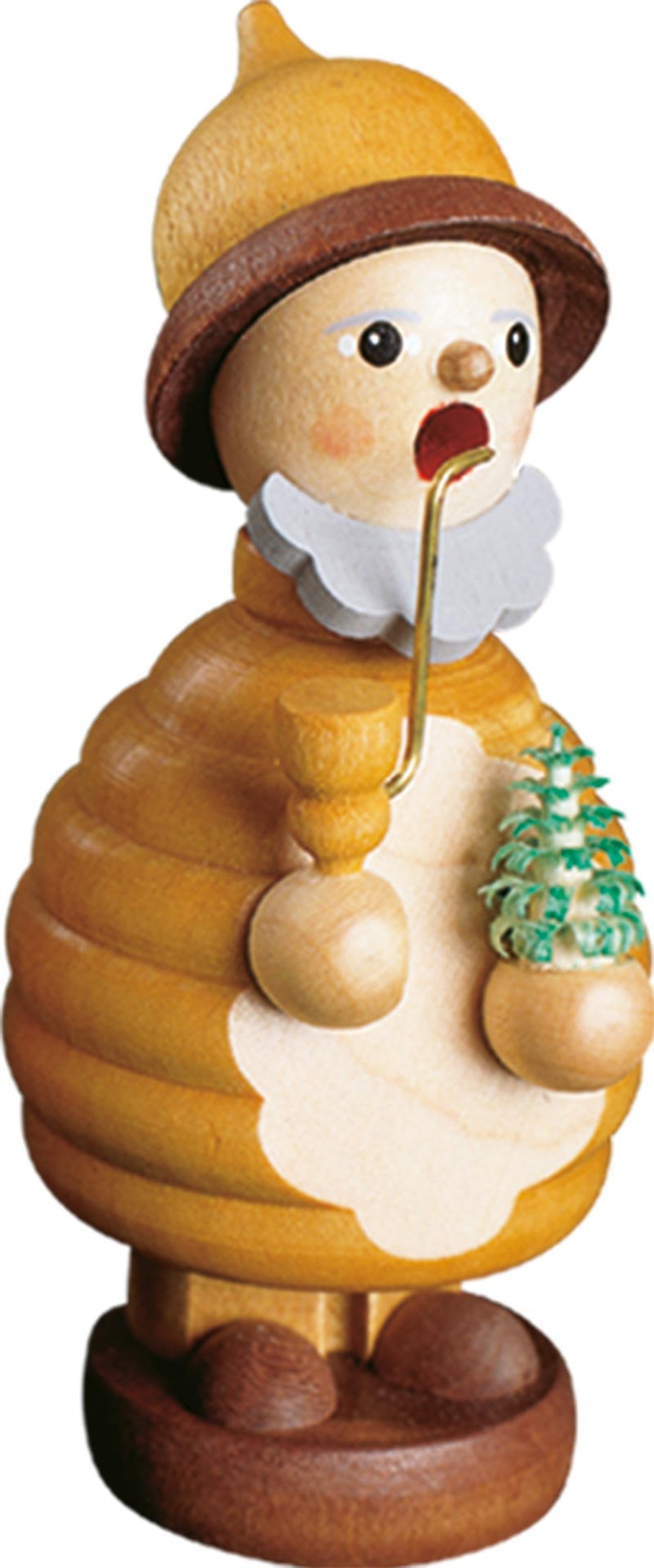 German Erzgebirge Smoker Figure: "Pine Cone Gnome w/ Tree" by Richard Glaesser, w/ bonus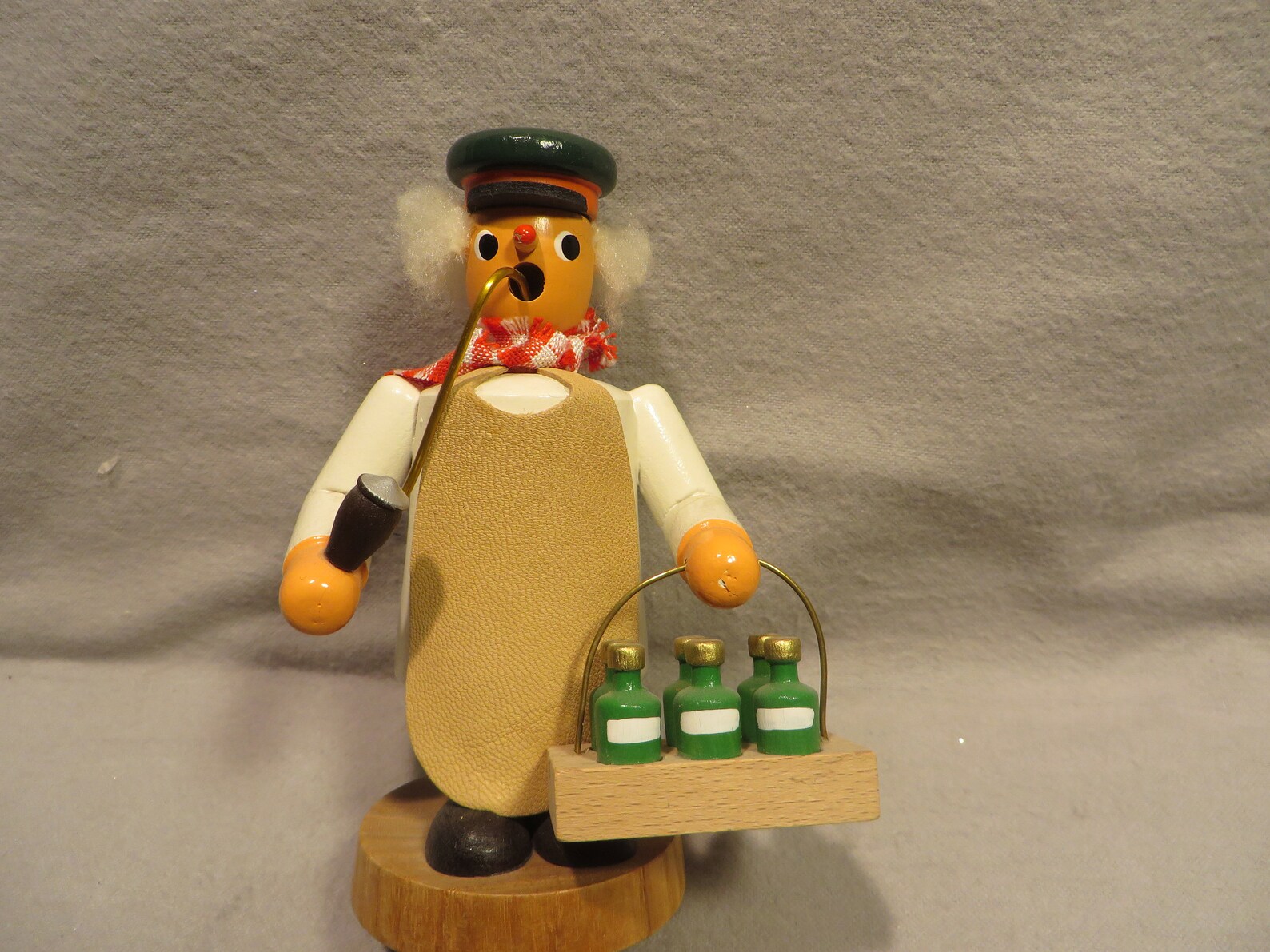 Vintage Erzgebirge Wooden Incense Smoker – Brewer With Rack of Bottles

Hubrig German incense smoker Bavarian man with pipe and stein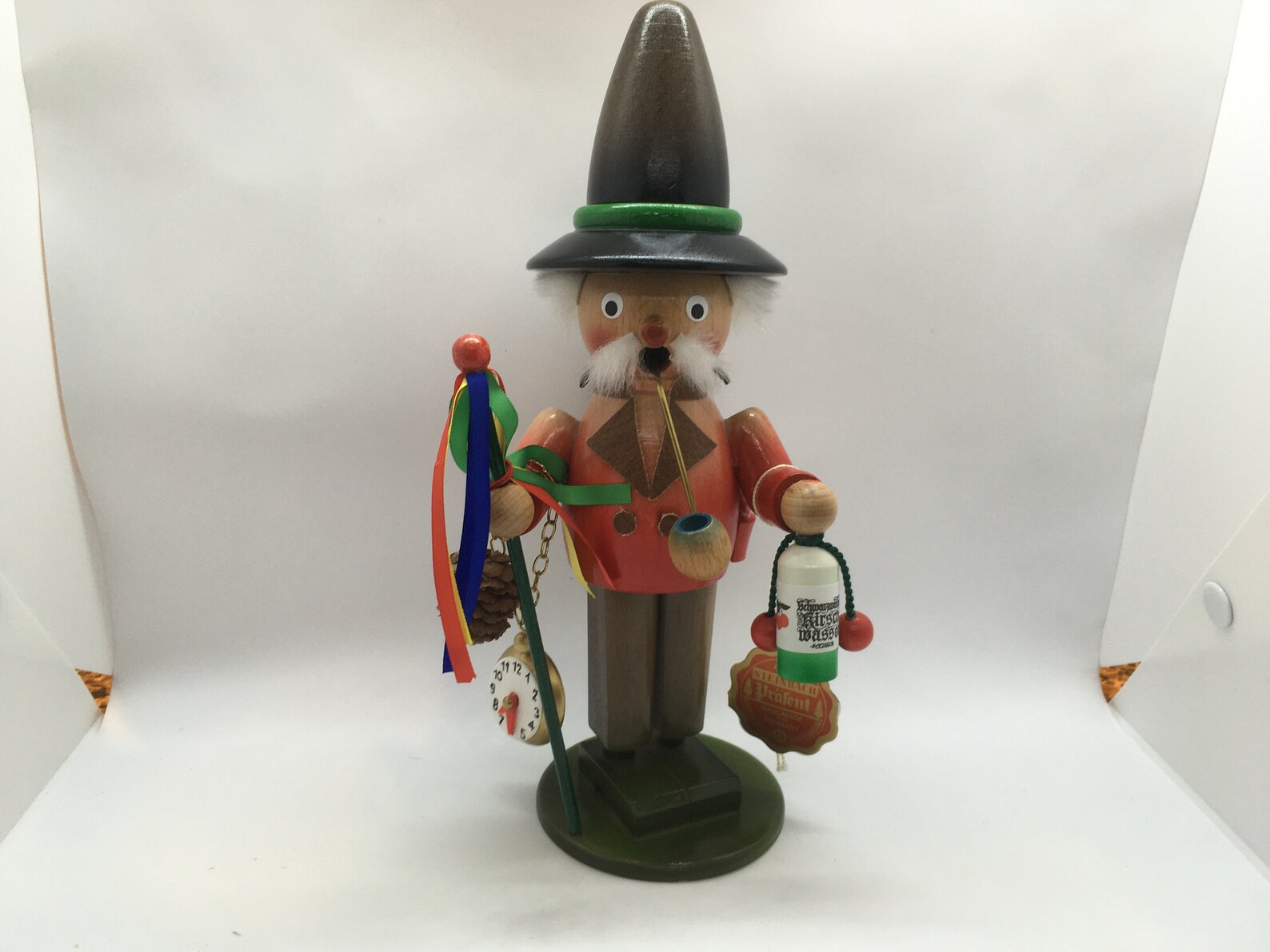 German Steinbach Smoker ~ The Clockmaker with Cuckoo Clock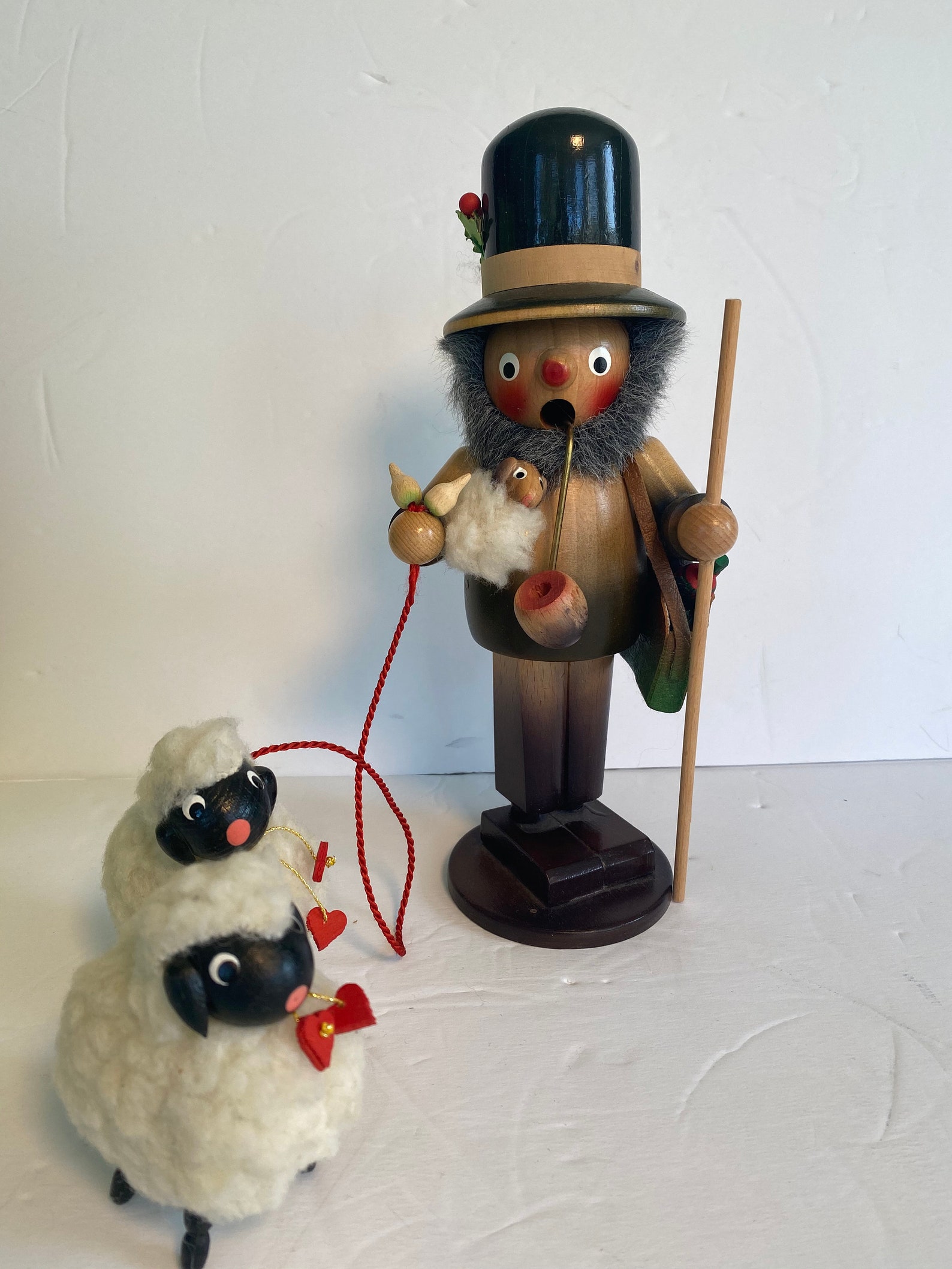 Vintage X Mas Steinbach Smoker Sheppard with 3 sheep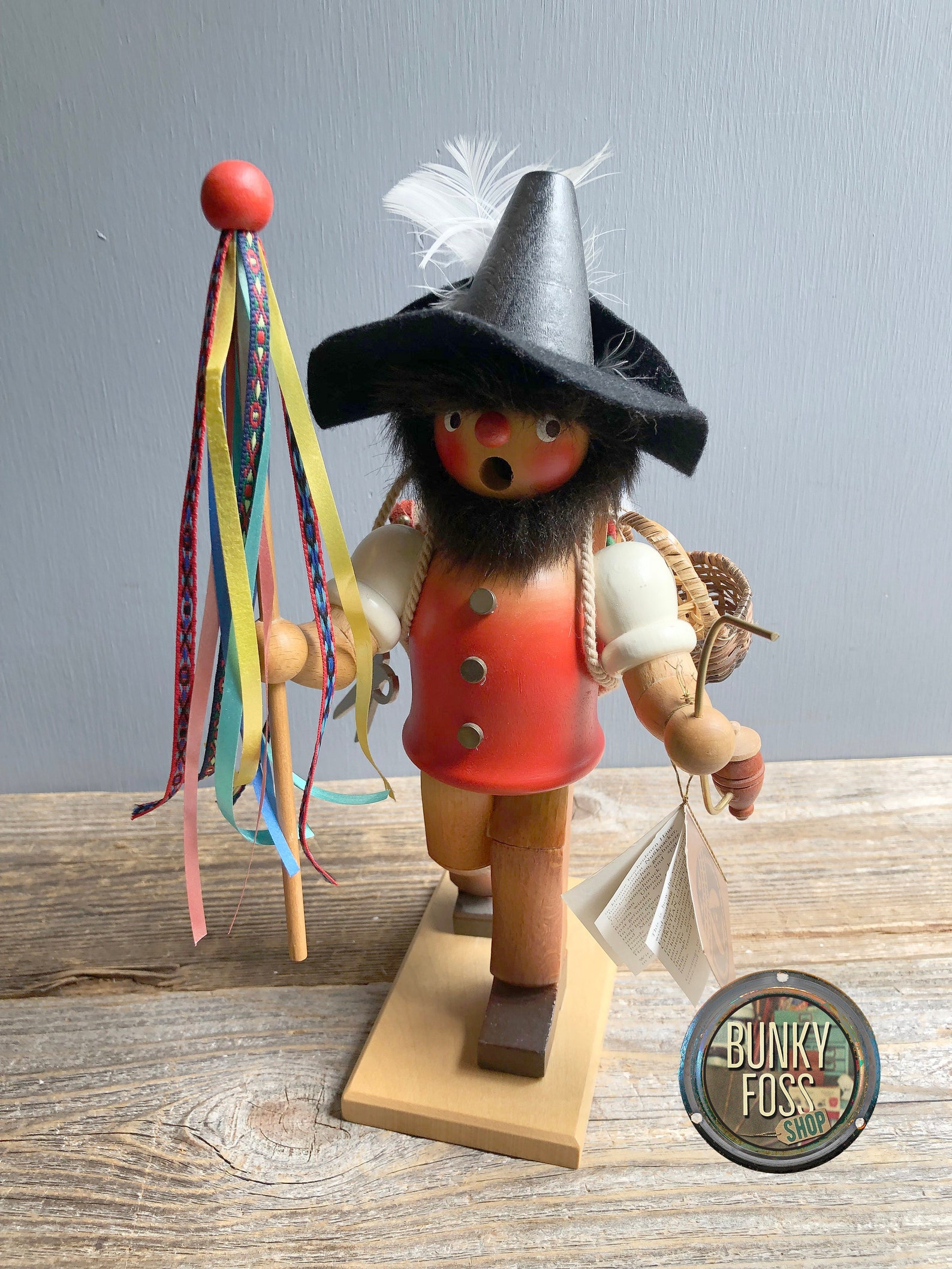 RARE! Vintage Holzkunst Christian Ulbricht Cloth Peddler Smoker,Christian Ulbricht Smoker,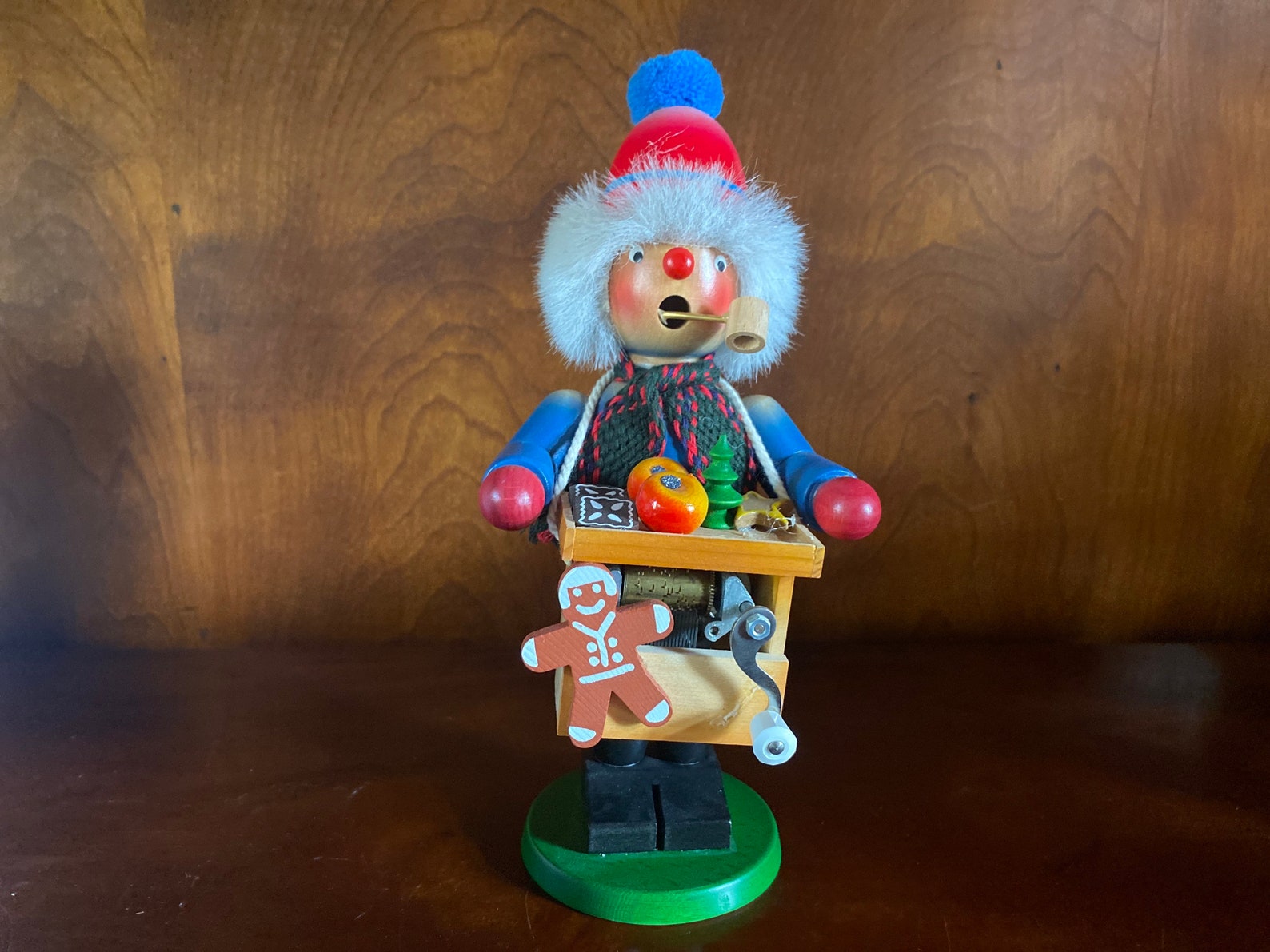 Vintage Christian Ulbricht West Germany Smoker

German Smokers Incense
While the German Smokers Incense Burners are cute as a stand alone piece, to really make them special, you need incense.
Crottendorfer Frankincense Scented Incense Cones, Pack of 24, Made in Germany

KNOX Cinnnamon Scented Incense Cones, Pack of 24, Made in Germany

Boxes German Incense Cones – Christmas Scent

Knox Nuremberg German Incense Cones Variety Pack Made Germany Christmas Smokers

Knox Heidelberg German Incense Cones Made in Germany for Christmas Smokers

See a Smoker in Action Here…
Still looking for a German Christmas Smoker?
There are SOOOOOOOO many to choose from!
Santa House Cabin German Smoker – Wooden – German Made

KWO Oktoberfest Bavarian Drinking Beer German Christmas Incense Smoker Germany

KWO Beekeeper German Incense Smoker SMK215X71

German Incense Smoker Winterchild Girl with stollen – 20cm / 8inch – Hubrig Volkskunst

Alexander Taron Importer 1-667 Christian Ulbricht Incense Burner-Fir Cone Man (Natural) -4

German Incense Smoker Dog lover – 16cm / 6 inch – KWO

KWO Schwibbogen Candle Arch Erzgebirge German Smoker SMK211X68

German Incense Smoker Pilot – 21,5 cm / 8 inch – Christian Ulbricht

Mini Dog Duck Hunter German Smoker Incense Burner – Made in Germany

KWO Sitting Lumberjack German Christmas Incense Smoker Handcrafted in Germany

ISDD German incense smoker Santa Claus, height 23 cm/9 inch, original Erzgebirge by Mueller Seiffen

Dregano Log Cabin Incense Smoker Made in Germany

German Incense Smoker Forest Ranger – 18 cm / 7 inch – Authentic German Erzgebirge Smokers – KWO