German Smokers Incense Burners -Räuchermännchen, The History and Where to Get One!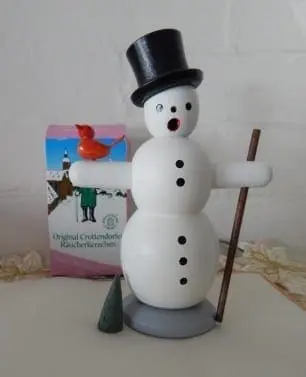 German Smokers Incense burners may look like a toy, or a simple decoration that goes on the mantle, my wooden Smoker Snowman does more, he is an incense burner… a Räuchermännchen. (Sadly, over the years, his pipe was lost, so now we just pretend he's outside breathing cold air). This type of Christmas decoration is fairly common in most German households… and they different types of Smokers- Räuchermännchen are collected by many people.
Quick Look at the Contents
What are German Smokers Incense Burners?
For thousands of years, incense has been treasured. This precious commodity was traded and sold for vast sums of money. As precious as gold, it was even brought to the infant Jesus as a gift from the Three Wise Men.  Incense has been historically used to cleanse evil spirits, and to make the world a better smelling place. In the early 1800s, carvers in the Erzgebirge began carving Räuchermännchen or Smokers to burn incense during the holiday season. They were meant to symbolize the gift brought on Jan. 6, as well as clear out the spirits of the previous year.
Christmas Smokers Germany
Once made from dough or paper mache, Smokers are now carved people made from wood.  Some look like Santa or other Christmas characters, but many are carved to look like everyday people who you would find in a typical German village; a Baker, a Wine Maker or a Fisherman.  Some are just made from wood, but others have metal or fur details to make them extra special. Puffs of sweet smelling smoke will come out of the smoker's mouth… making it look like he's smoking (generally, they all have pipes to complete the effect).
German Incense Smoker Lace maker – 16 cm / 6 inches – KWO

KWO Wood Gnome German Christmas Incense Smoker Handcrafted in Germany New

Richard Glaesser Oma Opa Mini Smoker Made in Germany

(Also, I understand that many people find smoking to be a bad habit, and don't want to glorify it… keep in mind, these are decorations from another time and place… an incense burning Santa will probably not send your child running to get a pack of cigarettes. If you are still concerned… there are other types of smokers, like a Woman holding a Bowl of Steaming Dumplings, a House with Smoke Coming from the Chimney, and a Dragon!.)
German Incense Smoker German Organ maker Gottfried Silbermann – 27cm / 11 inch – Karl Werner

Unlike the fancy nutcrackers that really shouldn't be used for cracking nuts... a smoker can be used again and again. The smokers have a spot where a cone of Christmas Incense can be inserted. It often has a metal plate to shield the wood from heat damage. They are safe to have around the home, although I wouldn't leave one burning if I was going to leave the house.
Many of the best known wood carving companies in the Erzgebirge make Smokers. Steinbach, KWO, Richard Glaesser and Christian Ulbricht. With so many styles to choose from, you can find the perfect smoker for you… and your friends.
These sweet smelling Christmas Decorations can be enjoyed for years to come!
Find the Perfect German Smoker for your Home
Whether you like a Santa, a Toy Maker, a traditional Bavarian… or even a dragon… there are loads of beautiful German Smokers available.
German Incense Smoker Toy salesman – 18 cm / 7 inch – Authentic German Erzgebirge Smokers – KWO
KWO Oktoberfest Bavarian Drinking Beer German Smoker – Approx 7.25 in Tall – …
KWO Red Santa German Christmas Incense Smoker
German Incense Smoker Wanderer – 15cm / 6 inch – Authentic German Erzgebirge Smokers – KWO
Christian Ulbricht German Smoker – Snowman On Skis
Gardner Rake German Smoker SMK210X40
Beekeeper German Incense Smoker SMK215X71
German Incense Smoker Freiberg Hut – 12,5cm / 5 inch – Dregeno Seiffen
German incense smoker Dumpling Woman, height 11 cm / 4 inch, original Erzgebirge by Seiffener Volkskunst SV 19002
German Incense Smoker Exclusive Figure Dragon Grandpa
Vintage German Smokers
Etsy carries vintage smokers..perfect for the collector.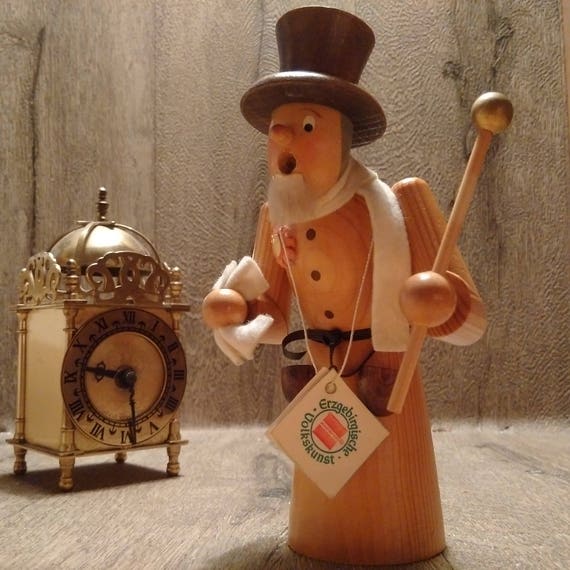 Vintage German Erzgebirge Smoking Wooden Incense Man still with ORIGINAL labels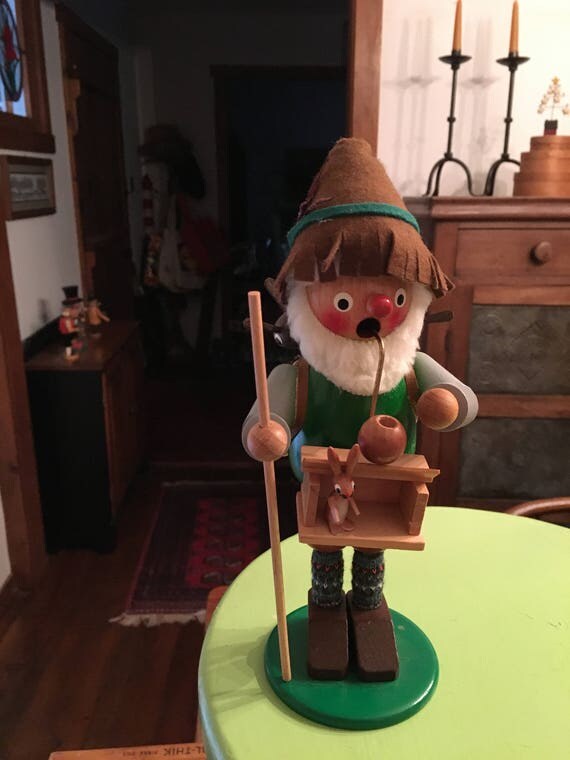 https://img0.etsystatic.com/214/1/14650233/il_570xN.1342121106_47mw.jpg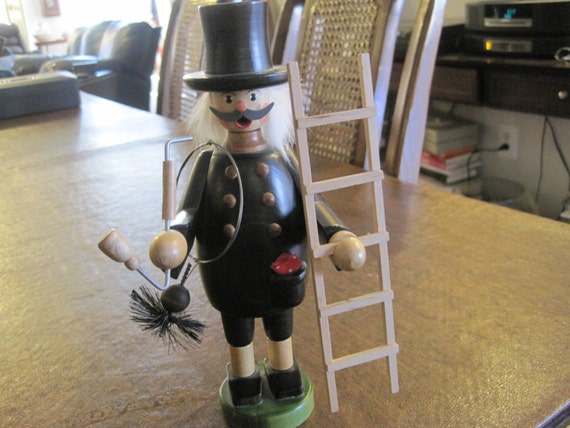 Vintage German Smoker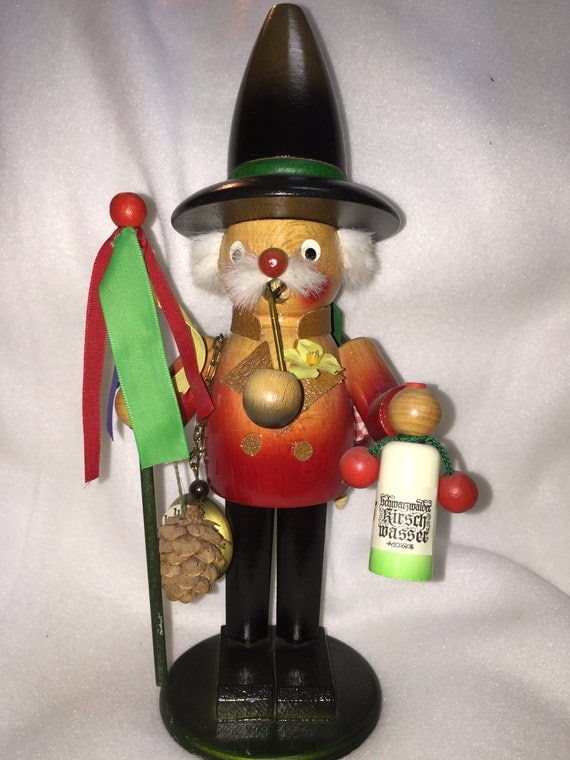 Vintage Smoker with Kirschwasser bottle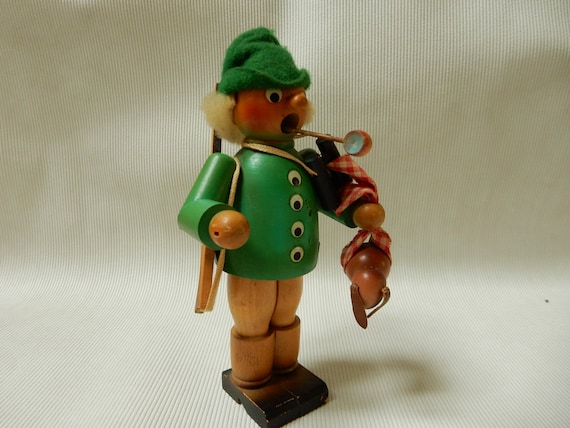 German Smoker Incense Burner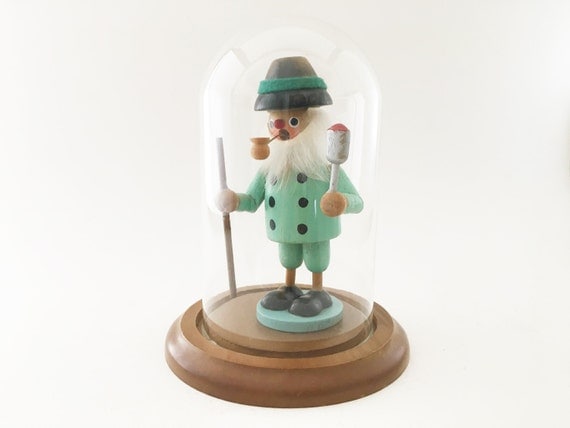 Vintage German Smoker Man Incense Cone Burner in glass display dome.

German Smokers Incense
While the German Smokers Incense Burners are cute as a stand alone piece, to really make them special, you need incense.
Knox Pine Incense Cones
Incense Cones for All Smokers – KNOX Mini Mixed Scents (24 pcs)
Knox Six Pack of Christmas Scents German Incense Cones
See a Smoker in Action Here…