Easy Blitz Torte Recipe-Lightening Fast Cake with Cream and Fruit
The Blitz Torte recipe came to me from my Tante Anne. To me it is summer in Germany. Sweet fruit and a  whipped cream filling, sandwiched between two layers of meringue and almond topped Cake. It looks special… tastes wonderful and light.. and despite looking "fancy", it's actually not that difficult to make. It's perfect for a Kaffeeklatsch. And it certainly lives up to its name… it's LIGHTENING FAST to make!
I've given the recipe with the German Measurements with some German Ingredients, so I translated that for the American Kitchen. You will find both ways of measuring in the recipe. Don't be intimidated. It may seem like a LOT, but all techniques are fairly straight forward… and I've included boatloads of photos. Just go step by step… you'll be fine. Make it for yourself or for company. Either way, it's a hit, and will leave a lasting memory.
Note- I made this particular cake with fresh raspberries and boysenberries, but you can mix things up, and use other berries or cherries. In Germany, I have eaten this cake with Gooseberries, but I have yet to find decent Gooseberries in here in California. I found some canned ones once, but they were…. old and yucky? It's also a delicious cake with if you use a Cherry Filling. (Trader Joes sells Morello Cherries).

Note- To make the Whipped Cream hold its form, German bakers use a product called Sahnesteif or Whip It as a stabilizer. It's not essential, but it does hold the cream together. According to Nadia at Spoonfuls of Germany, you have two good options to thicken the cream (if you don't plan to finish the cake right away, and want it to hold up) 1. Add a small amount of dissolved jello powder to the whipped cream like she does for the Black Forest Cake in her cookbook, or 2. cook the fruit with 1 tablespoon of cornstarch, which she does,  then fold the cooled mixture into the whipped cream, it works well.
Easy Blitz Torte Recipe
Easy Blitz Torte Recipe- Lightening Fast Cake with Cream and Fruit
Ingredients
CAKE BASE:
1/2

cup

100 gr Butter

1/2

cup

100 gr Granulated Sugar

1

tsp

Vanilla

4

egg Yolks

save the whites

1 1/4

cup

150 gr Unbleached Flour

1

tsp.

Baking Powder

6

Tbl. Milk
MERINGUE TOPPING:
4

Egg WHITES

1/2

cup

100 gr sugar

1/2

cup

100 gr sliced Almonds
WHIPPED CREAM FILLING:
2

cups

500 ml Whipping Cream

1

tsp.

Sahnesteiff

optional

2

tsp.

or more Powdered Sugar
Instructions
Preheat Oven 350 degrees F

Spray 2 9 inch Springform Pans with spray stuff, or grease with butter... or use regular 9 inch round cake pans, but line them with parchment!!

First Make the Cake Base-

Combine butter and sugar in a mixer until light and fluffy.

Add Vanilla and Egg Yolks, mix to combine. Scrape down sides.

Add Flour and Baking Powder alternating with Milk. mix until combined.

Split dough in half, and press each half into the bottom of a spring form pan. Set aside.

Meringue Topping-

Make sure your mixing bowl is squeaky clean, and fat residue will foul up the egg whites.

Using the whisk attachment, whip up the egg whites.

Slowly add sugar.

Keep whipping until stiff... you should be able to see the slash mark if you draw a knife through it.

Put half of the meringue onto each cake base in the spring form pan. Spread to the edge. It doesn't have to be smooth.. have some fun.. make a few swirls.

Sprinkle half of the Almonds over the meringue in each pan.

Bake for 20 minutes.

When done baking, set the pans on a cooling rack.

When cool, remove from the bases.

Run a knife carefully around edge to loosen any stuck meringue, and remove the walls of the spring form pan.

Let cool COMPLETELY.

WHIPPED CREAM FILLING

Whip Cream for 30 seconds, add Sahnesteiff and powdered sugar, whip until stiff

(The Corn Starch will give the whipped cream stability)

Set aside.

OK,everything cooled at set? time to assemble the cake....

SOME ASSEMBLY REQUIRED

Pick the pretty cake base... that will be the top. Set it aside.

Put the bottom cake on a serving plate. If you are using a springform pan, you can put the ring around the cake to act as a mold.... but it's not necessary.

Cover with berries... almost to edge

Cover with Whipped cream filling.... pretty much to edge

Now... Put the cake top on. Press down a little to make sure it's all together.

Remove ring.

When you Slice the Cake, use a serrated knife.
Notes
The Blitz Torte is best the day you make it. The Meringue starts to soften after a day.... still good, just not as good.
&
Step by Step Photos…..
Get the batter spread out in the 2 Spring Form Pans.
It's a bit tricky, because it sticks. I found it easier to butter up my hand
and use my palm to get the dough spread.
Put the Whipped Meringue on Top of the Cake Batter.
Sprinkle Nuts over Meringue
You can leave off the Almonds if you don't care for them
You want to sprinkle Almonds on both layers.
Then Bake!!!
Put Fruit on the bottom Layer
I usually chose the prettier Meringue base to go on top. One is always prettier…

Cover Fruit with Whipped Cream
Spread the Whipped Cream over the Berries… go to the edge.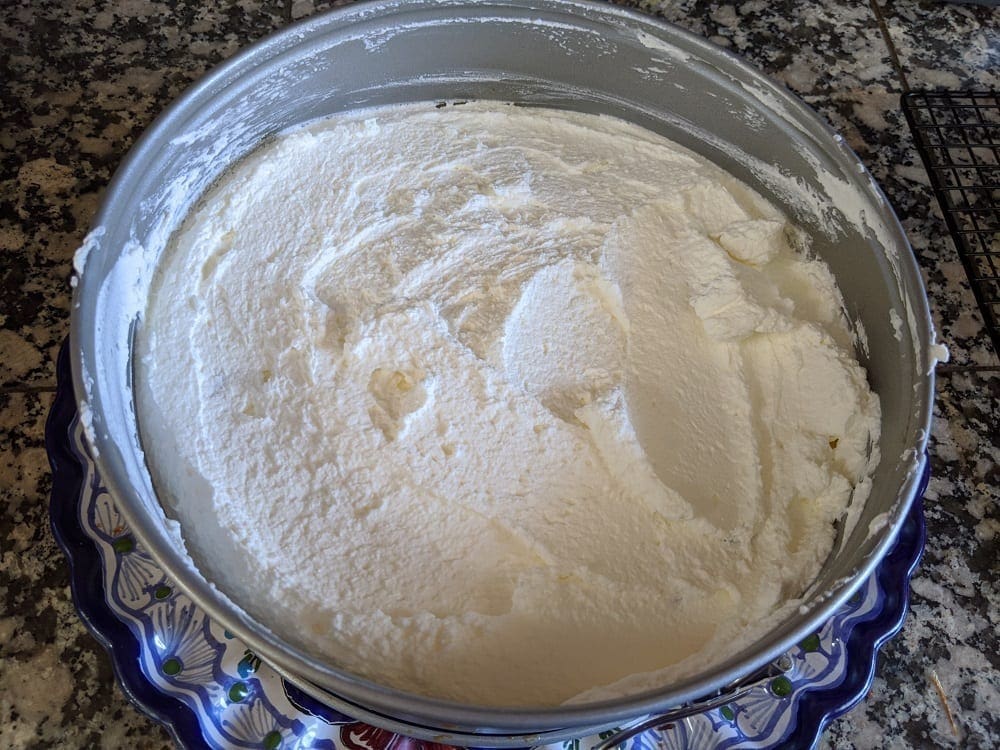 Then Lay the top on top of Whipped Cream
Slice down through the carefully for a pretty slice
YUM