German Green Bean Soup/ Gruene Bohneneintopf -Easy Delicious Meal
I love a good Eintopf.. one pot meal.. and my favorite would have to be German Green Bean Soup or Gruene Bohneneintopf. This easy and delicious meal satisfies even the heartiest of appetites. It's loaded with Green Beans, potatoes and even beef (and a little bacon). Along with a few slices of bread, it's the perfect meal for cool nights. And when I put it on the table here at home, even the finicky eaters clean their plates.
The recipe I use for German Green Bean Soup / Gruene Bohneneintopf is loose… more a guideline. I learned to cook from my mother and Oma, and they use the … "Add ingredients, taste, adjust for flavor"... method of cooking. Traditionally a German Bohnensuppe (Bean soup) uses Bohnenkraut (Bohnenkraut is Summer Savory),  but I prefer using Thyme because I like the flavor, and it grows in my garden. (If you have Summer Savory, go ahead and use it instead.
I use the words Eintopf (one-pot meal) and Suppe (soup) sort of interchangeably for this recipe. It's a hearty soup, and when served with a slice of bread, you have a complete meal.
German Green Bean Soup Recipe  Gruene Bohneneintopf
German Green Bean Soup Recipe
Ingredients
1

pound

Beef

cubed stew meat or ground beef if you are in a hurry

1

medium Onion - diced

2

tsp

dried Summer Savory

Bohnenkraut or Thyme

3

Tbl. Oil

Salt and pepper

2

pounds

Green Beans

trimmed and cut to 1- 2 inch pieces

½- 1

pound

Potatoes- peeled and cut into pieces

Beef broth to cover all….. about 4-5 cups?

… I like to add Maggi Wurzmischung for flavor

Few pieces bacon
Instructions
•In a soup pot, heat the oil, then brown the meat on all sides (I use ground beef when I'm in a hurry). Add the onions toward the end to soften them up.

•Add salt and pepper, then add Savory (or thyme). Let cook with the lid on for ten minutes to get the flavors to meld on low heat.

•Trim the beans, and cut them into 1 -2 inch pieces. Add them to the pot with the broth.

•Bring to a boil, then simmer.

•Add the potatoes and let cook for 20 minutes (until the potatoes can be poked with a knife)

•Dice the bacon… in a separate pan, fry it until browned

•Add the bacon (and the bacon fat) to the soup just before serving.

•Taste… add more salt/pepper as needed
Looking for more Easy German Recipes?
Try my Easy German Cookbook! It's packed with 80 traditional recipes made simple for the American Kitchen.
Order from Amazon… or order a signed copy from my online shop.
Easy German Cookbook: 80 Classic Recipes Made Simple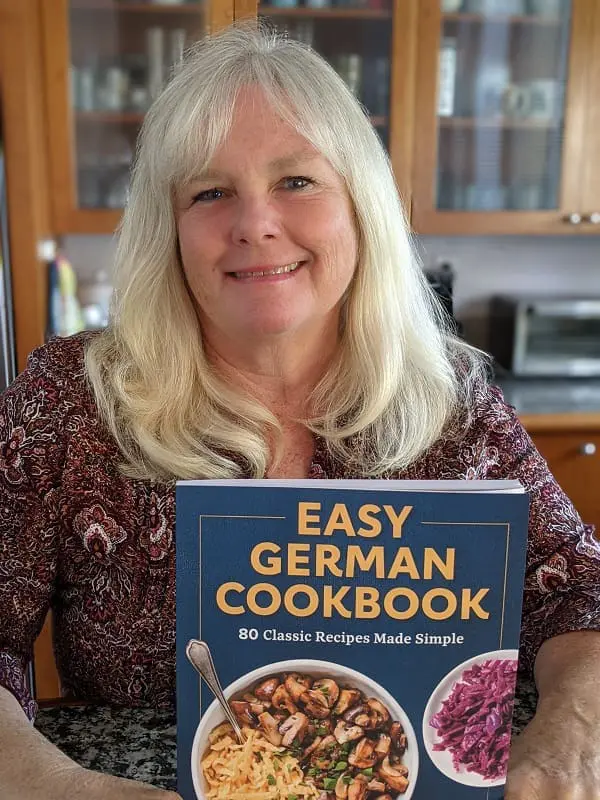 Easy German Cookbook SIGNEDGermanGirl Shop
Serve Your German Green Bean Soup with a Good German Bread.
Harry 1688 Stone Baked BreadGermanShop24
Sunflowerseed BreadGermanShop24
Hearty RollsGermanShop24
Do You Need Seasoning and Bouillon?
Maggi Liquid Seasoning, 4.40 Ounce

Better Than Bouillon Beef Base 8 oz