Cinnamon Star Cookie Recipe – German Zimtsterne Recipe
Certain cookies just just have to be Christmas Cookies. This Cinnamon Star Cookie Recipe, or as they are more commonly known in Germany, Zimt Sterne, is one of those. ( Face it, some cookies just have to be eaten at certain times of the year, and no other…. gingerbread men are odd in July… unless they are in a bathing suit.)I do have to say, that Cinnamon Stars/ Zimt Sterne have a different kind of flavor. It's a strong, cinnamony/lemony taste. The cookie itself is dense, and a bit chewy… and the meringue on top is light, sweet and crisp. My recipe makes a light colored cookie,not the dark one you often see, so perhaps it's not as strong tasting.
In the back of my head I think… kids won't like these much… but my 9 year old really likes them (and she's the picky one)… however, if you plan to feed them to children, and feel like you need to dial back the strength of the flavor, put in less lemon peel, or use dried lemon peel rather than fresh.
Zimt Sterne ingredients are simple, almonds, egg whites, powdered sugar, cinnamon and lemon zest, so as long as you are using the right powdered sugar, this cookie is GLUTEN FREE…. perfect for those who want a cookie, but can't handle wheat flour. As usual I've included loads of step-by-step photos to help guide you through the process. It'll be easy.
Give them a try. They are small… lovely with a cup of coffee or tea… and a nice addition to your Christmas Cookie plate.
Cinnamon Star Cookie Recipe German Zimtsterne Recipe
Cinnamon Star Cookie Recipe (German Zimtsterne)
Use star shaped cookie cutters about 1 1/2 to 2 inches across. Yes… you can use circles or snowmen or palm trees… but then they wouldn't be cinnamon STARS, would they?
Ingredients
3

Egg Whites

2

cups

250 g Powdered sugar

1-2

Tbl. Ground Cinnamon

to taste... maybe start with 1...these can get strong

1

Tbl. Fresh Lemon Zest

3

cups/ 300g Ground Almonds

IN

ADDITION

loads of Powdered Suger
Instructions
Preheat oven to 325 degrees Fahrenheit.

In a Mixer... whip up those egg whites... add powdered sugar ...slowly (or you'll get it up your nose). It'll be thickish, and a little goopy looking.

Take out 8 Tablespoons of the egg white/sugar mix, and put it in a plastic baggie or piping bag. Set aside.

In a small bowl, combine the ground almonds, cinnamon and lemon zest.

Add the Almond Mix to the Egg White Mix.... Use a wooden spoon to stir it together until it is fully

combined.

Let it rest for 15 minutes (you can rest for those 15 too... read a magazine or something).

Time's UP!

Ok... prepare your rolling out surface by covering it with a thick layer of powdered sugar.

Rub your rolling pin with powdered sugar.

Grab a chunk of the dough... with powder sugar hands.... and pat it into a disk. Set it on the powdered sugar... rub it into the sugar... flip and rub again... Now start rolling.

Remember... you are rolling out dough, not trying to permanently meld the almonds into the kitchen counter. Roll easy. Flip it or rotate the dough often. If it starts to stick... hit it with more powdered sugar.

You want to roll it about 1/3 inch (.5cm) thick. No... you don't need to get out the ruler.... just eyeball it. It's cookies, not brain surgery.

Cut the cookies out with a star shaped cutter. If the cutter feels sticky... dip it in powdered sugar (are you seeing a pattern?)

Put the cut out cookies on a cookie sheet.... you can put the cookies fairly close together since they don't spread.

Gather the dough scraps... add some new dough to it... and roll again. Keep going until the dough is used up.

When you have a full tray.....

Clip the corner of the baggie containing the bit of meringue and pipe it onto the cookies. Don't let it drip over the side.

Bake for 15 minutes.

Let them cool on the baking sheet.

Eat.
Notes
I find these taste better after a day or two.
You can store these cookies air tight in a dark space for a few weeks.
German Cookie Plates
These German cookie plates are perfect for Christmas cookies! Load them up with cookies, chocolates, nuts and candies…
In our family, we each got our own Bunter Teller on Christmas Eve! Mom would import round fluted cardboard plates printed with Christmas patterns… Find those HERE–>Bunter Teller
<
Villeroy & Boch Toy's Delight Buffet Plate

Villeroy & Boch 14-8626-3874 Pastry Plate, Porcelain, Colourful

Step By Step Instructions with Photos
Cinnamon Star Cookie Recipe (German Zimtsterne)
Whip the Egg Whites and Powdered Sugar Together
It will be a not too fluffy, sticky, glue-like substance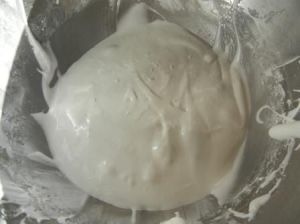 Set Aside Approximately 8 Tablespoons of the Egg While Mix in a Zipper Baggie
Yes, you can put it in a piping bag…
Measure Out the Ground Almonds, Ground Cinnamon and Lemon Zest
Then give it a quick stir to get it mixed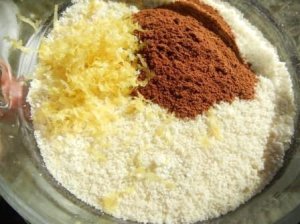 I bought my ground almonds … you can find them at health food stores, Trader Joes, and some supermarkets may carry them. Alternatively, you can grind your own almonds in a food processor…. put in the almonds and let them process until fine. Keep an eye on it though… there is a fine line between ground almonds and almond paste.
Dump the Almond Mix Into the Egg Mix
Stir them together with a wooden spoon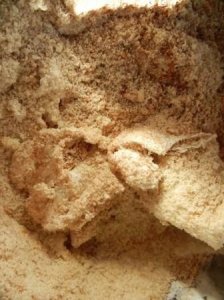 Why a wooden spoon? It's tradition.
When the Ingredients are Combined… They Will Look Like This
Zimt Dough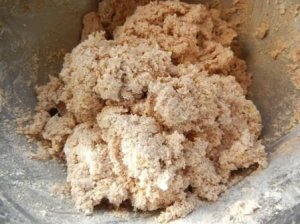 Sprinkle Powdered Sugar on Your Work Surface
Be Generous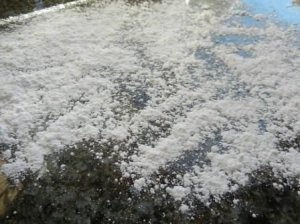 Grab a Ball of Dough (not all the Dough… Just a Baseball sized Lump… About 4 Inches in Diameter)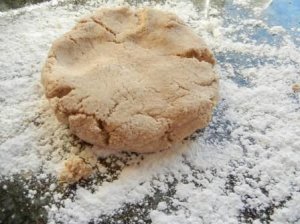 Pat the Dough to a Disk, set it on the Powdered Sugar
Rub the Disk In the Powdered Sugar a Bit, Then Flip the Disk Over
See how there is sugar on both sides?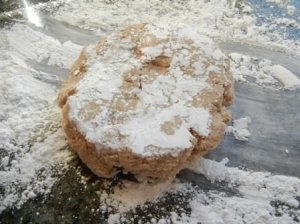 Rub Powdered Sugar On Your Rolling Pin
You don't want anything to stick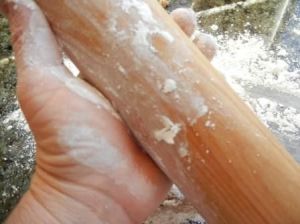 Roll Dough By Pressing Gently Outward, and Flipping the Dough Semi-Frequently
You want it to be 1/2 centimeter thick… about 1/3 inch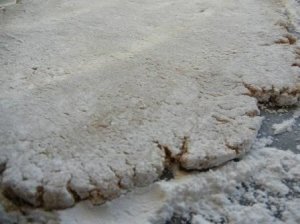 Cut With A Star Shaped Cookie Cutter (mine is about 2 inches across at widest point)
Cut the cookies close together to avoid re-rolling the dough too often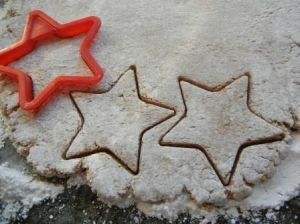 Then Lift the Cookies Onto a Baking Sheet
An Offset Spatula is Perfect for This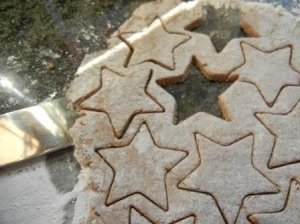 Cut Out Stars on the Parchment Lined Baking Sheet
You can place them close together… these cookies don't spread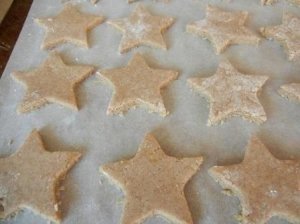 Moosh Together the Dough Scraps… Add Some New Dough
Then roll and cut again, and again… until the dough is used up
When You Filled Your Baking Sheet With Stars… Clip the Corner of the Meringue Bag.. And Color the Stars In
I find it best to start with an outline… then fill the middle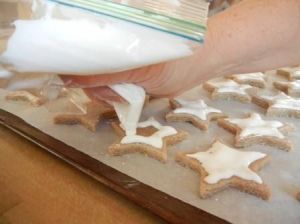 Ready For The Oven
Bake at 325 for 15 Minutes.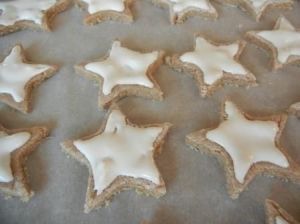 YUM!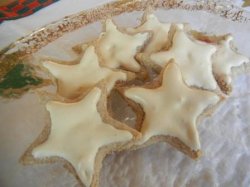 Store Cinnamon Stars/ Zimt Sterne In An Airtight Container… In a Dark Place
They Will Last For Weeks If Stored Correctly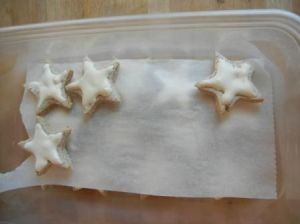 Still looking for Recipes?
click here–> Traditional German Christmas Cookie Recipes