Christmas Markets Along the Rhine
There is something magical about a German Christmas Market Holiday, especially along the Rhine River. The smell of Gingerbread, grilling Sausages and roasting Chestnuts fills the air…. you hear musicians playing Christmas Carols…. rows of booths sell hand made wooden toys, blown glass German Christmas Ornaments, candles, pewter mugs, and Advent Wreaths….. singers and performers take the stage with special Christmas performances….. St. Nikolaus and the Christkindl greet children whose eyes are lit up with excitement at the lights, carousels and special treats… and the Gluhwein and hot Cocoa help insure that you stay warm all the way down to your toes. Looking for a special way to re-kindle your Christmas spirit? Try a Rhine Christmas Market Cruise.
Your trip begins at the Cologne Germany Christmas Market then you cruise down the Rhine river at a leisurely pace on a River Cruise Boat, stopping at different towns and cities like Koblenz, Rudesheim, Mainz, and Strasbourg along the way to visit the famous Christmas Markets. Cruises last from 3 to 9 days…. so you are sure to find one that fits in to your schedule.
The Christmas Markets open the last week of November, so you have plenty of time to take your trip. You can even make the Cruise a part of a longer vacation…. tour a bit of Germany before embarking in Cologne….. go skiing in Switzerland after your cruise is over.
Some of the best Christmas Markets are along the Rhine, and a Rhine Christmas Market Cruise will surely be a trip you will never forget.
"This post contains affiliate links, at no additional cost to you I am compensated if you purchase after clicking on the links."
What's so fun about a Christmas Market Cruise along the Rhine?
If you are wondering… why cruise the Rhine? Why not just drive?
Ahhh…. easy. Think about it… You take your luggage aboard the narrow… well-appointed ships… unpack… and you are done. You won't have to unpack again until it's time to get off the ship…. YOUR ROOM TRAVELS WITH YOU! No checking in and out of hotels, no looking for parking, no getting lost on the highway at night in winter. It's ideal. The ships are very nice…. not as glitzy maybe as a 2000 passenger cruise ship, but the rooms are comfortable, and every one has a large window. Dining rooms serve delicious foods three times a day. There aren't any Vegas type Shows, but often there are musicians that come aboard and play for people in the lounge.
What better way to see the Rhineland, with its massive Castles, expansive vineyards, and beautiful cities and towns, than from the water? Since the towns aren't that far apart… the actual cruising part of the Rhine Cruise is limited to a few hours a day. And when you arrive at your destination…you just walk down the gangway, and you are in the thick of things. Early Cities were built along the Rhine to make travel and commerce easier… today… some of the best parts of the Cities are still right along the water.
I can't imagine a more relaxed way to travel than a Rhine Cruise.

Christmas Markets Along the Rhine
Take a Friend!
One of the fun things about a Christmas Markets along the Rhine cruise? It's the perfect trip for friends.
Think about it…. everything is taken care of for you, and there is shopping.

2022 CHRISTMASTIME IN ALSACE & GERMANY (SOUTHBOUND)Avalon Waterways

2022 CHRISTMASTIME IN ALSACE & GERMANY (NORTHBOUND)Avalon Waterways
Cologne Christmas Markets
Many Rhine Tours begin at the Cologne Germany Christmas Market. It is an amazing City built on the banks of the Rhine River. It is easy to get to, and easy to get around the city once you are there. You won't need a car… everything is accessible by foot or street car (you can even squeeze into the Bimmel Bahn… my kids love it)
There are 7 main Christmas Markets in Cologne and they open the Monday before the first Advent (the Advent season is the 4 Sundays leading up to Christmas). Millions of guest come every year to enjoy the traditional Music, Food, Decorations and Crafts. You can watch Wreath Makers and Pewter Craftsmen, and Glass Blowers work their magic. The air is filled with the smell of lebkuchen. You can buy Glühwein, Hot Chocolate, and other delicious treats. There are handmade toys, beautiful Christmas Ornaments, and seasonal gifts.
The Main Weinachts Markt is at the Dom Platz… the Cathedral Square. ( You can't miss the Cathedral, it's the 3rd largest in Europe and dominates the skyline!. Be sure to set aside some time for a self-guided tour. The Bones of the Three Wise Men are inside, so it's perfect for the season.) There are 160 booths, and the largest Christmas tree in the Rhineland.
The Medieval Christmas Market is located on the banks of the Rhine next to one of my favorite places in Germany… Chocolate Museum (it is not a hardship to spend an hour touring this delicious museum… and yes there are samples!). Craftsmen and performers are dressed in Medieval Costume, and there are story tellers and musicians.
The Christmas Market at Rudolfplatz has a fairy tale theme. Lots of lights and giant Fairy Tale Characters give this market its charm. This market is located next to the medieval Hahnentorburg.
Neumarkt is the oldest Christmas Market in Cologne. It is held in the historic shopping district, and holds much of the history of the Cologne Christmas Markets.
Alter Markt Is held in front of the Cologne Town Hall. It is the most beautiful of all of the Cologne Christmas Markets, and is special for children. There is a Carousel, a Christmas Puppet Theater, loads of toy stalls, and a Santa Quarter. This is a wonderful market for all ages.
Markt on the Rhine This unique Christmas Market is on board the ship "MS Wappen von Köln ". Tied up near the old Town, there are 40 shops aboard for your shopping pleasure. It's a wonderful place to have a glass of Gluhwein, and enjoy a view of the beautiful City of Cologne.
Cologne Harbor Christmas Market Located near to a medieval Malakoff-Tower, Swing Bridge, this market has a nautical theme. The stalls have white awnings to represent sails. You can buy gifts and delicious foods from all over the globe. On stage there are performers singing Christmas Carols, as well as Sea Shanties. Plus there are Pirates.
Video of  Cologne Christmas Market -So much to see, eat and BUY
Koblenz, Germany at The Convergence of the Rhine and Moselle Rivers
The Koblenz Christmas Market is held in the Old Town, overseen by the boy in the "Shlangel" fountain. To add to the ambiance, the Town Hall is decorated to look like a giant Advent Calendar.
Every afternoon Santa brings gifts to visiting children in this largest Christmas Market in the Rhineland Palatinate Region. On stage Christmas tales are told in the Koblenz dialect. There is a Christmas bakery filled with amazing holiday treats. A post office for kids to send special letters to Santa is loads of fun. There are also coach rides, as well as guided church and Christmas market tours. More than 130 sales booths offer everything related to Christmas: high-quality craftwork, Christmas decoration items and a large variety of dishes.
Christmas in Koblenz
This is a nice video of the Koblenz Market… lots of beautiful music.
Rudesheim- The Drosselgasse comes Alive During the Holiday Season
Largest Nativity Scene in Europe is in Rudesheim Creative commons photo by- Musicaline
Rudesheim is one of my favorite stops along the Rhine. The Drosselgasse.. the famous row of wine huts/bars comes alive with special Christmas decorations. There are 120 stalls representing 12 countries showcasing Christmas customs and traditions from around the world. The Christmas Market goes all the way to the Old Town, and includes the Rheinstrasse, the Marktplatz and Oberstrasse.
You will find Glass Blowers, Lantern Makers, Porcelain Painters, Pewter Craftsmen, Candle Makers, Wood Carvers and Puppet Makers showing off their skills, and selling their crafts. The air is filled with the smells of Gluhwein, Gingerbread and roasting meat. Musicians and storytellers are everywhere adding to the ambiance.
The Rudesheimer Nikolaus and Christkindle are on hand every day to greet children. And there is a wonderful Toy Museum.
Finally, Rudesheim claims to have Europe's biggest Nativity scene…. might be worth checking out!
What is it Like to Stroll through the Christmas Market in Rudesheim? Watch and see!
Mainz A Sea of Lights
There is a special "Mainzer KinderWeinacht" … Mainz Children's Christmas in the Liebfrauenplatz with Carousels and special attractions for young and old. And most exciting! There is an open-air Ice Train in front of the Kurfürstlichen Schloss (the Castle).
Loads of booths sell fantastic treats to make your Christmas special…. whether you want to buy ornaments, or toys…. or if you just want to drink Gluhwein while admiring the sights and enjoying the music.
Speyer… Jumping off Place for Heidelberg
And a great place for Gluhwein and Feuerzungenbowle
Speyer has a beautiful Christmas Market all its own. They are known for their Gluhwein, Feuerzangenbowle (Feuerzangenbowle is a traditional German alcoholic drink where a rum-soaked sugarpyramid is set on fire and drips into mulled wine), Printen ( a type of gingerbread, but sweetened by sugar beet syrup… I love them, they are a grown up gingerbread), Maronen (chestnuts) and a variety of other wonderful Christmas treats.
For those who just HAVE to see Heidelberg (and it really is lovely, I would recommend it) many cruise ships have special bus trips that leave Speyer and go to Heidelberg for the day. Heidelberg is on the Neckar, not the Rhine…
Wondering if You Should Take the Day Trip to Heidelberg?
look at this…..
Strasbourg , France- A wonderful French Christmas Market on the Rhine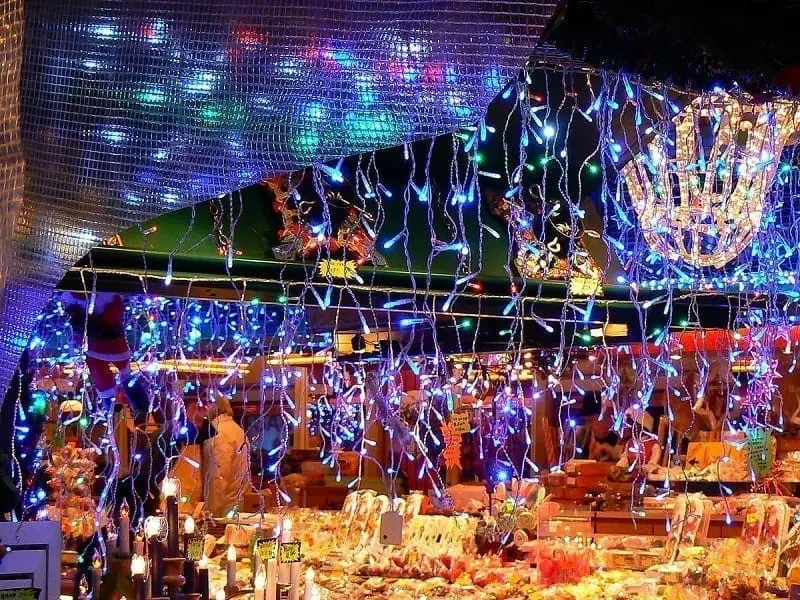 Christmas Market in Strasbourg has been held since 1570. Strasbourg is a border city that has been passed back and forth between Germany and France over the years. Today, Strasbourg has a reputation for inclusion and a spirit of tolerance.
There are over 300 booths at the Strasbourg Christmas Market, that serve over 1.5 million guests each year. There is an outdoor ice skating rink in the Place du Château. Le Petit France has Christmas Shops and a special Gingerbread bakery.
There are so many things to see the Place des Meuniers, the trading post of the Three Kings, place Benjamin Zix, the Carré d'Or, place du Temple-Neuf, with the Carré d'Or Traders' Association, the Kingdom of the Wine Growers, place d'Austerlitz, the Christmas Market, place de la cathédrale, place du Château, place d'Austerlitz and place du Corbeau, the Christmas regional specialities and crafts markets, place de la Gare, Christmas in books, shopping center l'Aubette and the Village of Sharing, place Kléber.
One thing you should not miss is the Bredle Market on the Place de la Gare which sells traditional Alsace butter biscuits made on the spot for the Advent Season.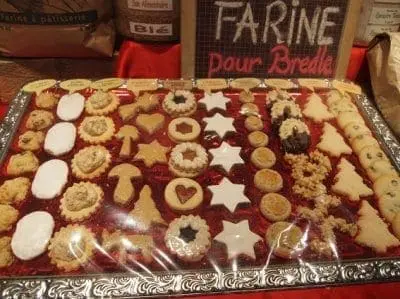 Basel Christmas Market- The End of this Journey
The very cosmopolitan city of Basel is located in the three countries corner of Switzerland, very close to both France and Germany. It hosts the LARGEST Christmas Market in Switzerland with the longest illuminated Christmas Street so there are loads of Christmas shopping possibilities (what is it with these markets… they all want to boast about having the largest something or other). You will find a number of Christmas Specialty Shops… like the Johann Wanner Christmas House.
The Old Town is lit up, and lined with shops, and the facades of the modern buildings are also lit up with thousands of lights. Hundreds of decorated pine trees line the streets. Basel prides itself on its culture, and there are many music concerts throughout the city.
If it all seems overwhelming, there are guided tours of the Christmas Market available.
AND for those of you traveling with reluctant shoppers…. there is a Santas on Harleys Parade! 50 Santas on decorated Harleys parade through town. Fun for everyone!
Basel has a Santas on Harleys Parade!!!
50 Harley Davidson Motorcycles …. decorated for Christmas… ridden by Santas!
Wonderful Cruises to see the Christmas Markets on the Rhine for 2022, or Plan Ahead for 2023
Book your Christmas Markets cruise now!
2022 RHINE HOLIDAY MARKETS 8 DAYS FROM BASEL TO COLOGNEUniworld
2023 RHINE HOLIDAY MARKETS 8 DAYS FROM BASEL TO COLOGNEUniworld

2022 CHRISTMASTIME IN ALSACE & GERMANY (SOUTHBOUND)Avalon Waterways
2022 CHRISTMASTIME IN ALSACE & GERMANY (NORTHBOUND)Avalon Waterways
2023 CHRISTMASTIME IN ALSACE & GERMANY (NORTHBOUND)Avalon Waterways
2023 CHRISTMASTIME IN ALSACE & GERMANY (SOUTHBOUND)Avalon Waterways