Our Visit to Ruedesheim Germany- A Day isn't Enough
While traveling with my daughter, she insisted we go to Ruedesheim Germany. I had been there before on a Rhine Cruise, so I sort of knew what to expect. Why Not? Unfortunately, we only had one full afternoon and overnight, but we would squeeze in as much as we could.  This town along the Rhein River is known for winemaking, and is famous for its Drosselgasse, an alley filled with wine taverns and shops. Not a big fan of drinking? The whole area is covered with hiking trails! A lover of history? You'll find museums, monuments, castles and Churches. Like a more leisurely vacation? There are cafes along the Rhein where you can just sit, have a coffee, and watch the world go by on foot, bike, boat and train. You can even take a fun cable car ride over the vineyards! Rüdesheim has something for every traveler.
Our Visit to Ruedesheim Germany
Like far too many tourist towns (think Rothenburg ob der Tauber), you might feel a bit crowded and jostled by day-trippers. But Rüdesheim didn't become a tourist magnet just because of its shops. The village itself is lovely, and you can really enjoy it if you spend the night. The Drosselgasse is still lively, so you won't miss the fun and singing! You just won't be hemmed in on all sides by people. And it's nice to wander the streets enjoying the sights under the lights. (Added bonus, in mid-summer, full dark doesn't happen until after 9pm).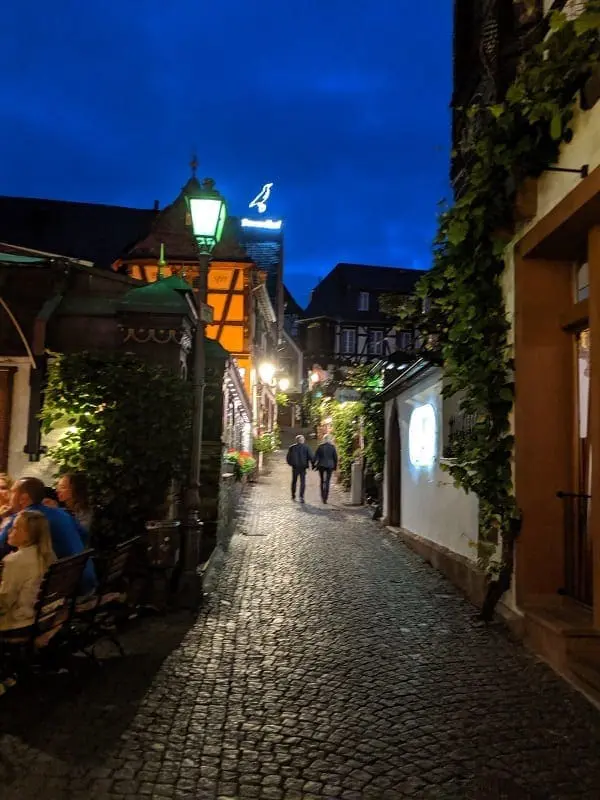 Some quick tips-
Avoid Crowds– Katy and I picked up a habit early on in our travels together. We do what we can to get outside of the main tourist areas by day! Busses only stay a few hours, ships only stop for a few hours… during the high traffic part of the day take a walk/hike or visit an off path museum. We took the cable car up the mountain, then sat and enjoyed the view. There are nice walks down the mountain (well, large hill). 
Get out of your Car– Once you get to Ruedesheim, it's a great idea to park the car and walk. Not all streets in the old town are accessible by car, and nothing is really that far apart. We found a public pay lot just a few blocks from the Drosselgasse.
Parking- Pay lots in many towns work like this. (Well, Ruedesheim, Rothenburg, Lüneburg) You put in money to pay for parking until a certain time. Many towns STOP collecting at 6PM (do double check), so if you pay through 6Pm, you are covered… even overnight! MAKE SURE TO GET TO YOUR CAR IN THE MORNING BEFORE THE NEXT DAY COLLECTION STARTS. We found that they started the new day at 8am. (And in Rüdesheim, the time on the parking slip even went over that). This is super handy if your overnight accommodations don't have parking.
Accommodations–  I was SUPER excited to find an apartment rental along the road that parallels the Rhein. What a view we had! Joke was on me though… also paralleling the Rhein, and basically 10 meters from our window… was the train line. And it ran ALL NIGHT. If you plan to sleep, get a place a bit further up. 
Luggage– Packing light and smart makes a HUGE difference. Our apartment was a few blocks from the parking lot… and up several flights of stairs. A packing system like the Journey Travel system would have been perfect (see my review). But this trip pre-dates that concept. We learned to pack a single bag with a change of clothes, pajamas, essentials and toiletries… and we carried that to the room… leaving the rest in the car. Maybe we were taking a chance, but the thought of dragging suitcases up and down 4 flights stairs made me feel very brave.
Tourist Information- The Tourist Information is a great place to pick up a map of the town. Have the person circle the things YOU want to see/do. Jumping off places for hikes… best cafe… cleanest Toilet.
On to Rüdesheim!
Ok… enough lecture. Here are a few things that you can see when you visit Rüdesheim…
The Drosselgasse
According to the guidebook, "The Drosselgasse is German Gemütlichkeit and Rheinish atmosphere at its best". It's really a Gasse, an alleyway, so no cars. Just a narrow passage  2 meters wide and 144 meters long. The Rhein end of it is marked with a signpost… but the entry is so non-descript, that many people walked back and forth past it without noticing. What used to be an alley for boatmen to drag their gear up to their home on the hill has become a passage through wine bars. (I'm sure there is a connection there….).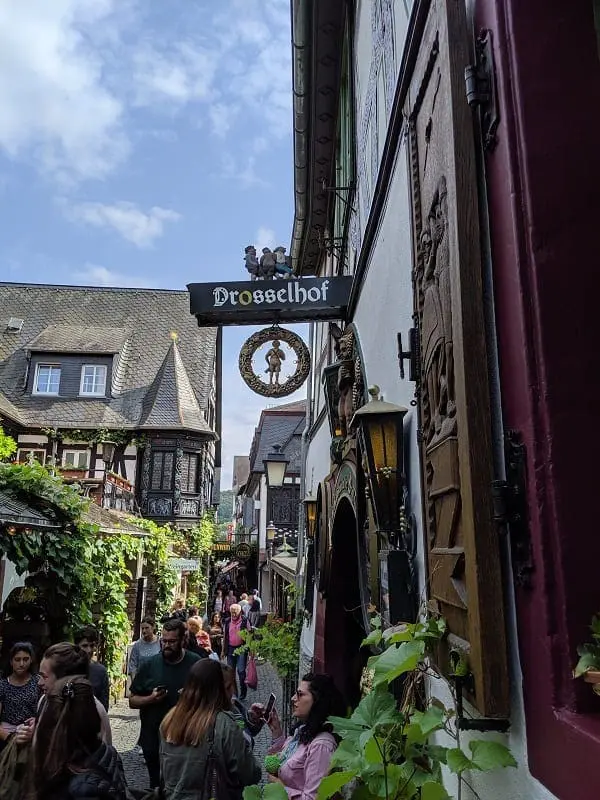 Spending a few hours in the Drosselgasse is quite fun. The alley is lined with beautiful buildings covered in grapevines. Most of the wine bars (and there is one right next to the other) are open to the street, and have live music playing. ALL kinds of music (we heard the best Elvis impersonator… and the worst… all in one walk). But the camaraderie and fun are infectious. We went in the evening after dinner and found a wonderful spot to enjoy some wine and music. Honestly, this experience is WHY many people from all over the world go to Ruedesheim Germany… and they aren't wrong.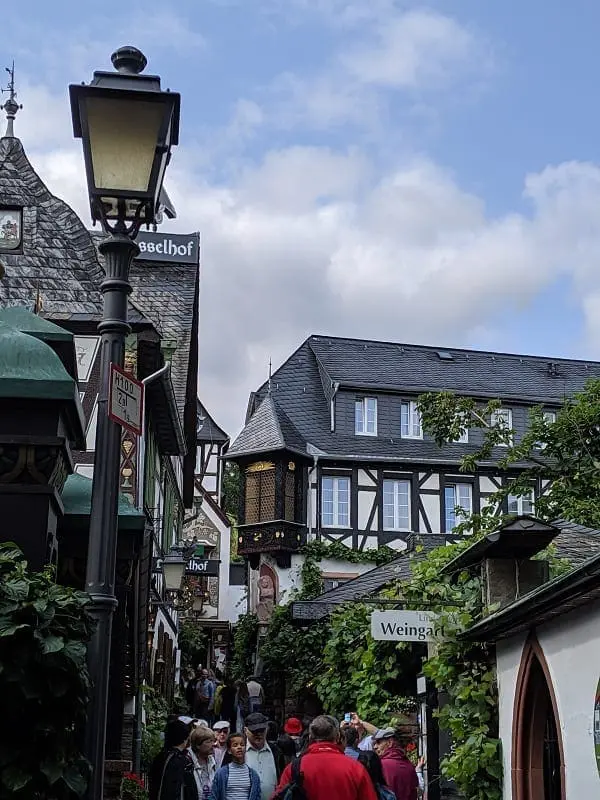 The Kabinenseilbahn Cable Car
At the top of the Drosselgasse, make a right. You will find the entrance to the Kabinenseinbahn (Gondola). Now you make a choice… you can WALK up the mountain… or you can say to yourself, "I'm already here, I'll ride". The nice lady selling tickets was also selling Piccolos of sparkling wine, so we bought 2… grabbed our glasses, and off we went.
These are little Gondolas with room for 2 adults comfortably, and 2 adults with kids if you like a squish. The Gondola flies you up the mountain over seemingly endless vineyards. You can wave at the walkers from above! The views are spectacular! Plus, it's just flat out fun!
When you get to the top, make a note of when the last ride down happens. Or you WILL be walking (luckily it's downhill!). At the top, you will see the path to…..
Niederwald Denkmal & Germania & the Niederwald Temple
On the Niederwald Denkmal (monument) stands a rather LARGE statue (38 meters tall… that's over 10 stories tall) of Germania. (Quick aside. Germania, is the Latin name for Deutschland. But Germania is more than a name. The figure is the personification of the German Nation and its people. Usually she is depicted as a fairly sturdy woman in armor. Often holding a sword, and sometimes wears or carries a crown. She is a patriotic symbol used in literature and art.)  The Monument and statue symbolize the re-establishment of the German Empire after the Franco Prussian war in 1870-71. There is a lot to see. Germania holds a sword, and a recaptured crown. Ludwig 1 rides through a crowd of admirers along the base. The Denkmal/Memorial represents the Union of all Germans.


You may climb up the stairs for a closer look (and I was surprised to see the parking lot behind it! I guess busses take a shortcut).
But turn around.
The view back over the Rhine Valley is BREATHTAKING!

Especially from the Niederwaldtempel. Stand inside and look. You will understand how this spot became a favorite of the Rhine Romanticism movement. You can imagine how writers and painters were inspired by this very spot.
There is a restaurant at the top, naturally, and a place for Eis.
Hikes
The paths and roads through the vineyards make excellent hiking trails. And although there are hills, no trail is too difficult for a casual hiker. Even better… if you get to the sister city of Assmannshausen, you can easily catch a boat back to Rüdesheim! Ask about a "Ring Ticket" which combines walking and rides. Perfect for families who want to move! The package takes you on the Gondola, a ski lift, a walk, and a boat ride!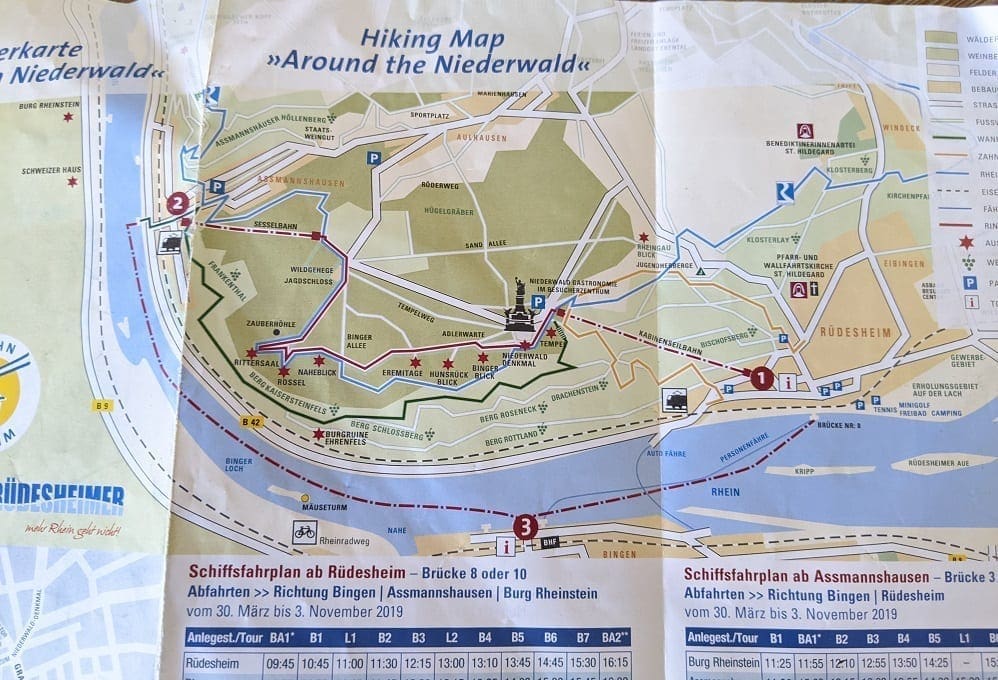 Asbach Visitor Center
There is more to this UNESCO Village than wine (hard to believe, since the hills surrounding Ruedesheim are covered with vines). There is also Brandy. Asbach Brandy has been distilled in Rüdesheim since 1892. The visitor center is open, and you may sign up to take tours. Asbach Visitor Center
Or, you can skip the production, and just enjoy the finished product!
Rüdesheimer Coffee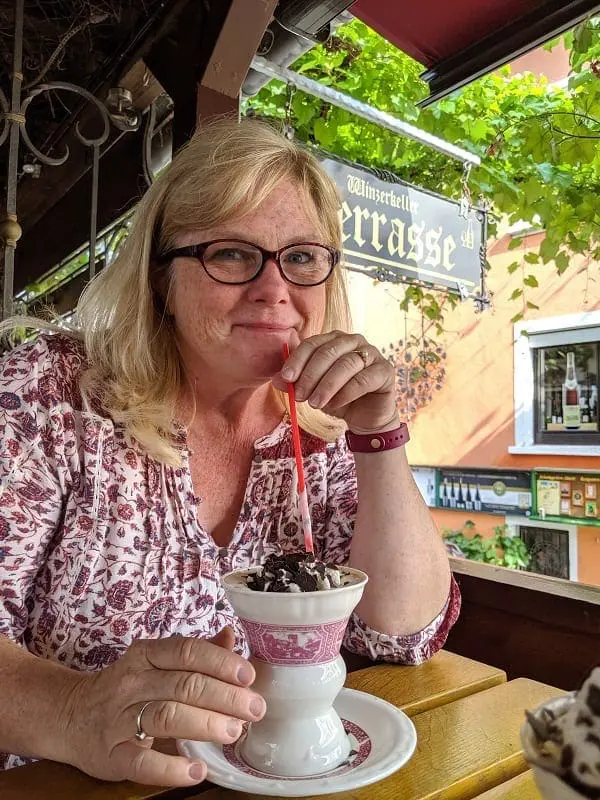 At the Graf von Rüdesheim (up the Drosselgasse, turn right. It's an open patio restaurant/cafe) we enjoyed a Rüdesheimerkaffee. What is this? A magical concoction of Coffee, Asbach, Fire and Whipped Cream. Oh so good! You can enjoy one at home, but for the best experience have one there. The waiter makes a show of preparation! Learn how to make one here–> Rüdesheim Kaffee Recipe
Time to Eat
You will find dozens of Restaurants in Rüdesheim. Many people choose to eat in the Drosselgasse, but we wanted to save that for later… so we ended up at the Drosselmueller (just up around the corner) which specializes in Schwäbish Hällisches Essen (food from Schwäbisch Hall). Why not? It was excellent! And gave us a good base for Wine Drinking.
Wine Drinking/Tasting
You won't have trouble finding a place to enjoy a glass of wine in Rüdesheim. At all. The Drosselgasse is lined with Wine Buden. But there are many others, so we went exploring a bit first. The doorway to "Der Weinstube zur Kleinen Ortsgericht"  lured us in…. and it was lovely. Green with plants, delicious wine… we sat and enjoyed a glass of wine in peace before taking the plunge to the Drosselgasse…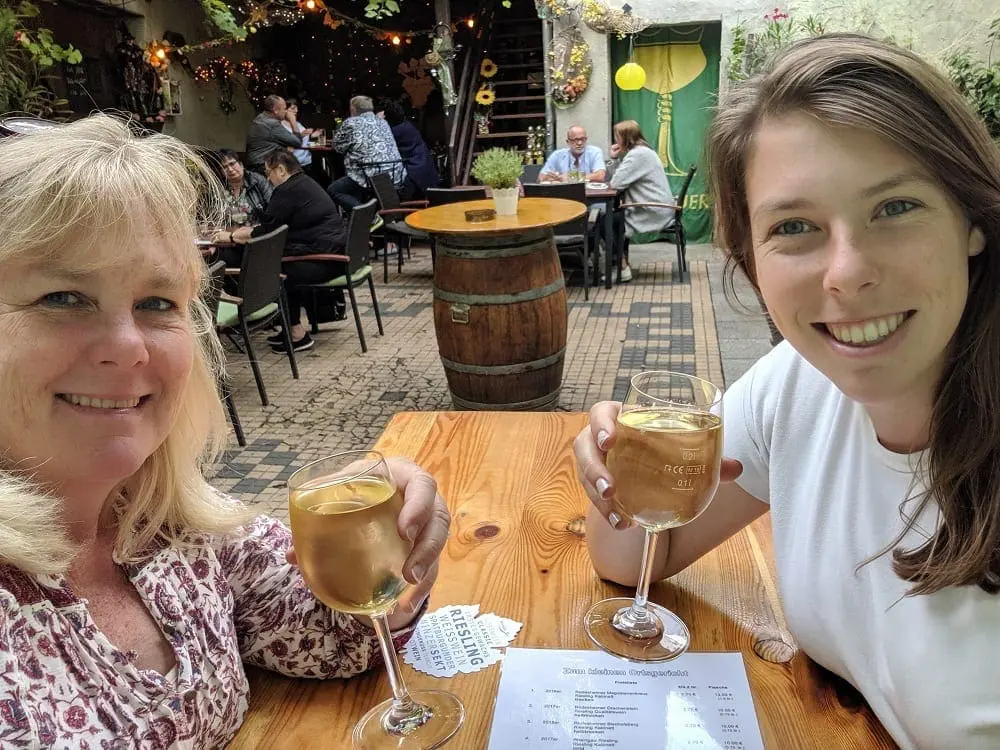 Drosselgasse by Night
By this time, it was getting dark. Lights were on in all of the places, and the alley was no longer clogged with tourists. We found a place, ordered wine and Dessert, and joined in the fun.
We even sang a few Elvis tunes….
The Next Morning
We Had to Leave Early, so we missed seeing the Museums. But for those of you (like me) who LOVE a museum, there are a few to enjoy….
Rüdesheim Museums
Toy museum
Toys evoke so many memories, don't they? That's why I love visiting a toy museum. You see the best bits of childhood. This isn't a big museum, but it might be a nice diversion from drinking and shopping. It is a bit off the beaten path thoougsh. Here is the info- Toy Museum
Medieval Torture museum
I'm only allowed one Medieval Torture Museum per visit to Germany (and I was really looking forward to the one in Rothenburg), so I missed this one. I promise to get back to it and share. Who is coming with me? Here is the info- Medieval Torture Museum
Siegfried's Mechanical Music Cabinet
This is the LARGEST collection of automated musical instruments. There are over 350 music boxes, organs, and even musical choirs! If you want to see this, and of course you do! You MUST make an appointment for a guided tour. It's the only way .The guide will even automate the instruments for you!…. Siegfried's Mechanical Music Cabinet
Rüdesheim Deserves more Time
All too often when I travel, I feel like I have to zip from one place to the next, and I don't really get a chance to settle in and get to know a place. A few years ago, I had been there as a cruise stop, and Rüdesheim seemed like a place you could spend a few hours in and leave.
But I was wrong.
It's a place you can spend more time. Especially if you like outdoor activities like hiking and biking. You can take a short cruise on the Rhine… or spend an afternoon sipping wine with a view.