Rüdesheim Coffee Recipe – Make Rüdesheimer Kaffee at HOME
One of my favorite souvenirs this summer was a Rudesheim Coffee Recipe. Rüdesheim on the Rhine is best known for the many Wein Stuben that line the Drosselgasse. But wine isn't the only popular Beverage in town. Since 1957, Rüdesheimer Kaffee, generously flavored with Asbach Uralt, has been lifting the spirits of tourists and locals alike. So, naturally, when my daughter and I visited Rüdesheim, we HAD to try it!
And it was good.
Really good.
Put a "shine on your whole day" good.
And with this EASY Rüdesheim Coffee Recipe... I can make it whenever I want to, and you can too!
Coffee in Wine Country?
First a little background. Why is a town in the heart of the Rhine wine producing making specialty coffee with Brandy? Turns out Rüdesheim is the home of Asbach, arguably Germany's best known Brandy. Hugo Asbach learned the distillery trade in France in the mid-late 1800s. In 1892, he founded the Rüdesheimer Cognac distillery. Why there? Well, Cognac or Brandy is made by distilling WINE. To get his primary ingredient, he didn't have to go very far.
Flash to the end of WWI, and one section of the Treaty of Versailles ruled that the term Cognac could only be used on French produced Brandies. Hugo Asbach took it in stride, and changed the name to Weinbrand… the German word for Brandy. And it 1923, the name Weinbrand became the official German title by law (this way, apparently, the French can't go around calling their brandy Weinbrand).
Rüdesheimer Kaffee History
This poster hangs everywhere in Rüdesheim!
All I can find ANYWHERE is that in 1957, famous TV chef Hans Karl Adam invented Rüdesheim coffee. I have been digging through the Internet in search of a video clip, and image, a reason! Anything!!! But that's all I know.
Honestly, it wasn't much of a reach to "invent" this drink… Coffee/Alcohol/Whipped cream drinks have been around since the mid 1800s. The Pharisäer, Coffee and Rum, and the Fiaker, Espresso and Rum, both topped with a generous Schlag (of Whipped Cream), were quite popular in Viennese Coffee Houses, and the Pharisäer was well known in northern Germany and Denmark. Then in the 1950s, Irish Coffee, coffee and whiskey, became all the rage.
Seems to me that Hans Karl Adam took a known idea, and tweaked it. Using Asbach Uralt from Rüdesheim gave the coffee drink the local twist it needed… and then he SET IT ON FIRE! The whole thing made in a special Table-Side ceremony, and served in a special handle-less cup.
Ta-da! Rüdesheimer Kaffee.
yum
Rudesheim Coffee Recipe
Rudesheim Coffee Recipe
Rüdesheimer Kaffee is just the thing to warm the toes on a cool day. Hot coffee is made sweet and strong with sugar cubes that have been dissolved in delicious Asbach Brandy.
Top with sweetened whipped cream, and it's dessert, a pick me up, and a tummy warmer all in one. 
Ingredients
3

Sugar Cubes

1 1/3

ounces

approx 40 ml Asbach Uralt Brandy

Hot Brewed Coffee

Sweetened Whipped Cream

make with Vanilla Sugar

Dark Chocolate Bar for Chocolate Shavings
Instructions
In Rüdesheim they use special cups and spoons, and a LONG match to make Rüdesheimer Kaffee... but you can manage with a regular cup. It's only slightly less spectacular, but still quite delicious.

1. Drop the 3 Sugar Cubes into the cup.

2. Warm the brandy a bit (either a quick zap in the microwave... or some say in a glass dipped in another glass of hot water)... then pour it over the sugar cubes.

3. Light it on fire with your long match (it's quite pretty, and a nice show in the evening)

4. Break up the sugar cubes with your long spoon while it burns.

(Let the flames go one minute)

5. Pour Hot Coffee into the cup over the sugary Asbach until it comes to about 1/2 inch from the rim of the cup.

6. Top with a BIG dollop/spoonful of sweetened whipped cream (take the time to make your own whipped cream with a bit of sugar... vanilla sugar if you have it)

7. Shave chocolate over the top (I use a potato peeler, and scrape the edge of a chocolate bar... do it OVER the whipped cream, since transferring may be messy)

SERVE
Iced Rudesheimer Kaffee
Rüdesheimer Kaffee can be served hot or iced. And on the warm July day when we visited Rüdesheim, my daughter opted for the iced version thinking it would be like a German Eiskafee. Fair warning… while the hot version is strong, the iced version packs a PUNCH. (I wonder if the hot version just sneaks the alcohol past you…?)
Go ahead and make it iced at home. Instead of the sugar cube, you pour Asbach over Vanilla Ice Cream, then pour in cold coffee, top with whipped cream and chocolate shavings.
Rüdesheimer Coffee Cups
When in Rüdesheim, you will be served your coffee in a special Rüdesheim Coffee cup. You can enjoy that experience at home!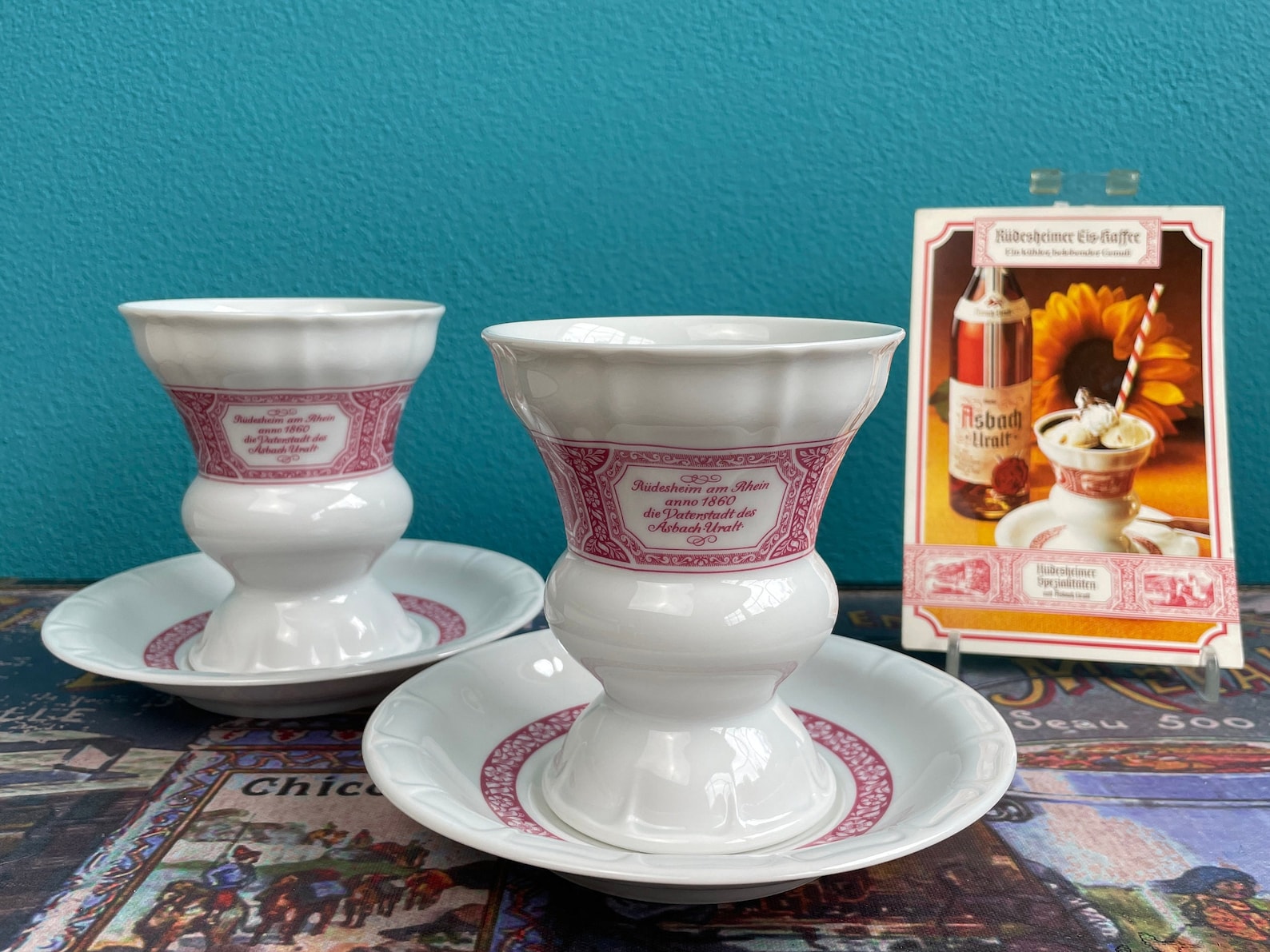 Vintage Rudesheimer Coffee Cup Sets 2 Ceramic Red White Heinrich Porcelain Germany

Set 12 Piece Rüdesheimer cup Heinrich porcelain saucer Pharisees coffee mug Asbach Ruedesheim Villeroy and Boch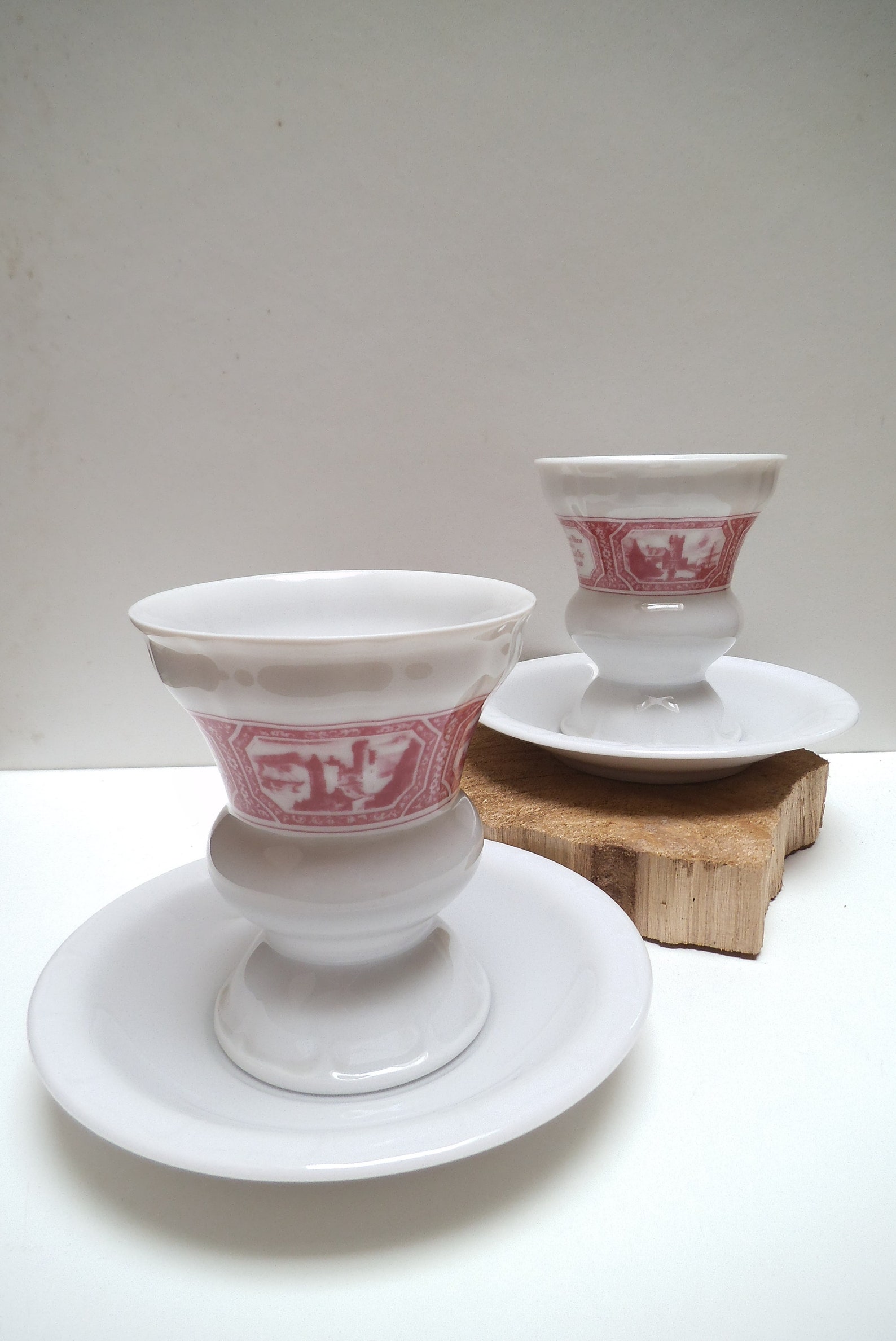 Set of two Rüdesheimer cups and saucers, or a set of one cup and saucer, German porcelain, Rüdesheimer caffee, 1960s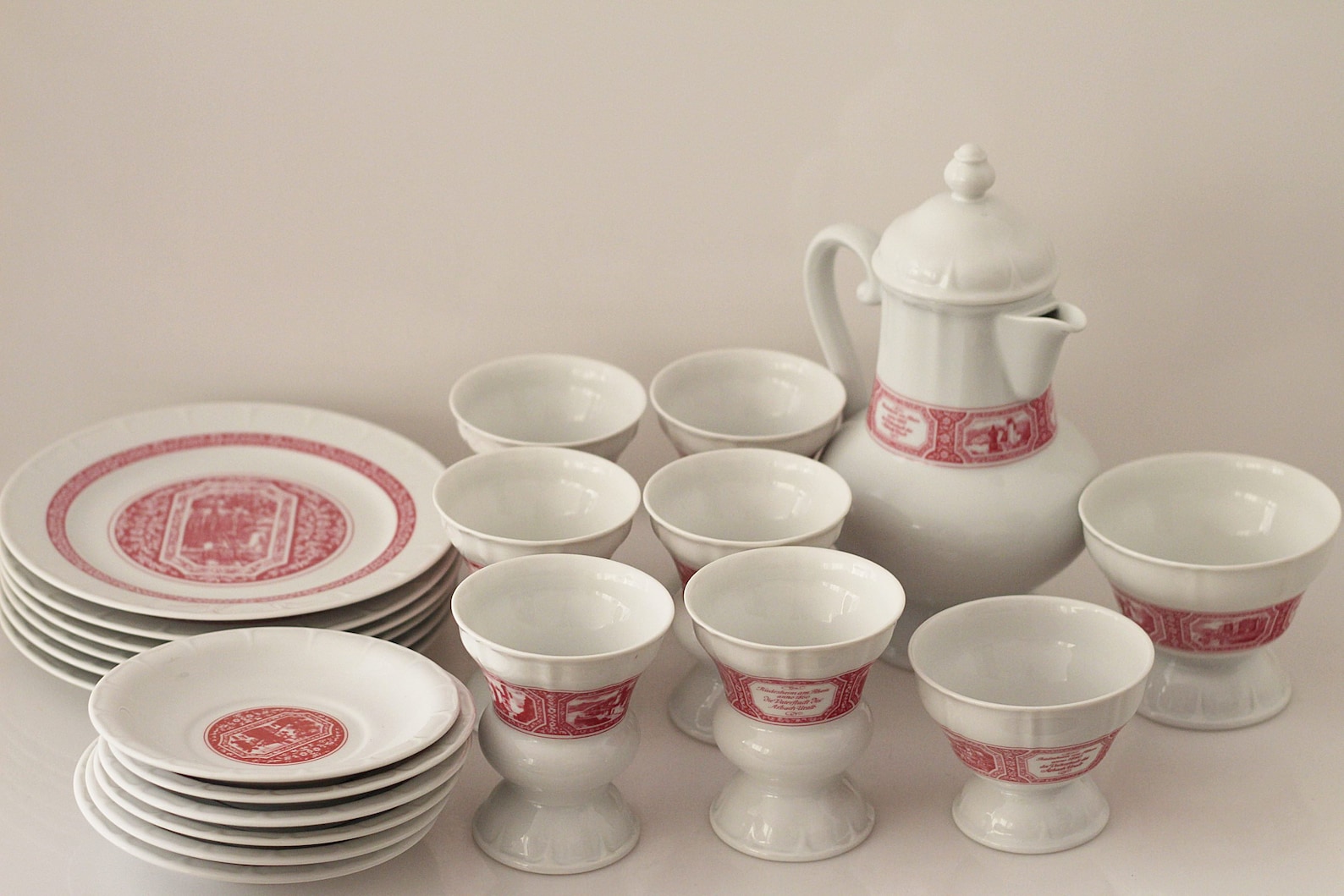 Pretty Rüdesheimer coffee set by Heinrich for six, including coffee pot, a cream and sugar bowl, 6x cups, saucers, cake plates Asbach Uralt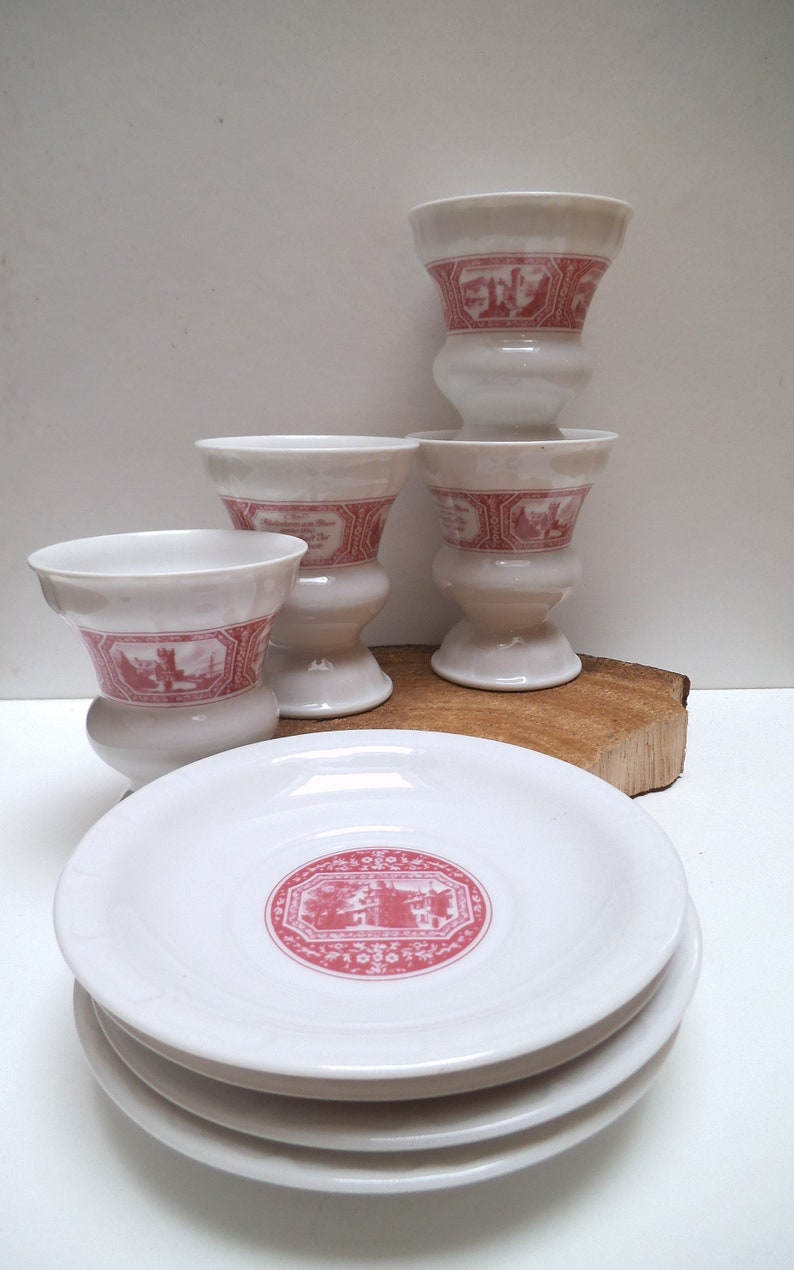 Four Rüdesheimer cups and saucers, Rüdesheimer coffee cups and saucers, German porcelain, Rüdesheimer caffee

And of course, a long spoon
Hiware 9-Inch Long Handle Iced Tea Spoon, Coffee Spoon, Ice Cream Spoon, Stainless Steel Cocktail Stirring Spoons, Set of 4

Joy Jolt has nice Selection of Coffee Glasses
click the image to see more…