What is Reifendrehen- Making Toys at the Seiffen Freilicht Museum
Before our trip to Seiffen, my friend Richard told me that I should NOT MISS the Reifendrehen. I was confused… what is Reifendrehen? Wheel turning? Do people in Seiffen watch wheels spinning? Turns out Reifendrehen is a special technique for making toys and other small objects known mainly to Seiffen and the surrounding area of the Erzgebirge. When the local mountains no longer produced enough Ore, locals learned to produce wooden toys and ornaments using the woodworking skills and machines that were essential for mining. The same machines miners used to keep mines stable, remove water from the mine, and bring miners in and out of the mine were miniaturized, and used to make Christmas Pyramids. And the lathe was repurposed to make little toy figures in larger numberss. Around the world Seiffen is known as the Spielzeugstadt (Toy Town). We were lucky enough to see the technique up close, and done the old fashioned way, at the Erzgebergische Freilicht Museum in Seiffen.
And I KNOW you will love seeing the video of the Reifendreher in ACTION!
Reifendrehen
Using a sort of Lathe, craftsmen can take a disk of wood, and while it spins, carve away the unneeded bits… and end up with a notched ring. Looking at the end, you can sort of see the figure he's making. Then the Reifendreher (wheel turner) slices pieces off… and before you stands a horse, a cow, a lamb…. or even a giraffe. Finally, small toys could be "mass produced" quickly and efficiently, so they could be sold to support a family. One man carving a single giraffe at a time could NEVER produce enough to make it worthwhile. But this lathe method of reifendrehing meant that a dozens of figures could be produced at once. Then the family would help to smooth the edges and paint the figures.
Making toys this way was literally a cottage industry. At the Freilicht Museum, we went inside the homes. One room was for "living" with Kithen/Table/Benches/Hearth, and another room would be filled with racks of little figures waiting for paint and finishing. (Some smaller homes only had the one space… people ate and worked at the same table). The whole family was involved in toy manufacture.
But how were they able to power a a machine like this?
Powering the Wasserkraftdrehwerk
The first water powered Wasserkraftdrehwerk (Lathe) was built in 1760 by Johann Heinrich Frohs.  Believe it or not, it's still around! (it's been under "monument protection" since 1951… so they must have used it until then). The concept of a water wheel is was not new. Millers had been grinding grain with Water Wheels for years. But this kind of wheel would need to move faster, and with more power.
Here's where it gets a bit technical…Instead of using a river or stream, water would be dammed into ponds. The water level of the dam was level with the eves of the house. This way the water would flow onto the water wheel from the with the right force. The 5.2 meter waterwheel would turn, and rotate series of wooden wheels with cogs that turned other wheels… and transmit the turning power into the lathe inside the house. (Honestly, ask an engineer to explain it to you.)
What is Reifendrehen?
Reifendrehen starts with a disk of wood. Using a template, and a LOAD of carving tools…  the Reifendreher would carve out bits from one side of a ring, then the other.  His carving is smooth and steady. And as the wheel spins long streamers of woodshavings fly out behind the machine forming giant piles! (It looks like it would be fun and a bit itchy to jump into it). Honestly, I have no idea how they can see it. To me the object was always invisible from the side. A deep cut in one place, more shallow in another. He does use a template, but most of what is being carved comes from years of training and practice. You can only see the profile once it's off the lathe. But the Reifendreher obviously sees what he's doing in his mind.
The carved wheel is then sliced. And like magic, there stands an animal!
As you can see from the photo, every inch of space around him is organized with the tools he needs. No time is wasted on searching for the right chisel, he just reaches up and back to grab the right size by feel. Like most German workshops, there is a sense of order. Everything has its place.
Each Rohlinge (ring) could be cut into 40 to 60 figures, that could be finished and painted. Often the whole family would be involved. This unique means of "mass production" meant that craftsmen could put out hundreds of small figures… animals, houses, toys… much quicker than carving each one individually by hand.
The Reifendreher will also make small village scenes, like the one I brought home!
Reifendreher of Seiffen
Why read about it… when you can see it for yourself…..
(by the way, I think I should get triple bonus points for pronouncing Erzgebirgisches Freilicht Museum without crying)
Sadly, the art of Reifendrehen may vanish. The Reifendreher at the Freilicht Museum is one of the few of these craftsmen left, and he doesn't have an apprentice. Maybe it's something a young woodworker can aspire to?
Today it is still possible to attend Toymaking school in Seiffen. This 3 Year program give hands on experience in the wooden Toy Making field. Wooden toy maker and turner school in Seiffen
More info here The Profession of Toymaker
See what it used to look like here… Things haven't changed much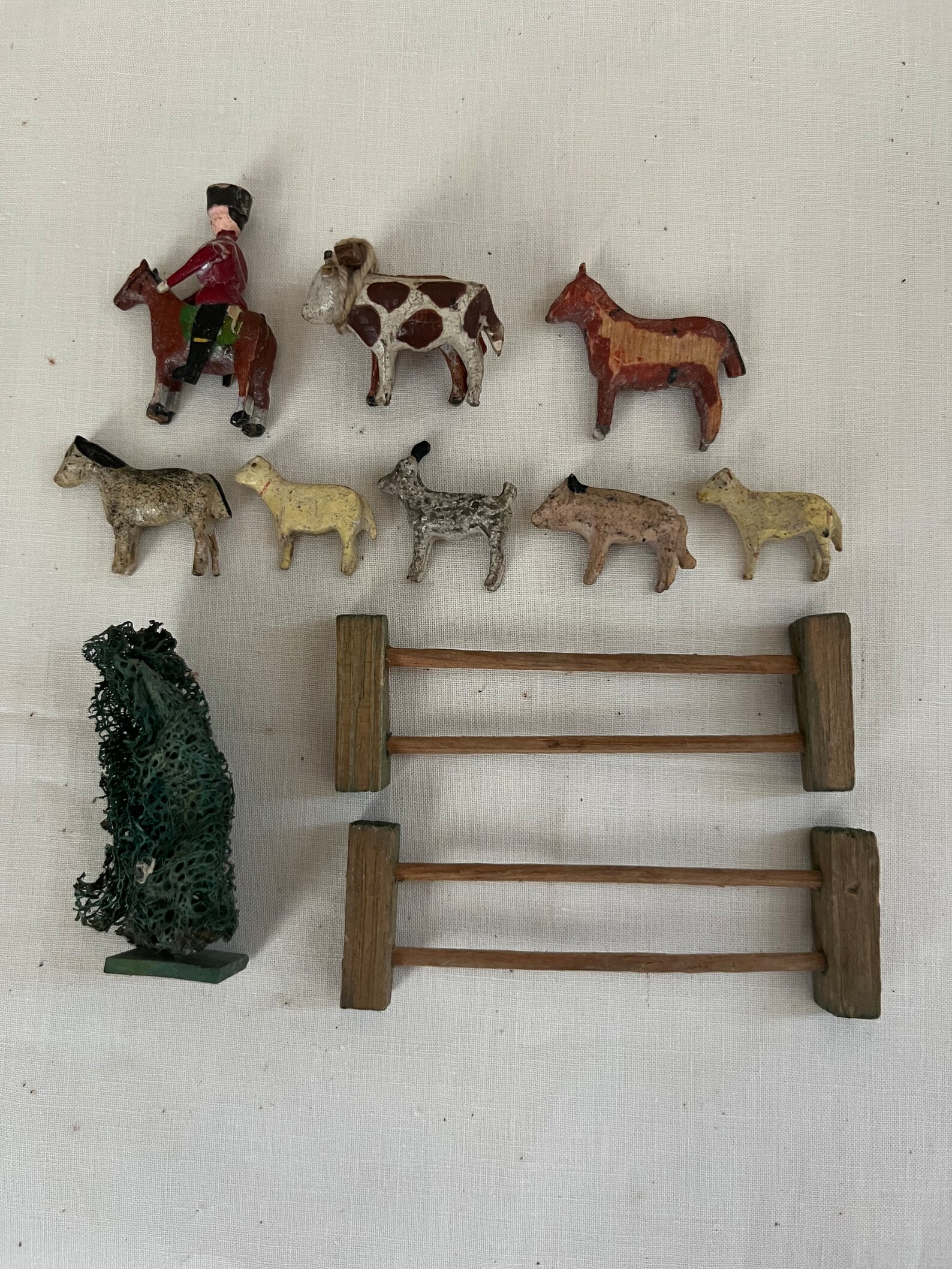 12 Vintage German Erzgebirge – 8 Animals + Man on Horse Tree 2 Fence Christmas Putz Handmade Toys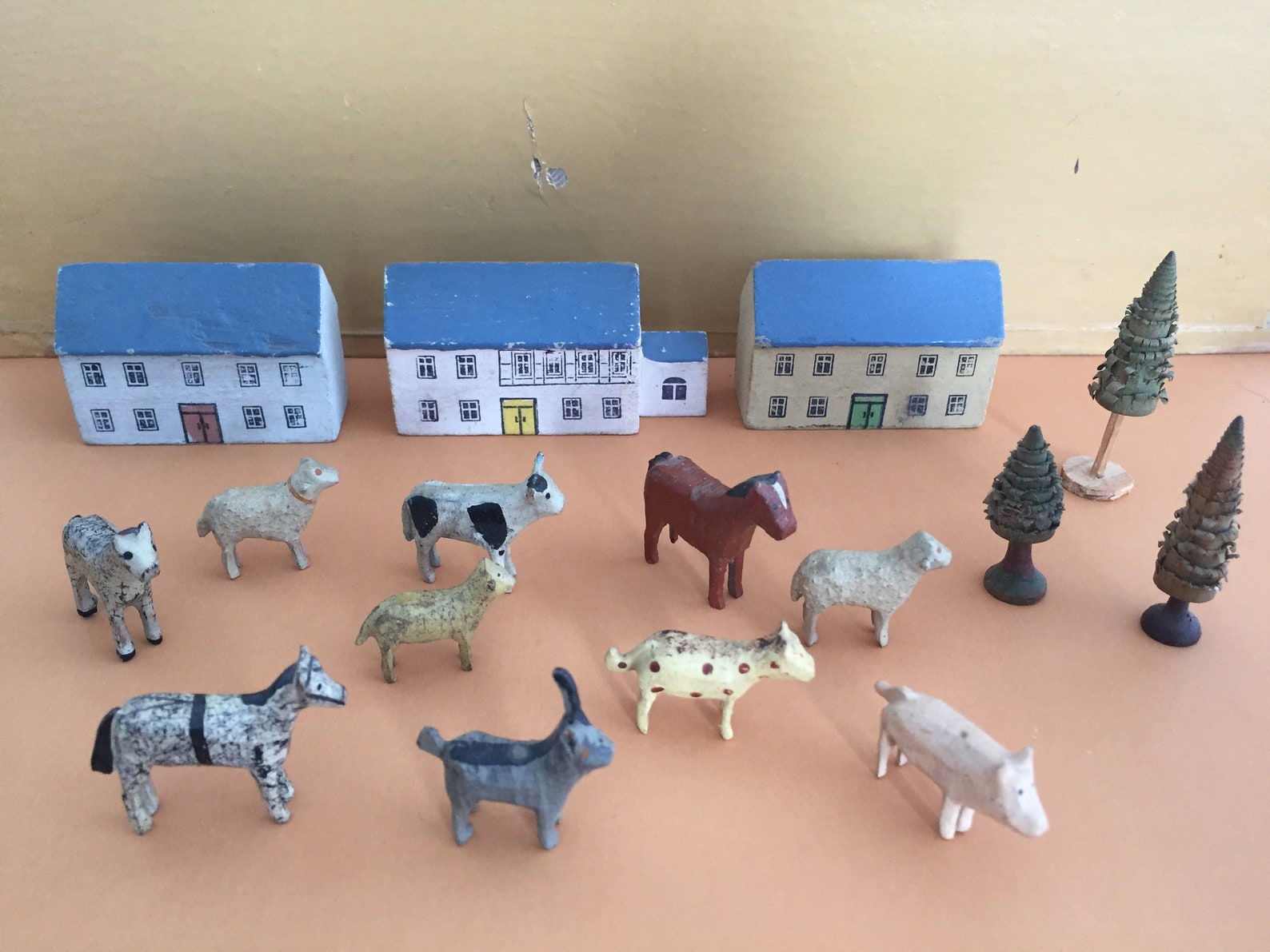 Antique Erzgebirge farm – tiny painted wooden animals, houses and trees – made around 1900-1915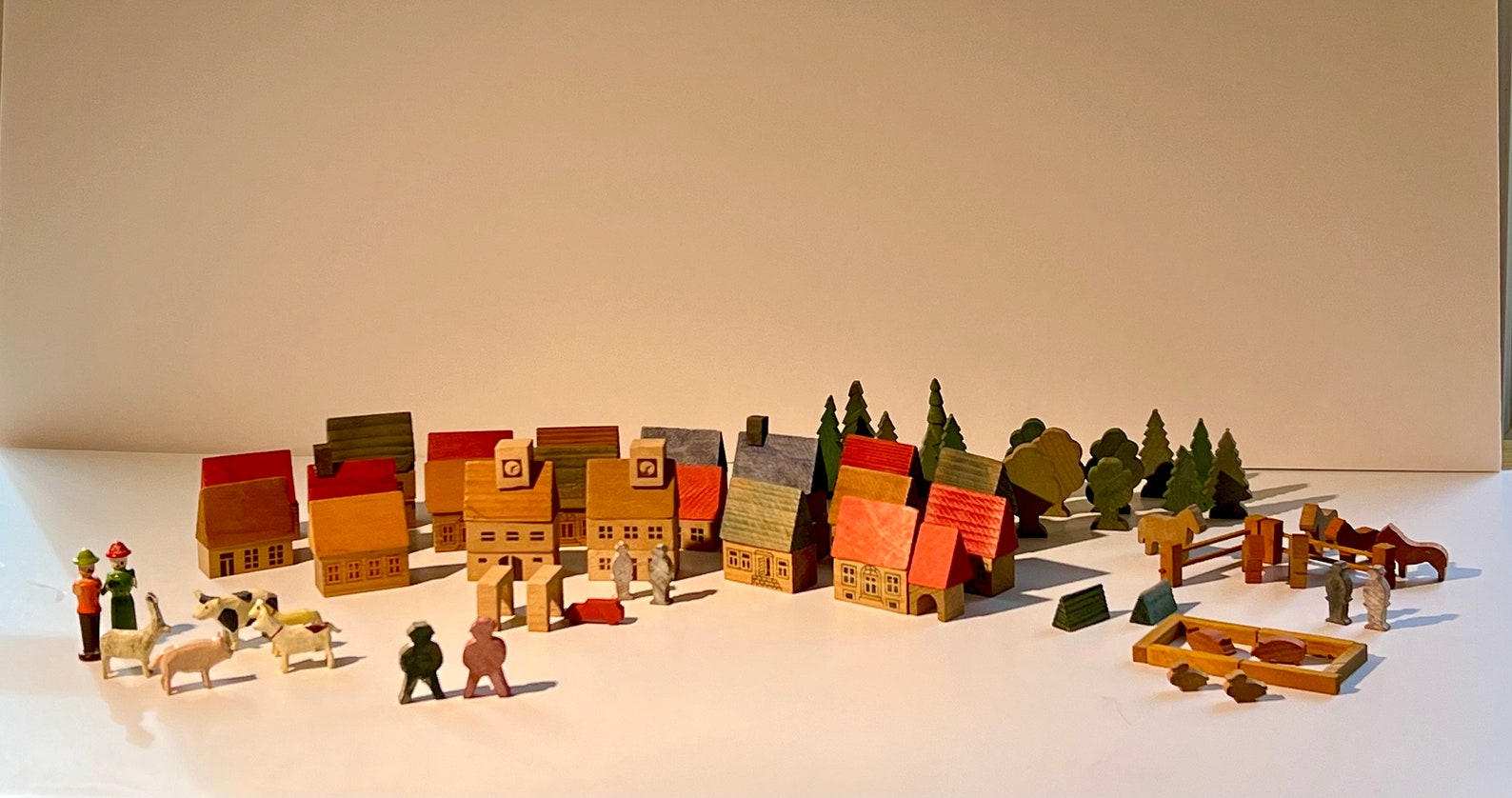 Erzgebirge Vintage Primitive Wooden German Folk Art Village Miniature 75 Pieces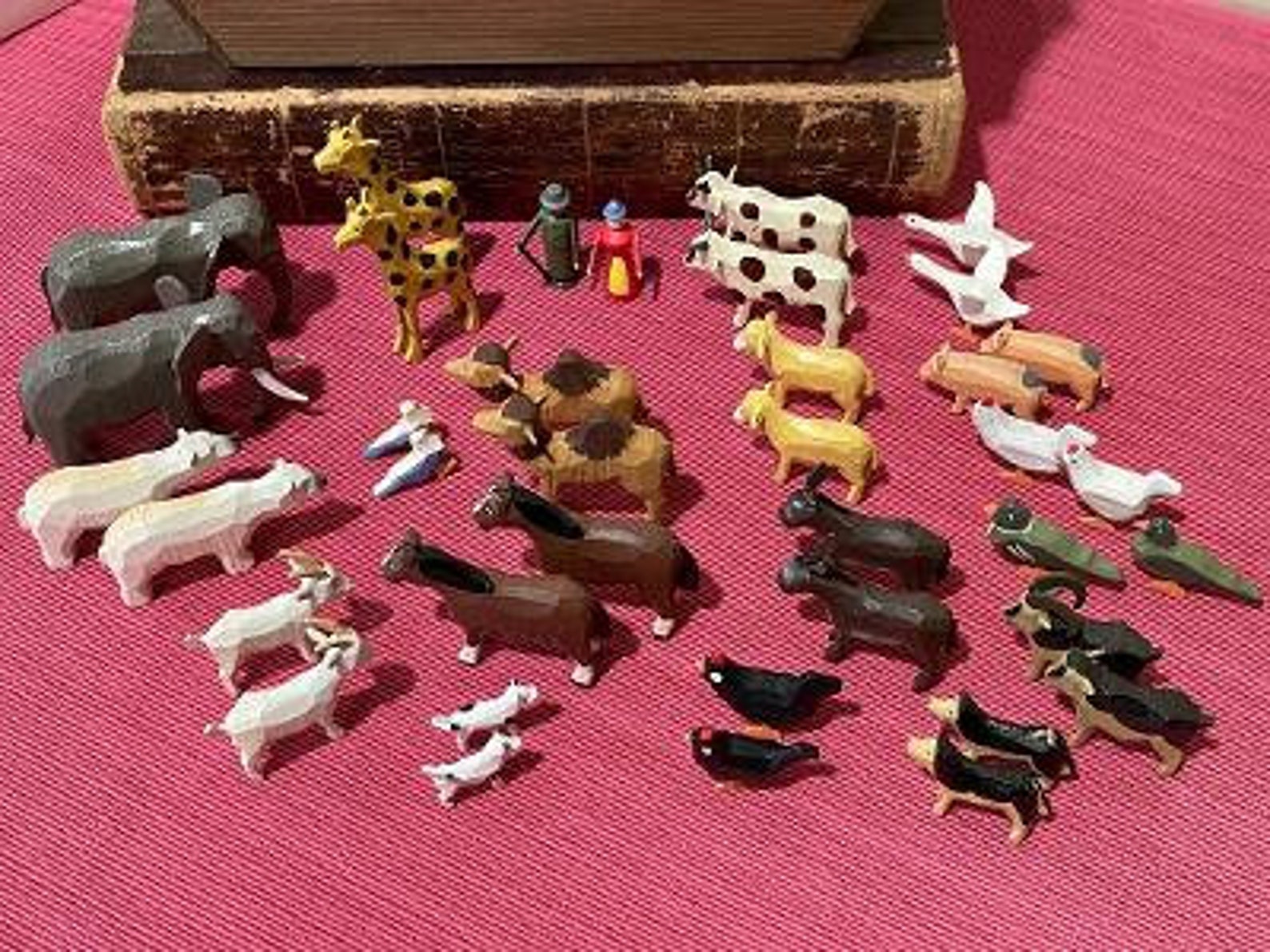 Noah's Ark Hand Crafted by Christian Werner, Erzgebirge Folk Art, Made in Germany

Seiffen Ergebirgisches Freilicht Museum
The Erzgebirgisches Freilicht Museum is a fascinating place for anyone to spend a few hours. You really get a sense of what it was like to live in the 1900s to early 20th Century. Small rooms, tiny kitchens, big tile stoves! Kids can roam freely and touch the exhibits (anything outside the ropes). And adults can imagine what it's like to trade in their lives for one without TVs or Microwaves. There are a dozen structures to wander around and in. You can even hike into the woods around the property. (There is even a small hut in the woods).
Be aware that the paths aren't paved. (Wear comfortable shoes)
The Seiffen Erzgebirgische Freilicht Museum is open daily from 10 am to 5 pm in the summer, 10 am to 4pm in the Winter. The Reifendreher takes lunch from 12-1 pm.
Get more information here–> Seiffen Erzgebirgische Freilicht Museum
Visit the Ore Mountains