Where to Buy Lebkuchen- THE German Christmas Cookie
Let me tell you
where to buy Lebkuchen
. Because, if you are like me… either too busy, too overwhelmed, or just too lazy to bake Lebkuchen (depending on who is looking at you), you can STILL buy that delicious
German Lebkuchen
(all the different sorts!) that you crave at Christmastime. Believe me, no one will judge you. How do you think the Lebkuchen companies survive? They NEED people like us! Consider it a public service, and get extra … just in case (the economy will thank you!)
Now, I'm not saying you should never bake Lebkuchen, I'm just saying, you shouldn't beat yourself up if you just want to open a tin or the cookie jar, and choose a delicious treat. The most difficult thing about buying Lebkuchen is choosing which varieties to get. (Honestly, the selection of types and flavors is amazing!) Learn more about that here–>What is Lebkuchen
Keep the kitchen clean, and spend a gemütlicher Evening nibbling on cookies… and maybe think about baking next year…(or not)
Where to buy Lebkuchen
Now, ideally, we would all hop a plane to Nürnberg, head over to the Christmas Market, and fill a basket. Since that's not happening right now, we go with the next best thing. Ordering Lebkuchen online. I've been very satisfied with the Lebkuchen I've ordered from Amazon… it's always fresh, and there are a lot of varieties to choose from. I've also recently discovered Bonanza. Not everything is a discount, but you can get some good deals, and they often have things you can't find anywhere else.
So, go ahead and fill your Bunter Teller with "purchased" Lebkuchen. And take a one more thing off of your Christmas To-Do list…
Where to buy Oblaten Lebkuchen
Oblatenlebkuchen is made with a dough that has little to no flour. The cookies are generally baked on an Oblaten (a wafer) to keep them from sticking to the pan. You will find them glazed, frosted or covered in Chocolate.
Wicklein Fine Oblaten Burggraf Lebkuchen Assortment

Häscha Lebkuchen Lebkuchen Rounds Assorted, 7 Ounce

Bahlsen Contessa ( Chocolate Coated Gingerbread ) – 200g

Bahlsen Contessa Lebkuchen-klassiker 200g

Bahlsen Contessa Lebkuchen – 1 Each Classic Glazed & Dark Chocolate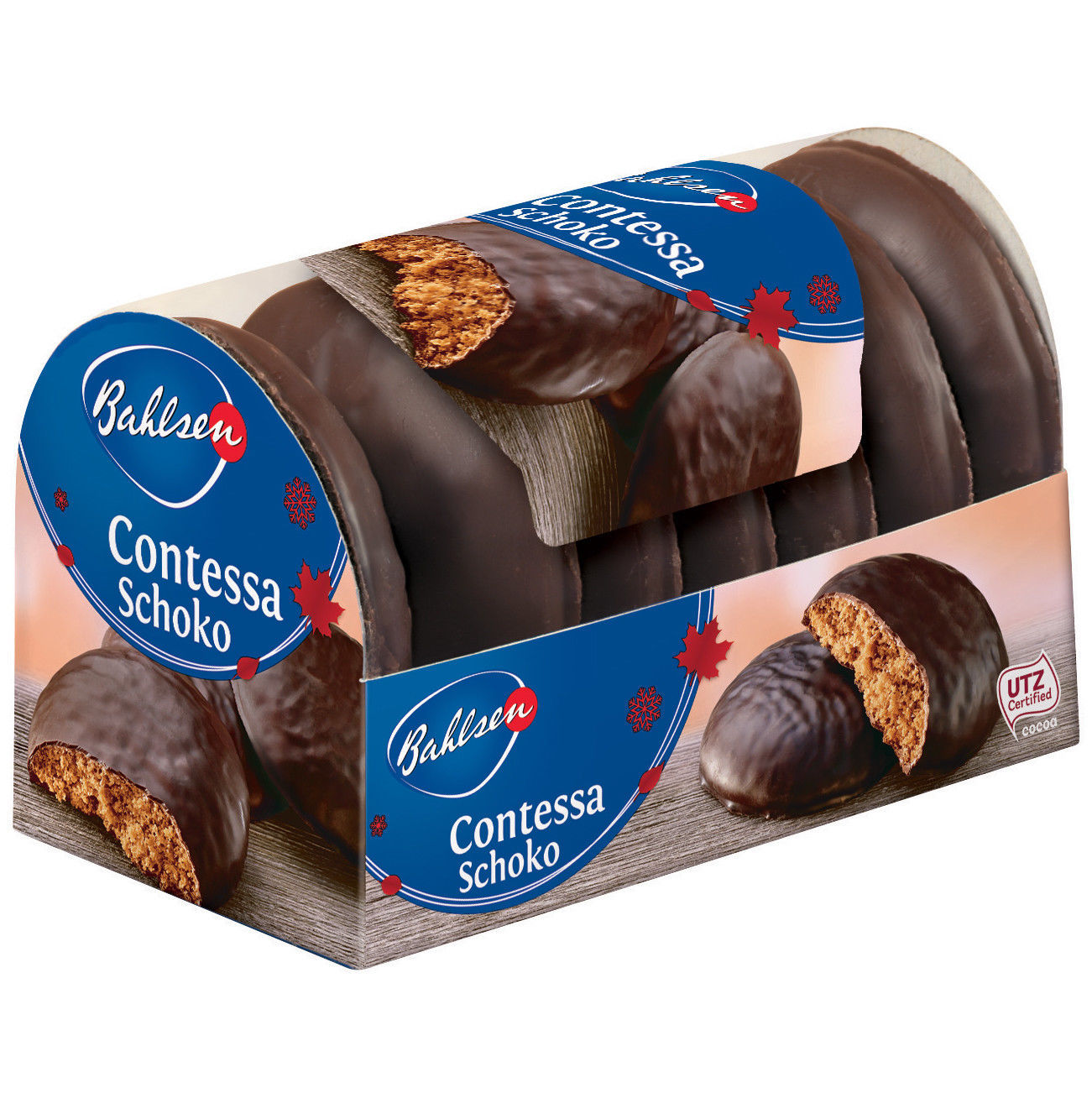 Bahlsen CONTESSA SCHOKO lebkuchen gingerbread cookies -200g-FREE SHIPPING-

Elisen Lebkuchen is the highest quality of Lebkuchen. It is made with virtually NO wheat flour, just ground nuts, honey, spices (and a few other things, just no flour). Expect to pay a little more… and expect the cost to be worth it.
Wicklein Gold Elisen Chocolate – Triple Sort – 250g/8.8 oz

Wicklein Mini Elisen Iced Lebkuchen

Wicklein Elisen Lebkuchen Assorted in Bag

Wicklein Gold Elisen Chocolate Coated

Wicklein Mini Elisen Milk Chocolate Lebkuchen

Wicklein Gold Elisen Lebkuchen Almonds Dual Sort – 250g/8.8 oz

Braune Lebkuchen
Think of Braune Lebkuchen as shaped Lebkuchen. This is where you find the hearts, stars, filled lebkuchen, Dominosteine and (my favorite) Printen.
Where to buy Lebkuchen
Filled Lebkuchen Hearts
My mother loves these… they have a more adult taste. (I think the filling is kind of bitter)
Winternacht Gefullte Herzen Zartbitter Traditional German Cookies Heart-shaped Soft Gingerbread Covered in Dark Chocolate with Apricot Fruit Filling

Lambertz Filled Lebkuchen Hearts Dark Chocolate 5.29

Bahlsen – Akora – Vollmilch Fruchtig GefÃllt – 150g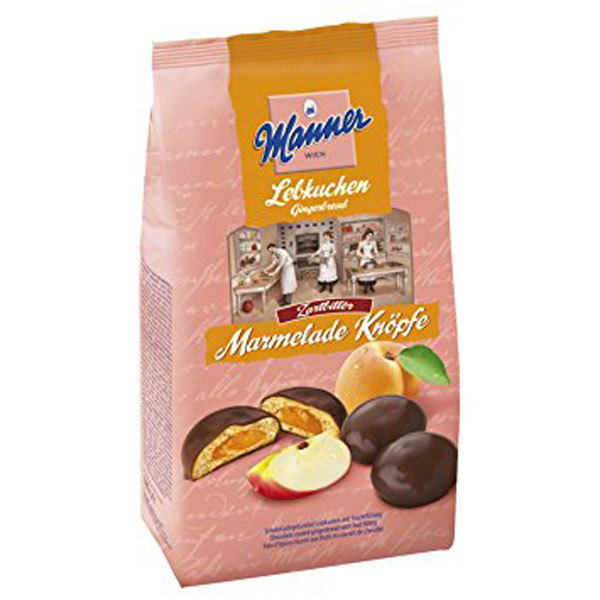 Manner – Marmelade Knoepfe Lebkuchen 180g $7.95

Milk and Dark Chocolate Shapes are family favorites
Henry Lambertz – Milk Chocolate Covered Lebkuchen Shapes – 500g/17.6 Oz

Winternacht Chocolate Covered Gingerbread Assortment (Schokoladen Lebkuchen Herzen Sterne Brezeln Zartbitter), 17.6 Ounces (500 grams) (Dark Chocolate)

Where to Buy Printen
Printen are rectangular Lebkuchen that have a little crunch from sugar crystals baked inside.
Lambertz Aachener Krauter-Printen – Gingerbread Cookies (7.05 ounce)

Kinkartz Aachener Chocolate Printen (200g)

Lambertz Printen (400g) Tin – Original Aachener Printen with chocolate coating

Kinkartz Aachener Printen Nut (100g)

Lambertz Aachener almond honey  Printen 100g

Lambertz Aachener Nut honey  Printen 100g

Where to Buy Dominosteine
Dominosteine are a hybrid of cookie and candy. They look a bit like Petit Fours. The layers are made from Lebkuchen, jam and marizan, and then the little squares are covered in dark Chocolate. Give my mom a box, and she's delighted!
Dresdner Marzipan Dominosteine

LAMBERTZ Chocolate Aachener Dominos, 250 GR

Schulte Dominosteine (2 Unit Per Order) – Perfect Christmas Gift for the Holidays

Schulte Feine Dominosteine Hartbox

Favorina Dominos with Dark Chocolate (250g)

Lambertz Aachener Dominos Selection, 7.05 Oz – 200g

Where to Buy Lebkuchen Tins
Wicklein Nutcracker Tin Mini-Gingerbread

Wicklein Laternen Dose 'Reetdach-Haus' mit Elisenschnitten

One of the nicest gifts to give (or receive) during the holiday season in a tin of Lebkuchen. The tin looks great, keeps the Lebkuchen fresh, and is a nice place to store things after the Lebkuchen has been eaten. (Interestingly enough, the aftermarket for empty Lebkuchen tins is very strong… people DO collect them!) Schmidt and Wicklein are two companies in Germany who make Lebkuchen Tins for gifting. Here in the United States, you might check out Leckerlee.
Wicklein Gold Elisen Musical Nürnberger Lebkuchen Tin, 10.6 Ounce

Wicklein Lebkuchen Silver Tin

Wicklein Nuremberg Small Chest – 300g/10.5 Oz

Emil Reimann Elisen Lebkuchen Gingerbread Black Luxury Gift Tin 240g – 8.5Oz

Wicklein Round Rotating Musical Tin – 250g/8.75 Oz

Bahlsen Gingerbread Cookie Tin 10.6 oz each (1 Item Per Order, not per case)

Wicklein Lebkuchen Hexagonal Tin

Wicklein Musical Moon & Stars Tin – 150g/5.6 oz

Wicklein Elisen-Gingerbread (Lebkuchen) Tin 500g

Schmidt Festive Tin 2017

One Wicklein Gold Elisen Burg Tin, 2 Asst Lebkuchen (Chocolate & Iced), Min. 25% Nuts

Wicklein Childrens Lebkuchen Musical Tin (200 g)

Lebkuchen Schmidt Festive Extra Large Chest Filled with German Cookies, Biscuits, Gingerbread, 6.23-Pound

Buy Home Made Lebkuchen
Still feeling guilty about serving "store bought" Lebkuchen? Worried that someone might say something? Simple… I have a way you can serve homemade Lebkuchen WITHOUT having to pull out a mixer… There are some great online bakers who will sell you their home made cookies! All you have to do is put them on a plate.
DONE! (and no one will ever know you didn't bake them!!)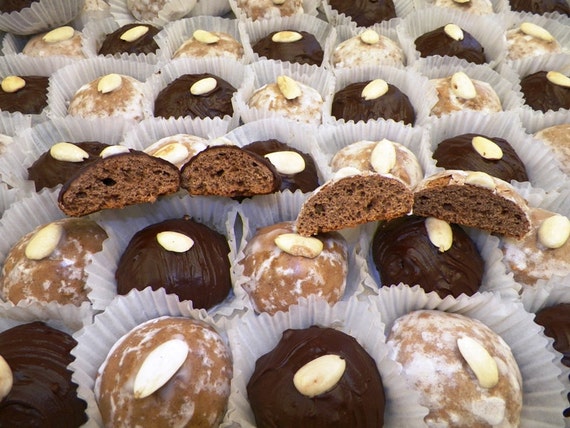 2 dz Oma Gisi's Nuernberger Lebkuchen Bites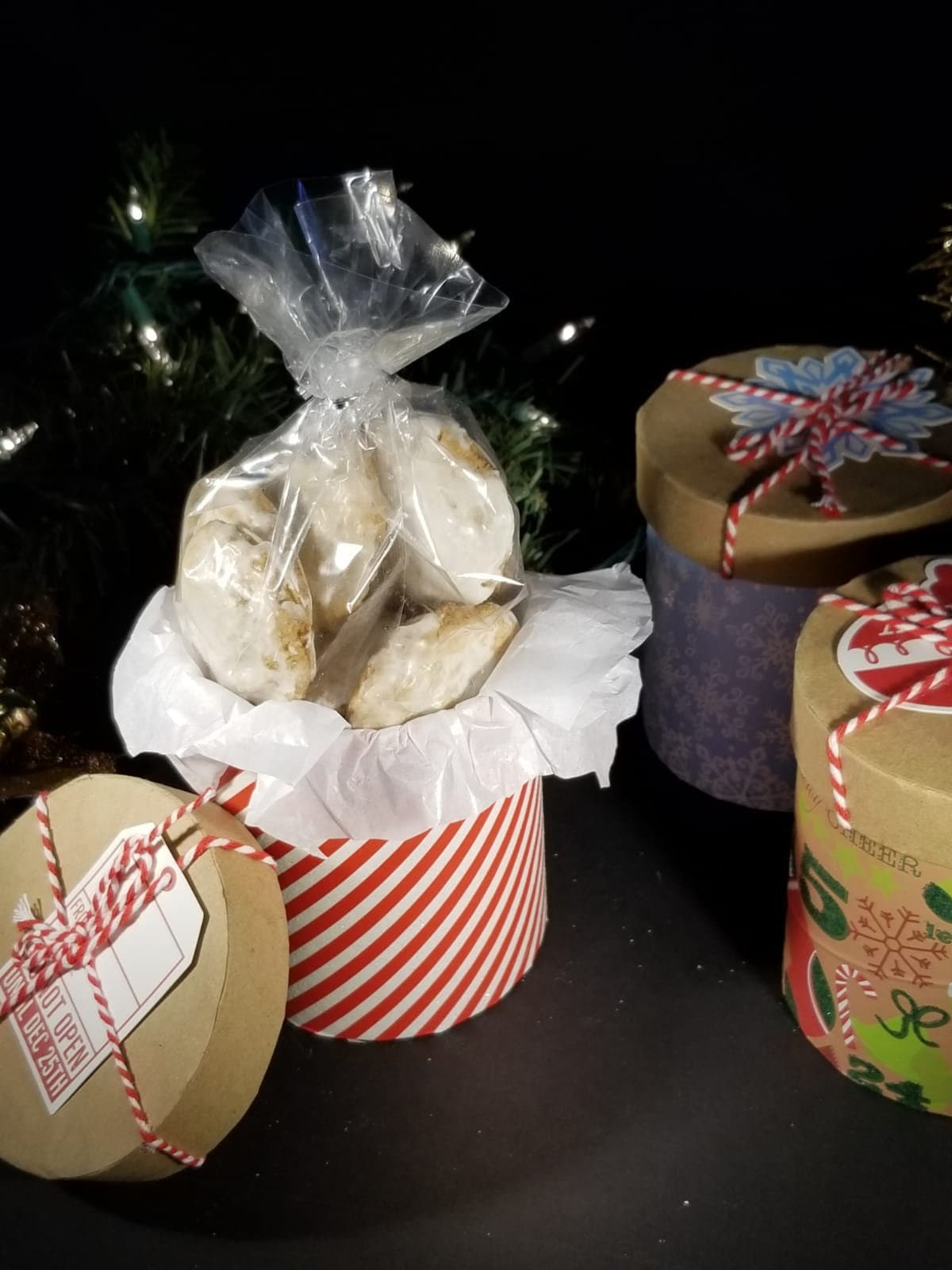 items Lebkuchen/German Gingerbread Add to Favorites image 0 image 1 Lebkuchen/German Gingerbread