Schmidt Lebkuchen Nuremberg: Buy Lebkuchen Tins Online
For over 600 years Schmidt Lebkuchen Nuremberg
has been baking and selling their delicious Lebkuchen, a special type of Gingerbread.  Travelers and Traders used to carry Lebkuchen with them to enjoy and sell, now we are lucky enough to be able to
buy Lebkuchen online!
During the Holiday Season of Advent and Christmas, you can find various
Schmidt Lebkuchen Tins
containing a variety of Lebkuchen cookies.
Every year new Schmidt Lebkuchen tins, and special packages are created and released just before October, to get you excited for the holidays. The highly collectible tins make fantastic gifts, because they contain a wide variety of cookies and treats, but you can also get simple boxes, bags and Advent Calendars full of Lebkuchen to enjoy.
The Schmidt Festive Chest is a massive chest with a large selection of Lebkuchen, German Christmas Cookies, Stollen and other treats (including tins within the tin). I buy it for my family every year, and it's more than enough for our Christmas celebrations. In fact, I end up sending home extra packets with visitors. Or split the contents with my mother (We flip for the tin) While the tin itself is a bit expensive… you do get A LOT in it (and it's a lovely collectible tin). Fortunately, there are many other tins for every price range.
Festtagstruhe- Holiday ChestSchmidt Lebkuchen
This post contains affiliate links, which means I earn a small percentage from sales at no cost to you.
Lebkuchen History
Brief History of these Delicious German Lebkuchen Cookies

Nuremberg is in the perfect location for Lebkuchen. bSpice merchants traveled through the city from Genoa, Venice and the Orient, insuring a constant supply of pepper and other spices that gave a kick to these delicious cookies. Ginger itself was probably introduced to Germany by Crusaders returning from the Holy Land in the Eleventh Century. But spice alone doesn't make Lebkuchen. Nuremberg is also close to the Reichswald… also known as the German Empire's Bee Garden. Honey supplies essential sweetness, and keeps the cookies moist over time.
By the early 1600's, Lebkuchen was only baked by special a Baker's Guild called the Lebkuchler from a well protected secret recipe. It was not something for the home kitchen.
&
Nuremberg became famous worldwide for Lebkuchen.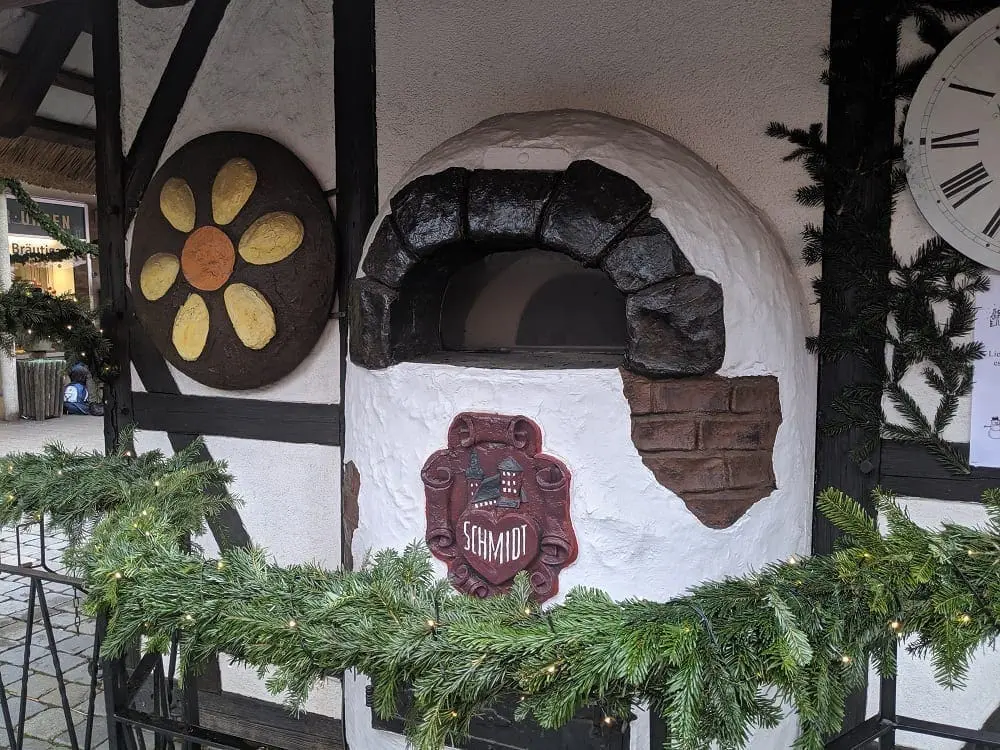 At the Nuremberg Christkindlmarkt
Otto Schmidt Lebkuchen
In 1927 Otto Schmidt and his brother stumbled into the Lebkuchen business when they received a train car full of Lebkuchen as a payment for a debt. They got the idea to separate it into types, and sell it nationwide with advertising. It was so successful, that Otto Schmidt established his own Lebkuchen Bakery that has been selling Lebkuchen worldwide since then. Today they still use the same secret recipe, and the same high quality ingredients, ground nuts, spices, honey and chocolate that made them famous all those years ago.
Lebkuchen Schmidt Lebkuchen Flavor of the Year for 2022- Honig Himmel! Honey Heaven!
This honey forward Elisen Lebkuchen comes decorated with little stars!
Honig Himmel- Honey Heaven Gingerbread of the year 2022Schmidt Lebkuchen
You can Buy Lebkuchen Online from Schmidt Lebkuchen!
Schmidt Lebkuchen Tins come in all Sizes and assortments. The tins keep the Lebkuchen soft and fresh, and even become collectors items after the Lebkuchen cookies have been eaten. I have a large chest tin that I got years ago… and to this day I use it to store special letters from family in Germany. They make wonderful holiday gifts for friends and family. These start coming available in the fall of each year.
There really is a tin for every taste!
Lebkuchen Schmidt Chests
The annual Collectors Chest may cost a bit, but the value you get from the contents make it all worth it. The HUGE tin box comes LOADED with treats. You even find other small tins inside the big box! And all of the tins are collectible, as well as useful (I've filled mine with old letters and photos, as well as special memory trinkets)
There are also other large specialty chests loaded with treats.
Festtagstruhe- Holiday ChestSchmidt Lebkuchen
Nürnberger Geschenk Truhe- Nuremberg gift chestSchmidt Lebkuchen
Exklusive Genießer-Truhe 2022- Exclusive gourmet chest 2022Schmidt Lebkuchen
Smaller Collectible Chests
These smaller chests make fantastic gifts for lovers of Lebkuchen!
Nürnberger Geschichten Truhe- Nuremberg stories chestSchmidt Lebkuchen
Kunst Truhe Kandinsky- Art Chest KandinskySchmidt Lebkuchen
Winter Truhe- Winter ChestSchmidt Lebkuchen
Nürnberger Bogen Truhe- Nuremberg Arch ChestSchmidt Lebkuchen
Historische Nürnberg Truhe-Historical Nuremberg chestSchmidt Lebkuchen
Weihnachts Truhe- Christmas ChestSchmidt Lebkuchen
Bunte Nürnberg Truhe- Colorful Nuremberg chestSchmidt Lebkuchen
Felix der Hase – Truhe- Felix the Rabbit ChestSchmidt Lebkuchen
Schmidt Lebkuchen
Pick your favorites to make your own box!
Lebkuchen of the year 2021 Elisen-Königin without flour in the doughSchmidt Lebkuchen
Gingerbread Roasted Almond chocolate-coated Elisen-Lebkuchen with almond brittleSchmidt Lebkuchen
Chocolate Elisen less sweet Delicious Elisen Lebkuchen, less sugarSchmidt Lebkuchen
Marzipan Mini-Elise exquisite Lebkuchen with marzipanSchmidt Lebkuchen
lise Plum-Cinnamon Lebkuchen of the Year 2020Schmidt Lebkuchen
Shaped and Filled Lebkuchen
Fairytale House Fünf Schoko-Lebkuchenherzen mit Füllung und einem MärchenSchmidt Lebkuchen
Kaiserlein 4 brown filled Lebkuchen with chocolate coatingSchmidt Lebkuchen
Lebkuchen triangles 1 pack of Lebkuchen Triangles coated with whole-milk chocolateSchmidt Lebkuchen
Lebkuchen stars 4 chocolate and 4 glazed gingerbread starsSchmidt Lebkuchen
Chocolate-Fruit-Pastry one bag of chocolate fruit pastry filled with cherry-fillingSchmidt Lebkuchen
Schmidt Christmas Cookies
Butter cookies 12 pieces with whole milk chocolate baseSchmidt Lebkuchen
Nuremberg Vanilla Crescents One pack of buttery shortbread biscuitsSchmidt Lebkuchen
Nuremberg Cinnamon Stars One package of cinnamon starsSchmidt Lebkuchen
Speculoos 1 pack of finely spiced crunchy biscuitsSchmidt Lebkuchen
Nuremberg Butter Biscuits One pack of delicate biscuits with a fine buttery tasteSchmidt Lebkuchen
Nuremberg Nougat Buttons one bag of crunchy shortbread with a fine nougat noteSchmidt Lebkuchen
Nürnberger Anis-Knöpfchen a bag of crispy shortbread with a fine note of aniseSchmidt Lebkuchen
Dürer-Brot Ein Beutel Dürer-Brot mit Vollmilch-SchokobodenSchmidt Lebkuchen