Leckerlee Lebkuchen – Authentic German Lebkuchen Made in America
It starts with the smell of spices… ginger… is that cardamom? And then you take that first bite. "oh my gosh". You get the nuts and citrus. The texture is amazing. I've been eating Lebkuchen my whole life, but outside of a German Christmas Market, I've never had it as fresh or flavorful as Leckerlee Lebkuchen. This is Lebkuchen baked the old fashioned way using premium ingredients.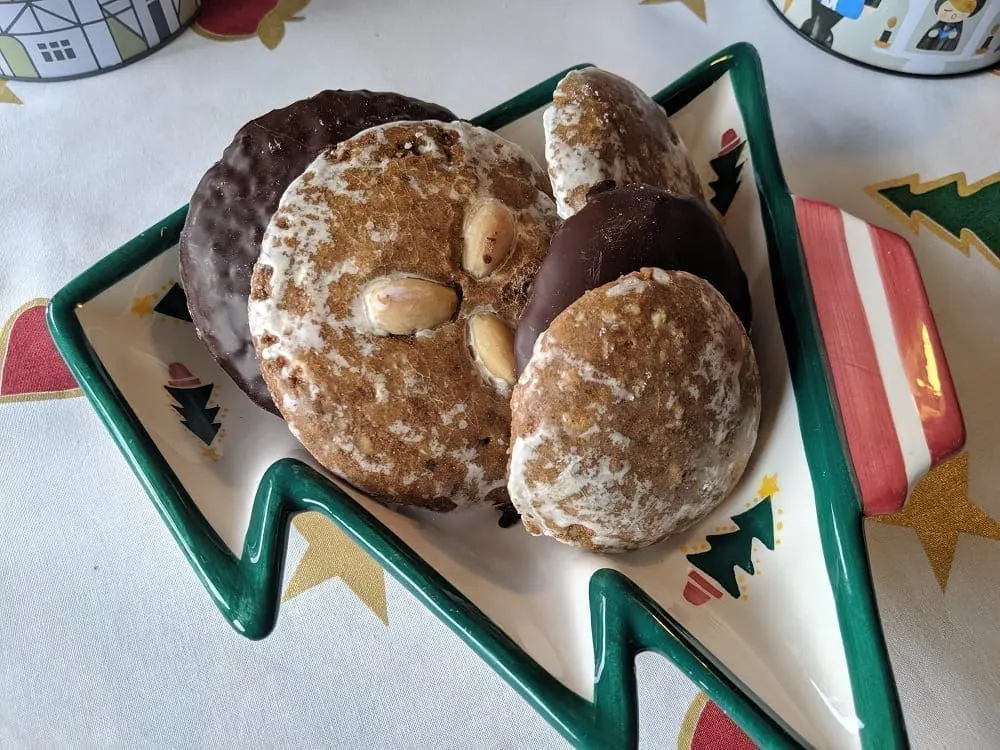 What is Leckerlee Lebkuchen?
Sandy Lee was in Berlin studying German, when she discovered Lebkuchen at a Christmas Market in Berlin. It was love at first taste. Despite having no training in baking or even food production, she was determined to reproduce those flavors. Initially, she applied for an apprenticeship with German Lebkuchen companies, but they never got back to her. Undaunted, she began studying the old methods and even deciphered old Fraktur recipes.
Once she had the knowledge, Sandy decided it was time to DO something with it, and the Leckerlee Lebkuchen company was born in the Manhattan in New York. Later they moved to the Bronx… and this year they settled in Colorado near Denver.
Leckerlee Lebkuchen isn't generic Lebkuchen or Gingerbread. Leckerlee makes only PREMIUM Elisen Lebkuchen. So, what is Elisen Lebkuchen… by definition it must contain at least 25% nuts, and less than 10% flour. Leckerlee Lebkuchen is 40% nuts and only 7% flour. The texture is amazing! Light but substantial. And the flavor? As Sandy said, "don't skimp on the good stuff!" Leckerlee uses the highest quality blanched almonds, and citron imported from the Netherlands (to stay away from the preservatives). She also came up with a special proprietary 9 spice blend (I know some German bakers who would LOVE to get their hands on that recipe!) (me).
The Lebkuchen is baked by hand in small batches. And since they don't add artificial preservatives, they only bake during "Lebkuchen Season" from November through January. But don't worry! like all real lebkuchen, Leckerlee Lebkuchen can be stored in an airtight container for months, and still taste delicious! You can "refresh" the cookies by adding a slice of fresh apple to your tin.  (I haven't tried it, because it doesn't last that long around here).
You can order Leckerlee Lebkuchen in 2 sizes. The Traditional cookie is 4 inches across and weighs in at 3 oz (just like the ones in Germany). It's a rich and satisfying treat … but I've been known to eat one and call it breakfast! In 2013 the company introduced "minis" that are around 45% of the size of the original. Supposedly, this was for people who didn't want to eat a big one… but I find that I will happily eat 3 or 4 small ones in a sitting… You have a choice of classic glazed or lebkuchen coated in dark rich chocolate. (Decisions, decisions… why not get both?)
And like the best German Lebkuchen, Leckerlee Lebkuchen comes in collectible tins! Perfect for keeping your Lebkuchen fresh… then… when the Lebkuchen is all gone… you have a beautiful container for tucking away little secrets (like that spice recipe). And because a new tin is released every year, you have a collector's item keepsake… to remember Lebkuchen from Christmas's past….
Leckerlee Lebkuchen are not your average Christmas Cookie. You don't get dozens and throw them into a cookie jar for the kids and their friends to snarf down while watching cartoons. These are special … these are cookies that bring up memories of Christmas in Germany with Oma. And while they are a bit pricey, they are cheaper than a plane ticket.
And if you close your eyes, and take a bite, it's easy to imagine yourself  at a German Christmas Market.
Introducing the special Tenth Anniversary Lebkuchen Tin!
Isn't it cute?! (I love how you can see Sandy!) Order it here–> Tenth Anniversary Lebkuchen Tin
Where to Buy Leckerlee Lebkuchen
You can order Leckerlee Lebkuchen from their online shop. –>
SHOP LECKERLEE LEBKUCHEN
Or if you are lucky, you can find them in a local store.
Because of the company's recent move to the Denver, Colorado, they won't be at the NYC Holiday Markets, but you can pick them up from their Louisville location… email for an appointment! [email protected]
Days like these… I really do love my job….