Traveling to Germany with Kids – It's Easier than You Think!
Traveling to Germany with kids is fairly easy. I've done it a few times now… with kids of all ages. There have never been problems getting around, the food is not so strange that your picky eaters will starve, and there are a lot of fun things to keep the whole family happy. Just do a little planning, be realistic with your expectations, and prepare for a good time.
Germany is very kid friendly. During the summer there are a lot of local festivals and celebrations that everyone is welcome to attend.
Having kids does not mean you have to stop traveling ! Pack up your gear… and head to Germany!
Traveling to Germany with Kids-
It's easier than you think!
Planning Your Trip To Germany With Kids
Start planning your trip to Germany a few months in advance. Yes, you can be a spontaneous traveler, but with kids along, it's a good idea to work out a lot of the details in advance. Plus, if the kids are old enough, they can get in on the planning. Decide when you want to go, and for how long. Most people plan their trips during the school vacations, but you could consider going at other times of the year to avoid crowds in busy cities.
First and foremost– MAKE SURE YOU HAVE PASSPORTS FOR EVERYONE. It takes time to get them, make sure you aren't sweating next to the mailbox the day before your trip. Passports are good for 10 years for anyone 15 and older, 5 years for anyone 15 and under. (My son had the cutest passport photo taken when he was 5 months old, and had to carry it through kindergarten). Here is the link for Passport information for 
Invest in an accordion binder. One with at least 6 files. You will use this to store maps, airline confirmations, car rental confirmations, accommodation confirmations, magazine articles, and ideas that you find along the way.
Talk to people, read magazine articles, read internet blogs. What is it that you want to see? What is it that you and your family like to do? Print up or cut out information, and slide it in a pocket so you don't forget.
Where do you want to go in Germany?
Germany is a big country. OK, clearly not nearly as big as the US, but still, it is pretty spread out, and the regions are diverse. What do you want to see? Are you in to big cities? Munich and Berlin attract loads of tourists, and are full of museums and attractions. Does the thought of visiting castles and cathedrals excite you? The Rhine land is great for that. Do you want to get to know what Germany is like, without surrounding yourself by tons of tourists? Try a smaller city like Munster, or stay in an apartment in the Black Forest. If you are in to cars? Stuttgart has to be on your list.
Get a Map of Germany
In these days of GPS, we seldom use paper maps… but truly, they are the best way to plan a trip… and to get your kids involved. I love an actual paper Map . It's easier to get a sense of how far apart things are, and what else you might see while traveling from point A to point B, if you have a map. Get out your notebooks and highlighters and make some plans.
Spread out the map… and trace your route
Michelin Germany Map 718 (Maps/Country (Michelin))

DK Eyewitness Travel Guide Germany

Make an Itinerary
And it comes to this, you will want to chose an itinerary that allows for doing the things your family enjoys doing, seeing new things, trying new experiences at an unhurried pace. Racing from one cathedral to another makes it all blend together, and no one is happy. Chose a few sites that you absolutely have to see, and work around them. One or two cathedrals, one or two castles, on or two city walks will usually cover it, especially for kids. Make sure to leave time for something simple, like a bike ride, or a day in a park. Keep your eyes open for local festivals or live music. Picnics with foods you bought at a local market and deli will be much more memorable and fun for children then sitting still in a white tablecloth restaurant.
So, pick your stops, plan to spend at least 3 or 4 days in each, and work from there.
Stay in an Apartment or Family Park
Hotels are beautiful, and come with lovely services… but for an easier stay with kids, rent an apartment or stay in a Vacation Village. You won't be sitting on top of each other in one room, great for kids with different bedtimes. And having a small kitchen will make life easy when it comes to mealtimes. I would send my 10 year old to the baker in the morning to buy broetchen (she got to practice her rudimentary Germany, and no one had to "get dressed" for breakfast). With kids, you don't always want to go out.
Check out Trip Advisor  for some great locations. You can rent an apartment or house. This way you can get a separate bedroom for the kiddos, and even a kitchen for breakfast (you don't want to go out for every meal). Find something central to an area you want to explore… and check in. We enjoyed an apartment in Gengenbach far more than a hotel. And we once spent a week in a Family Resort called Landal Greenparks. These Vacation Villages allow you to stay in a small bungalow… there are pools, restaurants, and play areas with other kids. You can explore the area around the Parks, and relax in the park when you are done for the day.
Flying to Germany with Kids
You have your vacation time and dates, now you need to book a flight to Germany. During the high travel season, it isn't cheap. Keep one thing in mind before you book that flight that stops in 3 cities along the way, your kids are with you. Flying with kids is tough as it is, getting on and off of a plane 2 or 3 times before arriving insures that the time spent traveling with be endless, you will lose something vital on one of the legs of the flight, and you will arrive cranky, tired and really hungry, since they generally don't serve food on short flights. Try to go non-stop with kids if possible. And while you are at it, try to book an overnight flight. Getting the kids on the plane at night helps insure that they will get a little sleep along the way.
Be sure to order the special kids meal when booking the flight. The food will be friendlier, and will come out before all the other food does. In my kid's case, they ended up getting more on their plate than I did, and they got a yummier snack.
Speaking of snacks. Bring some. Gold fish crackers, pretzels, packets of cookies, granola bars, whatever your kids like. Don't bother with juice boxes or water, you won't pass security. Bring an empty water bottle if you want, and fill it once you pass the guards. Food behind the security gates can be expensive, and it's no fun to spend all your vacation money before you even get off the ground. Also, it is important that you have something like tootsie rolls, gum or lolly pops to combat the ear pain from the pressure change. A bottle or pacifier for a baby might be a good idea. My little one loved these ear plugs called Ear Planes. I don't know if they really worked, or if she just thought they worked. Doesn't matter, she was happy.
And as long as you are packing snacks for the kids (ok, and for you), make sure you include a few surprises. I used to wrap of little toys and books in gift wrap to pull out along the way. Now with security so strict, it's difficult to pass that through. Do, however, throw some new cards, or an activity book with crayons, or even a new game for their game machine in your bag. Hopefully you can push off the "I'm bored! When are we going to get there?" a bit.
Ok, you are on the plane. Parents with kids often get to board first. If you are travelling with 2 adults, one of you go ahead with a kid that needs settling in, while the other can let the active kids have another run around the terminal. Be sure to grab up a few extra blankets and pillows. I liked to make a nest on the floor for my little ones so they can really stretch out. There are bassinets that hang on the wall in some planes, you have to ask in advance. They are comfy for the baby, but you are left pretty squeezed in.
For big kids and teens? Ipod, books, electronic games…. Don't forget the charger… don't forget a REAL converter. Not just a wall plug.. something that converts the power so the device doesn't blow up.
UPDATE- many international Airlines now have power plugs that allow you to plug your device in at your seat! And forget about buying those funky plastic stethoscope headphones… you can supply your own earbuds or head sets. (They will give out ear buds for people like me who always lose them)  
Also, these days most seats have individual screens on the seat back in front of you. (no more craning your neck to see the TV screen 7 rows away!) Often there are games as well as children's programming. Check ahead to see if there is a charge to use them… sometimes you can bundle if you buy multiple screens.
Then, sit back and enjoy your flight. (BAHAHAHAHA)
For more detailed tips about flying with a baby–> Flying With a Baby
One final note about the flight… It might be worth it to get Flight Insurance or Trip Insurance. The more people you have in the group, the more chances you have of something going wrong… Flights are expensive, and not always refundable.
Getting Around in Germany with a Family
Trains or Cars?
Train travel is fun and can be exciting. However, the train doesn't get you everywhere you want to go in Germany. Also, it's getting more expensive, especially for a family. Your best bet is to rent a car, and save the train for an excursion. If you are staying outside a big city, taking the train in to the city for the day is a great idea. They tend to go right to city center, and you don't have to deal with traffic or parking. Still, if you love the idea of trains, and don't want to deal with driving… then Eurail is for you! Just be sure you find the right package for your trip. You can book by certain number of days… or for longer stretches of time.
Car Rental is Germany is just like everywhere else. You go online, chose the car, and pick it up at the airport. Do be aware, cars in Germany, and in most of Europe, are smaller than here. So, if you packed your SUV full to get yourselves and your luggage to the airport, you can bet it's not all going to fit in the little Opel Kadett. Keep in mind, gas is more expensive there, parking can be difficult in many places, and it's cheaper to get a smaller car. We found a great compromise, a Kia Karens, known as the Kia Rondo here, you can fit 5 people with bags, or 7 people and lunch. Worked for us.
Also… one more thing to think about… streets in the Old Town of many cities can be NARROW… small cars make it easier to get around and park.
For those of you (like me) who have gotten accustomed to Uber or Lyft… forget about it in Germany. You will need to take a taxi.
Packing for Germany
We have a rule… everyone carries their own stuff. (Well, naturally this is for everyone big enough to pull a bag). This means small suitcase for all (well, mommy got a bigger one)… preferably on wheels.
If you have a very small child, you might consider a bag for your car seat. You can rent car seats in Germany, but the kids always seem happier in their own. If your child is old enough for a seat, but still young enough to NEED a car seat, you can take it onto the plane and use it there. Be aware that a big bulky car seat can be a royal PAIN to drag through the airport and on to the plane…
On our first trip, our son was a wanderer… the we bought a harness (sort of a leash) and it helped keep me sane. (For our 3rd child, the harness was a non-starter. Every time we slipped it on, she sat on the ground and REFUSED to move… maybe practice at home first.)
If you take a stroller, make sure it's SMALL and folds up tight. Trying to get one of those fancy jogging strollers into your rental car, along with your luggage will only make the other people at the  car rental agency fall down with laughter.
Skip Hop Toddler Leash and Harness Backpack, Zoo Collection, Monkey

JL Childress Gate Check Bag for Car Seats, Red

Trunki Original Kids Ride-On Suitcase and Carry-On Luggage – Harley Ladybug (Red)

What Clothes will you Need to Pack?
Germany has a moderate climate… warm in the summer, and cold in the winter. Be aware that you could face rain in July though (I once had 2 1/2 weeks straight of rain in mid-summer…). Pack comfortable clothing if you plan to tour a bit. And play clothes for the kids to romp around in. Do bring a light jacket for evenings (or rain). Read more about packing here–> Packing for Germany
My daughter, who just returned from Berlin made one VERY IMPORTANT observation that might just devastate a few of you. Germans don't seem to wear leggings. And, she got some serious stares (especially from the Omas) when she wore them. Jeans are great or real pants, slacks, crop-pants…
The most important thing? Shoes. Comfortable shoes. Shower shoes or flip flops are only worn at swimming pools. Want free toes? Wear sandals or Birkenstocks.
You don't HAVE to take a lot of clothes. You can wear the same shirt or pants a few times without the world pointing and staring at you. Do take enough underwear for the week… Think layers.
Be aware- Laundromats are not on every corner like they are here (in fact, I can't remember the last time I saw one outside a big city). You can bring along some Travel Detergent, and do some laundry in the sink. Hang things over the bathtub, not in the window! Often apartments have laundry facilities.
Feeding Your Kids In Germany
Kid friendly Food is EVERYWHERE
Germany is a great place for food, even if you have picky eaters. You can chose a sit down restaurant, or a stand up table in at a Pommes Bude (French Fry hut) and everything in between. In fact, if you want to, you can live on rolls, sausage, french fries, chocolate and ice cream.
We did start something many years ago that you might want to try. Every day, try one new food. Just one new one. My daughter takes this and runs with it, she even tried snails! My son sees this as an excuse to try a new flavor of ice cream. Hey, at least he's experimenting…
Breakfast in Germany tends to be rolls and bread served with cold cuts and jams. You will often find a soft boiled egg. Most hotel room include breakfast, and you can help yourself to the buffet. You will find cereals and musli, as well as yogurt.
Lunch is generally a heavy meal in Germany. What we would consider our evening meal. You can find everything from Schnitzel, a boneless breaded veal cutlet, to something with noodles. Look at other tables, look at what is behind the counter, you are sure to find something you like.
Dinner tends to be a lighter meal. Schnitten (sandwiches), served with pickles, sliced tomatoes or a salad.
Learn more about foods to try in Germany–> Don't Fear the Wurst.. EAT IT
Food is everywhere, Bakeries, Delis, Imbis, Schnell Essen, all sorts of stands and cafes. You will not have problems finding something to eat, maybe you'll have trouble narrowing it down! Farmers Markets, Markt, are a great place to pick up fresh fruits and veggies. My kids loved the strawberries in season, so delicious.
Most kids learn to read the word Imbiss very quickly… basically, it's a fast place to get bratwust, knack wurst or… and these are really good… currywurst (sort of a bratwurst with a ketchupy sauce spiced with curry). All served with pommes (french fries) and these cute little forks. WARNING… when you order pommes, they will say "mit oder ohne" (with or without) .. they are referring to mayonnaise. I still can't eat them that way, but maybe you'll want to give it a try…
And EVERYWHERE is Eis, ice cream. Talk about a great bribe, I mean treat. Cheap, loads of delicious flavors, try ANY of the berry flavors, and a scoop on a cone is a great take away snack. And for a sit down, the kids will love Spaghetti Eis, vanilla ice cream, pushed through a noodle press, covered with strawberry sauce and a sprinkle of white chocolate. Looks like spaghetti, tastes like heaven.
Take note, when you buy a drink in many places, you may be asked to pay a Pfand. This is a hostage fee for your glass. You will get it back when you return your glass. You will also be asked to pay it when you buy a bottle of juice or water. So if the sign says 1 €, be sure to have more change ready.
Also, tipping is not mandatory, but you can give the waiter a little something when you cash out.
Speaking of this, there aren't cash registers in most restaurants. Food servers carry the money in a little pouch and work the bill table side. Lately, they carry small hand held computer things.
You will not starve, in fact, don't be surprised if you find a whole bunch of new favorites.
Playgrounds and Public Swimming Pools
Germany is loaded with Parks and Playgrounds. Added bonus, the playgrounds are designed for kids to really PLAY! Swings, climbing structures, digging equipment and even inflated jumpies. Kids will have fun burning off energy… and may even get a chance to meet some other kids. Kids in Germany are just like kids everywhere… they want to have fun!
You can also check out wonderful "theme parks" that are less about rides, and more about doing it yourself-
Kettelerhof in Haltern am See and Kletterpark, Taunus
Schwimmbad and Freibad are words to look for. These large public swimming pools have changing rooms and lockers. Most complexes have a variety of pools, indoor and outdoor, of different depths. Some even have water slides. We LOVED visiting the pools in Cochem (they even have a Sauna, Jacuzzi, Bistro and kiddie area… and one day we will get to the one in the old Blimp hanger near Berlin.
Another sign to look out for… FKK (Freikorperkulture) … this basically lets everyone know that it is a nudist area. Don't freak out! You are still welcome… but you might want to warn curious 9 year olds…
Tips for getting through Museums with Kids
Museum Activities with kids
FEED THEM FIRST
Hungry kids and Museums don't mix. The food in the museum can be pricey, eat somewhere nearby. Fill the tummies.
Then, go to the gift shop and let everyone chose 3 or 4 postcards of art objects or paintings on display in the museum.
It's a scavenger hunt.
Each child is responsible for finding his or her art objects. If they do? Ice Cream!
Now the rules-
NO RUNNING
NO SHOUTING
everyone stays together
everyone does take time to actually look at the art they found, maybe even learn something about it.
do not be obnoxious or rude to other museum guests
do not attract the attention of the guards
This is not meant to be a race against time, or each other
It's just a way to get the kids to enjoy a museum without it seeming like a boring chore that must be endured.
It works, trust me
Final note… check your coats and stuff… if you are wandering through a museum looking like a pack mule, you will attract the guard's attention. They are worried about terrorists tossing bombs, paint or whatever on the art. Cut them (and yourself) a break… check it. Plus, who wants to be loaded down with STUFF all the time. Every Museum, large or small, has a coat/bag check and lockers. Use them.
Castles and Cathedrals
Kids aren't as excited about seeing the third Cathedral of the day as you are. Don't try to see too much in one day.
Also, remember, Cathedrals are first and foremost a place of worship. Running, screaming, and general misbehavior are not appreciated by anyone. It might be just as well to enjoy the Cathedral from outside in the square with an Eis.
Castles often have grounds around them with a lawn to run off excess energy. Some even have labyrinths for exploring, or fish ponds for admiring.
These fabulous buildings and monuments are 100s of years old, and probably won't crumble under your 7 year old… but be respectful. (note… in an ironic twist, some old buildings are crumbling… don't let your kids, or your adult partners, pee on them)
Power Converter for Your Electronics
These days people travel with Ipods, Laptops, Cell Phones, Kindles and a million other electronic accessories. You will NEED a power converter. Don't just take the plug that goes into the wall. You will blow up your laptop.
The power is different, the plug is not enough, take the converter.
This little device will allow you to take all your electronic toys, a hair dryer and curling iron…
Just don't forget to put them down and enjoy where you are…
Travel Adapter
I recently purchased and used the Bestek Universal Travel Adapter to replace my old power converter. The old one weighed 4 pounds! (YIKES! I'd rather have 4 pounds of chocolate in my bag). This adapter is small, lightweight, and can charge or power several devices at once. And it all tucks away in a handy little bag. It does make some noise while working… sort of a whirring sound… so I used it as a white noise machine while staying on a busy road, and slept like a baby.
BESTEK Universal Travel Adapter 220V to 110V Voltage Converter with 6A 4-Port USB Charging and UK/AU/US/EU Worldwide Plug Adapter

Your Kids WILL have fun in Germany
One thing I learned quickly is that language differences don't really matter as much for kids. When they are in a Park with a ball, other kids will automatically join them for a game of Fussball. (And any kid 10 and up will want to practice their English). Swinging on swings, and splashing in a swimming pool are universal. Castles can be more fun if you prep the kids with fairy tales first… and Cathedrals generally have high bell towers for climbing, or catacombs filled with interesting stuff.
And, above all, there is Eis.
Just remember to relax… don't do more than you can… a relaxed experience is more memorable than that 5th Museum…
EuropaPark Tickets!
Rated as the Number 1 Destination every year….EuropaPark! Get Discount tickets before you go. Plus, you get fast-lane passes, so less waiting in line!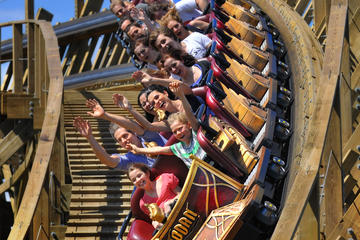 Europa-Park Entrance Ticket with Fast Cash Lane Access – $62.52
from: Viator
Do You Have any Other Success Tips for Germany??