Foods They Eat in Germany- Don't Fear the Wurst! Eat it!
If you are planning a trip to Germany, I ask you only one thing…. don't be afraid of the food. I've come up with a great list of foods to eat in Germany that will not only fill you up, they will make you wonder what you ever saw in that Fast Food Hamburger.
I know it's difficult when you land in a new place, and are suddenly faced with unfamiliar food names and dishes that you can't quite identify. But I can promise you, the foods they eat in Germany are eaten by millions of people  every day, and are very happy they do. I once traveled with a person who ordered Sphaghetti Bolognese in EVERY SINGLE RESTAURANT that we ate in… oddly, it's on most German menus (must be for the tourists). Meanwhile, I happily tucked in to some amazing (and at times, unfamiliar) foods that created happy memories and a lifelong desire to give new things a try.
Also, keep in mind that there are McDonalds, Burger King, Pizza Hut and Subway restaurants in Germany… the foods taste different than the ones in American Franchises… it's related to food laws. So many of the "ingredients" that we allow here in the US are banned overseas….(Makes you think, doesn't it?) So sure, if you want to taste the difference, and drink a beer with your burger, go ahead and try their fast food…. but then head back to the Imbiß.
Foods they Eat in Germany
Some of these will be familiar, some might be strange…. all are delicious. (And because you all must know what Ice Cream, Cake and Pretzels taste like, I'm just going to presume you will eat them without me nudging you. )
Can't make it to Germany this year? You can cook some of these delicious German Foods in your own home. Check out this list of great Cookbooks!–> German Cookbooks in English
LeberKäse 
The litereal translation for LeberKäse (lay-br KA-ze) is Liver Cheese. UCK! That sounds horrible! But don't panic! It is neither Liver nor Cheese. It's just a very finely textured meatloaf. Think of LeberKäse as a big loaf of mellow and yummy tasting bologna. Not as strong or salty. This treat is served in slices that have either been cut from a steamed loaf, or fried (often with a fried egg on top). You can also get it as a quick to-go food on a Broetchen.
Want to make your own Leberkaese at home—>Leberkaese Recipe
Wiener Schnitzel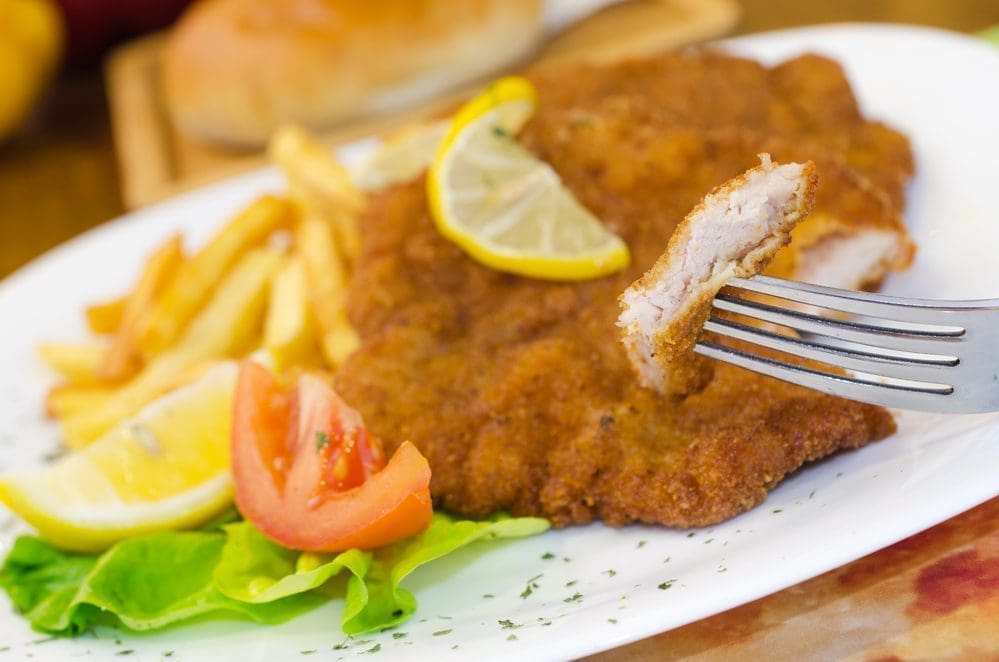 Wiener Schnitzel (ˈvē-nər-ˌshnit-səl) has absolutely NO relation to the American Hot Dog Stands! It is defined as a thin tenderized and breaded veal cutlet, fried until crispy on the outside. Schnitzel happens to be one of my absolute FAVORITE foods to try; Germany may not be where it comes from, but they make it well. In some places they use Turkey, look for Puten Schnitzel (pu-ten), or Pork, Schweine Schnitzel (sch wine-e) so you don't have to feel bad about the Veal. This amazingly delicious treat is often served with a slice of lemon (go ahead and squeeze it over the Schnitzel) with a side of Pommes (French Fries). Want to fancy it up a bit… order Jägerschnitzel (YAY-ger schnit-sell), which translates to Hunters Schnitzel. This is that same Wiener Schnitzel, but is served smothered in a tasty brown mushroom sauce. (Can't you just hear Maria singing about Schnitzel with Noodles? Those Spaetzele Noodles are wonderful with the Jäger sauce.)
Spaetzele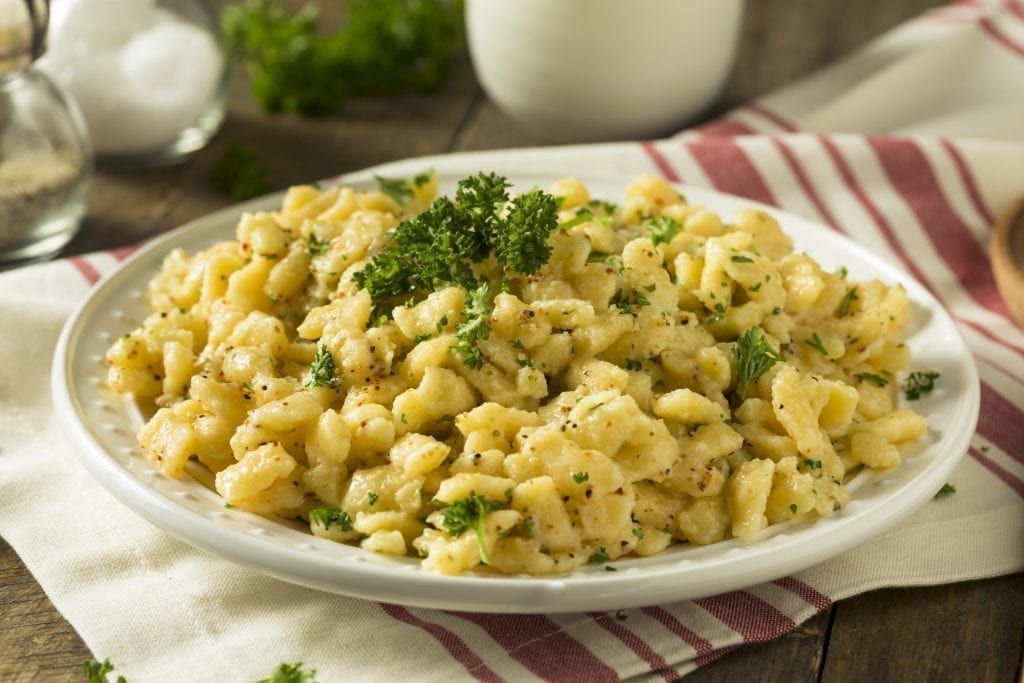 Spätzle (shpāt-zel) are basically home-made dumplings that look like noodles. Now, they don't taste like boxed spaghetti or Penne noodles… they have a different mouth feel. Served mostly as a side dish, I consider them best when smothered in gravy. You can order Käse (KA-ze) Spätzle, which is Spätzle baked with cheese… just don't expect it to taste like Kraft Macaroni and cheese. English Cheese (Chedder) is not as common in Germany. (and just forget about the cheddar powder that comes in the box…). They use Gruyère cheese or Emmental. Cheese Spaetzle is one of my daughter's favorite foods to eat in Germany.
Follow this link to try making your own at home–>Spätzle
Frikadellen
When my people find out I'm making  Frikadellen for dinner, they cheer…. then they invite their friends. Frikadellen (freak- a- del-len) are essentially mini-meatloaves, or large, well seasoned hamburger patties. (You may also see them on the menu as Buletten, Fleischklops and a few other regional names) They are made from ground beef, chopped onion, spices, breadcrumbs, and egg to bind it all together, then formed into thick patties, and fried. The edges are crusty, the center is soft… and you don't have to fuss with a bun (unless you want to, they make FABULOUS sandwiches!). I love them served with boiled or mashed potatoes and loads of rich brown Sosse (gravy). You can also eat them cold… perfect for a packed lunch.
Find the Recipe for Frikadellen here–>Frikadellen
Königsberger Klopse
Since we seem to be on that subject, another dish made from ground meat is Königsberger Klopse (ker-nigs bear-grr Klop- sa). These meatballs in cream sauce are a Prussian specialty, and were served quite often in my house while I was growing up (it's reasonably cheap to make, quite filling and tastes fabulous… the essential triad for a German household).  The original recipe is made with ground veal (but you can substitute beef), onion, egg, breadcrumbs, anchovy paste (we always had a tube of it in the refrigerator) and capers. The capers are essential! (Although, as a child, I would pick mine out… and then get into trouble). The meatballs are simmered in broth, which later (when you add roux) becomes a creamy gravy. Königsberger Klopse are generally served with boiled potatoes.
Eat Smart in Germany: How to Decipher the Menu, Know the Market Foods & Embark on a Tasting Adventure

Fisch or Krabben Broetchen
If you are in the northern part of Germany, especially near Hamburg, you are certain to encounter Fisch (Fish) Broetchen (Fish Rolls) or Krabben (crub-ben) Broetchen (Shrimp Rolls). Usually when you are faced with this food, you get a selection of various Fishy-flavors… Brathering (fried herring), Bismarkherring (marinated herring), Rollmops (pickled herring wrapped around a pickle), Matjes (mildy pickled salt herring), Lachs (lox) (smoked salmon (YUM!!), and so on. Generally you will also find onion, pickle and Remoulade Sauce on the broetchen too. Before you turn up your nose at one of these common foods to eat in Germany… think about how much you enjoy Sushi. It's similar, but with bread instead of rice. I prefer Krabben (shrimp) Broetchen… it's like eating Shrimp Cocktail on a bun.
Sauerkraut
Now, I know, you can get Sauerkraut (Sour- kraut) here in the United States at any Hot Dog Stand. But it's NOT the same. When Germans make Sauerkraut (pickled cabbage) they rinse it, then cook it with some bacon, caraway seeds and wine (lots of wine… the more the better).  German Sauerkraut has a mellow flavor that goes perfectly with roasted meats and sausages… plus, it prevents scurvy.
This recipe is close to the one I use… just add more bacon and wine–> Sauerkraut
Geschetzeltes aka. Ragout
Geschnetzeltes sounds like a sneeze. But it's really strips of meat cooked in a delicious gravy and served with noodles or dumplings or whatever. It also happens to be one of my favorite comfort foods (and it's a great go-to when you need to stretch the meat to accommodate a few extra people.) You will find it on menus all over Germany made with different types of meat… pork (Schwein), beef (rind), turkey (Putan) and even chicken (Hähnchen). If you love gravy (and who doesn't) you will LOVE Geschnetzeltes.
Geschnetzeltes sounds a little like a sneeze… (ge-schnet-zel-tis), but really it's one of those dishes that you will find on menus all over Germany, and it's often cooked at home, in different variations. Basically, it's meat strips in gravy. But it's more. Made with Veal (Kalb), Pork (Schwein), Rind (Beef) or even Puten (Turkey), the meat is cut into strips, sauteed, and then left to simmer in a delightful mushroom cream sauce (let's be honest, Germans LOVE sauce, and LOVE cream… be bold, enjoy!). If you like Beef Stroganoff…you will love Geschetzeltes.
Find a recipe here—> Geschnetzeltes
Pfifferlinge
Pfifferlinge (Fiff-er-ling-a) are Chanterelle Mushrooms. What's so special about a mushroom? You find round button mushrooms in every store, in every pizza place, and even in cans. Well, these are special Mushrooms (no, they won't send you on any spacey trip… they just make your mouth and tummy VERY HAPPY). During Pfifferling SEASON they appear on EVERYTHING. You may have noticed that Germans tend to be Seasonal Eaters… and special foods have only a short season, and those delicacies are prized. (White Asparagus is another example of this…. but that's a whole other article). Pfifferling Season is late August through September, and during that time every Market Stall seems to have them, and every Restaurant features menu items with these golden crinkle topped fungi. My favorite way to eat them is Sauteed with White Wine, salt, pepper, parsley and BUTTER. I have to slap kid fingers away from the pan while they are cooking…. (these mushrooms are that good). And when Schweinemedaillons mit Pfifferlingrahmsoße (Pork Medallions with Pfifferlings in Cream Sauce) show up on the table, stand back, or you might get trampled. You also find Pfifferlingrahm (phifferlinge mixed into cream sauce) on pasta , Pfifferlinge on top of pizzas (no other toppings… whole… delightful) and as a side dish or topping to meats like venison. Never EVER WASH Pfifferlinge… just brush the dirt off (and you know you are eating mushrooms collected in the wild when you find bits of twigs, straw and leaves mixed into your Pfifferlinge. )
Knödel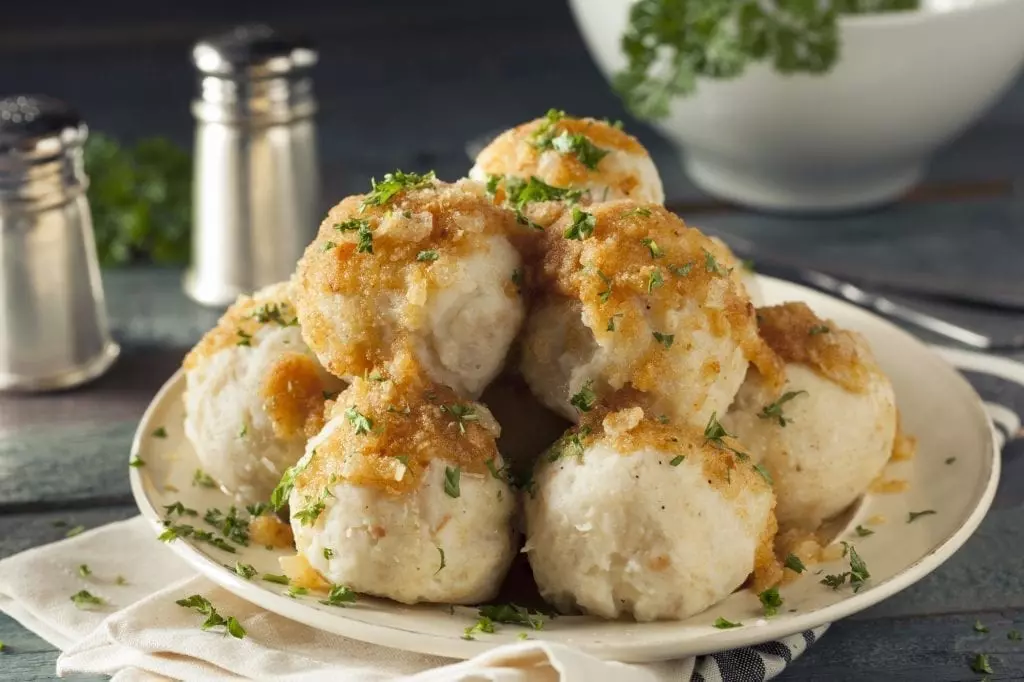 Knödel (in the Southern part of Germany) or Klöße (in the North) are round dumplings that are served as a side dish to many foods. Although there are many varieties, all are basically made from Potato or Bread, are shaped into a ball, and then they are boiled until cooked through. Sometimes they are filled with bread cubes or meat. There are even dessert Klöße, that have fruit… like plums… inside, and are served with browned butter. (Fair warning… there are even LeberKnödel (Liver Dumplings) and unlike Leberkaese, they are really made from liver.
Flammkuchen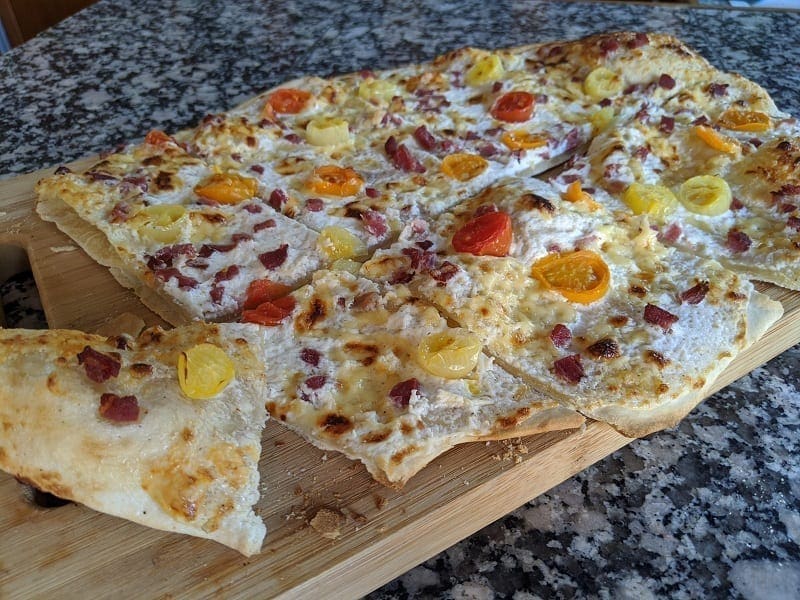 Flammkuchen is a regional dish in Southern Germany that might have crept in from neighboring France, but it's definitely a keeper. Flammkuchen (Flum- ku-chen) litereally Flame Cake, is a pizza relative, but it's not a pizza. The crust is rolled into a very thin rectangle… then it's covered in creme fraiche, and topped with onions and lardon, Schinken (raw smoked ham) or squares of bacon, and baked in a wood fire oven for very few minutes. You will also find Flammkuchen Gratinée (with Gruyere), Munster (with Munster Cheese) or with Pilze (mushrooms). Some places even serve it sweet with sauteed apples! This light and tasty dish, along with a salad and a glass of wine makes a perfect lunch.
Want to make your own Flammkuchen–>Flammkuchen Recipe
Grünkohl mit Pinkel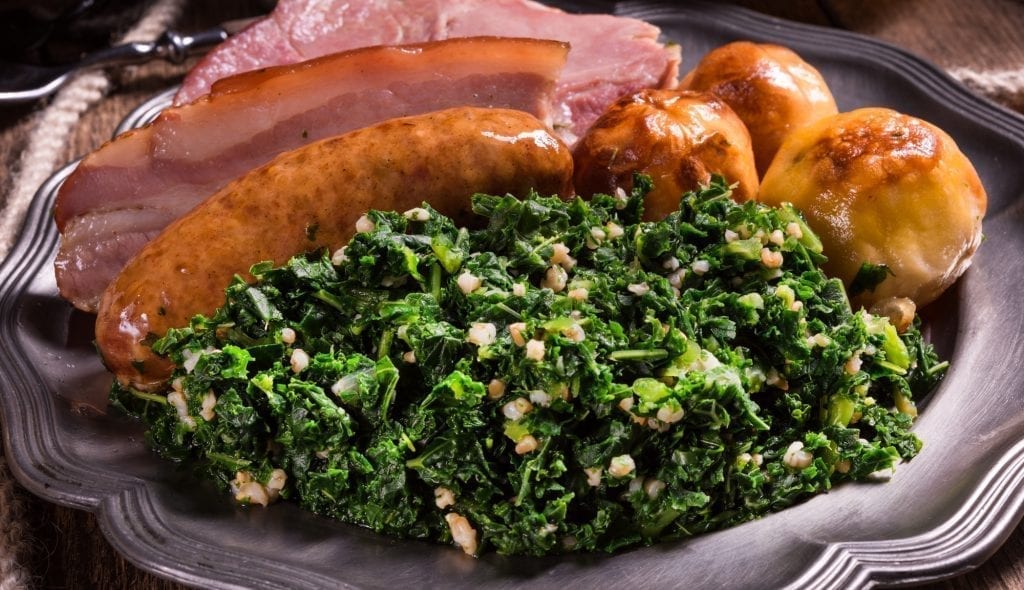 This is a nod to my Aunt, who made this traditional and quite delicious dish frequently. Grünkohl mit Pinkel is a Kale stew with Smoked Sausage and Bacon. (See… Hipsters didn't invent Kale or Bacon!). The Kale, bacon, onion, potatos and sausage all cook together to make a wonderful and fragrant dish… that reminds me very much of Soul Food. This is the kind of hearty meal that can also be considered "good for you", because it's loaded with Kale… so you don't feel too bad about ordering that piece of Torte for dessert.
Looking for a recipe–> Gruenkohl mit Pinkel
Want to eat Grünkohl as a soup/stew –> Grünkohl Suppe
Aufschnitt
Aufschnitt (OwwF- schn-it) is an all encompassing word for Cold Cuts. The first time you encounter the dizzying array of sliced meats will probably be at the Breakfast Table. Don't panic… it's all pretty tasty. Gelbwurst (literally "yellow sausage' fine grained, mild sausage) Westfälischer Schinken (raw ham from Westphalia, similar to prosciutto), Blutwurst ("blood sausage" dark red with chunks of white in it), Dauerwurst or Salami (German Salami tends to be leaner and milder), Leberwurst (liverwurst… in many varieties), Bierwurst ("beer sausage" looks like bologna with pieces of ham in it), and Fleischwurst ("meat sausage" another fine grained sausage). Actually, there are over 500 different varieties of Aufschnitt. What you probably WON'T find… Turkey and Roast Beef. And just wait, if you didn't find a favorite at breakfast, you will get to try again at Abendbrot (the evening meal)
Note- when you make a Belegtes Brot (Sandwich with Cold Cuts) German style, you don't pile on the meat like they do in a New York Deli. Spread Butter (or mustard) on your bread, lay a single (maybe double of same meat) layer of meat on it… done. No need to add a second piece of bread.


Other Foods they eat in Germay?
Sauerbraten- German Pot Roast that has been marinated and cooked in wine, vinegar,  onion, garlic, thyme sprigs, bay leaves, juniper berries, peppercorns and cloves until the flavor permeates the meat. Served with a wonderful gravy… this is a heavy and memorable meal.
Rouladen– Thinly cut Round Steak that is pounded thin, topped with mustard, onion, pickle, salt and pepper, then rolled up and bound into a Roulade. The bundle is then braised. The meat becomes flavorful, and tender enough to fall apart under your fork.
Kassler– A brined and smoked Pork Chop (or pork part). It is served hot or cold.
Eintopf- A common name for a heavy soup or stew that comes in one pot. Can contain meat, veggies, beans, potatoes… My favorite is Gruene Bohnen Eintopf (Green Bean Stew)
Weisswurst- This "White Sausage" is served boiled (and you peel off the skin) in the southern part of Germany. Much to the dismay of my Bavarian friends, I pan fry it and serve it with mashed potatos and gravy.
Wild Goulasch– The word Wild indicates that it is made from Wild meat… like deer or boar. Goulasch is a dish of meat in a paprika sauce. It's good. And warming. Served with Spätzle or even potatoes, it's a great way to fill up!
Goulasch Suppe- Goulasch SOUP is related to regular Goulasch on the Paprika side of the family. In some places it will just be a thick-ish soup, in others it will be more like a stew (depends on how their Oma made it). It will always be slightly spicy from the paprika.
Curry Wurst– Bratwurst served with a Curry Ketchup. Really GOOD fast food!
Brathaenchen– Roast Chicken… mmmmmmm……
Want to Try Making Some Great German Food at HOME? Try my Easy German Cookbook!!
Stuffed with 80 CLASSIC German Recipes, you'll find many of the recipes on this page and MORE! All of these simple recipes are written for the American Kitchen.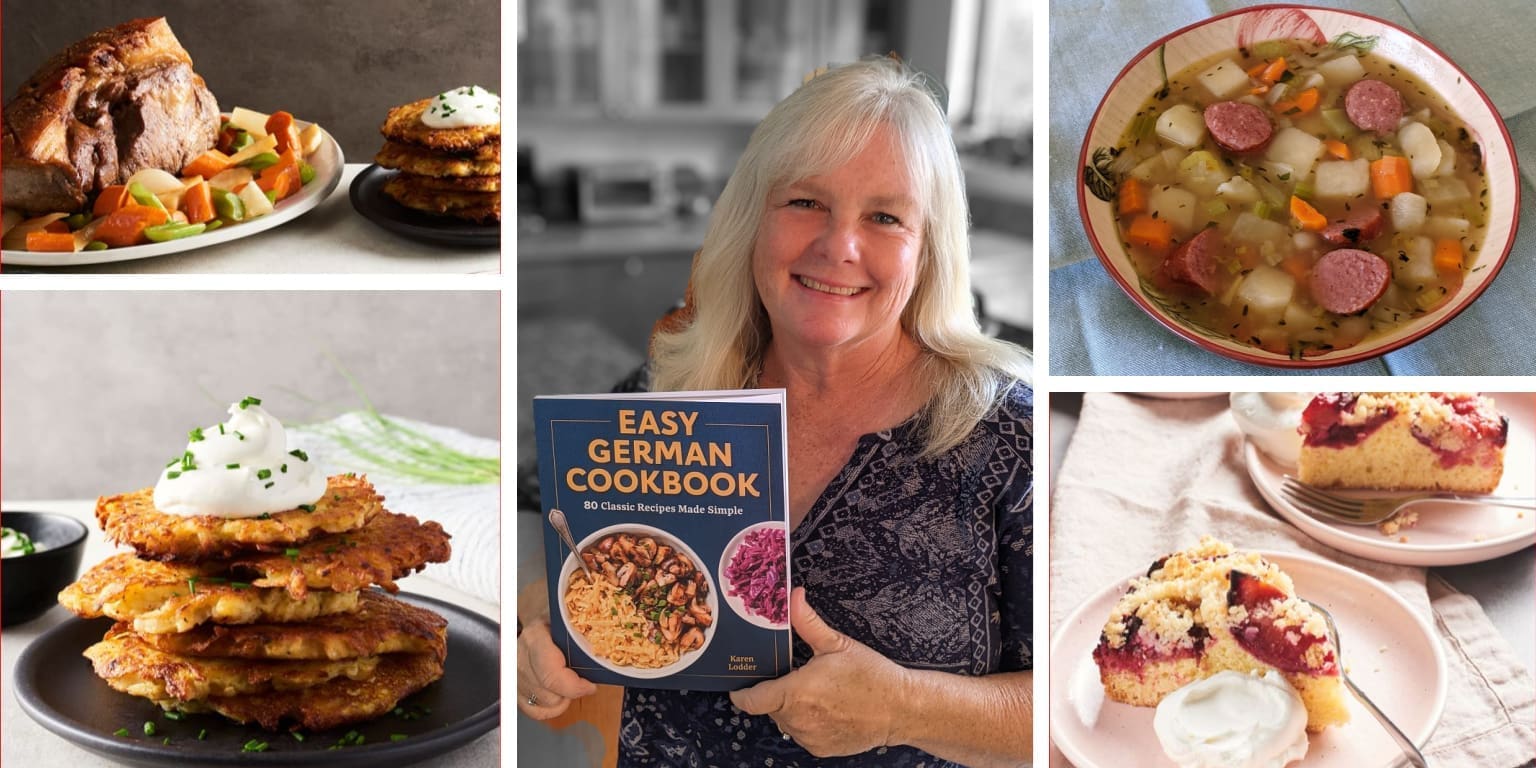 Easy German CookbookOrder Your Signed Copies!
Easy German Cookbook: 80 Classic Recipes Made Simple

Go to our German Restaurant, Bakery and Deli page to find German Food Near YOU
(Now, you may notice there is no cake or ice cream here…. I'm presuming that no one is afraid to try Kuchen (cake).. but if you need help, check HERE)