Collectible Wooden German Santa Claus Figurines from the Erzgebirge
ISDD German incense smoker Santa Claus under candlearch, height 19 cm/7 inch, original Erzgebirge by Mueller Seiffen

German Santa Claus figurines are some of my favorite Christmas Decorations. Probably because my mom always had a line up of them on her mantle… and so now I do too! It's a special day when the Christmas boxes come out of storage, and we unpack our Weihnachtsmaenner. As you can see,  German Santa Claus Figurines are a bit different than their American cousins, and these wooden Santas have a more rustic but timeless feel than the mass produced plastic Santas. And they will bring enjoyment to your family for generations to come.
Erzgebirge Santa Figures
These German Santa Figurines are hand carved and hand painted. There is a sweetness to them, like they come from a simpler time and place, where Christmas isn't so hectic. Carved in the Erzgeberge Mountains, these simple wood Santas are certain to become a family heirloom… to be brought out and treasured for generations.
The Erzgeberge (Ore Mountains) in the Eastern part of Germany were made famous for wood carvings. Men in that area were often Miners… but they also became great woodworkers, using skills they gained from shoring up mines. Carving toys for sale was a good way to supplement income since mining was fading out.
German Santa Claus Figurines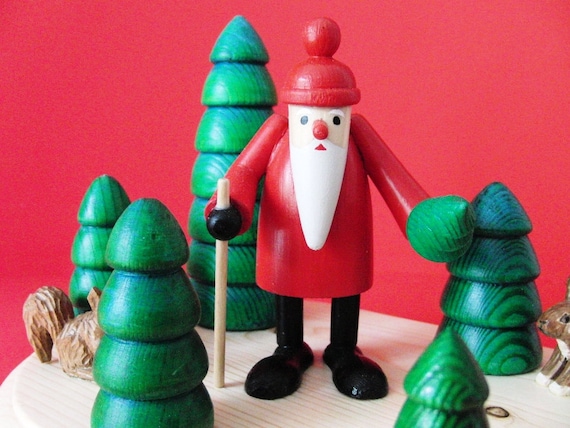 GERMAN HANDMADE Christmas Candle Holder Santa Clause with Rabbit and Squirrel X-mas Fir Tree Wood-turning Table Decoration Centerpiece

The Weihnactsmann (the German Name for Santa) looks a little bit different from his American Cousin… but he still has a beard, and a red coat… and he still has presents. The German Santa looks more like St Nicholas, who visits children on Dec 6, and fills their shoes with toys and sweets (if they've been good). To learn more about St Nicholas, click here—>> St Nicholas Day. His is not necessarily a fat jolly looking man with a red nose. That American image of Santa comes to us from the poem "A Visit from St Nicholas" by Clement Clarke Moore. You many see a thin German Santa, or he may be wearing different colors.
With so many Santa Smokers, Ornaments and Nutcrackers,  I'm sure you will find the right one for your home.
Ulbricht Nutcracker – Santa Candy 2018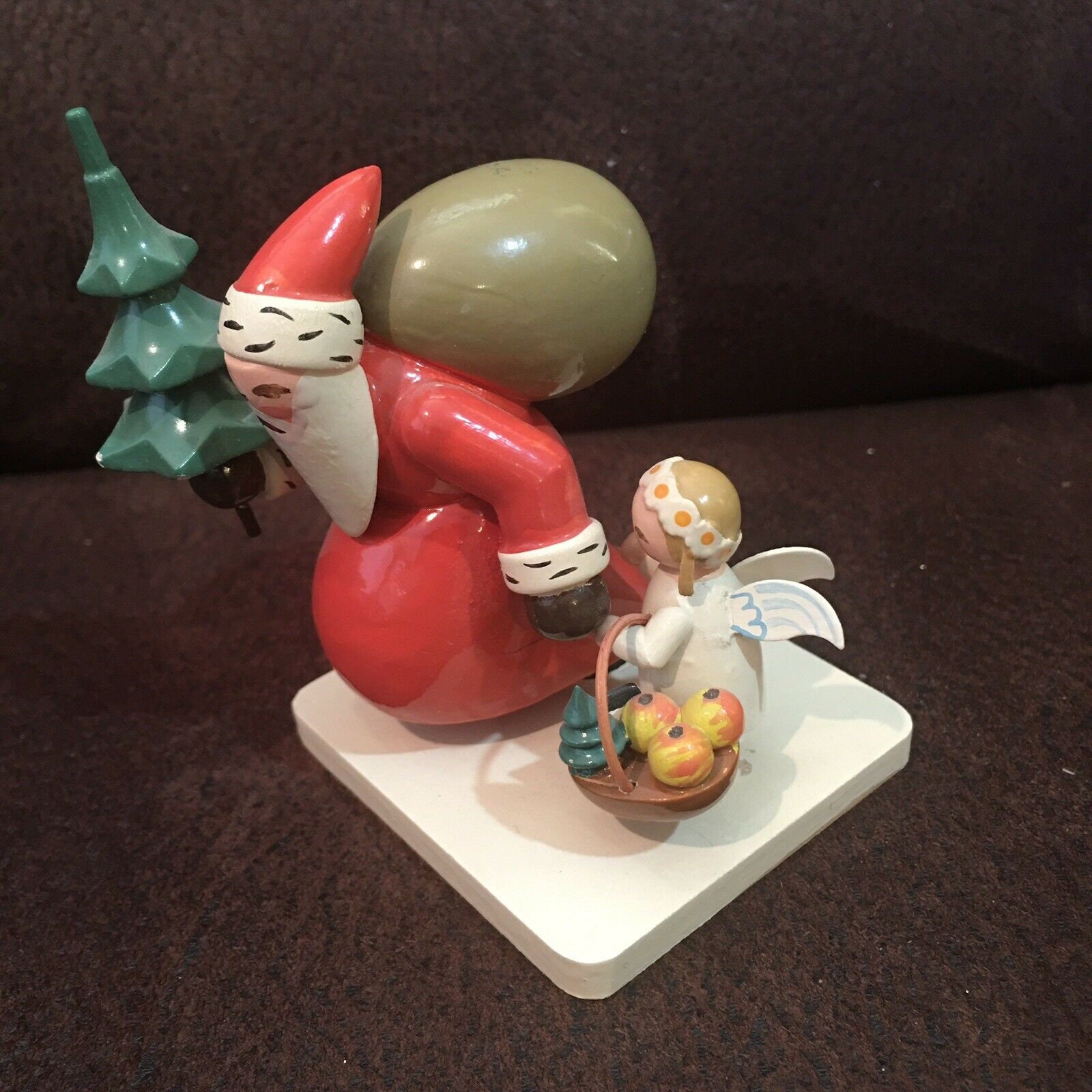 Wendt Kuhn Erzebirge Santa w/ Sack Angel Christmas Wood German Figurine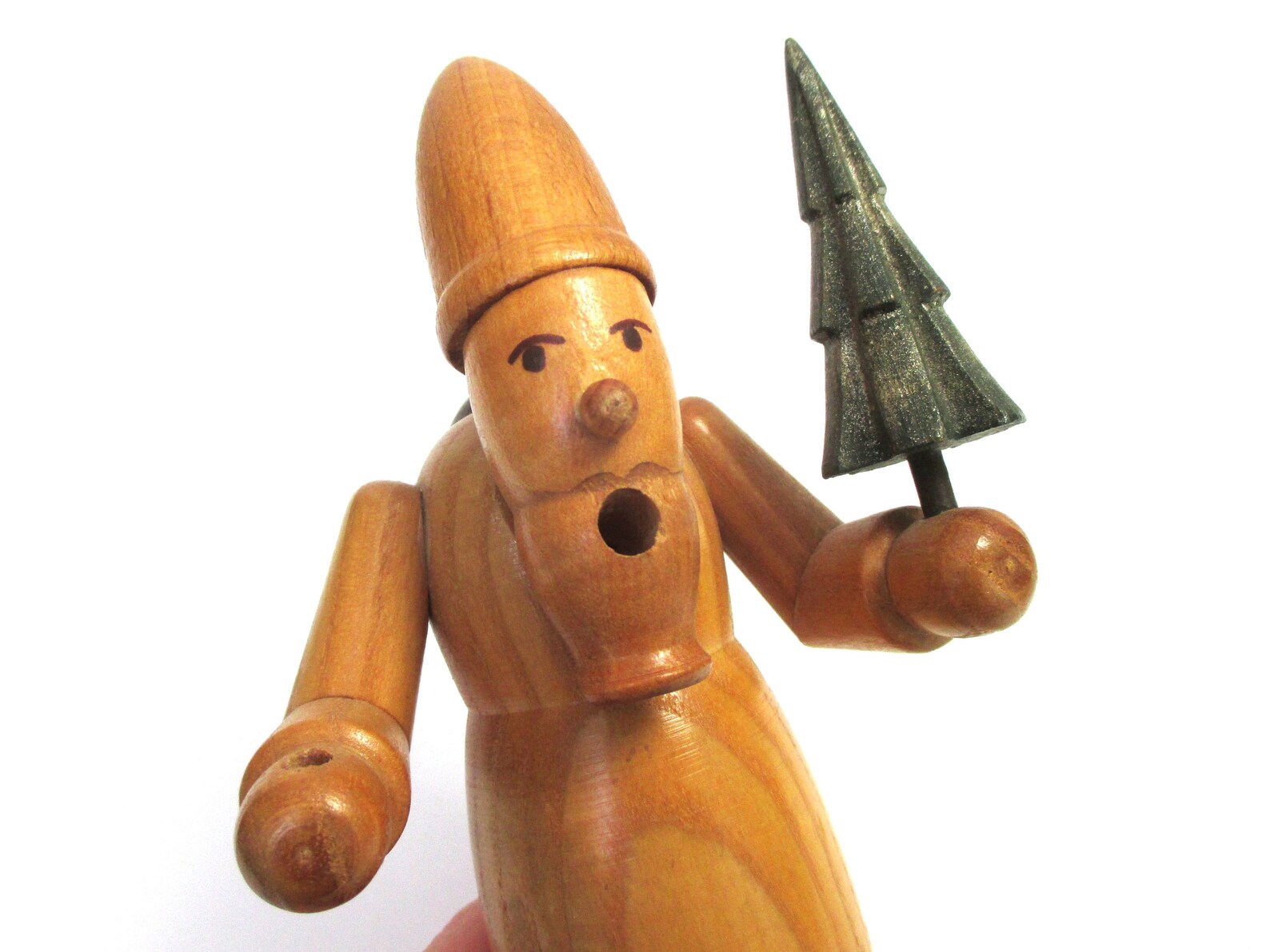 Wooden Santa Claus Figurine Vintage German Handmade Figure Erzgebirge

Wendt & Kuhn German Santa With His Pack
An Erzgebirge Tradition
Wendt & Kuhn Large Santa Claus w. Toys

Wendt & Kuhn has been a family owned woodcarving company in the South East of Germany, in the Erzgebirge Mountains, for over 90 years. Each piece is hand made using centuries old traditions… and the company believes the painter then breathes life into the figurine to bring joy and beauty to your home.
This smallish company employs just over 150 people… four of which are solely responsible for painting faces.
The company is known for their Blossom Children, and Grünhainichen Angels (angel band), the Wendt & Kuhn Company also makes adorable Santa figures, smokers, ornaments and nutcrackers.
This German Santa with his Pack of Toys stands almost 6 inches tall.
Wendt & Kuhn – Santa Claus with Candles

Handpainted Wooden Margarite Angel with Santa

 KWO- Kunstgewerbe-Werkstätten Olbernhau
German Incense Smoker Santa Claus – 18 cm / 7 inch – Authentic German Erzgebirge Smokers – KWO

A Collection of Craftsmen
KWO is a collection of craftsmen' businesses who banded together in 1949 to produce wooden toys and ornaments in the Ore Mountains of South East Germany, in the town of Olbernhau near Seiffen. They are known for producing traditional high quality turned wood Christmas Articles as well as modern innovative Christmas designs.
I love the Smokers.. they have such fun faces! (Nutcrackers, on the other hand, always look a bit irritable!)
Since KWO is actually a collection of different craftsmen, you get different styles… from Classic Santas to hip Motorcycle Santa…. and even the very Modern looking Santas.
Their Santa  Nutcrackers, Incense Smokers, Pyramids and Figurines are quite collectible.
KWO Sitting Santa with Toys German Christmas Incense Smoker Erzgebirge Germany

KWO Smoker – Santa – 37 cm/14.6 inch

KWO Little Fellow Santa Claus Mini German Wood Christmas Incense Smoker Germany

KWO Red Santa German Christmas Incense Smoker Handcrafted in Erzgebirge Germany

Steinbach Vereinigte Werkstaetten – Steinbach Collective
Steinbach Nutcrackers Wooden Troll Old Santa 12 Inches Tall Collectible Christmas Figures Kurt Adler Brand New Hand Made in Germany

Steinbach Made Collectible Santas for Years
A group of craftsmen in the Erzgebirge banded together under the Steinbach name. Sadly, the Steinbach family who oversaw the cooperative recently went bankrupt and closed down the company.. Fortunately, you can still find their Santas….You will recognize their products by the familiar Red Steinbach seal. They were known for their Nutcrackers, Incense Smokers, and especially their adorable ornaments.
You can still find Steinbach Santas… but they are getting scarcer.
Steinbach German Santa Nutcracker

Steinbach Chubby Bavarian Santa German Nutcracker 2008 Edition-Signed

Steinbach Troll Santa and Sleigh 11 inch German Nutcracker

Retired Steinbach FamilyChristmas Cheer Santa Nutcracker 7th in Christmas Traditions Series, Limited Edition

Steinbach Chubby Santa Claus Nutcracker

Vintage Wooden German Santa Claus Figurines
If you are a collector… or have a memory of a wooden German Santa Claus figurine from your childhood, you may find the perfect Santa HERE
<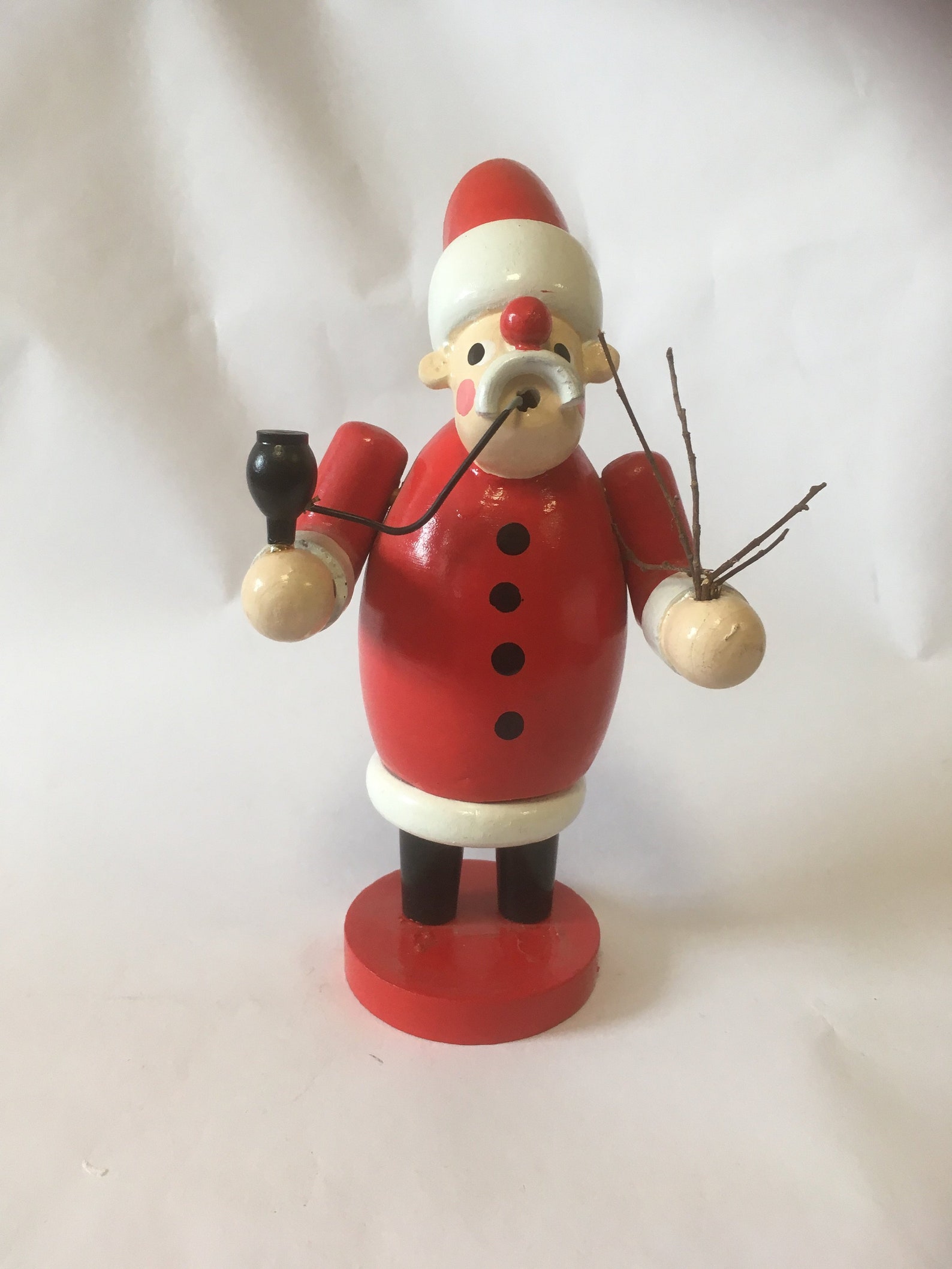 Santa Claus by Erzgebirge Germany Wood Incense Burner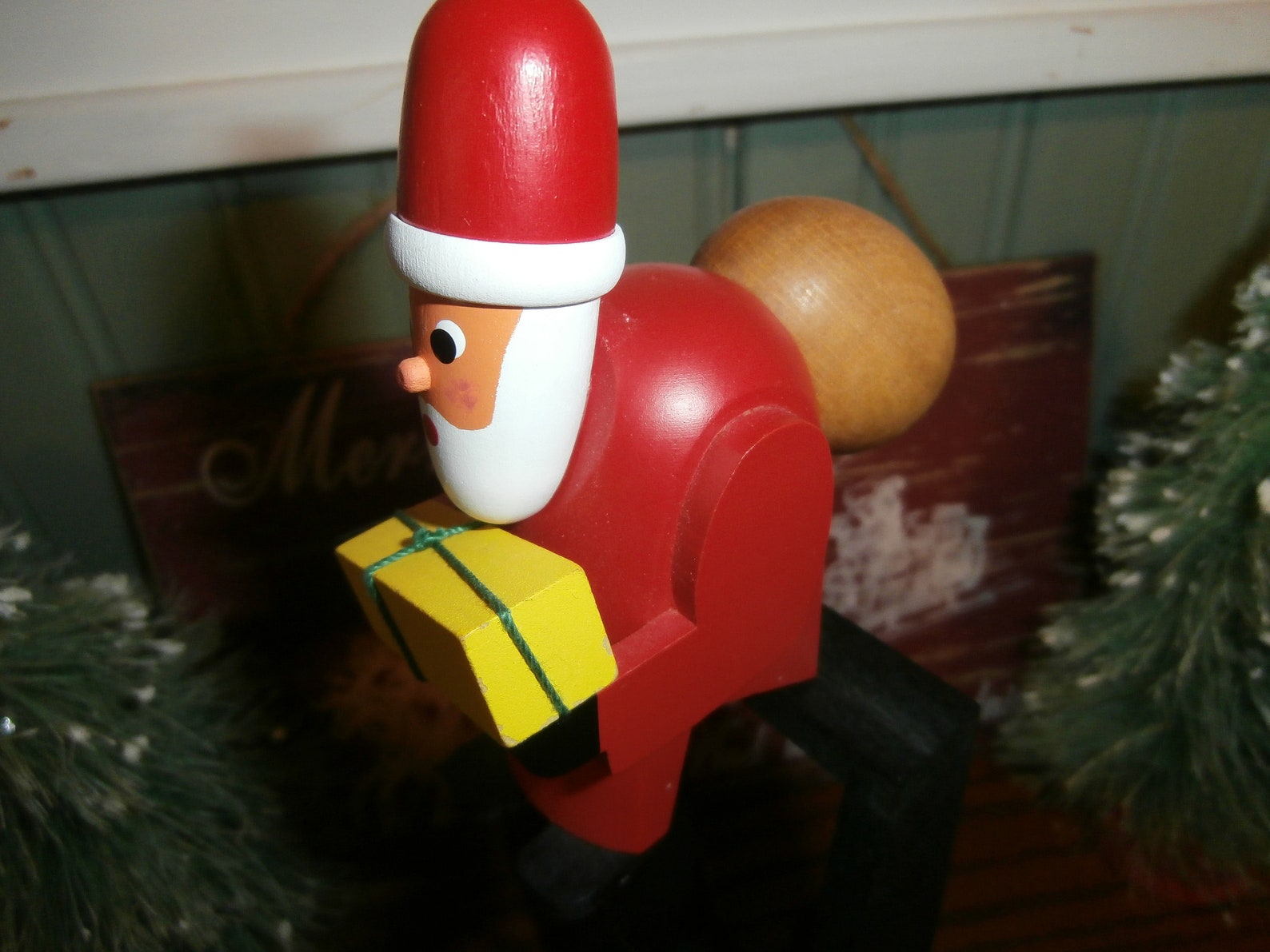 Vintage Christmas decoration wood weighted balancing Santa with box made in Germany 10 inches tall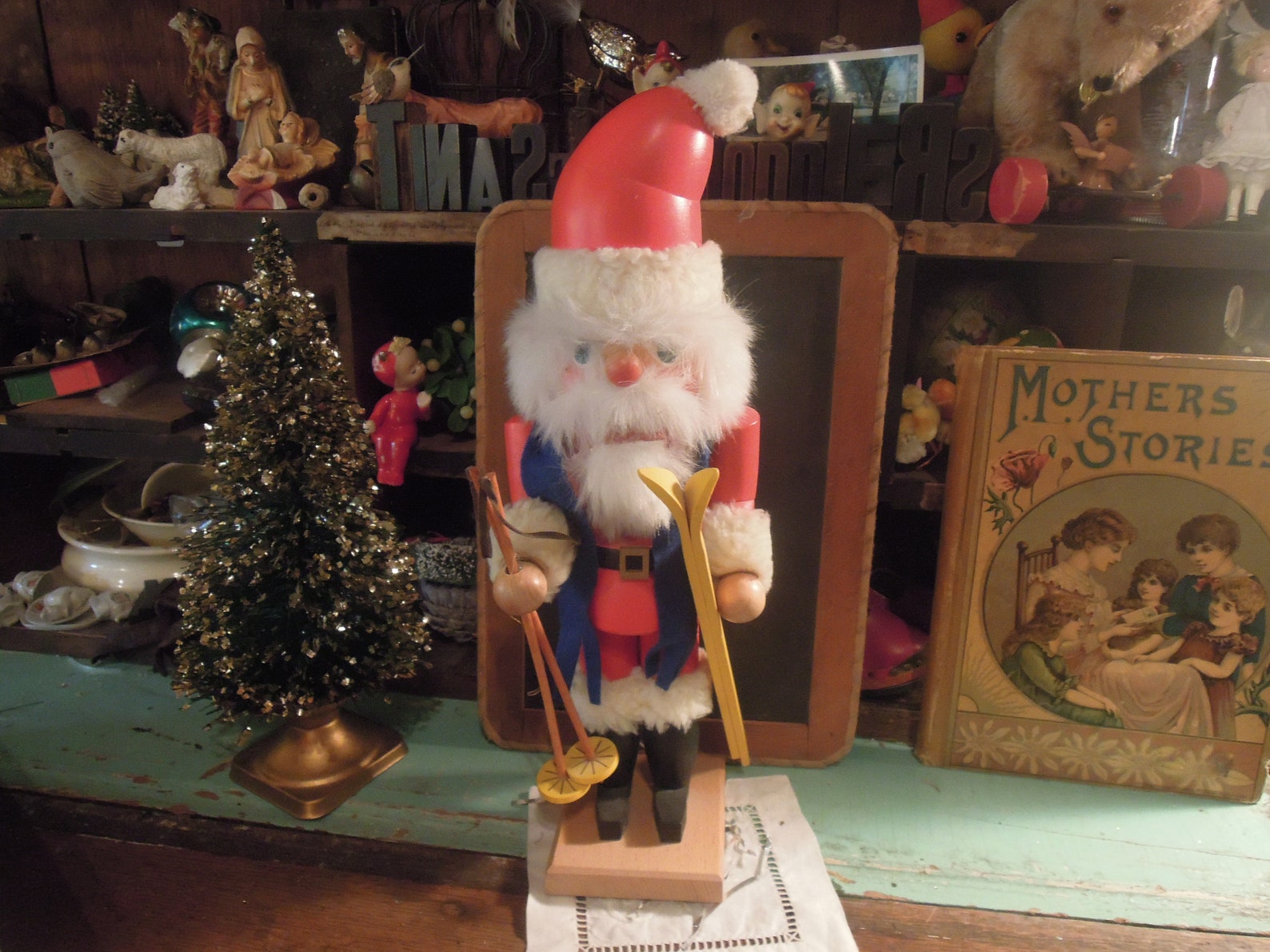 Vintage Holzkunst Christian Ulbricht / Santa Skier Nutcracker / Made in West Germany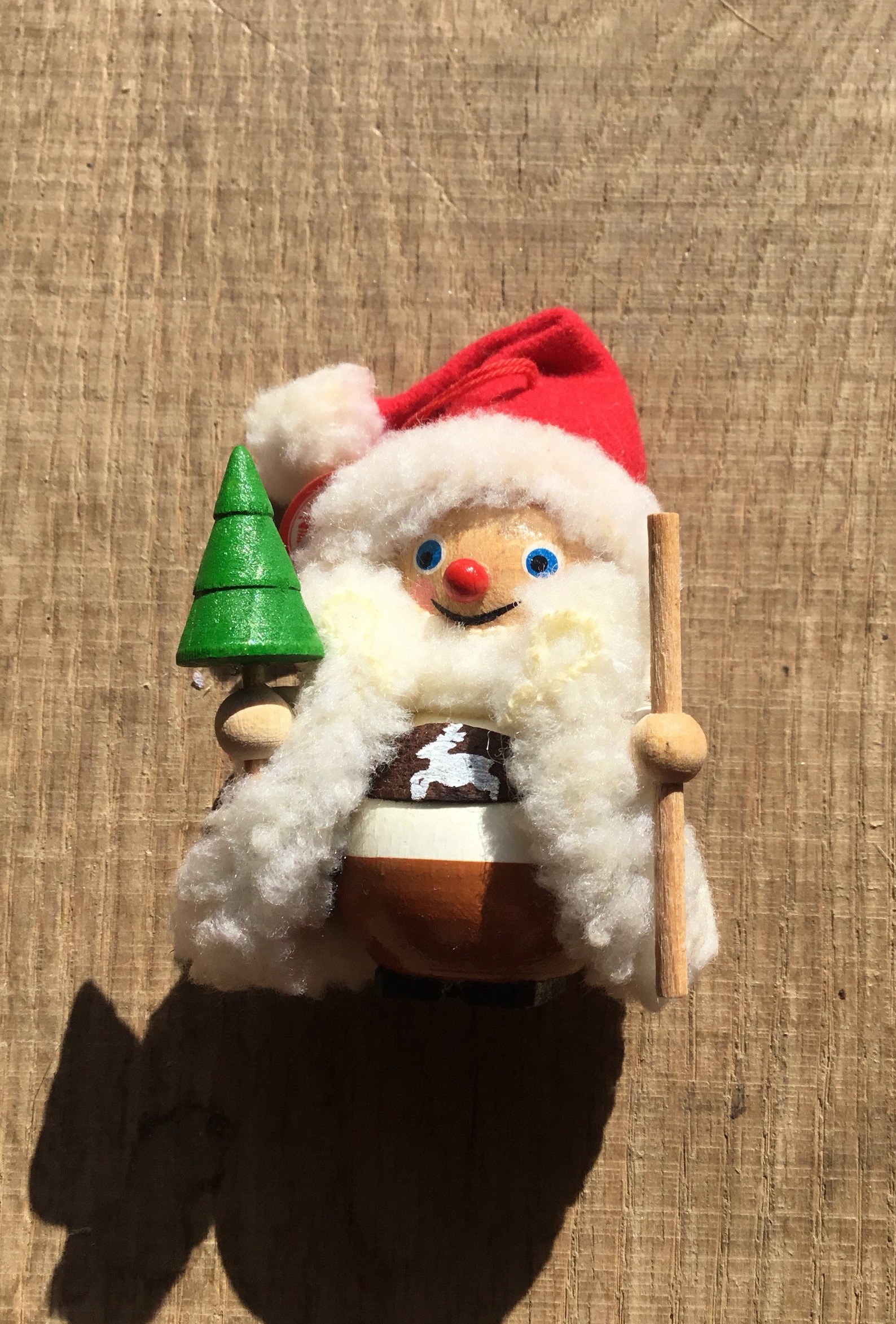 Vintage Steinbach Ornament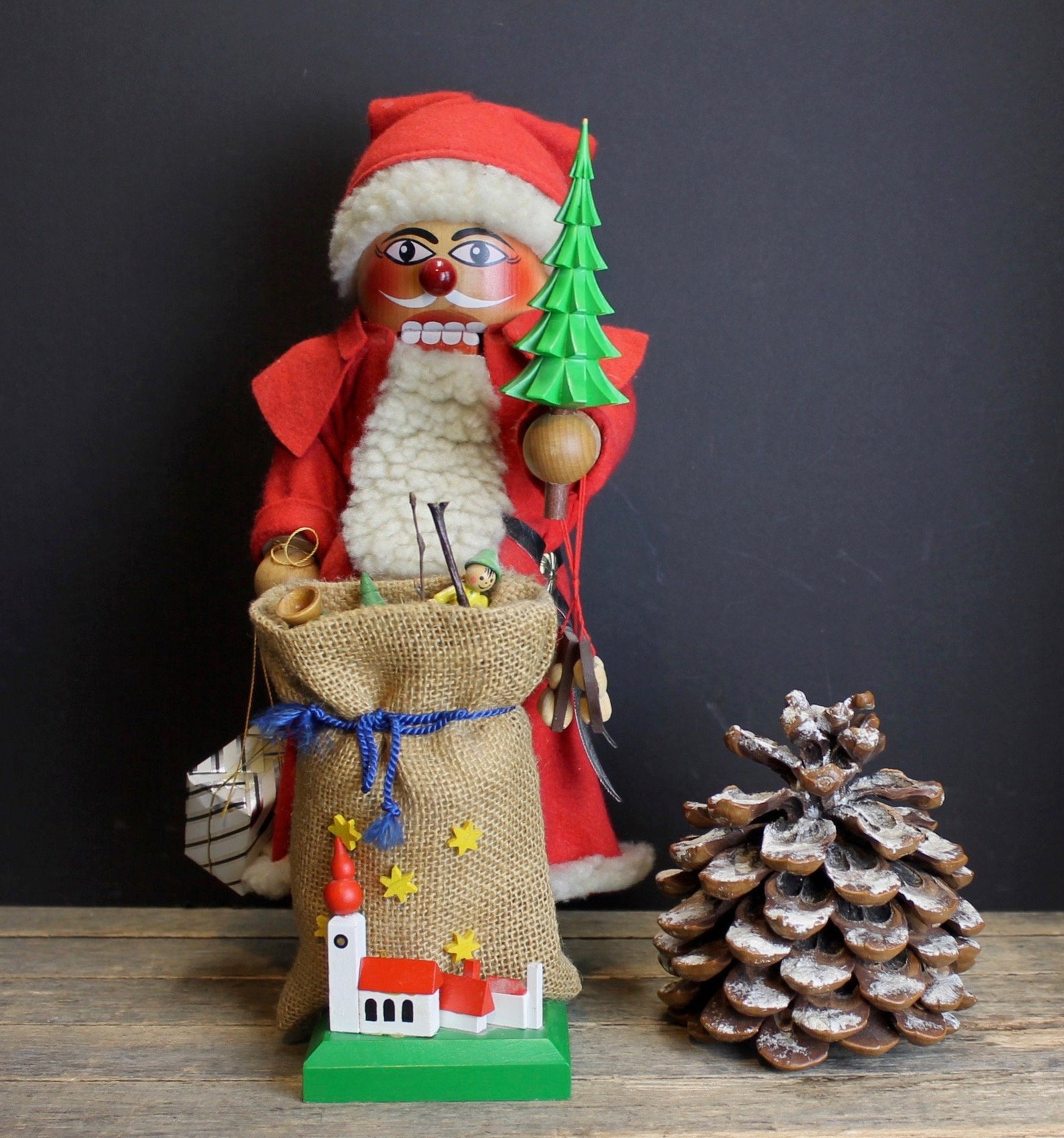 Vintage Steinbach Nutcracker Santa With Bag of Toys // Handmade West Germany // Retro Christmas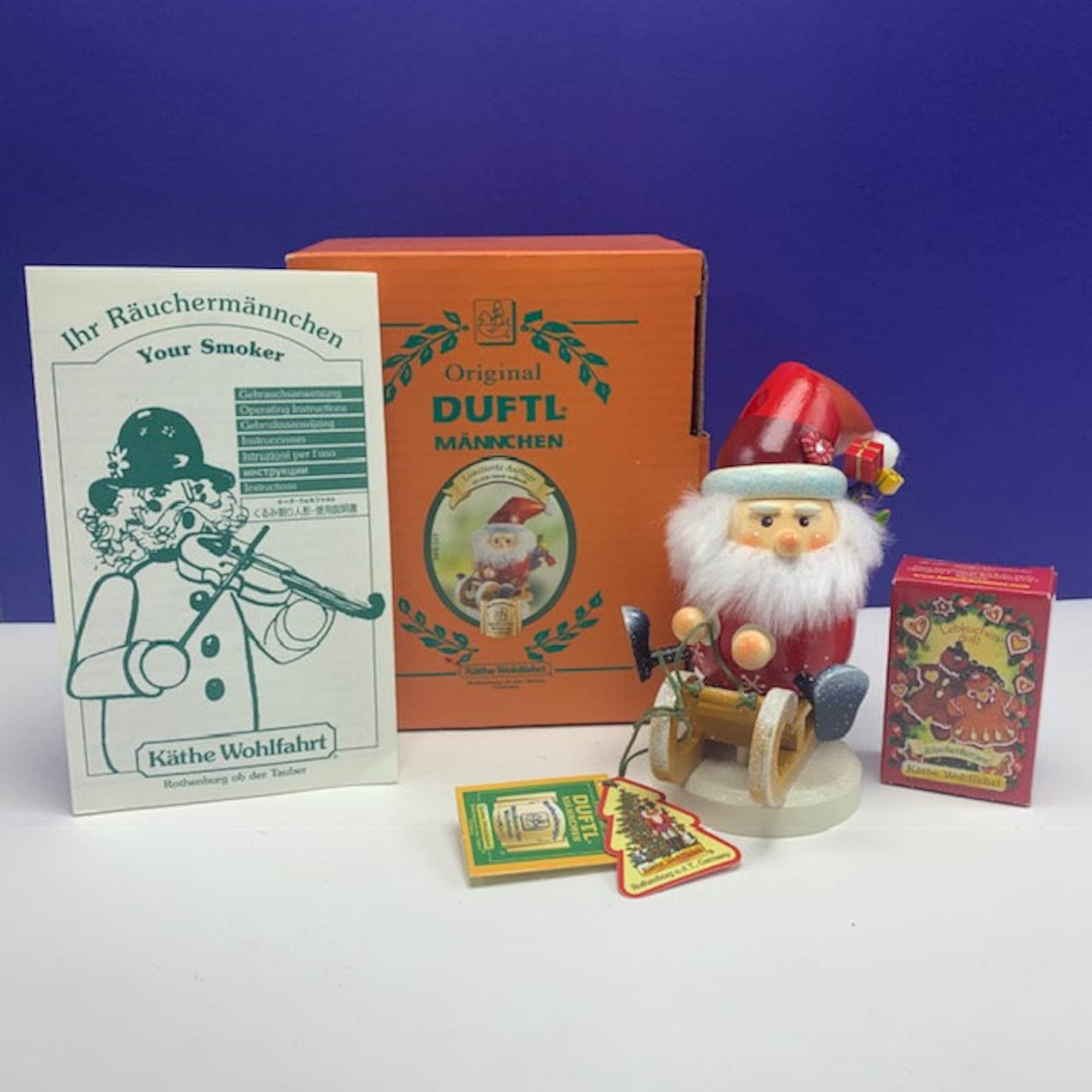 CHRISTMAS GERMANY SMOKER Jolly incense Smoky Kathe Wohlfahrt santa claus

Did you find the perfect German Wood Santa for your Collection?
Santa Wood Heart Christmas Ornament