Easy German Marble Cake Recipe- Marmorkuchen Recipe
As a child, Marmorkuchen , made from this German Marble Cake Recipe, was a staple in our home. Chocolate and Vanilla swirled into a Bundt (or Gugelhopf) pan. Delicious, but not gooey like many cakes. It was the perfect treat for after school, or with a cup of coffee. And if you were a kid like me, you would always eat it in a specific order… first the vanilla part, then the chocolate part, then the icing.
Marmor Kuchen or Marble cake is such an interesting idea. A swirl of flavors. It got its name because it looks like a slab of marble… and or maybe like the swirled marbles  you play with on the playground. This cake has something for everyone, which means I made it a lot when my kids were young… one liked chocolate, one liked vanilla….. It's easy enough for everyday, but it even turns up at a Sunday Kaffee-klatsch!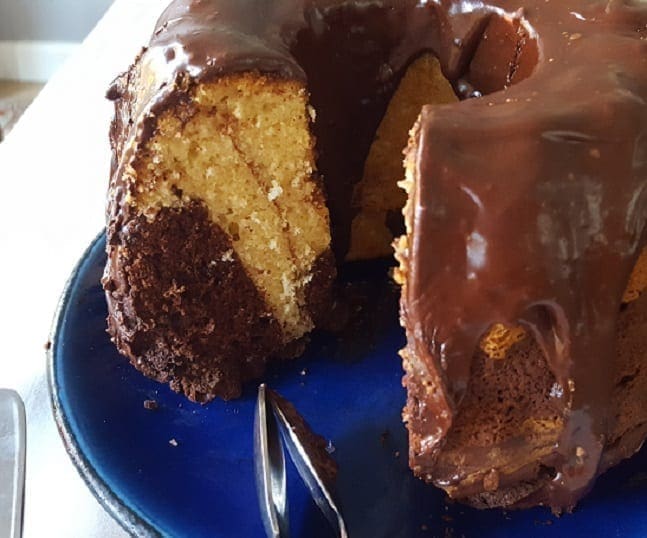 And even now, it  is a great recipe to have in your pocket. Simple, satisfying, delicious, travels well (I've even packed the cake into a Tupperware, and taken it to the zoo in my stroller…. it survived the journey, and everyone else was jealous that we had cake). The Recipe combines chocolate batter and a vanilla batter in a nice swirl pattern.
Everyone's happy… the chocolate lovers AND the plain vanilla lovers.
(One thing I did notice, American palates may find it a bit dry, and not very sweet. This is not a soft squishy cake with thick frosting. It's more dense.  I've never had a German complain, but they usually eat it with a cup of coffee.
PS. If you take a thermos of coffee to the zoo to have with cake everyone will be wildly jealous of you)
German Marble Cake Recipe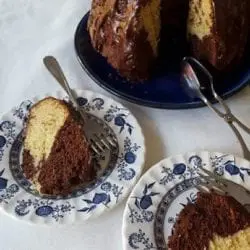 German Marble Cake Recipe- Marmorkuchen
You can finish this cake with an icing, or just a sprinkle of powdered sugar…. you can even leave it plain.
If you feel this is just more cake than you need…. cut the recipe in half…. and bake it in a loaf pan.
Ingredients
Cake:
1

cup

Butter

1 3/4

cup

Sugar

1

tsp

Vanilla

6

Eggs

1

cup

Sour Cream

3

cups

Unbleached Flour

3/4

tsp

Baking Powder

1/2

tsp

Baking Soda

3/4

cup

Cocoa Powder

3 to 4

tsp.

Milk
Icing:
ICING-

1 1/2

cups

Powdered Sugar

1/2

cup

cocoa

5

or 6 TBL Milk
Instructions
Preheat Oven to 325 degrees Fahrenheit

Grease a Bundt Pan with some spray stuff or butter

In a stand mixer, cream butter and sugar until light and fluffy.... 5 or minutes.

Add Vanilla... beat in.

Add Eggs, one at a time...beating and scraping between each egg.

Scrape often, and make sure each egg is completely incorporated before adding another.

Combine flour, baking powder and baking soda in a larger measuring cup.

Alternate adding flour mixture and sour cream into the butter mixture, beat at low speed all the while, until the ingredients are just combined.

Now.....

Take half of the batter, and spread it into the bottom of the prepared bundt pan. Set aside.

To the rest of the batter, add the cocoa powder and the milk. Beat until completely combined.

Spread the chocolate batter over the vanilla batter.

Using a knife, swirl the two flavors together by scooping in and up and over..... sort of like folding. Don't go bananas and make it a total mix, just swirl them a bit.

Put in the oven and bake for 1 hour and 5 minutes. (1 hour if you are using a guglehopf pan instead of a bundt)

Check.... a toothpick inserted should come out clean. If it doesn't .... add some time.

Let cool in pan on rack for 15 minutes.... Then turn out of pan.

Let cool completely.

Sprinkle with Powdered Sugar or Make an Icing
Icing:
Stir or whisk all icing ingredients until combined. If it's thick...add more milk... if it's thin... add more sugar.
Looking for More Recipes? Check out my Easy German Cookbook!
80 classic German Recipes made Simple for the American kitchen.
Want it signed? Click here–> Easy German Cookbook SIGNED
Want to order it in Canada? Click here–> Easy German Cookbook shipped to Canada
Easy German Cookbook: 80 Classic Recipes Made Simple

Step By Step Photos and Instructions German Marble Cake Recipe
Spread the Vanilla Batter into the Bundt Pan
spread it out….
Top with the Chocolate Batter
Just Dallop it On
Swirl the Vanilla and Chocolate Batter
Don't Overmix!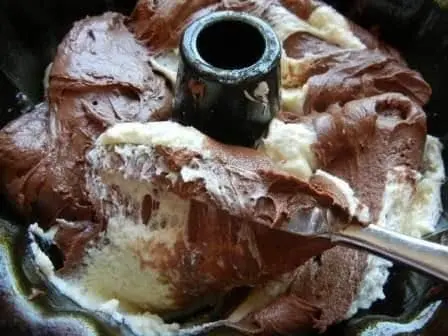 Marble Cake Looks Done
All Baked
Cool on a Rack
Mix the Icing
Add more dry if too liquid… add more wet if too dry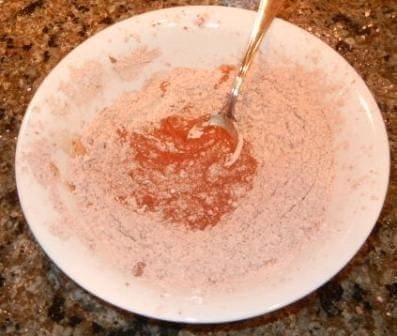 Ice the Cake
Slice and Eat
Do you Need a Bundt Cake Pan? Or Gugelhopf Pan?
Nordic Ware Platinum Collection Anniversary Bundt Pan

Nordic Ware Platinum Collection Heritage Bundt Pan