Once there was a Wall- A Visit to the Berlin Wall in 1988
(note, I wrote this a few years ago on the anniversary of the fall of the Berlin Wall. My mother and I made a trip to Berlin in 1988 to visit her aunt and cousins… so much has changed since then)
I visited Berlin in 1988…. when there was still a Wall. It was a rainy July, and the whole city seemed to be in black and white. Who knew that a year later there would be color.
Today we celebrate the 31st Anniversary of the Berlin Wall coming down… and we remember what it was before.
Visit to the Berlin Wall
The Brandenburger Tor
This sign sent the message home to me.
Checkpoint Charlie
I did not cross… I was with my mother and her cousin, both German citizens. 
Looking Over the Wall
I was shocked… they cut apartment buildings away from the wall… so no one could escape.
And then, on November 9, 1989… The Wall Came Tumbling Down
And Germany Could Finally Heal
October 3rd, 1990,  was declared German Unity Day!
Learn more about the wall here.. History of the Berlin Wall
VEHFA 1962 Checkpoint Charlie Berlin Wall Vintage Look Reproduction Metal Tin Sign 12X18 Inches

Original Piece of the REAL BERLIN WALL Mounted in Acrylic Display with Certificate of Authenticity – Authentic Historic German Artifact Souvenir from Europe – MEDIUM 3

Berlin NOW
Recently I visited Berlin, and tried to get some Photos from the same Spots
I could photograph the Brandenburg Gate without a sign and wall in the way. It's funny, when we came out of the Underground, I realized we were on the EAST side, where I could not go before. We even walked through it, so I could get this photo.
Checkpoint Charlie is a touristy spot… have your photo taken with guards in Soviet uniforms (that didn't appeal to me at all). We did go to the  Checkpoint Charlie Museum. (This one is more interesting for adults than kids… lots of reading).
And the Berlin Wall… is reduced to souvenirs…
The East Side Wall Gallery
You can still visit a section of the Wall… the East Side Wall Gallery is an open air museum worth visiting.

Learn more about it here–> East Side Wall Gallery
Visit to the Berlin Wall Today
You can see where the Berlin Wall stood, the pieces that are left, and both East and West Berlin.  Take a tour with a knowledgeable Guide for a great experience.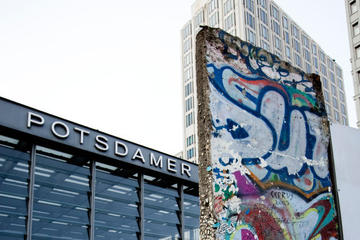 Private Tour: Walk the Berlin Wall with a Historian Guide
from: Viator

Private 3.5-Hour Berlin Walking Tour: The Alternative Berlin Tour
from: Viator