Reformationsbrötchen Recipe- Luther Rose Reformation Rolls
October 31st, bakeries in Leipzig, bake up a special treat….Reformationsbrötchen or Reformation Rolls. The rolls with five petals and a blob of red jam in the center represent the Luther Rose, the symbol Martin Luther used to sign all of his documents. So what are they exactly? Reformation Rolls are semi-sweet yeast rolls filled with raisins (or cranberries), chopped almonds, and candied lemon peel. Bakers will dust them with powdered sugar, or brush on a lemony glaze. Cherry or Berry jam in the center adds more sweetness. And now you can make them at home with this Reformationsbrötchen Recipe.
Luther himself probably never ate them. In fact, it's sort of unclear when the rolls were first made… and why? The theory that makes the most sense is that these sweet treats are a response to the Weckmann/Stutenkerl and Martinshörnchen that fill shops on St Martin's Day. Maybe the Protestant kids were complaining that the Catholic kids got all the goodies, and the Protestant moms (to head off another Thirty Years war) headed to the kitchen to create an acceptable treat.
Today, you'll find the rolls primarily in the central part of Germany, especially Erfurt, Leipzig, and parts of former Silesia.
Who was Martin Luther and What was the Reformation?
(You can scroll past this if you are familiar with the history)
In short… Martin Luther was a monk with some questions about the state of the Catholic Church in the early 1500s. In those years the Catholic Church was filling its coffers with the sale of indulgences…pieces of paper that you could buy to save your soul (essentially "get out of Purgatory free cards"). To Luther, faith alone was enough to get you to heaven,  and he disagreed with the direction the church was headed. He famously nailed his 95 theses (debate topics) to the church door in Wittenberg (don't panic, this was the town bulletin board, and nailing things there was acceptable). The church's response was to tell him to stop… he said no. There was a lot of back and forth, but Luther wouldn't budge. Then they excommunicated him (kicked him out of the church). He hid at the Wartburg and translated the Bible into High German so that everyone could read it. And he developed a following. And, despite just wanting to REFORM the Catholic Church, ended up splitting it into pieces ie. The Reformation.
Reformation Day is celebrated October 31st as a Public Holiday in five German States. (Read a more detailed version of the history here-> Martin Luther and the Reformation)
Why are they called Reformation Rolls?
The rolls are shaped with 5 petals, and a red spot in the center… much like the Rose symbol that Martin Luther used to stamp all of his official papers. Today that Luther Rose is the symbol for the Lutheran Church. In Germany, the Lutheran church is called the Evangelische Kirche.
See the resemblance?
Reformationsbrötchen Recipe- Luther Rose Reformation Rolls
The rolls are sweet, but not the sweetness American pastries. Go ahead and serve them with butter and jam if you want to add a little something more. I prefer cranberries to raisins, so that's what I add to the mix. Whatever you use, let the fruit soak in some orange juice or water to plump up a bit. Also, candied lemon peel is tasty when you make it yourself, so add it. Don't skimp on the lemon zest! And to me, Cherry Jam is best, but any red jam will do.
Because this is an enriched dough (butter, cream), the dough will need time to rise. Let it have that time.
Finally, if you want to avoid the "Luther Rose" appearance, just cut 4 petals. It's that simple. Now it looks like you are enjoying a lucky clover with jam.
Reformationsbrötchen Recipe- Luther Rose Reformation Rolls
These 5 petaled rolls with jam in the center are said to represent the Luther Rose, are traditionally served October 31, Reformation Day. Made from an enriched dough, studded with raisins/cranberries, nuts, and lemon peel, these tasty rolls are a nice addition to breakfast or an afternoon coffee break.
Ingredients
starter
3 1/4

cup

Flour

500 gram

2/3

cup

lukewarm CREAM

150 ml

1 ¼

Tablespoon

Dry Yeast

40 grams Fresh Yeast

¼ cup + 1

Tablespoon

Sugar

50 gram
fruit
3/4

cup

Cranberries or Raisins

100 gram

enough

Orange Juice/ warm water

to cover raisins/cranberries

1/4

cup

Almonds- chopped (try sweetened almonds if you have them)

50 gram

2

tablespoons

Candied Lemon - chopped
dough
1-2

teaspoons

Lemon Zest

I'm usually generous with this.

5

tablespoons

Unsalted Butter- softened

50 gram

1/4

teaspoon

Salt

1

Egg

2/3

cup

Cream

150 ml (yes, you add cream twice.)
additionally
8

Teaspoons

Cherry or Berry Jam

1- 1½

cup

Powdered Sugar

few

teaspoons

lemon juice
Instructions
Fruit
Put the raisins/cranberries into a small bowl. Pour warm water or Orange juice over them... just enough to cover... and set aside.

Note, if your candied peel is "hard", let it soak too. No need to soak the nuts.
Starter
Put all of the flour in a mixing bowl. Make a depression in the center.

Combine warm cream with yeast and sugar. Stir to dissolve sugar. Pour the liquid into the depression in the flour. Cover lightly with some of the flour from the edge of the bowl. Cover and set aside in a warm place for 30 minutes.
Dough
The flour/yeast mixture should be look a bit bubbly by now. Set the bowl into the mixer stand, and turn it on low.

With the mixer on, add the lemon zest, salt, and the egg. Add butter one tablespoon at a time. Then add the rest of the cream. Mix on low until a dough comes together.

Now the fun part.... kneading.

The dough should be kneaded for 10 minutes. I find this works well in my machine with a dough hook, but it can be done by hand.

Butter a bowl, drop the kneaded dough into it, cover with a cloth, then set into a warm place to rise for 45 minutes. (At least). You want it to double.

While this is happening, drain the fruit.

Once the dough had doubled, pull it out of the bowl, and set onto a lightly floured surface. Press it a little flat, and sprinkle the fruit and nuts on the dough. Carefully fold and refold the dough to distribute the fruit/nuts. Don't overwork it!

Divide the dough into 8 pieces. Roll each piece into a ball. Flatten it a bit with your hand.

Make 5 cuts fairly equidistant around the edge, without cutting to the center. These are your petals. (Go ahead and cut 4 if you like)

Place cut rolls on a parchment covered baking sheet. (You probably will need 2). Then set aside to rise for 40 minutes. (I find the oven to be a good place for this. I have a "proof" setting, but alternatively turn it on for 30 seconds to warm things up, then shut it off to let the rolls have a warm place to rise)

When the rolls have risen. Press an indentation into the center of each roll. Use your finger or the handle of a wooden spoon. (don't press all the way through, but do press deep.)

Use a spoon to add one teaspoon of jam to the indentation.

Make sure the oven is at 350°F

Bake the rolls for 20 minutes.

Because I have 2 pans, I rotated top to bottom half way through baking. You can also bake one at a time.

Remove the rolls from the oven when browned, and set on a cooling rack to cool for a few minutes.

Combine the powdered sugar and lemon juice. You want a thin glaze that will just leave a shine on the roll. While the rolls are still warm, brush the glaze on. Then let cool completely.

Alternatively, sprinkle the rolls with powdered sugar.
You can sprinkle Powdered Sugar on the rolls, if you prefer.
Easy German Cookbook
Looking for more easy German Recipes? Try my Easy German Cookbook! It's packed with 80 traditional recipes made simple for the American Kitchen.
Order from Amazon… or order a signed copy from my online shop.
Easy German Cookbook: 80 Classic Recipes Made Simple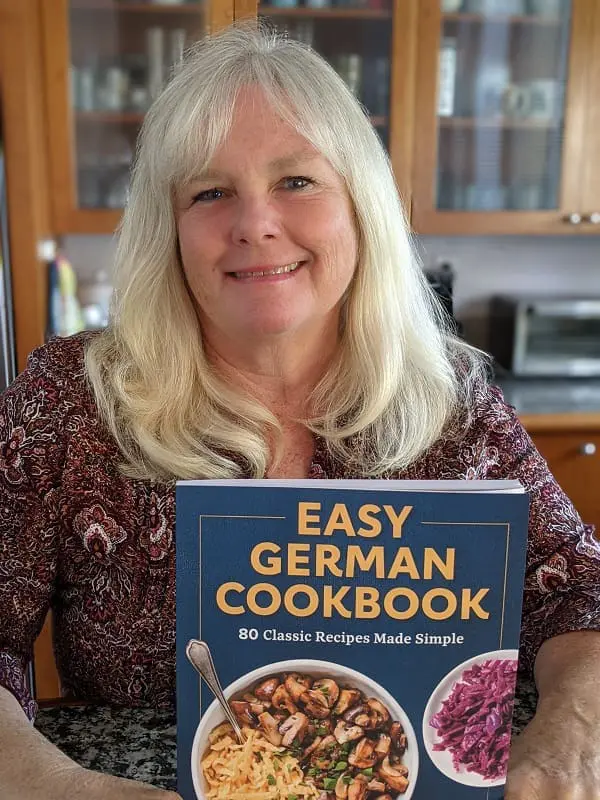 Easy German Cookbook SIGNEDGermanGirl Shop
How to make the Reformationsbrötchen Recipe
Give the enriched dough time to rise. 
Mix in the fruit and nuts after the first rising
Cut the dough into 8 pieces and roll each to a ball
Some cranberries may fall out… consider them a snack
Flatten them a bit
Use a sharp knife or pasty cutter to cut 5 or 4 petals into each round
Then let them have a 2nd rising
After the 2nd rise, poke a hole into the center of the Reformationsbrötchen
And fill it with red Jam
Bake 20 minutes (check at 18)
Brush with glaze while still warm
Let cool on a wire rack.
Enjoy with an afternoon coffee or at brunch.
Store airtight! 
The next day, heat them up a bit before serving for better flavor.