What is a Stutenkerl? Is it the same as a Weckmann?
On November 11, children in Germany celebrate St Martin's Day by parading with Lanterns, and munching on a Stutenkerl, also known as Weckmann or Kiepenkerl. But… What IS a Stutenkerl? What is a Weckmann? Are they the same thing? It turns out, these baked men… like a sweetened yeast dough version of a Gingerbread man… date back to the Middle Ages.
Every time I bake a batch of Stutenkerl freehand, they end up looking like they have been visiting their Omas. And where do the necks go??? No matter, they taste good… and they certainly look happy.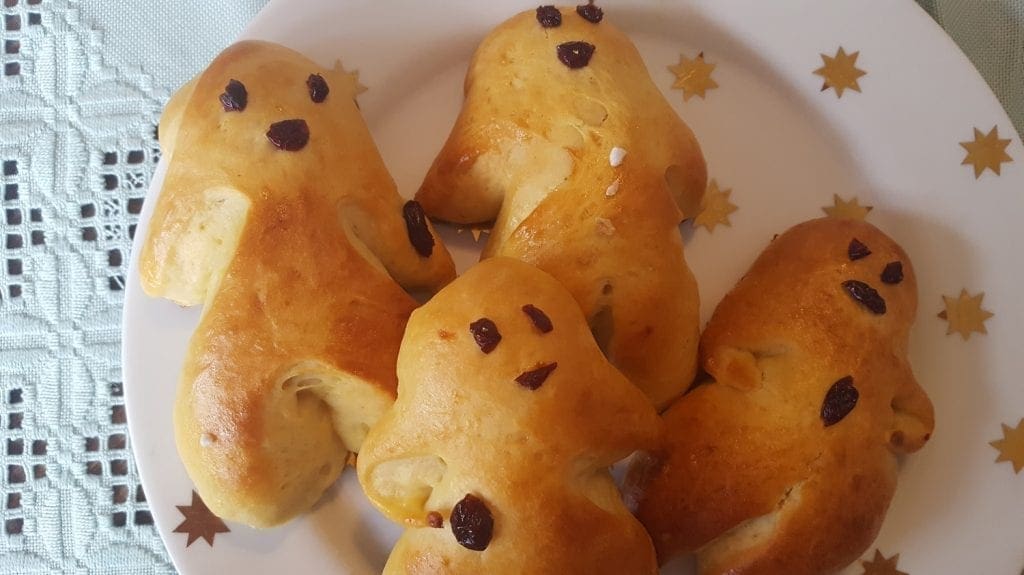 This year I went all out and BOUGHT a Stutenkerl/Weckmann cutter. The set even came with a clay pipe! Now my guys look a bit… um…. more refined…
Learn more about Weckmänner and Stutenkerle, and get a recipe to bake them.
What is a Stutenkerl
In the northern and western part of Germany, "Stuten" is a soft, slightly sweetened, yeast bread. And, a "Kerl" is a guy or a man. So, logically, Stutenkerl is a guy or man made from sweetened yeast dough. Pretty simple. Much like the word "Weck" is another word for roll… Weckmann is used more in the Southern part of Germany. To make it more confusing, this little bread man is also called Hefekerl (yeast man), Klaaskerl (Dutch for Nicholas Man), Stutenmann (bread man), Männele (little man), Boxemännchen (in Luxembourg), Grittibänz and Grättimaa (in Switzerland). And of course, Kiepenkerl (like the traveling Merchant statue in Münster). Proving once again, that Germans are a nation divided by the same language….
To make a long confusing story short… a Stutenkerl is a Bread Man, and in this case, he represents St Martin.
But why is a Stutenkerl or Weckmann given on St Martin's Day? Ahhh… this is a story I love. St Martin was a kind and generous man who once cut his cloak in half to share with a beggar. And a Stutenkerl or Weckmann, looks like Bishop Martin… and tastes better when shared. So, find someone you enjoy being with, and share a Stutenkerl while celebrating St Martin's Day.
When the Stutenkerl or Weckmann were first made in the Middle Ages, they held a Bishops Crook. Somewhere along the way, most likely during the Reformation, the crook was flipped around, and it became a little clay pipes. This made the Kerl look less like a Bishop, and more like a regular guy.  (My mom remembers pretending to smoke with the pipes… I'm sure kids today still do!). Unfortunately, the clay pipes are difficult to get here in the United States, but they are available to order from Germany HERE.
An easier alternative … use frosting or icing to pipe on the pipe.
Stutenkerl Recipe
Note-
A Stutenkerl or Weckman is made from a sweetened dough… but it's not SWEET like American Pastry is sweet. Some kids might prefer to eat their Stutenkerl with butter and jam or marmalade, like you would a Brötchen.
I've also made the recipe with more sugar… and my people liked it a lot more.
Stutenkerl Recipe / Weckmann Recipe
Ingredients
Dough:
1

cup

Milk

2 1/4

teaspoon

Dry Yeast

1/2

cup

plus 2 Teaspoons Granulated Sugar/ divided - some will go in the yeast

note, it you want a sweeter Weckmann, add another 1/4 or 1/2 cup sugar. It may not rise as much!

4

cup

Flour plus 2 Teaspoons /divided- some will go in the yeast

6

Tablespoons

softened Butter

1

Egg

1

Teaspoon

Vanilla

Zest of 1 small Lemon

1

teaspoon

Cardamom

optional! It's not traditional, but I like the taste

Pinch

salt
Decoration:
1

Egg Yolk

few teaspoons Milk

teaspoon

sugar

optional

Also- Cranberries

Raisins, Chocolate Chips or Nuts to decorate.
Instructions
Make the Dough:
Heat milk until it is lukewarm. If you touch it with your hand, it should feel WARM, but not hot.

To the milk add Yeast, 2 teaspoons of Sugar, 2 teaspoons of flour. Stir to combine... set in a draft free, warm place for 10 minutes (I set it in my oven... with no heat)

In a stand mixer combine the rest of the flour, the rest of the sugar, lemon zest, butter, vanilla, egg, (Cardamom if wanted) pinch of salt... turn machine on to mix these ingredients up a bit.

When the milk/yeast is bubbly, add it to the flour.

Use a paddle to combine the ingredients. It will look like a sticky dough.

Knead for 10 minutes. (I use the dough hook on the mixer... but you can do it by hand.)

Let the dough rise in an oiled bowl for 1 hour... it will double in size. (I cover mine with plastic wrap, and put it back in the oven ... no heat... )

When the dough has risen, turn it out onto a floured surface.
For Freehand Weckmann/Stutenkerl:
Divide the dough into pieces... one for each little man. How many? I made 8 with my dough... you can make more (with smaller pieces) or less if you want BIGGER men.
Shape the Dough:
Form each piece into a sort of rectangle.

Squeeze in a bit where the neck should be.

Cut a diagonal on each side or the torso for arms

Cut between the legs.

Sort of fix the shape to how you like it.

You can point the head for a hat... or stretch the legs to make them longer... or fold the arms on the chest.
For Weckmann/Stutenkerl with a Cutter:
Turn the dough onto the counter

With a rolling pin, roll the dough to 1 cm thickness

Cut with the cutter, and carefully transfer the men to a lined cookie sheet. (careful, the legs stretch!)

Let rise for 30 minutes.
Prepare for Baking:
Combine the Egg Yolk with Milk. Mix it up well! You don't want blobby bits. (I add a little sugar to spread the sweetness... it's a kid thing)

Paint the dough men with the egg wash using a pastry brush. Don't be sloppy about this part...the egg wash makes it shiny, and empty spots look funny.

Now comes the fun part... make eyes and a mouth using raisins or cranberries (or even chocolate chips). Some people (not me) are super talented, can can make lots of cute features like buttons or a beard.

I can add eyes and a mouth. My creativity is limited to cutting the cranberries down to size so they don't look over sized.

If you have one, tuck the pipe under his arm.

Bake at 350 degrees Fahrenheit.

I put in 2 pans with 4 Men on each onto 2 racks... baked 12 minutes, then switched them around, and baked 12 minutes more.

If you make bigger ones, you will have to bake longer ... maybe 30 minutes total?

If you are just baking on one sheet or you have a convection oven, you may be able to go a little shorter.

Let sit on the baking sheet for 2-3 minutes after baking, then move to a cooling rack.
Notes
Stutenkerl are not super sweet, so some kids here in the United States may not be as excited to eat them plain. Go ahead and serve with Jam and butter.
You can also add a little more sugar.
Order Clay Pipes and Cutters HERE
Unfortunately, you may have to order the clay pipes and Stutenkerl cutter from Germany. I purchased the Cutter with Pipe. It also comes with a recipe (in multiple languages) using Quark. (I haven't tried that one.)
Birkmann 330283 Tonpfeifen für StutenkerlAMAZON.DE
Birkmann 196650 Plätzchen-Ausstechform Stutenkerl, Set mit TonpfeifeAMAZON.DE
Large Gingerbread Man Cookie Cutters can work too.
R&M International Gingerbread Boy Cookie Cutter, 8

Patisse Cookie Cutter, 6 3/4-Inch, Gingerbread Man

This is a small clay pipe in the style of the German Weckman Pipes… it is a bit
Step by Step Photos for How to Shape a Stutenkerl or Weckmann
Shaping Stutenkerl with a Cutter

Roll the dough to 1 cm thick. Cut the Stutenkerl like you would a cookie.
Re-roll the scraps. You should get 5 Stutenkerl or Weckmann
Decorate and add the pipe
Bake- notice that these come out much "flatter"
A ribbon is a nice touch
 Shaping the Stutenkerl Freehand
Make the Sweetened Yeast Dough… according to the Above Recipe, and let it Rise
Cut the Dough into the Number of Pieces You Desire 
I cut mine into 8 pieces… and made 8 Stutenkerl, about 6-7 inches tall.
(If you want to make special features on your Stutenkerl using dough, save a little aside to use after shaping)
Shape each piece of Dough into a sort of Rectangle
Pinch in a bit at the "neck"
Use a Knife to cut Arms on Each Side
Just cut in at an angle…
Now cut from the Bottom to make Legs
Spread apart the Arms and Legs
Maybe give them a little bit of shape… I also pinched the top of the "head" to make him wear a hat.
You can cross the Arms across the Chest
(if you have a pipe, tuck it under the arm)
(If you saved dough to make features, do it now)
Ready to Rise Again!
After the Shaped Dough Rises Again… Paint them with Egg Wash

Now Give Your Stutenkerl some Features!
eyes, mouth… buttons… beard…. up to you.


Bake
Cool on a Rack
Serve
I like to eat mine with butter and Jam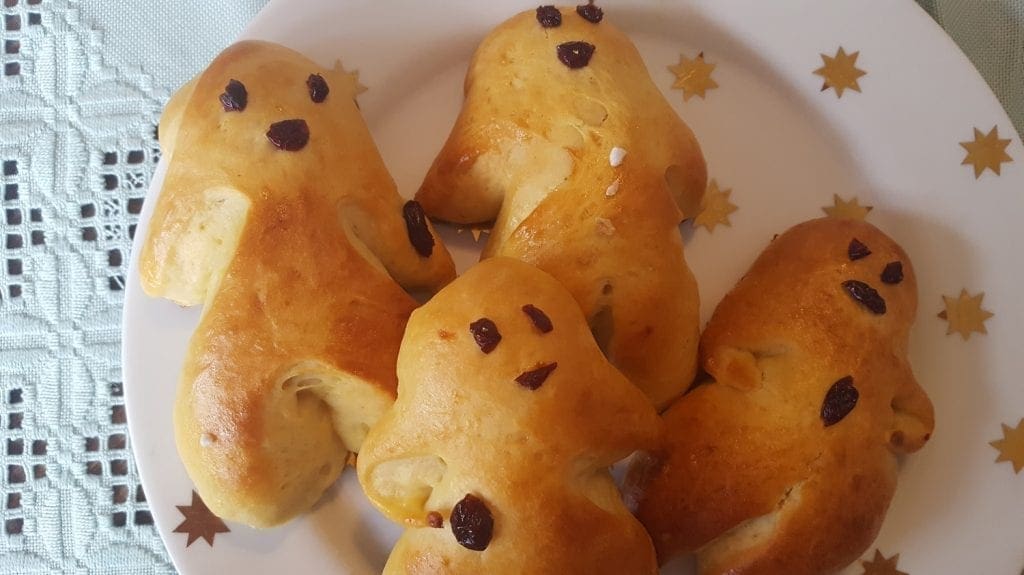 Have Fun Making and Eating your Stutenkerl!