German Wooden Advent Calendars- Use them Every Year!
Kurt Adler LED Wooden Advent Calendar Decoration, 13-Inch

Traditional German Advent Calendars have long been a wonderful way for children and their families to keep track of the days until Christmas. And these German Wooden Advent Calendars are not only beautiful, they can be used over and over again every year. Because they are made in Germany, they have a solid construction, with fine attention to detail. These special wooden Advent Calendars will make cherished memories for generations.
The first Advent Calendar was actually made by the mother of a rather impatient little boy. She filled little boxes with Lebkuchen or Gingerbread for her son, numbered them, and allowed him to open one each day until Christmas. That little boy grew up to make the first commercial Advent Calendars out of colored paper…with little doors that opened to magical scenes. These Wooden Advent Calendars go back to his mother's original idea… small boxes that can be filled with cookies, chocolate, small ornaments, or even little gifts.
Our wooden Advent Calendar is a forest house, and each door hides a small animal ornament to decorate the tree by the house. This sweet little cottage is a family favorite. But there are so many others to choose from!
German Wooden Advent Calendars
Kurt Adler C6300 Wooden Santa House Advent Calendar W/O Ornaments, 16-Inch

Kurt Adler Wooden Gift Tree Advent Calendar, 13-Inch

Kurt Adler D3045 11

Kurt Adler Wooden Sleigh Shaped Advent Calendar, 14-Inch

Kurt Adler Advent Calendar with 24-Drawers, 12.4-Inch

Kurt Adler Wooden Advent Calendar Nutcracker, 22-Inch

Wooden Advent Calendars Kids will LOVE
These German wooden Advent Calendars are less fragile, and more kid friendly. Either the pieces are large, or they are made with magnets (so, no fiddly hanging ornaments). Perfect for kids to play with.
Christmas calendar XL tree calendar Erzgebirge Seiffen Advent calendar NEW

Kurt Adler J3767 Wooden Nativity Advent Calendar with 24 Magnetic Piece

Kurt Adler Wooden Christmas Nativity Advent Calendar, 14-Inch

Wooden Advent Calendars with Drawers for Treats!
These wooden Advent calendars drawers are empty, so you can fill them with chocolates or other small treats.
Wooden Advent Calendar Kits
With some time and patience, you can build your own heirloom with one of these wooden Advent calendar kits.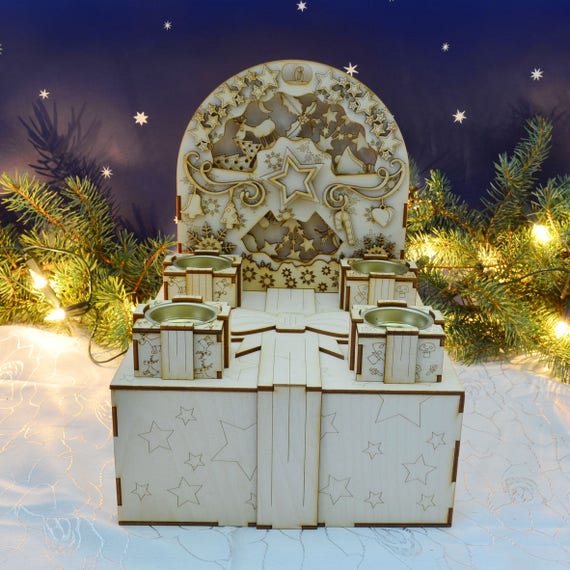 Advent calendar – Christmas wreath Kit

Luxury German Wooden Advent Calendars
If money is no object…say, you've just won the Lottery and really want to splurge…
Each piece is carefully and lovingly made by hand… then constructed in a beautiful arch.
Candle arch Advent calendar electric light arch Seiffen 48cm Ore Mountains NEW

Beautiful Porcelain Advent Calendars
Want to go one step further? Villeroy and Boch makes Advent Calendars out of Porcelain… guaranteed to delight everyone who sees these beautiful objects.
Villeroy & Boch Toys Memory Advent Calendar Box
Villeroy & Boch Christmas Toys Memory Advent Calendar: Santa's Sleigh