Is Kindergarten German? Learn all about Kindergarten History!
Is Kindergarten German? YES! the "Garden of Children" or Kindergarten, sprung from the mind of Friedrich Fröbel, based around the idea that young children are like flowers, or small plants, and with the right nurturing and care, they can grow to be productive adults. His education system for young people spread around world, and most countries today have some form of Kindergarten.
Most of us went to Kindergarten either in Germany or America.  In the United States it was such a right of passage. You were AT the Elementary School, but not actually mixed in with those giant 1st and 2nd graders.  I can still remember my first day… even though there were blocks and tricycles, I got bored and went home (we lived RIGHT next to the school) (BTW. My mother found me in my room playing quietly, marched me back to school, dressed down the teacher for 'losing' me… I never skipped school again). Every day after that was an adventure!
Is Kindergarten German?
Before the 1830s, people had much different views of how children should be treated than we do today. Young children were seen as miniature adults that needed correcting, and play was a frivolous waste of time. Friedrich Fröbel's ideas were revolutionary.  Let children learn through "through creative, imaginative, and spontaneous play." Under his mentor Johann Heinrich Pestalozzi whole motto was "Learning by head, hand and heart".  Froebel developed plans for education. He started by creating toys and writing education pamphlets.
In 1837 he developed his first school a "care, playing and activity institute for small children" in Bad Blankenburg, Germany. On June 28, 1840, he opened the doors for the first Kindergarten. The emphasis of the school was on "free work" which basically meant the children would learn about the world by exploring, playing, singing and gardening.  He encouraged learning through stories and observing nature… and he created the idea of "circle time" (I love circle time!)
Because he felt small manipulative blocks and puzzles were essential to understanding how the world worked, he created a serious of "toys which he called Froebel Gifts, or Fröbelgaben" that would be introduced to children during the appropriate period of their development A soft, hand sized ball, a wooden cube and ball set, and then moving on to building blocks… all specifically designed to introduce the child's brain to the 3 dimensional world in a way that they could control and fully grasp.
(In an interesting side note… Architect Frank Lloyd Wright credits his interest in Architecture and building to a set of Fröbel toys that he received as a child, and couldn't stop playing with. They enabled him to see, test and experience the world in many dimensions)
Froebel then caused waves in the education system, by setting up training programs for women to teach Kindergarten. He firmly believed that because early childhood education tied in with nurturing, and that women were better suited emotionally to for this task. Friederich Froebel's nephew, Karl Froebel, wrote a book about these new schools called "Weibliche Hochschulen und Kindergärten (Female Colleges and Kindergartens)"
And that's when the trouble started, and things get a bit confusing.
The Prussian government at the time decreed that the notions of Women's Colleges and Kindergarten were the basis of a new socialist uprising, and Kindergarten was banned in Prussia. Never mind that they had made a mistake, and that Friedrich's schools for young children were not the same as the Women's colleges. The damage was done, and soon other German States followed their lead. Kindergarten, inside of Germany, was eliminated.
Kindergarten in America
Lucky for all of us, the ideas and concepts that Friedrich Froebel taught were already spreading throughout Europe, and in 1856 Margarethe Schurz, one of Froebel's students, moved to Watertown Wisconsin, where she started a German Kindergarten for the local children. She didn't do it for financial gain, she did it out of a firm belief that teaching young children in a nurturing and organic way was better for the social, and educational development of children.
The original Kindergartens in the United States were German speaking (and until 1914, many of the private Kindergartens were still taught in German). Elizabeth Peabody is credited with taking the model and opening the first American-English Kindergarten in Boston in 1860. New York soon started a Kindergarten program as well. By the 1870s, the first public-school Kindergartens were opened in St Louis, and by the 1880s there were 400 Kindergartens and Kindergarten training programs across America. By 1914, all major cities in the US had Public funded Kindergarten for 5-year-old children.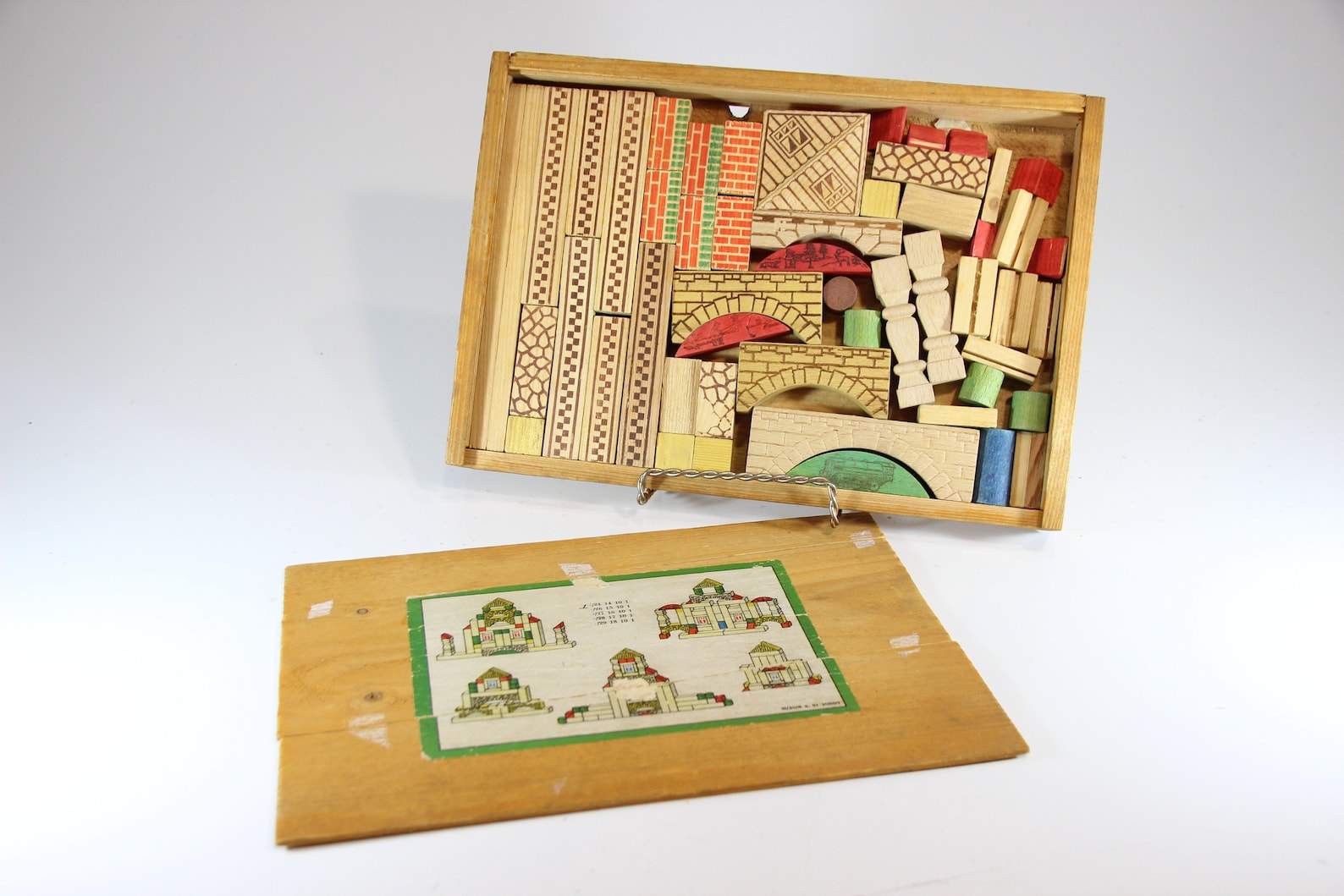 Vintage 1940s, German Building Blocks

Kindergarten Supporters
An early supporter of the Kindergarten movement was toymaker Milton Bradley (his daughters were the first two Kindergarten students in Springfield. Bradley used his skills to recreate Fröbels wooden block "gifts". And although sales were slow, he believed in the product enough to keep making them. Eventually, the Bradley's gifts became standard in all Kindergartens in the US.
The Kindergarten movement continued to spread around the world. And although they were originally private, governments began to see the benefit of teaching young children even in the poorest communities to help develop social-emotional skills.
Eventually, the Kindergarten movement worked its way back to Germany. And in 1867, the Prussian ban of Kindergarten was lifted. By 1908, Kindergarten teaching was regulated by the state.
Making Classic Toys That Teach: Step-by-Step Instructions for Building Froebel's Iconic Developmental Toys

Froebel Gifts 1 – 6 The Solids

Froebel Gift 7 Paper Parquetry Geometry Shapes

Kindergarten Today
Kindergarten in the Germany today still follows the old Fröbel model of playing, singing and learning by observing the environment including a mandatory 30 minute outside play time (remember, there is no bad weather, just wrong clothing). As hard as it is for many Americans to understand, German kids don't have to learn to read or write, and they don't sit at a desk working on mathematics. They DO play and build, go on field trips, and enjoy stories in circle time. Kindergarten is non-mandatory for kids age 3-5, and parents can choose half or full day programs. There are even fabulous sounding Forest Kindergartens, where children spend days outdoors exploring the woods and nature, and building their own constructions, all while under loose supervision of their teachers. (Sounds like I would have done well with that)
As for Kindergarten in America… it has taken a turn from its original concept. Today the emphasis is more on study and learning to read and write, and less on exploration. A new documentary series about Kindergarten is due to be released in 2018.  You can learn more about it, and sign up for notification of its release here–>History of Kindergarten

Garden of Children – 2018 Trailer from Match Frame Creative on Vimeo.
Learn More About How Kindergarten Came to America
Kindergarten coming to America was more than just the education of young people… it had a massive effect on women. Giving them both a respected spot in the workplace, and a voice in childhood education.
How Kindergarten Came to America: Friedrich Froebel's Radical Vision of Early Childhood Education (Classics in Progressive Education)