How to Apply to German Universities- Resources and Tips for a Successful Application
Studying abroad is a life changing experience. It opens our eyes to the rest of the world, and allows us to experience living in another place outside our regular comfort zone. And for many students.. it's just flat out cheaper than studying at an American University. But getting over that first hurdle, trying to figure out How to Apply to German Universities, is more complicated than a lot of people anticipate. Unless you are already enrolled in a University here in the US that has an exchange program, studying abroad in Germany comes with a lot of extra paperwork. You might be concerned about completing assignments while studying abroad. That shouldn't be a problem anymore since professional resources help international students with their academic tasks.
So… what's the best way to get started?
My friend, Jay Malone, former head of Eight Hours and Change, created a program designed to connect American Students with German Universities. Recently, he sent me this great package of information, and thanks to him, I'm able to share these resources with you.
On this page you will find a great parent guide that walks you through the first steps of study in Germany. There is a also list of great resources that you can take advantage of to help guide you through some of the more tricky parts of the process.
Humboldt University Berlin Mitte- By Dguendel from Wikipedia commons
How to Apply to Germany Universities
Parent's Guide to Studying in Germany
by Jay Malone (Eight Hours and Change)
We're excited that you and your child have decided to learn more about study abroad
opportunities in Germany. Although there are wonderful opportunities available to
international students, we know that studying and living in a foreign country can be
intimidating and there are many questions that you may have. In order to address your
questions, we've put together this information.
Germany is currently host to over 350,000 international students, around one-eighth of the
total enrollment in the countries universities. They have joined a proud tradition of
international education in Germany that stretches back almost 700 years to its foundation in
the 14th century.
German universities have worked hard to ensure international students receive an education
that will prepare them for a future either in Germany or abroad, and the study opportunities
expand every year to meet the growing demand. German universities today award bachelor's
and master's degree that are accredited and internationally recognized. Whether your child
decided to stay in Germany or move back home, they will have a degree that opens doors on
both sides of the Atlantic.
For students who do decide to pursue a career abroad, Germany is home to one the strongest
job markets in Europe. Several German cities rank among the most livable in the world, and
Germany's health care system, social networks, and culture of tolerance and openness make it
an appealing destination.
Eight Hours and Change is your resource for every step in the process. Our academic advisers
can help your son or daughter navigate the university system and choose a program that best
suits them. An EHC College Visit will give you and your child a better sense of what student life
in Germany is like. Our relocation advising services can provide your child with all the
information they need to avoid the pitfalls of moving to a foreign country. And our Pathway
Program will allow your child to learn German and effectively prepare for their future in
Germany.
Viel Erfolg! (Good Luck!)
Jay Malone
Founder, Eight Hours and Change
What are the advantages of studying in Germany?
The tradition of German higher education dates back to the founding of the University of Heidelberg in 1386, and in the subsequent centuries German academics have had an outsized influence on world education.
Today there are myriad choices in German higher education today, and students can choose from research-based approaches, practical-oriented studies, or a hybrid of the two.
The German tradition also includes an openness to international students that has led it to become one of the most popular university destinations in the world. Today, more than one-eighth of all students in Germany come from abroad, and German universities offer a variety of services to make foreign students feel at home.
German universities have also attracted students from across the world with an increasing variety of study programs. Today, students can choose from over 18,000 degree programs at over 400 institutions across the country. Additionally, students from abroad have the opportunity to expand the scope of their studies by completing a semester or year at a university outside of Germany or by enrolling in a dual-degree program.
Although the cost of living in Germany is significant lower than that of the United States, international students can still apply for scholarships and grants. Over one-third of students who apply for support are successful, and awards can be large enough to cover the entirety of a student's costs.
Students who decide to study in German also have the opportunity to gain fluency in the single most valuable language in America, one that is in high demand with German manufacturers and exporters.
How much German will my child have to know?
Although there are nearly 1,400 academic programs in Germany with courses taught in English, fewer than 200 of these are offered at the bachelor level.
Students who plan to enroll in one of the over 8,000 programs taught in Germany need to provide evidence  that they have a high level of proficiency in Germany. On the Common European Framework of Reference for Languages scale, this is equal to the C1 level.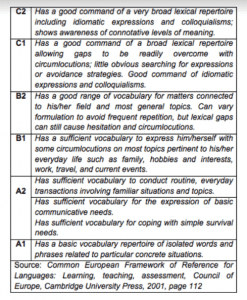 There are several tests that students can take to prove their German proficiency.
• TestDaF
The TestDaF exam is offered six times per year at seven locations throughout the United Sates prior to the start of academic year.
• Goethe Zertifikat C2
The Goethe Zertifikat is offered by the Goethe Institute and affiliated centers.
• DSD-II
The DSD exam is offered at specially certified schools in the United States. Students who plan to enroll first in a preparatory academy (Studienkolleg) are only required to provide evidence of German proficiency at the B1/B2 level (depending on the state).
What does my child need to do to qualify to study in Germany and when should they apply?
The application period in Germany is much different than in the United States, with many application deadlines closing on July 15 for the winter semester.
Students who plan to apply for scholarships should begin their applications earlier.
Students who complete an International Baccalaureate diploma automatically qualify to study in Germany. All other American high school graduates must complete additional requirements in order to automatically qualify. Students must graduate with a 3.0 GPA (unweighted) or better to qualify automatically to study in Germany.
Individual programs set their own requirements. These can be found on the university websites. For most programs, admission is based on space. If a program has enough places available for all of the eligible students who apply, they will all be admitted. If there is more demand than supply, a limit will be placed called a Numerus Clausus. Students are then admitted based on academic performance. For some
medical programs, the Numerus Clausus only allows students with perfect academic records to enter directly, while many engineering programs are open.
Where and what should my child study?
Universities in Germany offer degree programs for all interests and levels of education. With over 400 accredited universities and over 18,000 degree programs, the problem may be deciding where and what to study.
First, students should consider which type of university they want to study at.
• University (Universitäten)
Universities in Germany are distinguished by their approach to education. In German universities, students learn research methods and students take a scientific approach to their studies. Universities offer the largest variety of subjects, including professional fields like medicine.
• University of Applied Sciences (Fachhochschulen)
Universities of Applied Science focus on the practical applications of education and generally include significant periods of experience with a company in a student's field as part of their study program. They generally focus on a single thematic area, such as business or engineering.
• Colleges of art, film and music (Kunst/Musik/Film)
Colleges of art, film and music have different requirements than universities offering traditional academic degrees. A few, such as the University of the Arts in Berlin, are full universities and award doctorates.
Most universities in Germany and public and tuition-free, but there are also private universities that charge tuition. Around seven percent of all students are enrolled at one of the over 120 private universities in Germany.
In Germany, student apply to programs, not universities. It is important, therefore, that students decide where their interests lie before they apply. If they plan to study German intensively before they enroll, this can be a good opportunity to get a better sense of what they are interested in before entering an academic program.
What is the academic calendar in Germany?

When do classes start?
There are two academic semesters in Germany: winter and summer. The winter semester begins in October. Classes last for 16 weeks and generally end at the end of January or beginning of February. Students then have exams. The summer semester begins in April. Classes end in July, followed by exams. There are also breaks in between the semesters. Most students have the months of March and
September free every year.
Summer courses are also offered at German universities between June and September. They offer a wide range of language courses along with specialized courses for credit. These courses can be a good way to get acquainted with life at a German university.
Students are generally advised to arrive in July or August. It can take time to find accommodation and adjust to the new surroundings.
Important links to help Apply to Germany Universities
Hw to apply to German Universities
DAAD – this is the go-to for information about the German university system. They also have staffed offices in New York and San Francisco. I'd recommend contacting Hanni Geist ([email protected]) in San Francisco for help.
Studying in Germany– An information portal for studying in Germany for foreign students. Contains detailed and accurate information about Studying in Germany, this website is also translated into 10 different languages.
German University Alliance – This is a collaboration between FU Berlin and LMU Munich. They have an office in New York as well. Katja Simons ([email protected] ) is the person to contact there.
Baden Wuerttemberg – Emily Westhoven ([email protected]) is based in the States and can help students who are interested in studying in BW.
Uni Assist – Most universities (outside of BW) use Uni Assist to streamline admissions for international students. It can be tricky to use, so students should also start early.
Anabin – This is the authoritative database on university requirements. Information on other websites may be out of date, so students should also check this and DAAD to be certain.
Visa Information for German University Students
Germany Visa–  Find detailed information about Visa requirements here.
More Information About Studying in Germany
How much does it cost to study in Germany?
Compared to other European countries, the cost of living in Germany is very reasonable. The cost of accommodation is significantly lower than the average cost in the United States, and most other costs are comparable to US averages.
Tuition fees are set by state governments in Germany. Of the 16 Bundeslaender, only Baden-Wuerttemburg charges fees for international students. As of 2017, the fees for universities in Baden-Wuerttemberg for undergraduate students will be 1500 euros per semester and 650 euros per semester for graduate students.
Private universities in German do charge tuition fees. On average, the fees at these universities are around 4,000 euros per semester, but they can be as high as 10,000 euros for some graduate programs.
Although most universities in Germany do not charge tuition, students do have to pay a semester fee (Studiengebuehr) that helps to cover some of the expenses for campus organizations. This fee varies by state, but normally costs no more than 250 euros/semester. On perk of the semester fee is that students receive a special semester ticket that allows them to travel within their region on all buses and
regional trains for free.
On average, students in Germany live on an average of 845 euros per month, with the average rent around 300 euros per month, but there are large variations in cost of living by region. Smaller cities tend to be more affordable than larger cities, and the cities in the eastern regions are the most affordable.
In order to study, students need to provide a so-called "Proof of Financial Support" to immigration authorities. This is evidence that a student has adequate resources for the duration of their study.
Can international students work in Germany?
Most German students work part-time to support themselves during their studies. Although labor laws do restrict your child's ability to work, international students are allowed to work during their studies.
The law restricts the number of hours that students can work throughout the year and when classes are in session.
• 120 full days
• 240 half days
This works out to approximately 20 hours/week during the semester and more when classes are out of session.
If you earn less than 8,130 euros/year, the taxes that are automatically deducted from your salary will be returned at the end of the year. Many students also choose to work on a "mini-job" basis. These jobs pay 450 euros per month but are not subject to taxes.
The national minimum wage is currently 8.50 euros/hour. It is illegal to charge less than this for any type of work.
If your child plans to work during their studies, it is important that they mention his to the immigration office when they apply for their student visa. Depending on which job they plan to take, the immigration office can provide them with special exceptions.
Are scholarships available?
There are many funding opportunities for both language learning and degree studies. Most scholarship programs in Germany are open to international students. Around one-third of students who apply for scholarships are successful.
Most national scholarships are offered by political or religious organizations. Religious organizations usually only award scholarships to students of a particular faith, and political organizations generally only award scholarships to students with a particular political interest. There are also national scholarships like the Deutschland Stipendium that are awarded based on merit.
POLITICAL ORGANIZATIONS
Friedrich Ebert Stiftung (SPD)
Friedrich Naumann Stiftung (FDP)
Konrad Adenauer Stiftung (CDU)
Heinrich Böll Stiftung (Greens)
Rosa Luxemburg Stiftung (Left Party)
RELIGIOUS ORGANIZATIONS
Cusanuswerk (Catholic)
Evangelischen Studienwerk e.V.
Villigst (Protestant)
OTHER
Deutsche Bundesstiftung Umwelt
Otto Benecke Stiftung e.V.
Studienstiftung des Deutschen Volkes
Individual universities also award scholarships. These scholarships are usually awarded for short durations and the awards are smaller than most scholarships in America, but considering the low cost of living in Germany, it is always worthwhile to apply.
Does my child need a visa to enter the country?

As of 2017, American students do not need a visa to enter Germany. Students can apply for a visa once they enter the country. Before leaving the US,  students should apply for a new passport. Otherwise, they may have to apply for a new on during the course of their studies.
In order to apply for a visa, your child will have to complete and application at their local immigration office (Ausländerbehörde).
• Proof of health insurance (Krankenversicherung)
• Proof of financial support (Finanzierungsnachweis)
• Admission confirmation from a German university (Zulassungsbescheid der
Hochschule)
Some American health insurance plans may cover your child abroad, but in order to apply for a visa, they will need to be insured by a German provider. Premiums are standardized and student health insurance can be obtained from a number of providers.
In order to study, students need to provide proof of financial support to immigration authorities. This is evidence that a student has adequate financial resources for the duration of their study. This can be proven in one of two ways. You can open a blocked bank account in Germany with 8,400 euros that releases a set amount per month to the student. This should be done after the student arrives. You can also provide your child with an affidavit certified by a German consulate or embassy that confirms that you will provide support for them during their stay.
Although proof of admission is required, some immigration offices will allow you to submit a letter from a university that indicates that you meet the requirements to study.
How safe is Germany?

Overall, crime rates in Germany are much lower than in the United States. People move around freely at night in both villages and large cities without taking special safety precautions, and the violent crime rate in Germany is approximately one-eighth that of the United States.
Germany has more police offers than the United States per capita, and they are considered reliable and helpful. German police officers also receive significant training, with most serving three years in the state police reserves (Bereitschaftspolizei) before completing an intensive six-month training course.
German police can be reached by dialing 110.
If your child should ever have any problems, there are six embassies and  consulates that can provide assistance.
US Embassy
Clayallee 170
14191 Berlin
Tel.: +49-30-8305-0
US Consulate General Munich
Königinstraße 5
80539 München
Tel. +49 89 28880
US Consulate General Düsseldorf
Willi-Becker-Allee 10
40227 Düsseldorf
Tel.: +49-211-788-8927
US Consulate General Frankfurt
Gießener Str. 30
60435 Frankfurt am Main
Tel.: +49-69-7535-0
US Consulate General Hamburg
Alsterufer 27/28
20354 Hamburg
Tel.: +49-40-411 71-100
US Consulate General Leipzig
Wilhelm-Seyfferth-Straße 4
04107 Leipzig
Tel: +49-341-213-840
What kind of support is available?

Each university in Germany today has an extensive system of support services who can help your child if anything happens.
The first contact should always be the International Office, which is responsible for taking care of international students. Most international offices have advisers who can help students with academic planning. If anything serious happens, they will also have resources to help.
Many international offices also offer mentor programs to pair young internationals with more experienced German students. This can be especially helpful if the student is having trouble navigating the administrative and bureaucratic requirements of life in Germany, and for general questions about
studying in Germany.
The Studentenwerk is an organization at most German universities that supports students. Oftentimes, they will provide general information about services offered to international students, such as accommodation, health insurance, and cafeteria services.
Each university also has a representative student body (generally called the AStA) that provides additional support services for students. This can include support for students dealing with problems with an instructor or legal advice.
Students should also feel comfortable contacting their instructors for help during office hours. Each professor is required to keep regular office hours, and these will be posted at the beginning of the semester.
There are also available resources for doing their homework.
It is important to remember that although support services do exist, students in Germany are expected to demonstrate a high level of independence and responsible for their own education.
Where will my child live?
Students in Germany have several options when it comes to accommodation: student dormitories, shared apartments, or private accommodation.
Unlike in the United States, students are not guaranteed a place in the university dormitories, and most universities do not offer the kind of on-campus living common at most American institutions. Rooms in German dormitories are the cheapest option for student accommodation, but rooms must be applied for well in advance.
Shared apartments (Wohngemeinschaften) are the most popular form of student accommodation. In shared apartments, students live together and share expenses. Each student gets their own rooms, with a shared kitchen, living room, and bathroom. There are many advantages to living in a shared apartment. The costs are lower in shared apartments, and students have the opportunity to meet German students in their community and practice their German. Private accommodation is also available for students who don't want to live in a shared apartment. This is the most expensive option.

What You Need To Know

As an American student, you need more than a high school diploma to study in Germany.
First and most important is a 3.0 G.P.A. If you don't have this, it's very difficult to find a path to studying in Germany.
Next, you have to be sure to take the right classes. The German government requires that your transcripts show you've completed at least 15 credits in English, a second language, social studies, math, and science.
It's also possible to complete some coursework at a college or university in the United States and then transfer to Germany, or you can spend 1 year in a German "Studienkolleg," a preparation academy for students who lack the prerequisites to study.
List of Scholarships
(note- this list may be out of date, but it's a good starting place)
German University Scholarships List
How to Use Uni-Assist
(note- this presentation was put together by Eight Hours and Change, and although the uni-assist information is still good, the contact information for EH&C is incorrect)
German Health Insurance Information for Students
German Health Insurance System– Detailed information about the German Health Insurance System for foreign students.
More Information
Study in Germany: Essential Guide To Studying In Germany For International Students

The Foreigner's Guide to German Universities: Origin, Meaning, and Use of Terms and Expressions in Everyday University Life

Thank you again to Jay Malone for assembling all of this information. Once again, he has proven to be a fabulous resource for how to apply to German Universities. 
I hope that everyone who wants to attend University in Germany takes the leap. My daughter just spent a semester at the Freie Universität in Berlin, and it is an experience she will never forget.