Suppengruen- A Flavor Base for German Cooking
At the base of every cultures' cuisine you'll find an ingredient set that adds a certain flavor to many of the dishes. This building block sets up a steady base for any other ingredients added in. It's seldom the star of the show… but the dish just wouldn't be right without it. In German cooking, this base is known as Suppengrün or Suppengemüse. A trio of humble vegetables that taste good on their own, but together make German cooking sing. German cookbooks will call for a Bund (bundle) of Suppengrün, and German cooking depends so heavily on Suppengrün that you'll find it pre-bundled in the grocery store. So, what is Suppengruen? and how is it used? And, what can we use in the United States when one of the key ingredients is hard to find….?
What is Suppengruen?
Three core ingredients make up Suppengruen (also called Suppengemüse) Carrots, Leeks, and Celeriac (Celery Root). These three root vegetables (yes, leeks are officially a root vegetable, because they belong to the onion family), are the starting place for many German recipes. They start the stock for Soups and Eintopfe (one pot meals), they get tossed into the pan with roasts, and give flavor and thickening to gravies (mmmmm…. gravies). Think of Suppengrün as the German version of French Mirepoix, Spanish/Italian Sofrito, or the Cajun Holy Trinity. (The Polish Włoszczyzna comes the closest, using carrot, leek, celeriac and parsnips.)
Basic Suppengrün Recipe
2-3  medium Carrots
1 Leek
1/4 to 1/2 Celeriac (celery root)
As common as these vegetables are in Germany, finding Celeriac can be tricky here in the United States. Fortunately, my produce store carries it, but even if the checker recognizes it, they generally need to ask for codes and prices. It's just not that commonly used. And that's a shame. Celeriac (celery root) tastes like celery's less bitter cousin. A little earthy, but mild. (It also makes a terrific salad)
These three core ingredients are generally diced, and then softened or browned in butter or oil to create base flavors for the dish. Then they get cooked with the broth (or in the case of roasts, they may be cut into chunks that roast with the meat). Depending on the recipe, the Suppengruen vegetables are strained out once they have given up their flavor…or they get pureed into the sauce/soup to add thickening.
Variations for Suppengrün or Suppengemüse are Inevitable
Naturally, like every other "traditional recipe" in Germany… there are variations. Some are regional, and some are just based on what your Oma might have had on hand once, and then stuck with it.
Parsley – For so many years in America, parsley found itself relegated to plate decoration. Cooks forgot that fresh parsley adds great flavor when cooked into foods, a brightness when added to dishes, towards the end of cooking. Suppengrün bundles often include a bunch. I keep a container of parsley growing by the kitchen door.
Parsnips – Another root vegetable that finds its way into Suppengrün is the lowly parsnip which imparts a somewhat bitter flavor.
Onion– Occasionally onion will be bundled in with the Suppengrün. Maybe to save time? So many soup and Eintopf recipes call for onion anyway.
Thyme – So many German recipes include thyme, and I'm not surprised to see it bundled in with Suppengrün.
Maggikraut/Lovage – One of my favorite herbs, Maggikraut/Liebestockl/Lovage adds a fresh celery-like flavor to foods. Think of it as a Maggi Seasoning without salt.
note- if you want to keep your sauce white, replace the carrot with parsnip, and just soften the veggies, don't let them caramelize.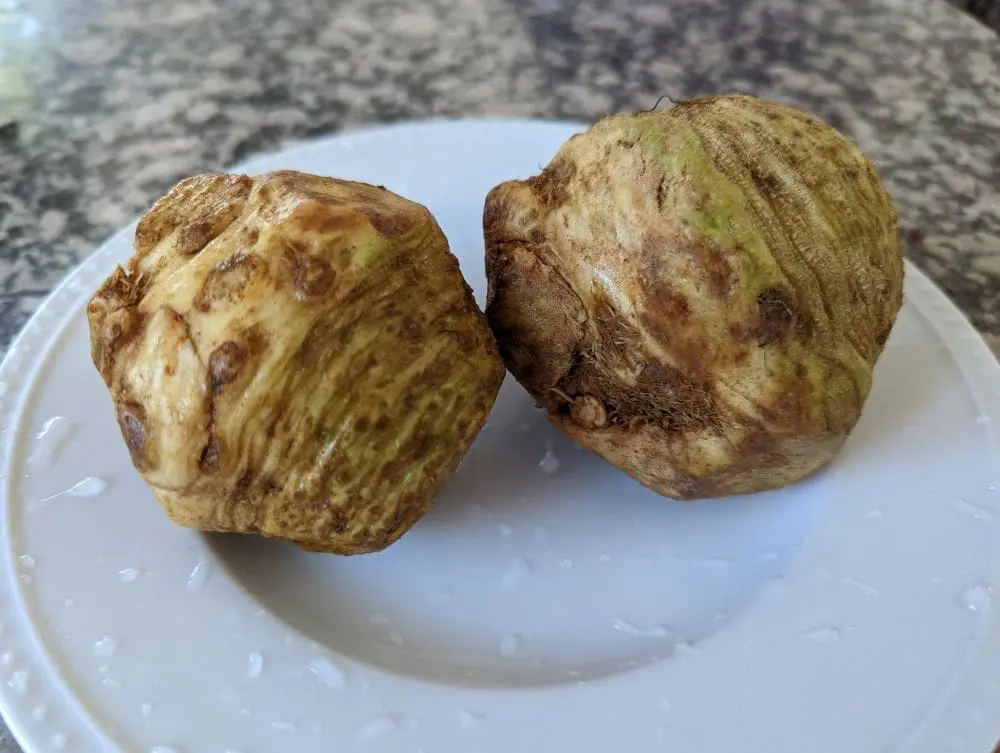 What if You Can't Find Celeriac??
Use celery.
Will it taste different… a bit. Celery tends to be more bitter. I like to use celery leaves as well since they are quite flavorful (so don't dare throw them out!)
Remember, just like a well constructed house relies on a good foundation… a memorable German meal begins with Suppengrün.
Potato Soup with Smoked Sausage
This hearty German Potato Soup is packed with flavor... and lots of veggies! Add Smoked Sausage to make it a complete meal in a bowl
Equipment
1 Large Soup Pot or Dutch Oven
Ingredients
2

Tablespoons

Butter

1

Bunch

Suppengrün cleaned and diced

2 carrots, 1 leek, 1/4-1/2 celeriac

1

med

Yellow onion

diced

6

cups

Water

3

pounds

Russet Potatoes

peel and dice

2

sprigs

Fresh Thyme

(or 1 teaspoon dried)

4

sprigs

Fresh Parsley

chopped, divided

1

teaspoon

Salt

1

teaspoon

Pepper

1

pound

Smoked Sausage

1

cube

Vegetable Bouillon

optional
Instructions
Melt the butter in the soup pot over medium high heat. Add the diced Suppengrün, and the onion, then cook, stirring, until soft... 3-4 minutes.

Add water, diced potatoes, thyme, 2/3 of parsley, salt, pepper, and sausage. (Add optional bouillon cube if you want stronger flavor). Bring to boil

Reduce heat to low, and simmer for 30 minutes, until you can pierce the potatoes easily with a knife tip.

Remove sausage and cut to slices. Remove the thyme stems. If you want a smooth soup, puree it now.

Put the sausage slices back into the soup. Sprinkle with remaining parsley. Stir and serve.
Notes
Potato Soup gets a boost of flavor from Suppengruen. If you can't find Celeriac, use a few stalks of celery.
Order my Easy German Cookbook!
Like this Recipe? My Easy German Cookbook contains 80 traditional German recipes, written for the American Kitchen. Recreate all those delicious dishes you remember from your mother and Oma.
Easy German Cookbook: 80 Classic Recipes Made Simple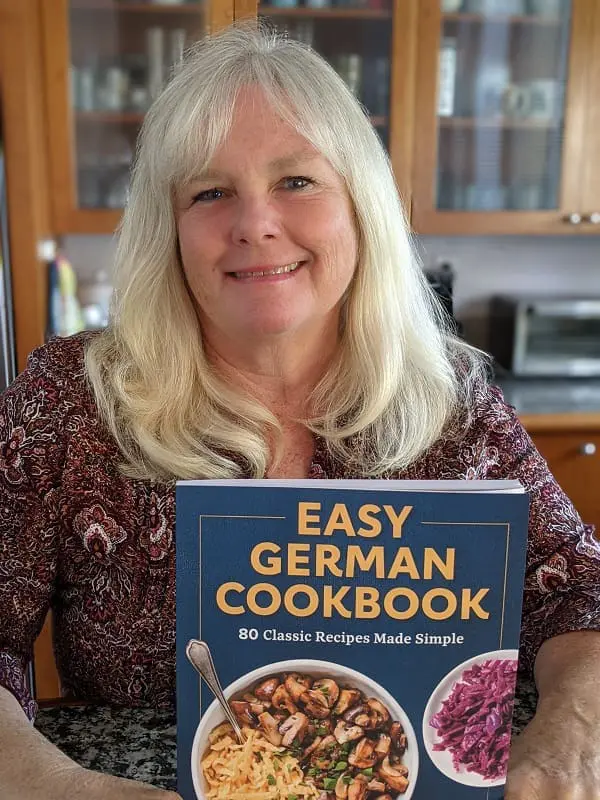 Easy German Cookbook SIGNEDGermanGirl Shop