Berlin Food Tours- One City, a World of Tasty Food!!
One of my favorite things about visiting Germany is the Food. The bread, the sausage, the Souvlaki, the Sushi… Sound odd? But the BEST "ethnic" foods I've ever eaten were in Germany. As you can see from the image above, the city with the what has to be the most diverse restaurants in one small place is Berlin. Something about being a cultural crossroads makes it the perfect location for a wide array of fabulous foods from all over the globe. Don't get me wrong, the most famous food in Berlin is still the Currywurst… but the Turkish Döner is hard on it's heels. Taking one of  these Berlin Food Tours is a fantastic way to not only see the different neighborhoods of Berlin, but also have a delicious taste of all the cultures that make up this multicultural city.
Berlin Food Tours
There are a few great Berlin Food Tours… just sign up and put your stomach in the hands of experts who have tasted their way around the city. You might not recognize all of the food set in front of you, but you certainly won't regret eating ANY of it! Added bonus… these tours are a great way to get to know Berlin better. And unlike most bus or walking tours, you won't find yourself getting HUNGRY along the way.
Kreuzberg and Neukölln Walking and Food Tour in Berlin
East meets West on this 6 hour walking tour that takes you to 6 different food vendors and 4 drinks stops! You get the full spectrum of Food in Berlin with this tour! Everything from Turkish to Arabic, amazing food markets… and even Hipster Coffee (I guess it's served by a guy with a groovy beard). Also included in the tour is a TON of information about these eclectic neighborhoods… from their WW2 past, to their current bohemian Art Scene.
Berlin Food Tour: Classic Bites and City History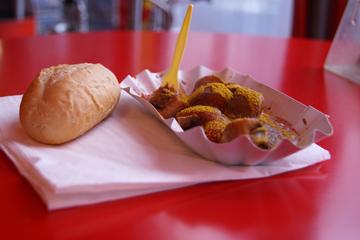 Berlin Food Tour: Classic Bites and City History
from: Viator
This 3 1/2 hour walking tour is as much history as food (and, since it's a walking tour, you can TOTALLY justify those extra cake calories). Weekly at from Thursday to Sunday, this tour begins at the Balzac Coffee, near the Schönhauser Allee u-bahn in Berlin. You will sample Berlin Specialties like Currywurst and fabulous pastries, but also Alsatian Flammkuchen and some Middle Eastern Specialties. AND BEER! Like I said, it's not just food… you get a chance to see parts of the Wall (and get some info) as well as information about WW2. This might be the best tour for anyone who only reluctantly goes to see historical sites… they can be bribed with food.
More GREAT Berlin Food Tours
Make Up Your Own Berlin Food Tour
You can actually set off on your own Berlin Food Tour. Last time I visited there were 20 different restaurants in the few blocks around my apartment. Then my daughter took me further afield to find more food.
Currywurst– Want to know where to find Currywurst? Take 10 steps and then look right or left. Seriously, it's everywhere. This simple dish of Bratwurst in a spicy or mild Curry Sauce is found all over Berlin. Where to find the best one? Check this list–Best Currywurst in Berlin
Turkish food- Kreuzberg is known for its Turkish population, and every Tuesday there is a Turkish  market on the Maybachufer (exit the U-Bahn at Schönleinstraße). My favorite… Phyllo Pastry rolls filled with cheese and spinach!
Döner– Like Currywurst, you will find a Döner Kebab place on every corner (and in every train station). A good tip… go to a busy one. You won't be disappointed (or have to eat again for 3 days)
Lebanese Food– One of the best meals of my whole trip was to Babel, on the Kastanienalle. We ended up there by chance… or maybe it was fate. The food was fabulous! And since you sit so close to all of the other customers, you end up making meal-time friends. What could be better? Order a Platter..it's all good.
Middle Eastern – (I know I already have Lebanese, but this place is different. Dada Falafel not only makes a fantastic Falafel plate… they also have a wildly cool interior. The chandeliers are awesome!
Thai Food- Honestly, who would have predicted that there would be a cult of Thai food in Berlin? Every weekend during the summer, Preußenpark in the Wilmersdorf district of Berlin, right on Fehrbelliner Platz turns in to ThaiPark. Lots of Thai families gather to make and even SELL their home made specialties. My daughter got turned on to this and LOVES it!
German Food- Honestly, you will find everything from East German Specialties to Standard German Fare. There will generally be a chalk board on the building with the day's specials… or a Menu printed. Look in the window… if you see tablecloths, expect to pay more… I found 2 favorite "German Restaurants" in Berlin.
The Kartoffelkiste (Potato box) is good German food without a lot of pretense. The restaurant is comfortable with lots of wood. Oddly, it's located in the Europa-Center mall… but don't be turned off. It really is what they say "Oma's Sonntagsküche- jeden Tag" (Oma's Sunday kitchen every day). I recommend the Königsbergerklopse… they are almost as good as my mom's.
Restaurant Elefant– Straight up, this is my new favorite restaurant in Germany for GERMAN food. How good? I went back twice in one week. Everything on the menu is good (well, I honestly don't know if the Liver is… we will let you figure that out for yourself). My daughter and I LOVED the Schnitzel (she had Jaeger, I had one with a veggie sauce), the Schweinefilet Bernaise MELTED in our mouth, and the Hasentopf tasted of wild Germany. They also serve Rinderroulade, Goulasch and a lot of other dishes that make it hard to decide. Enjoy a White Burgundy with your meal… and say hello to Chris the waiter for me…
Still Looking for Food in Berlin? 
You can always go to the top floor of KDW (Kaufhaus des Westens.) The Food court goes on for miles…
So that's it… GO now… EAT your way through Berlin!!