Aldi German Week- Searching for Aldi German Food in America
Seems I'm always getting messages and comments about how someone was able to get something from Aldi US… or NOT get something from Aldi US. Truth is, I don't live near an Aldi… my only Aldi experience until recently was Aldi Germany. HOWEVER! Wonder of wonders… while visiting my parents in Southern California, I was able to get to an Aldi during the most recent Aldi German Week.  My mother lives 10 minutes from 2 Aldi Stores! And so, we went… she planned to gather supplies… I planned to scope things out. And this is what I found…
EDIT-
In 2019 I took photos at the Aldi near my mother's home in Southern California. This year I was able to find an Aldi near me in Arroyo Grande. The selection was quite different. I'm sharing photos from both trips. The more recent first.
Aldi German Week typically happens in April and September
What is like to shop Aldi in America?
Much like Aldi Germany, Aldi in America is fairly plain as supermarkets go. No flashy signs, the shelves are stacked with boxes, there are very few employees. The store was clean, and the shelves were straightened (to me, a good sign). Of course, you have to remember to bring a Quarter to release your shopping cart, and don't forget your shopping bags, or you will be paying for theirs! (Also, like the German Grocery stores, don't think some enthusiastic bagger will be Tetrising your groceries into bags, you are ON YOUR OWN).
I love these little Aldi Quarter tags... you slip them on a key ring, so you can always grab your cart without digging through your purse. (Believe me, it was an issue…mom and I both had to look)
ALDI Keychain, ALDI Quarter, ADLI Cart Quarter

Aldi Keychain, Aldi-Love Quarter Keeper,

Are there ANY Aldi German Products?
It's my understanding that everyday, there are Aldi German Products on the shelf. They sell these few German Products labeled "Deutsche Küche". Twice a year, in March and September, they have German Week,  when they stock more! I went into the store expecting a big display… or at least a sign… but, no. German products were sprinkled throughout the store. Granted, there were a few end caps with only German foods… but no "GET YOUR GERMAN STUFF HERE" sign.
I've now been to a few Aldi stores over the years, and I have seen firsthand how the different stores have different foods offered…even during German Week. You don't always find what you expect. If you go… hope for the best, but you have to keep your eyes open, and just take what you can get.
Photos from my Aldi Store in September 2023
This store had more cake than sausages. And this time I didn't see the German bread that I found in the other store… or the Ham.

I did purchase a bag of Käse Spätzle for a night when I needed a shortcut. And I love the Potato Stick snacks…

The frozen Pretzels are a nice shortcut. They do take up a lot of space in the freezer though. 

An end cap filled with assorted Deutsche Kuche offerings like Peanut Puffs, Spätzle, Muesli, Cookies, and Lentil Soup.
And herring…

Of course they had beer… Bitte ein Bitt!

My biggest SCORE! Wasn't really German… but I DO love Eiswein.
These photos are from 2019 in Southern California.
A few times a year, Aldi advertises "Aldi German Week". This time I caught the last day while visiting my parents. Since mom and I were on a mission to find these German foods, we went slowly and looked at everything. This is most of what what we found….
German Bread at Aldi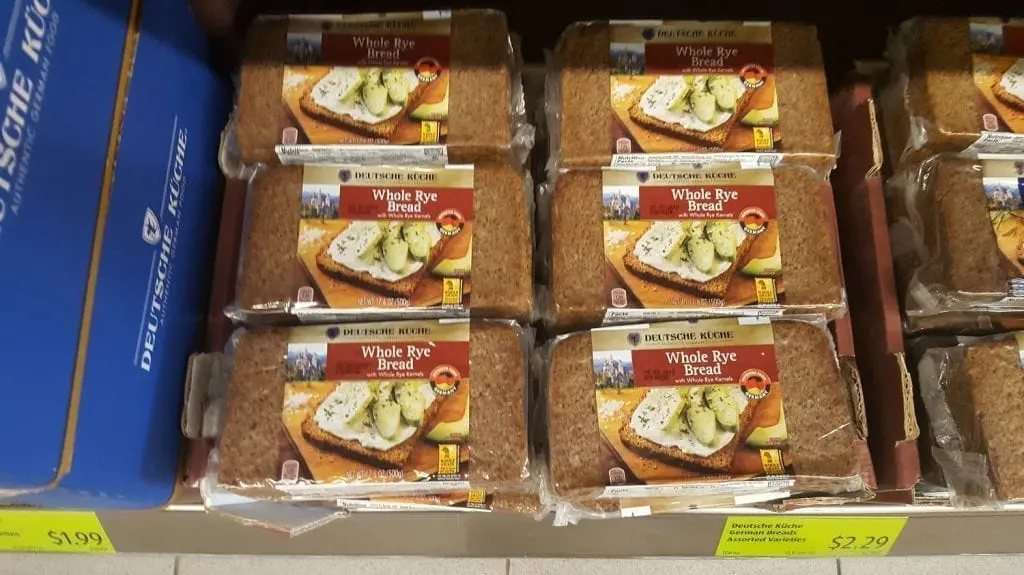 Basically, there isn't much German Bread at Aldi. All we found was the German Rye Bread. The price ($2.29 in California) seemed fair compared to what I've seen online. And mom says it tastes alright.
Food in Jars
I can honestly say, the pickles are quite good. They aren't strong and dilly like Kosher Pickles… but they are nice with bread and Aufschnitt (Cold Cuts). As much as I love White asparagus, the texture of jarred asparagus always feels a little disappointing. (To me, this product works best in a Chicken Fricassee… not steamed with a slice of Schinken. ) Finally, Rotkohl… Red Cabbage. I've heard good things about this product. Because my family makes it from scratch, this is just a little sweet for me. BUT! In a pinch… or in a hurry… go ahead and use it!
German Drinks at Aldi
Aldi sells German Beer and Wines… different stores have different kinds in different amounts. You might find Wernesgrüner Pilsner or Broegel Bock beers… In wines you can find Landshut Riesling, and at Christmas time they have Christkindl wines. Check your local Aldi to see the selection.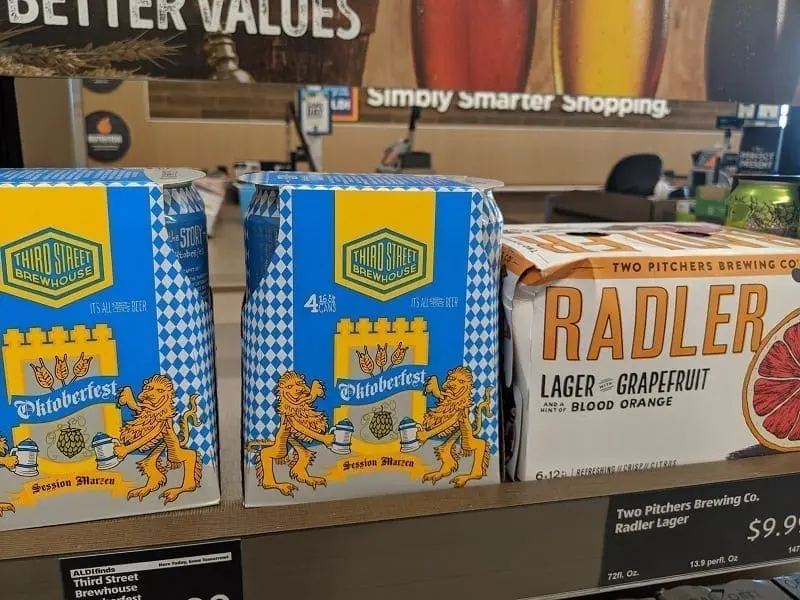 I was delighted to find Apfel Schorle. For those of you unfamiliar with this…it's a sparkling apple juice made by mixing apple juice and sparkling water. The drink is super common in Germany, but oddly, sort of rare in the US. I like it because it's not too sweet, and not too bubbly.
Aldi has Spätzle
One German product Aldi has a LOT of is Spätzle! During Aldi German week you can find them in the noodle area and the frozen area. I like the dried ones, and have a few packages on hand to whip up when I'm not wanting to make them from scratch. Easy peasy… no more difficult to cook than pasta, and they taste fine. (Nothing beats home made Spätzle, but sometimes, the packaged ones are just what you want for everyday.) They also have frozen Spätzle… with cheese… like a personal casserole. We didn't try them (and I was hesitant to buy frozen foods, because I was traveling.) They do look like something my daughter would really enjoy. The flavored Spätzle? I didn't buy them, because they didn't appeal to me.
In the Dairy Aisle
Some Aldis now have Quark. But… I have yet to find PLAIN Quark, it's always flavored. (I'm not as crazy about the flavors). The small containers are nice for breakfast instead of yogurt (add a little granola!)

You will also  find cans of "Bavarian Cheese Spread".  I think this is Obzata? Or maybe it's just cream cheese and Schnittlauch (chives). Try it on Bagels or Pretzels…

Aldi German Aufschnitt / Cold Cuts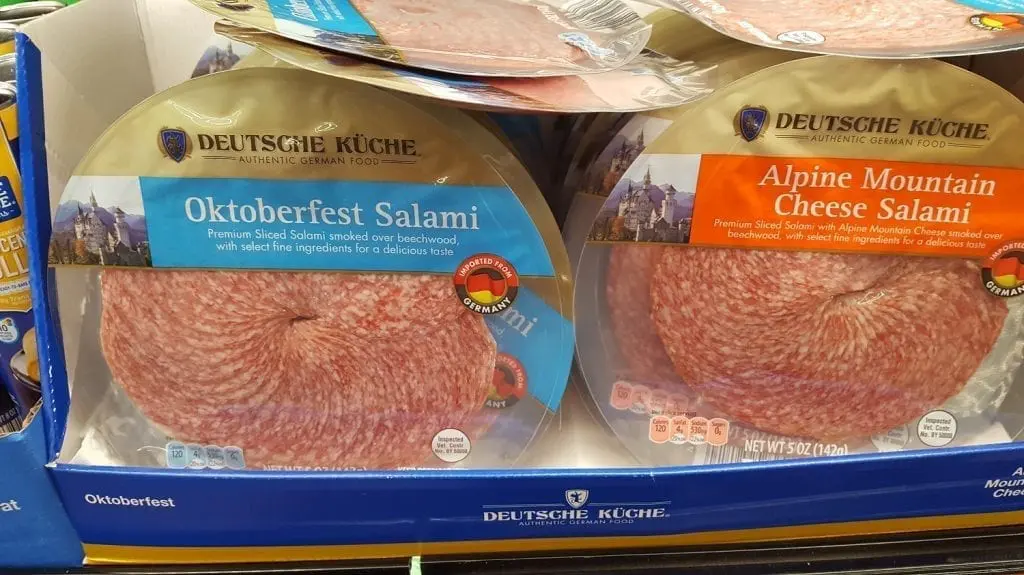 Anyone who knows me knows that I LOVE Salami... and I'm delighted to report that Aldi does sell a German Salami, and it's quite good. They also sell a Braunschweiger. I'm really not a fan of Leberwurst, and I trust my mother when she says, it's not that good. They didn't have Schinken or Blutwurst, Gelbwurst or Teewurst… and it's too bad.
Aldi Sausages and Bratwurst
The Bratwurst at Aldi is pretty good… not great (but for great, I think you need to be at an Imbiß in Germany with a group of friends). There are a few different styles to choose from. The Brats are reasonably priced, and perfect for a quick dinner. I'm not excited about the cheese version… (Is that an American thing?)
German Cake at Aldi
Aldi's German Cake selection made me happy again….Please don't get the idea that picking up a German Cake from Aldi is ANYTHING at all like shopping in a German Bakery. HOWEVER. If you like to have a small cake on hand for a nice afternoon pick-me-up, then you have some decent choices.
I bought the Bienenstich, the Apple Strudel and a few of the loaf cakes to try. The Bienenstich comes frozen. It's made with yeast dough, so that was good, and the filling wasn't too sweet, also good. Unfortunately, the top was a bit soggy… so it missed that sweet crunch from the almonds. Still, it was a success with those who tried it. The Apple Strudel was good… you can bake it up to give it crispness.
Best of all are the loaf cakes. These mini loaves come in a few flavors… I'm not sure if the Cherry Liqueur or the Marble cake are the favorite (they certainly vanished fast enough). And since they keep well, it's not a bad idea to keep one of these in your pantry in case of surprise guests (or sudden hunger pains!)
Aldi German Chocolate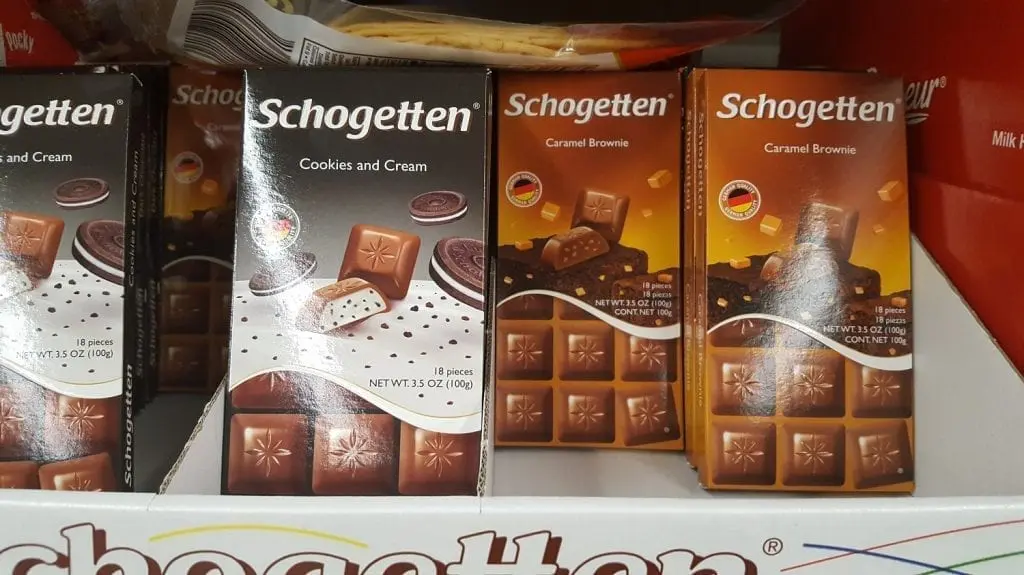 The Spring German week was after Easter, and I noticed that Aldi still had some German Chocolate Eggs (on sale!). But I was more excited to see Schogetten! I just wish they had plain milk chocolate… maybe they do get them at other times. They generally have the Choceur brand,and I'm addicted to the Coffee&Cream.

COOKIES and Snacks…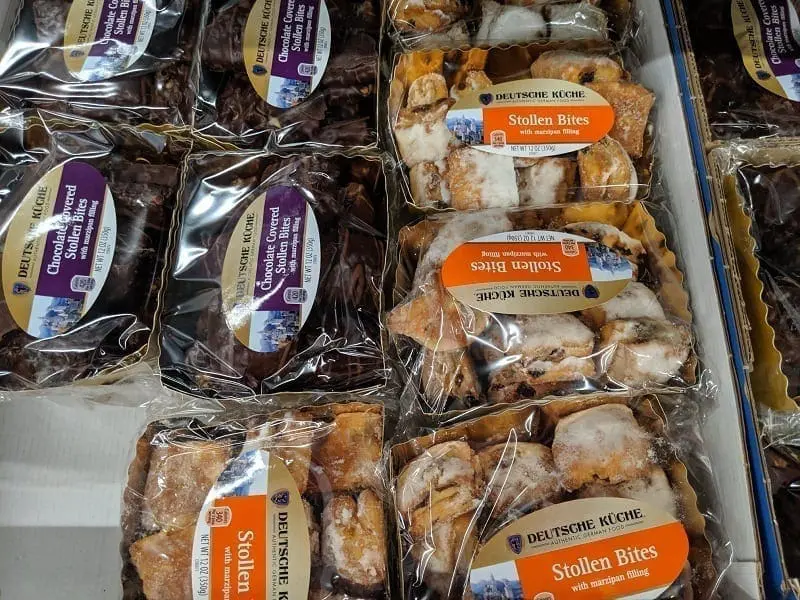 Yes, Aldi has cookies….And they have Erdnusflips (Everyone seems to  flip for peanut flavored puffs).
The "Must Grab"  item (for my mother) would be the Stollen Bites (if you miss them, you can find the recipe here). We picked up 10 packages (they can be frozen). Both regular and chocolate dipped. During the October German week, you can also pick up Gebrannte Mandeln (sugared almonds).
My Impressions of Aldi German Week
Overall, I thought the Aldi Store was a decent discount grocery store. They don't have 25 different varieties of ketchup… but they have good prices on the few types of ketchup (or yogurt or cereal or toothpaste). Also, like the German Aldi stores, they have an aisle with all sorts of useful objects and seasonal thing that you never knew you absolutely NEED to own (like bird feeders and lawn chairs). I found some nice, washable drawer liners for my refrigerator fruit and vegetable bin.
Aldi may not have the German Products that so many of us are always searching for, but they do have some, and it's not a bad idea visit them during Aldi German Week. Then next one is in September 2019!
Find the Aldi Nearest YOU–> http://aldi.us/stores/
Check out the Aldi Website
Learn what the weekly specials are here, sign up for the newsletter, even order delivery (in certain areas) HERE–>https://www.aldi.us/
Aldi Tips
Rachel Singer Gordon is a blogger who spends an awful lot of time at Aldi. She's put together a little book with tips and ideas, as well as recipes, to make your trip to Aldi even more worthwhile. Check it out here…
Almost All ALDI: Shopping and Meal Planning Around Sales and Seasons