Stollen Bites Recipe – With Variations
When Aldi German Week rolls around, my mom stocks up on Stollen Bites. But this year, someone got there before her, and there just weren't any on the shelves when I found a recipe I had torn out of a magazine years ago I decided it was time to bake them for her (does anyone else have a file folder of old recipes they've ripped out of magazines and newspapers?) Now we will have PLENTY at Christmastime. This Stollen Bites Recipe is easier than you would think (it's certainly easier than baking a whole Stollen!). Added bonus, you can play with the additions. I baked these with Rum Raisins and Dried Pineapple (can you say Tropical Stollen?), but you can go more traditional with Candied Citrus Peel and Marzipan, or maybe add cranberries and leave out the rum?
Traditionally a baked Stollen is brushed with melted butter, and then covered in powdered sugar. But this recipe that "decorated" the bites with a sugar glaze… and even a few sprinkles. They really do look festive this way. Why not try both? The recipe makes around 50, so you have a lot to play with.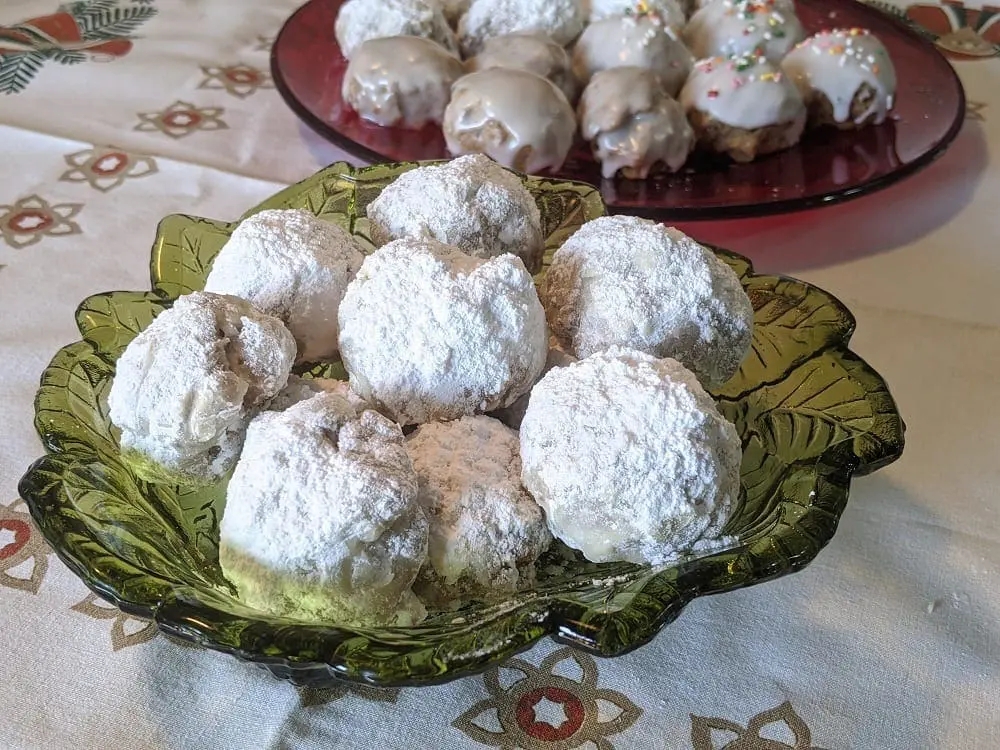 Stollen Bites Recipe
I've written up the Stollen Bites Recipe the way it was originally intended… with Candied Orange Peel. Because I baked these early in the season, none of the stores in my area had stocked the candied orange, and frankly, after visiting three stores, I was done. The recipe calls for just 1 tablespoon of it chopped fine, so I improvised.  The dried Pineapple (soaked in a bit of lemon juice) that I had in the pantry worked really well (and paired with the rum nicely.) You can use other dried fruits if you prefer. The candied citrus will give it a very traditional flavor. You could also tuck a small amount of marzipan into the center of each ball.
As for the raisins, I soaked them overnight in the rum. And then, because there was a tiny bit of rum left in the bottom of the bowl, I just dumped it into my KitchenAid mixer with the raisins. Maybe that's what gave the dough a nice brown color? Before you panic about the kiddos eating something with alcohol… there were 4 tablespoons for the whole recipe of 50 bites… and it bakes off. If you are really worry, just plump your raisins in a bit of juice.
note- my dough looks browner than I expected, but I think that comes from the ground Almonds, the ones I used were ground with the skins on. It doesn't affect the taste at all, it just looks darker. Could also be from the extra rum…
Because I can't leave well enough alone, I topped my Stollen Bites three different ways.
1. With the Traditional Melted Butter and Powdered Sugar
2. With a Lemon Glaze and Sprinkles (note- I added the sprinkles because my daughter didn't want to accidentally grab a rum glazed one)
3.  With a Rum Glaze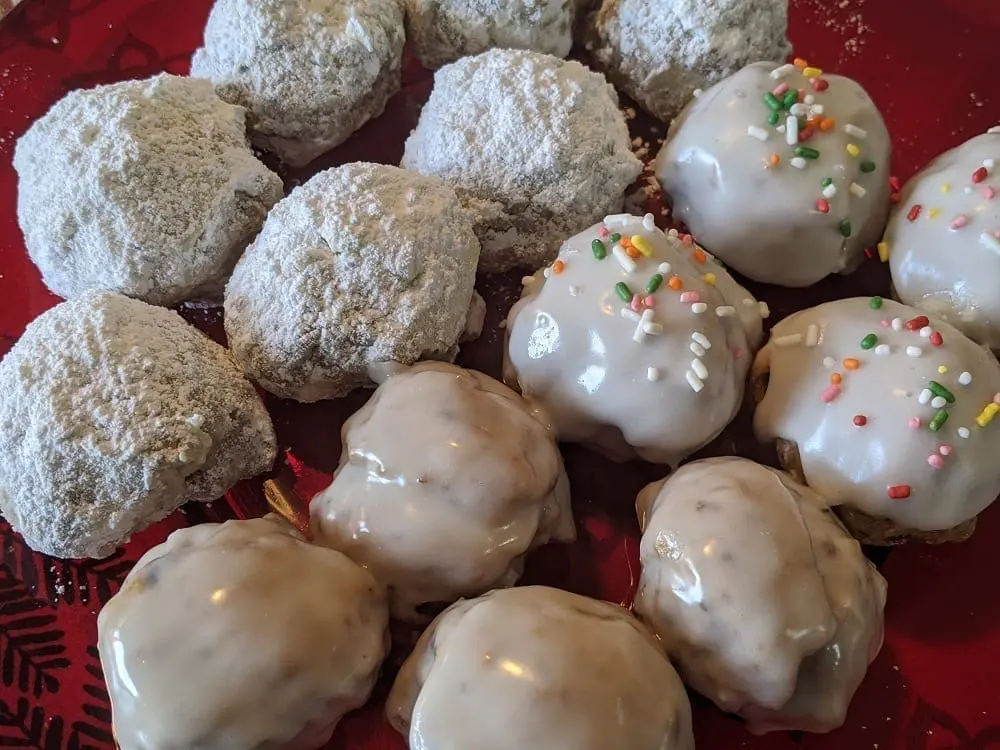 Obviously, the powdered sugar is how you see most Stollen. But these are more like a cookie, so why not make it fun? The Lemon Glaze add a nice tartness… and I'm a HUGE fan of Rum, plus, they it fit well with the rum raisins.
Pick one topping… or do all three. The recipe makes between 45 and 50 Bites. 
Stollen Bites Recipe
I actually prefer Stollen Bites to a Stollen... they are a quick mouthful of flavor, with no muss or slicing (and no plate!), just a welcome addition to the cookie plate. Try different flavors combinations!
Ingredients
1

Cup

150 gr Raisins

4-5

Tbl Rum

or apple juice

3 1/2

cup

500 gr Flour (plus a bit for the work surface)

4

Tbl Sugar

pinch

salt

2

tsp

Vanilla Extract

1/2

cup

PLUS 2 Tbl

150 gr Ground Almonds

2

Packets active Yeast

4 1/2 tsp

Just under 1 cup Milk

maybe 2 tablespoons less you want 200 ml- Warm

7/8

cup

200gr Butter (plus more for brushing) softened

1

Tbl Candied Orange Peel

chopped fine
plus:
1/2

cup

maybe 100 gr melted butter for brushing
Finishing:
Powdered Sugar

Lemon Juice OR Rum and Milk

decorations or spinkles if desired
Instructions
Soak the Raisins in the Rum (or juice)- you need to let them sit at least 2 hours (I just did it the day before and let them sit overnight).
Stollen:
In the bowl of your mixer-

Combine the flour, sugar, vanilla extract, pinch salt, ground almonds, and yeast. Give them a quick mix.

Add warm milk, softened butter, and raisins (I poured in the rest of the soaking rum too).

Mix the dough until it comes together.

Then in your mixer or by hand, knead for about 10 minutes.

Right at the end add the finely chopped candied citrus

Put the dough in a lightly oiled bowl, and let rise 1 hour in a warm place.
Shaping:
Prepare 2 baking sheets by covering with Parchment Paper

Pinch off a piece and make a ball around 1 inch across.

Set the ball on the baking sheet

Repeat 49 more times

Give them each at about an inch of space from the other.

When the first sheet is full, brush each ball with melted butter (yes, this happens BEFORE baking)

Bake 12 - 15 minutes. (I went 15)

While it's baking, prepare the 2nd pan.
Decorate/Finish:
Powdered Sugar- Dip the baked Bites in Melted Butter (Maybe 4-5 Tbl for 24 bites), then dip into a Bowl of Powdered Sugar (1-2 cups). Re-apply Powdered Sugar if needed before serving

Lemon Glaze- For 14-15 bites (double or triple as needed) Mix 1 cup of Powdered Sugar to about 2 Tbl Lemon Juice until smooth. (Add more powdered sugar or more lemon juice if needed. It needs to feel sort of thick like glue... but not too thick to dip) Dip each bite into the glaze and let drip on a rack. (Decorate with sprinkles if desired)

Rum Glaze- For 14-15 bites (double or Triple as needed) Mix 1 cup powdered sugar with 1 TBL Rum and 1 Tbl milk (I find that straight rum is just too much). Add more powdered sugar or liquid if needed. Dip bites into bowl and let drip on the rack.
Notes
You can change things up a bit if you like.
I've written instructions for different toppings, powdered sugar or glazed.
You can also mix in to the dough...
Cranberries- instead of or in addition to raisins
Dried Pineapple- diced fine
Dried Cherries- diced fine
Marzipan- stick a small ball of marzipan in the center of each bite before baking.
Easy German Cookbook
My Easy German Cookbook contains 80 Classic German Recipes. Recipes your Oma or Mama made, but never wrote down. Also find recipes perfect for the holidays like Roast Goose, Stollen, Rotkohl, and Klöße!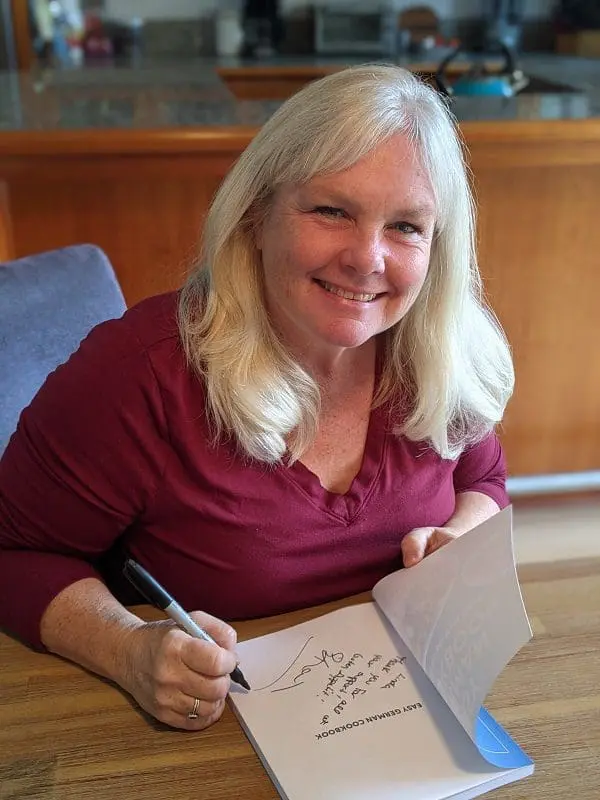 Easy German Cookbook SIGNEDGermanGirl Shop
Easy German Cookbook: 80 Classic Recipes Made Simple

Step by Step
Soak the Raisins in Rum at least 2 hours (I soaked them overnight)
Combine all the dry ingredients in the Mixer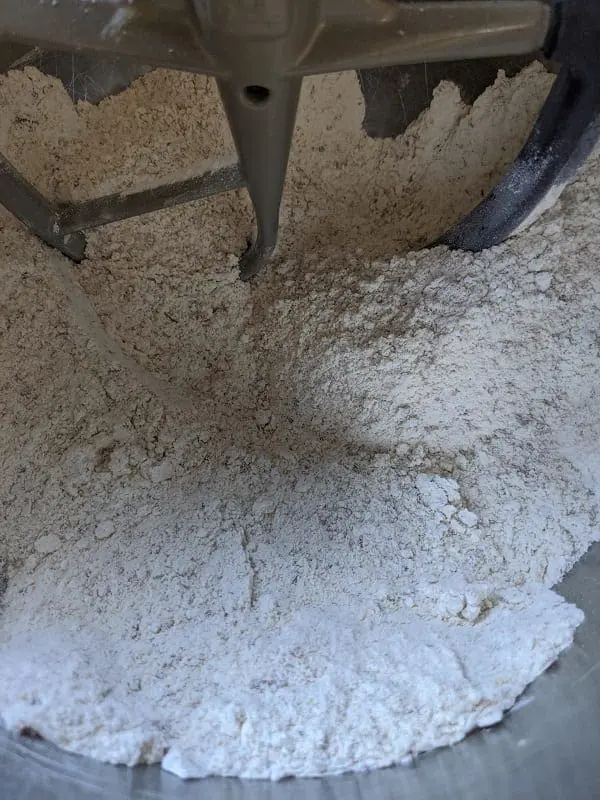 Add Milk, butter and Raisins (and rest of rum). Mix until it's a dough

Knead 10 minutes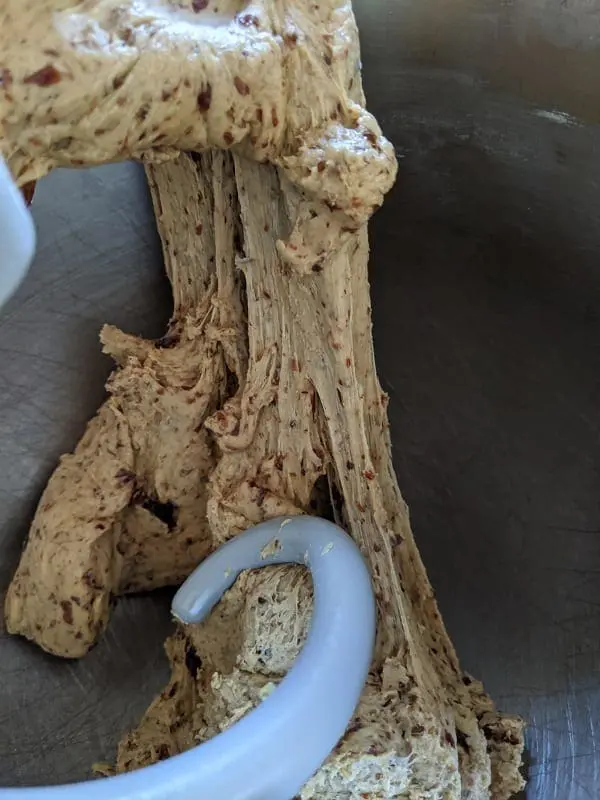 Add finely chopped candied Citrus (or whatever you like) , knead in until smooth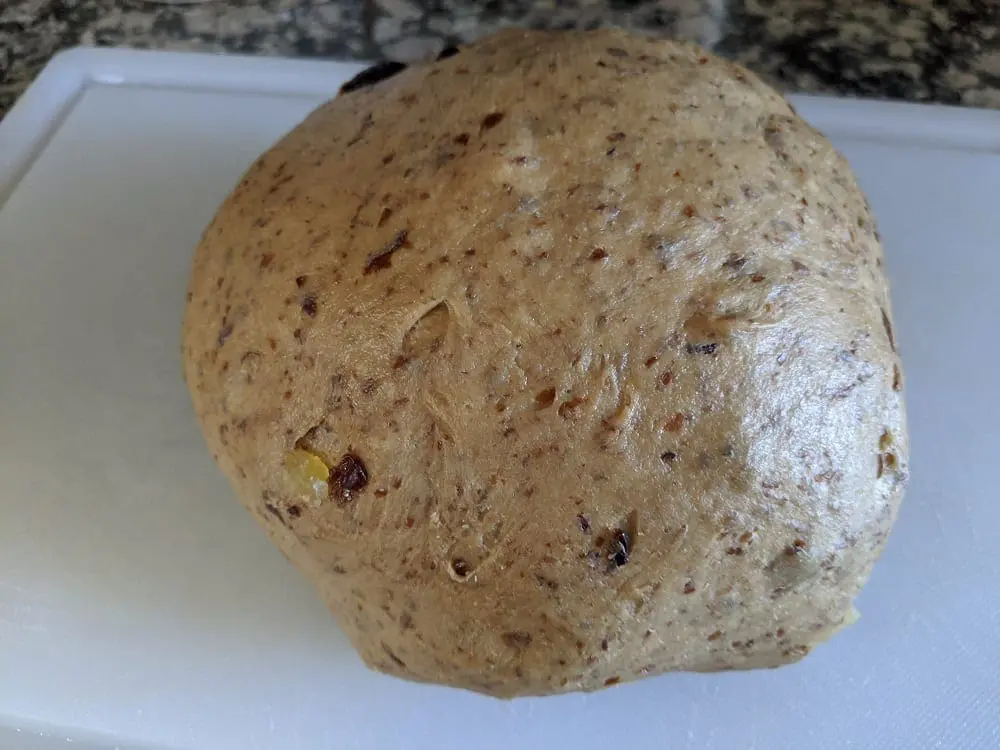 Let rise for 1 hour… give it an extra 20 minutes time if it's not rising
Cover baking sheet with Parchment Paper
Preheat oven 325 degrees F
Pinch off a small amount. You want to make balls around 1 inch in diameter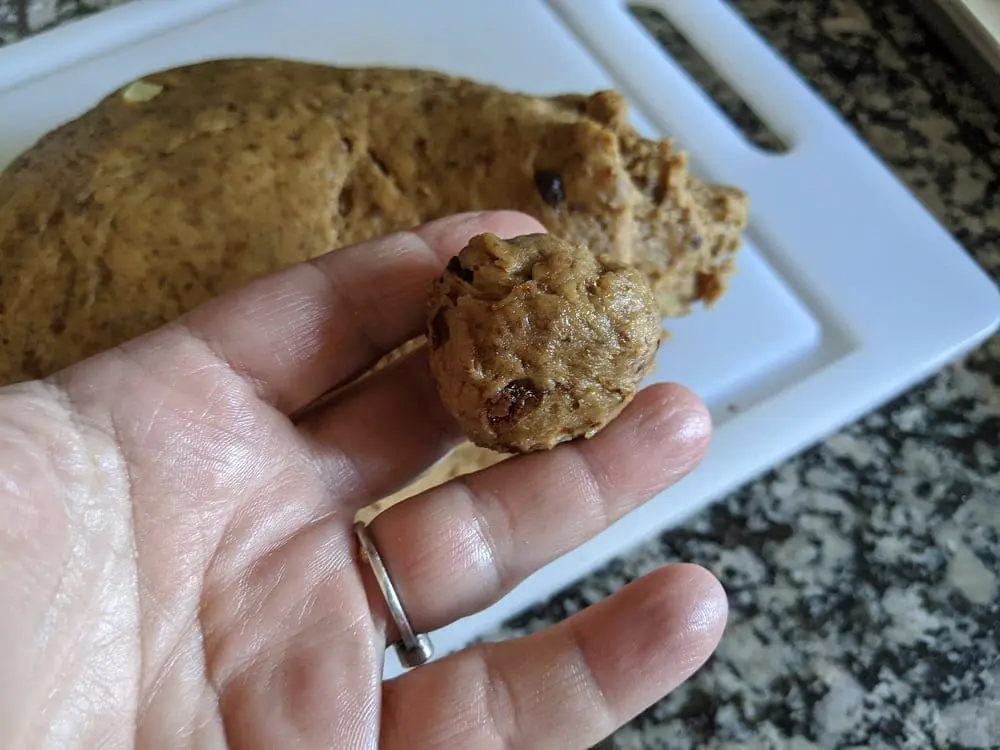 Brush the dough balls with melted butter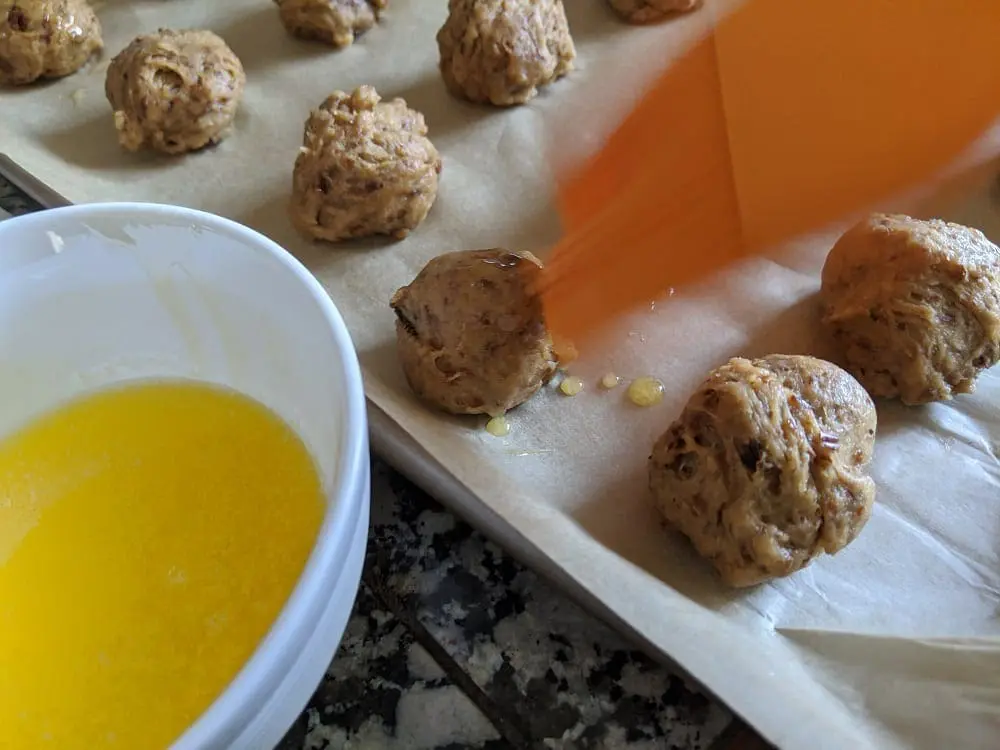 Bake 15 minutes… let cool on rack
FOR POWDERED SUGAR TOPPING
Set up your station- 
-naked bites on one side… melted butter and powdered sugar in bowls
-then a rack to catch the dipped balls
– I put the used parchment paper under the rack to speed clean up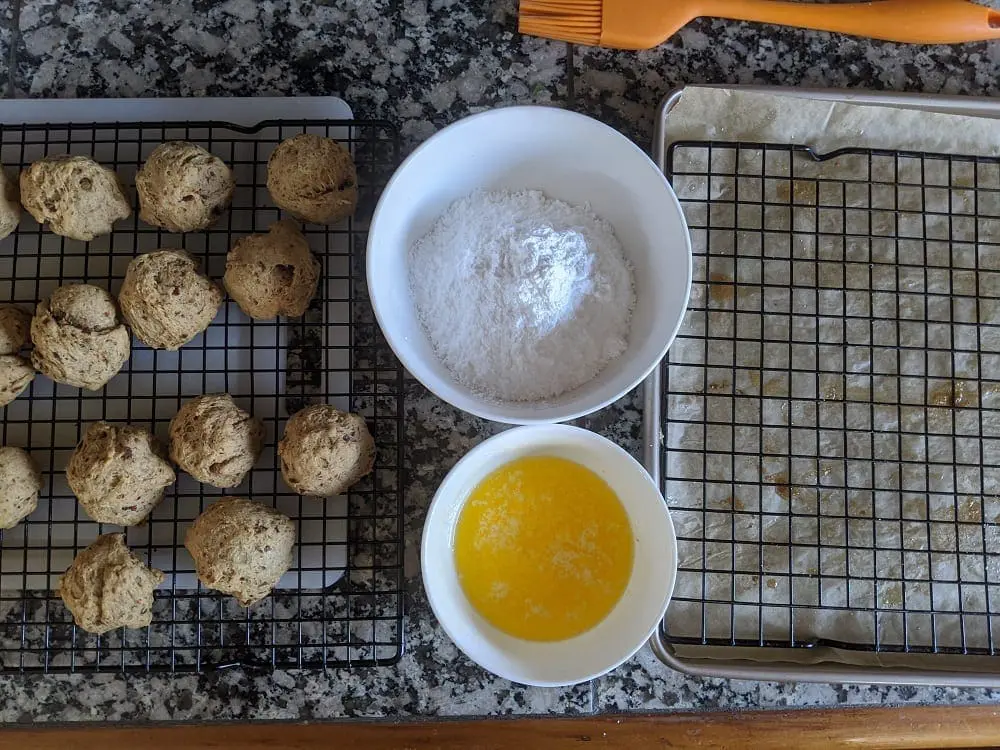 Dip a ball first in butter, then in powdered sugar
Rest on rack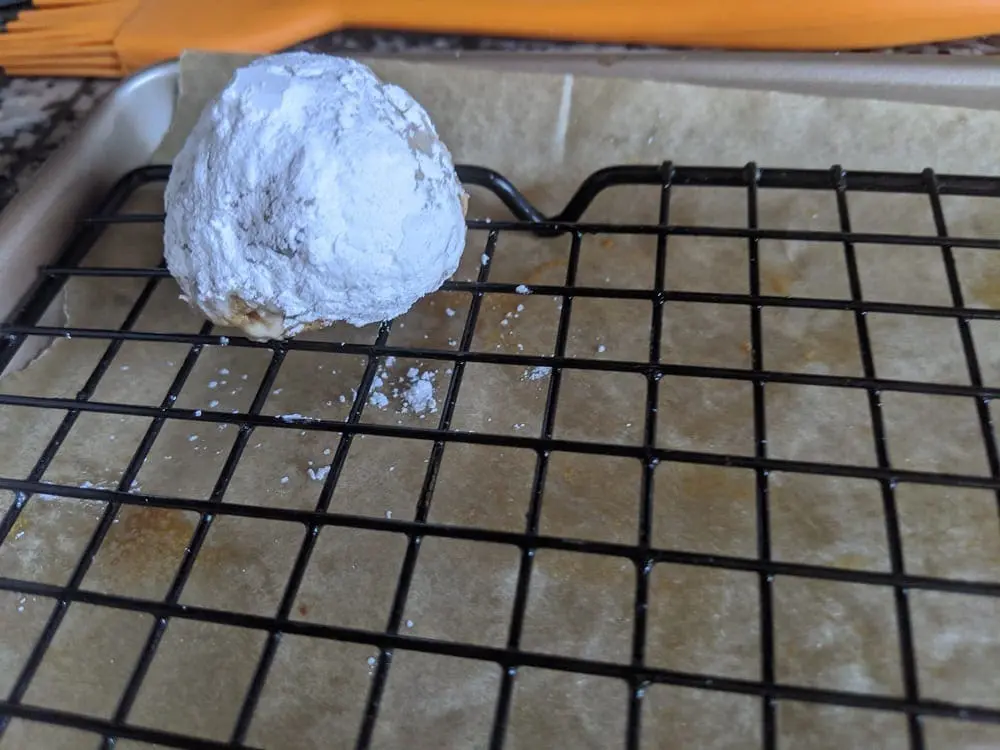 FOR LEMON GLAZE
mix lemon juice and powdered sugar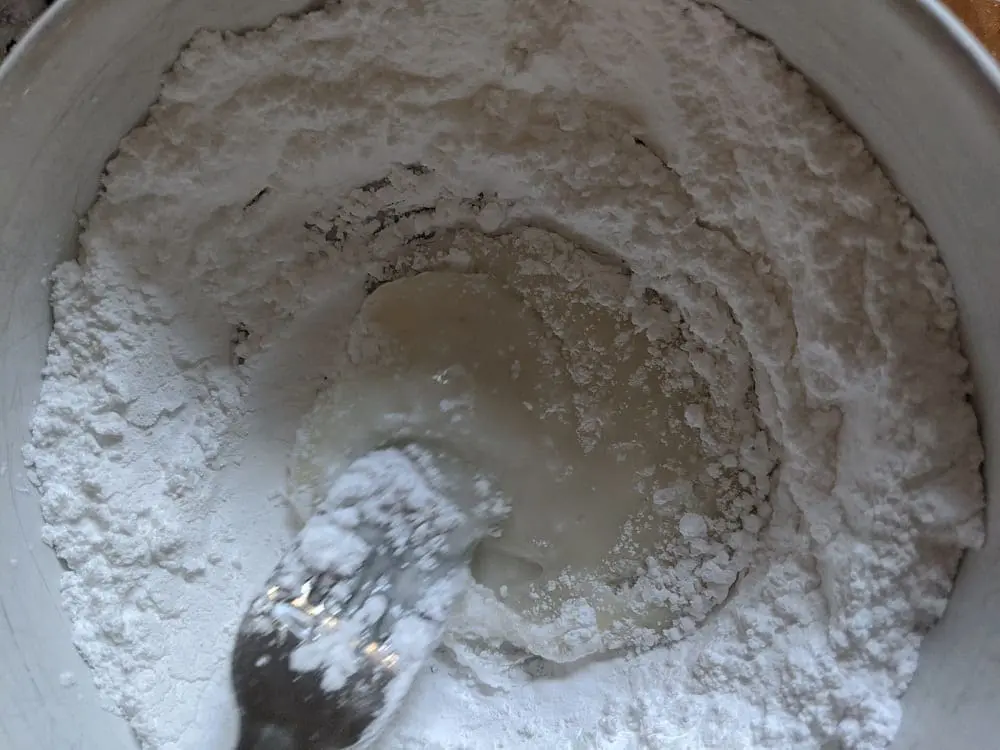 Dip stollen bites into glaze.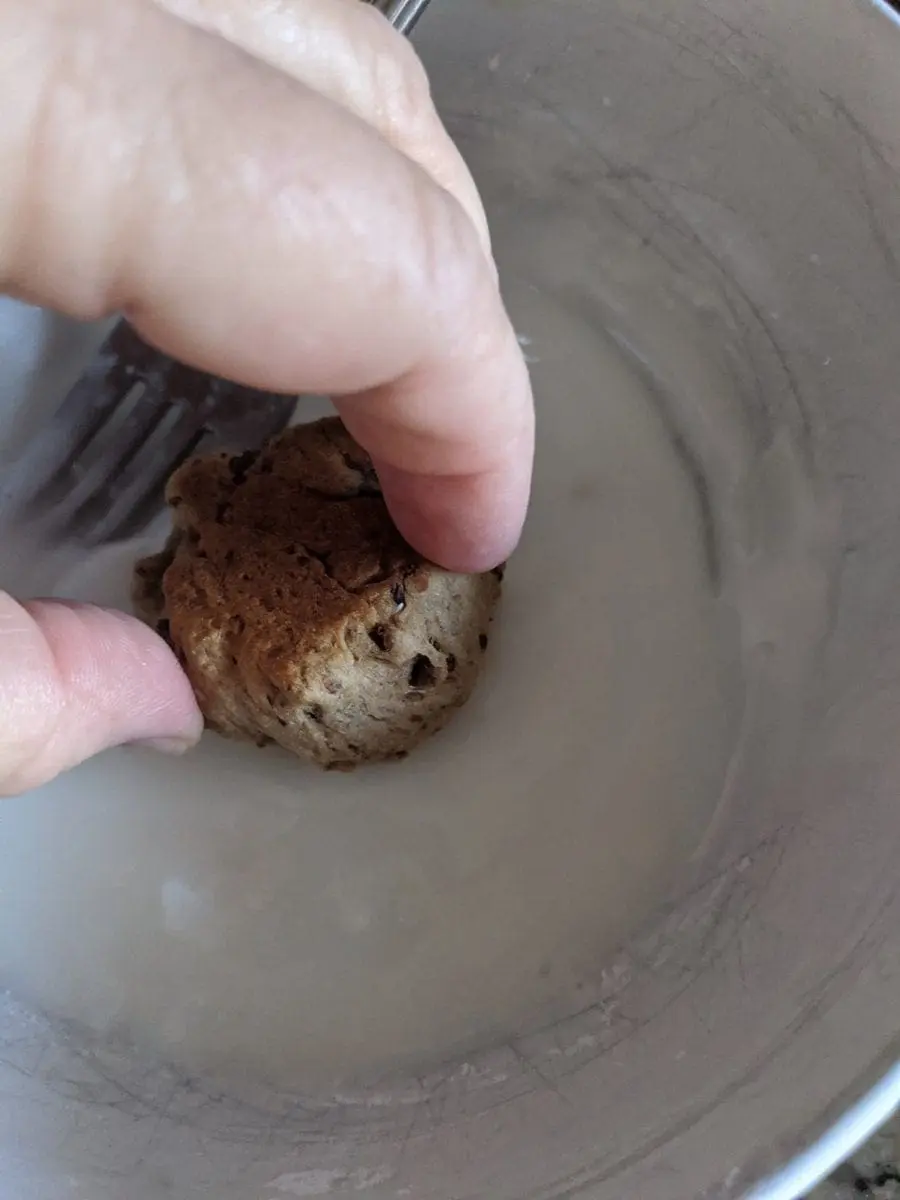 set on rack
before it dries, add sprinkles (if desired)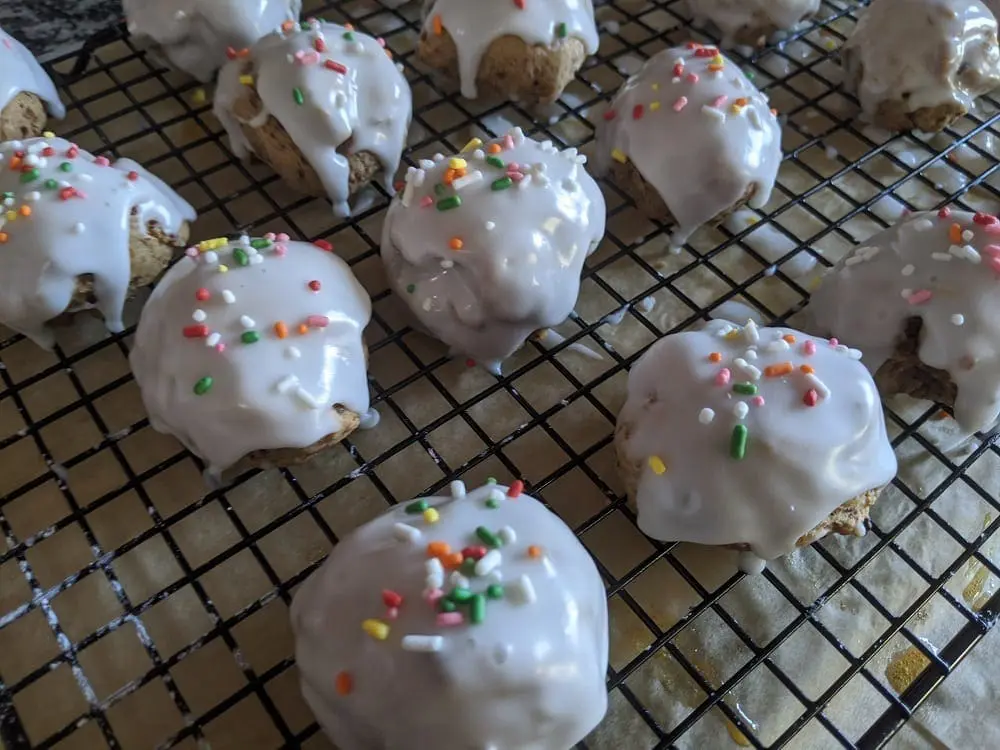 For Rum Glaze
same as Lemon…
Mix powdered sugar, rum and milk
Dip bites into glaze, then let sit on a rack
Enjoy Your Stollen Bites!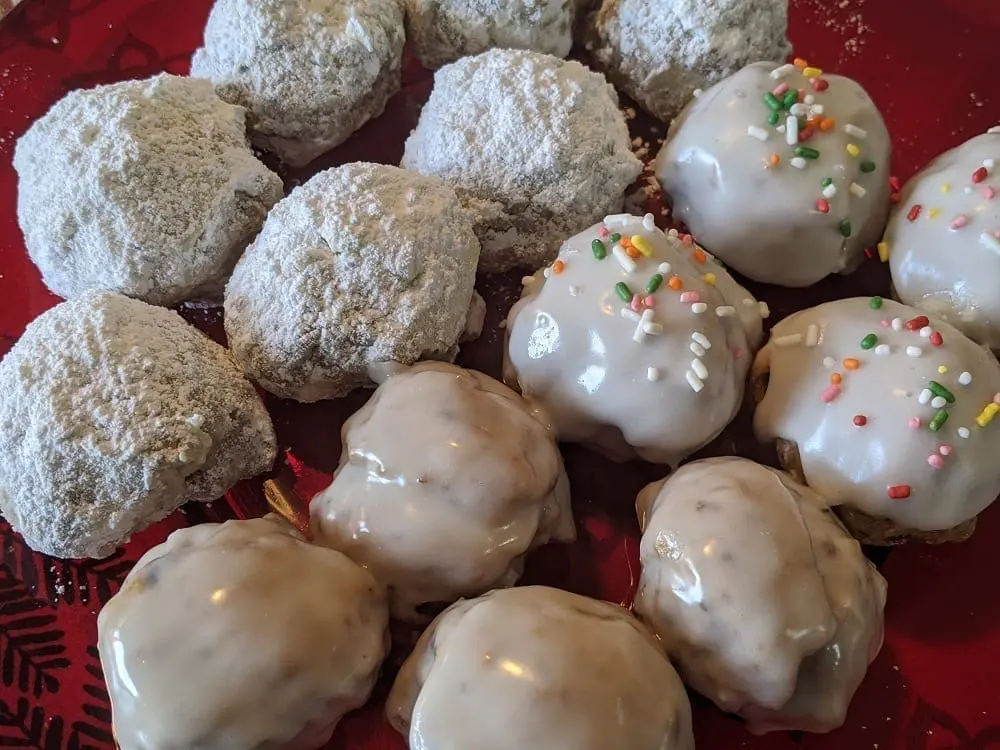 I'd love to hear about any yummy Stollen Bites combinations that you come up with!