Stollen Bites are a quick shortcut to Stollen, everyone's favorite German Christmas Bread. The Stollen Bites are a actually 2 or 3 bites of deliciousness! You can divide the dough into several pieces and try different additions… maybe balls of Marzipan? How about dried Cherries or Cranberries?
And then top the Stollen Bites any way you like!
Traditionally Stollen is covered in powdered Sugar, but why not try a lemony glaze? Or RUM!
Play with this recipe. I know it will become a new favorite in your house too!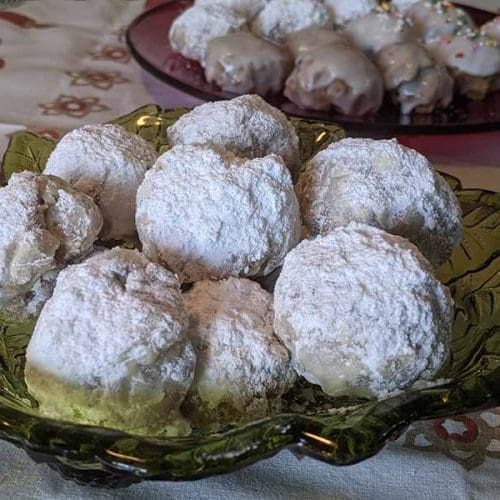 Stollen Bites Recipe
Stollen Bites are bite sized Stollen, more like a quick snack, and perfect with a cup of coffee
Ingredients
1

cup

Raisins

soak raisins in rum or juice for at least 1 hour

4-5

Tbl

Rum (or Apple Juice)

3 1/2

cup

All purpose Flour

4

Tbl

Sugar

pinch

Salt

2

tsp

Vanilla Extract

1/2

cup

Ground Almonds

2

Pkts.

Dried Yeast

4 1/2 tsp

1

cup

Milk

warm

1 1/4

cup

Butter

7/8 cup for Dough, rest for Brushing

1

Tbl

Candied Orange Peel

1-2

Cup

Powdered Sugar

spinkles

lemon juice

rum
Instructions
Prepare Raisins early

Soak the Raisins in the Rum (or juice)- you need to let them sit at least 2 hours (I just did it the day before and let them sit overnight).

In the bowl of your mixer-

Combine the flour, sugar, vanilla extract, pinch salt, ground almonds, and yeast. Give them a quick mix.

Add warm milk, softened butter, and raisins (I poured in the rest of the soaking rum too).

Mix the dough until it comes together.

Then in your mixer or by hand, knead for about 10 minutes.

Right at the end add the finely chopped candied citrus (or other dried fruits)

Put the dough in a lightly oiled bowl, and let rise 1 hour in a warm place.

Preheat oven to 325 F

Prepare 2 baking sheets by covering with Parchment Paper

Pinch off a piece and make a ball around 1 inch across.

Set the ball on the baking sheet

Repeat 49 more times

Give them each at about an inch of space from the other.

When the first sheet is full, brush each ball with melted butter (yes, this happens BEFORE baking)

Bake 12 - 15 minutes. (I went 15)

While it's baking, prepare the 2nd pan.

Repeat what you did before

Decorate / Finish

Powdered Sugar- Dip the baked Bites in Melted Butter (Maybe 4-5 Tbl for 24 bites), then dip into a Bowl of Powdered Sugar (1-2 cups). Re-apply Powdered Sugar if needed before serving

Lemon Glaze- For 14-15 bites (double or triple as needed) Mix 1 cup of Powdered Sugar to about 2 Tbl Lemon Juice until smooth. (Add more powdered sugar or more lemon juice if needed. It needs to feel sort of thick like glue... but not too thick to dip) Dip each bite into the glaze and let drip on a rack. (Decorate with sprinkles if desired)

Rum Glaze- For 14-15 bites (double or Triple as needed) Mix 1 cup powdered sugar with 1 TBL Rum and 1 Tbl milk (I find that straight rum is just too much). Add more powdered sugar or liquid if needed. Dip bites into bowl and let drip on the rack.
Notes
Stollen Bites will improve in flavor over a few days. Store air tight.
You can freeze them in an Air Tight Container.