Who says kids get to have all the fun? No matter how old I am, I want to have an Advent Calendar. Fortunately, there are Advent Calendars for Adults! Now, some of these require a little bit of "out of the box" thinking… others are straightforward. But there really is something for everyone.
Naturally, there are chocolate Advent Calendars, with the "good" chocolate you don't want to share with the kids. You'll find teas & coffee, beef jerkey, seasonings, and jam for food lovers. There's even a daily spice mix calendar for the chefs in your world. There are mystery games, puzzles. You'll find Advent Calendars with Fishing Tackle and Golf supplies.
For the person who loves to relax or can use a bit of self-care, there's make up, or a daily bath bomb to get through the stress of December. And naturally, delicious-smelling candles.
All are a wonderful way to count down to Christmas… like a little reward every day for getting through the hectic holiday season.
Wine or Spirits Advent Calendar
This cute tree holds 24 mini bottles (not included) of spirits or wine. One per day until the big day! (That's one way to cope with holiday stress) The tree can be personalized, and re-used year after year (or every month, no one is judging). Find a bigger selection of Wine and Beer Advent Calendars here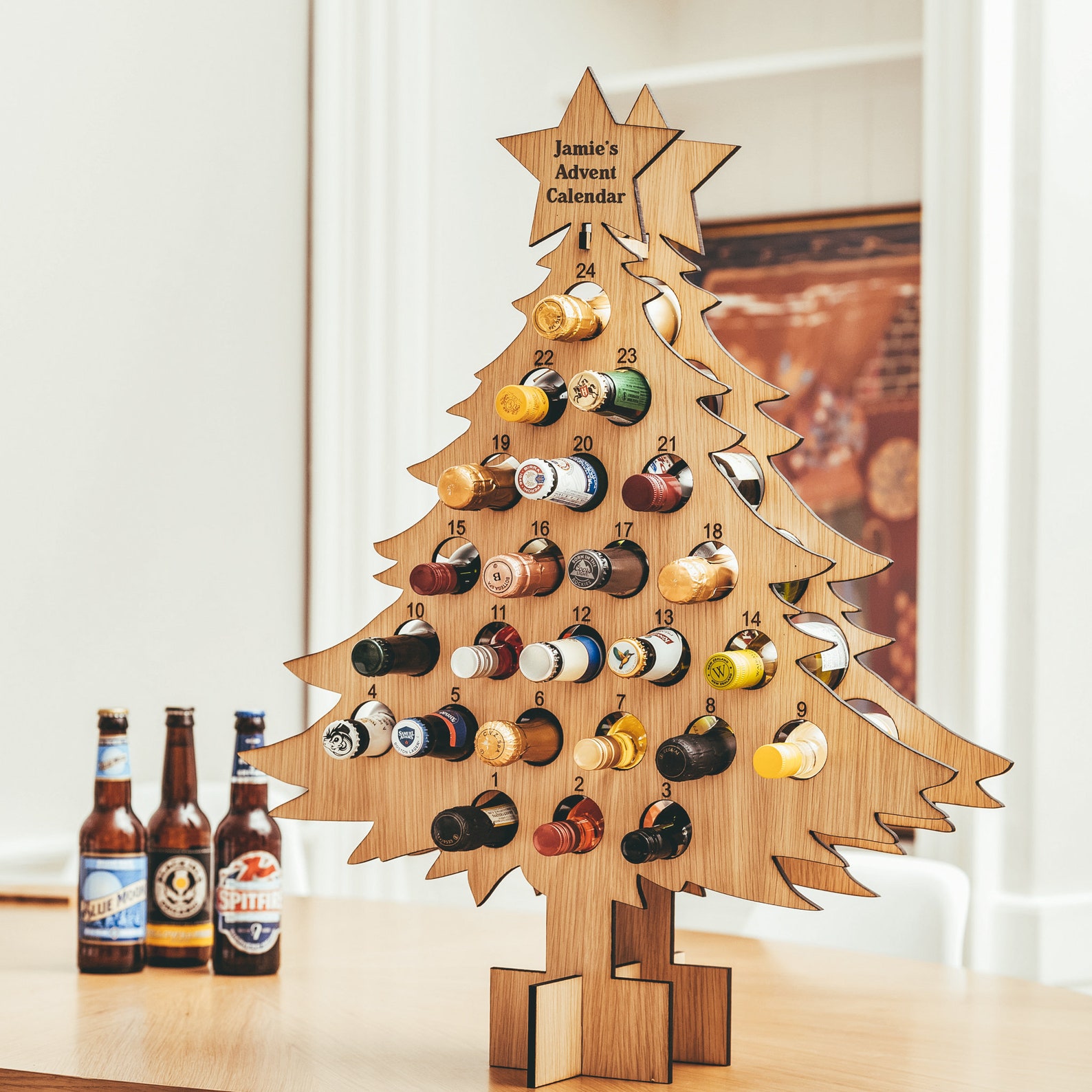 Personalised Oak Advent Calendar for Drinks Christmas Tree Advent Calendar Alcoholic Bottles Beer Wine Gin Prosecco Champagne Countdown

Bavarian Beer Advent Calendar
Ships from Germany to the US!
Bayerischer Bier Adventskalender • Regionale Biere von Traditionsbrauereien • Bayern Bier Kalender • 23 bayerische BiereBavaria Shop
30 Days of Mixology
(and it's ON SALE) Our Christmas Cocktail Countdown Calendar was so popular, we decided to make one for folks to enjoy any month of the year. Learn to mix 30 classic cocktails in 30 days.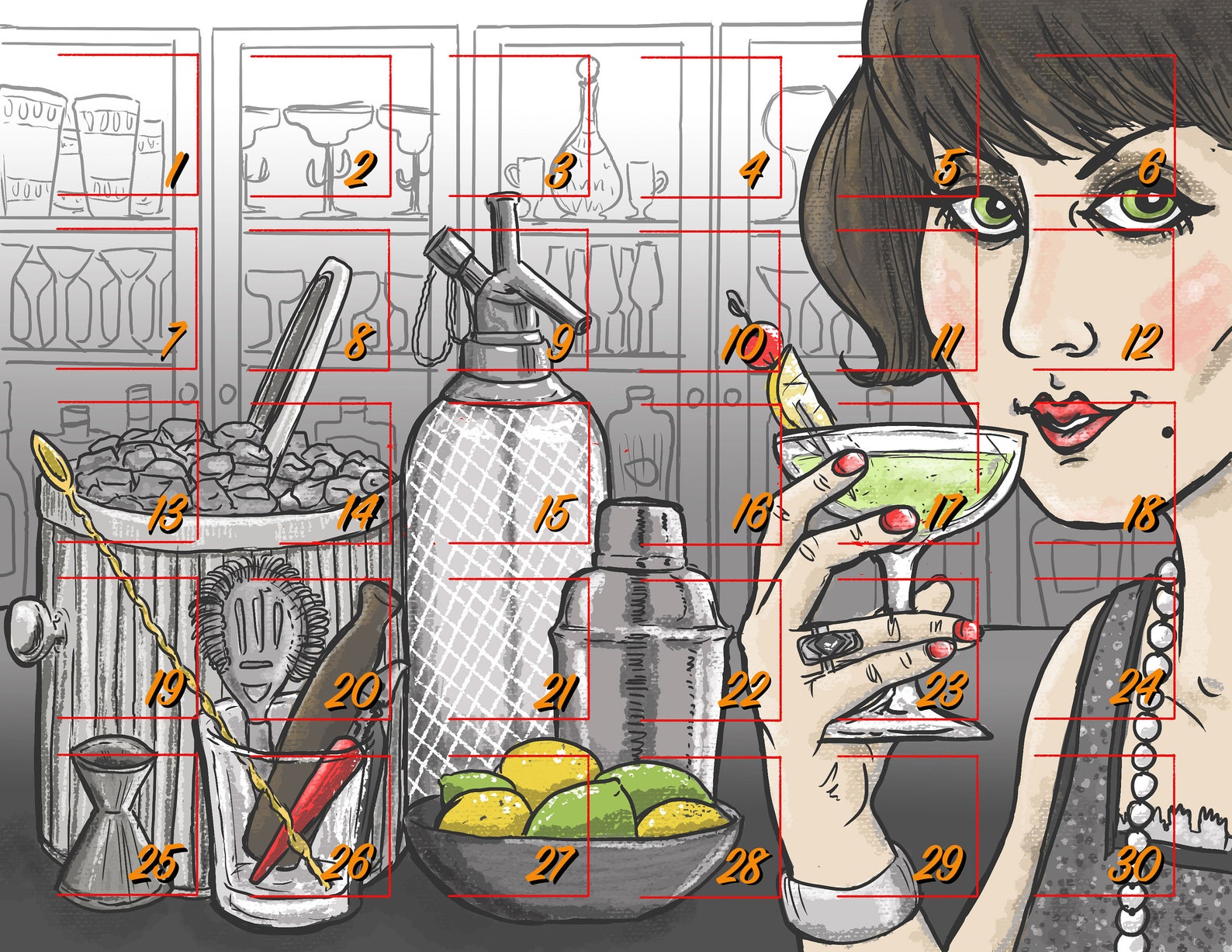 30 Days of Cocktails Mixology Calendar

Advent Calendar for Chefs
Know someone who loves cooking or trying new foods? Behind each door of this Advent Calendar  you'll find a sample packet of seasoning or spice mix… the perfect thing for experimenting with new flavors! Find more food gifts here.
Herbs And Spices Advent Calendar 2021-24 Mini Spice Jars Food Advent Calendar Cooking Kitchen Christmas Adult Gift For Chef Advent Calendar For Men Women

Baking Advent Calendar
24 Recipes to bake up during the holiday season!
Christmas Baking Advent Calendar 2023: 24 Days of Festive Delights

Vegetable Garden Advent Calendar
Here is an advent calendar with unusual seeds! Every day, share a good time by opening a box to discover the many surprises hidden there… old and original vegetables. This calendar is designed to have a vegetable garden like no other and within everyone's reach! You will find basic seeds such as radish and leek but also new seeds such as pineapple melon, zucchini coutors, white kohlrabi etc.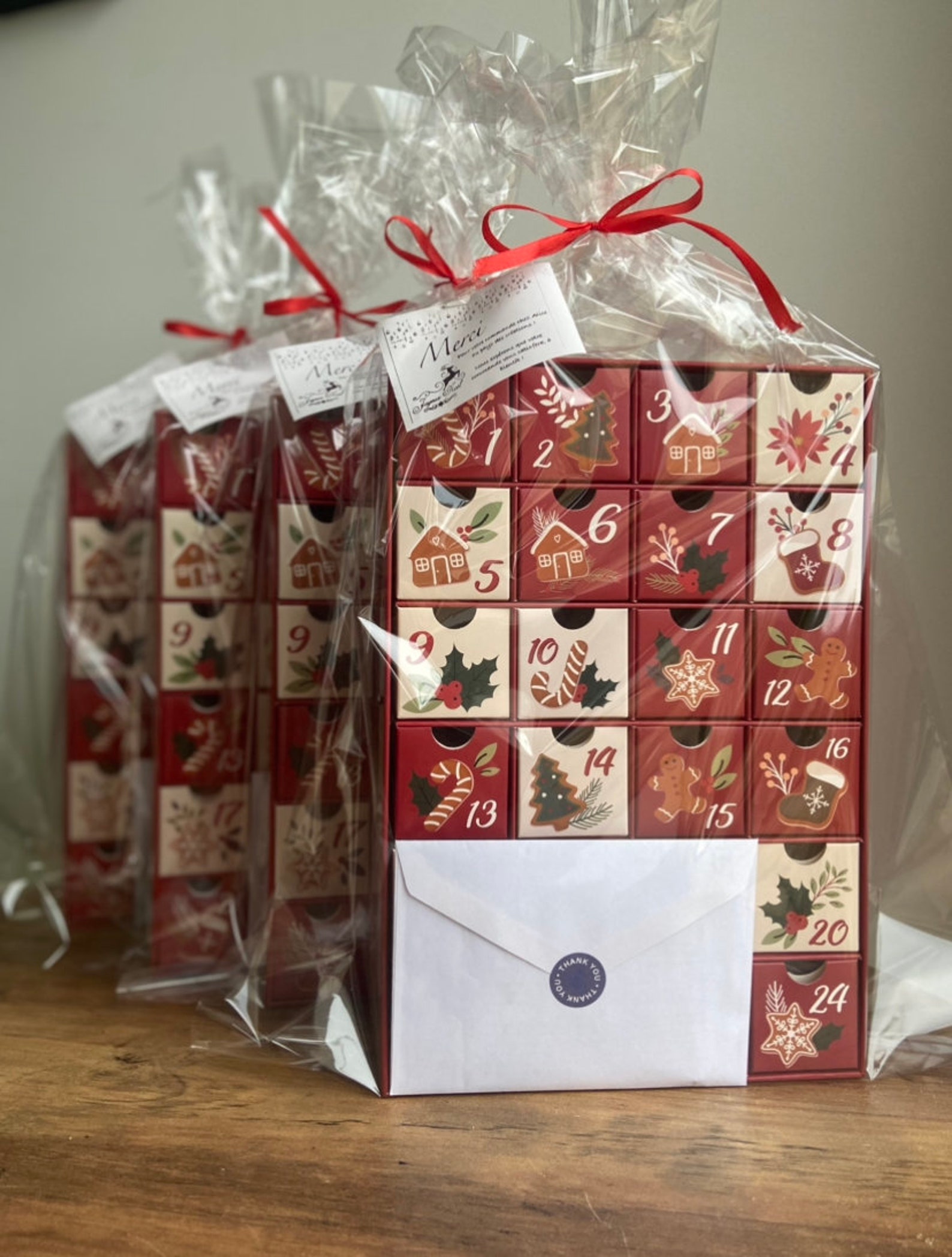 Special vegetable garden advent calendar

Seeds Advent Calendar
This gift is for aspiring gardeners, avid gardeners, and everyone in-between. This seed advent, or 'seed-vent' calendar – includes 24 mini glass bottles, labeled and corked + full of an array of seeds including heirloom vegetable, herbs, and flowers seed the bees will be buzzing about.
Homeworx 12 Days of Scents
Blue Spruce, Frosted Berry, Winter Frost, Christmas Tree, Sugar Cookie, White Pine, Gingerbread Spice, Holiday Cheer, Cinnamon Wreath, Winter Night, Peppermint Swirl, Winter Apple Toddy… all burn for 6 hours!
12 DAYS OF SCENTS ADVENT CALENDARSlatkin & Co.
Snarky fun Candles
We all have that friend who needs one of these…. 24 candles with fun names and delicious scents.
Movie Countdown!
This cute box comes with 24 suggestions for Holiday films, along with trivia about the movie. Box can be personilized!
Christmas Advent Calendar for Adults, Family Movie Advent Calendar for Him or Her, Film Christmas Countdown Box Ideas Advent UK 2021

Chocolate Advent Calendar for Adults
Chocolate Advent Calendars for kids are everywhere… but adults have a more sophisticated palate (or, we like to keep the good stuff for ourselves). Fortunately, Godiva makes Advent calendars for grown ups, with nuts, mousse, and richer flavors  Find more Chocolate Advent Calendars here 
Godiva Chocolatier 2023 Deluxe Snowglobe Advent Calendar – Limited Edition 24-Piece Dark Milk and White Chocolate Assortment with Almonds, Caramel, and Mousse – 16.2 Ounce Holiday Gift Box

Krampus Advent Calendar
Are you someone who would rather be naughty than nice? A Krampus Advent calendar counts down the days with the monsters of Christmas. Who knew there were so many? Find a few more Krampus calendars here.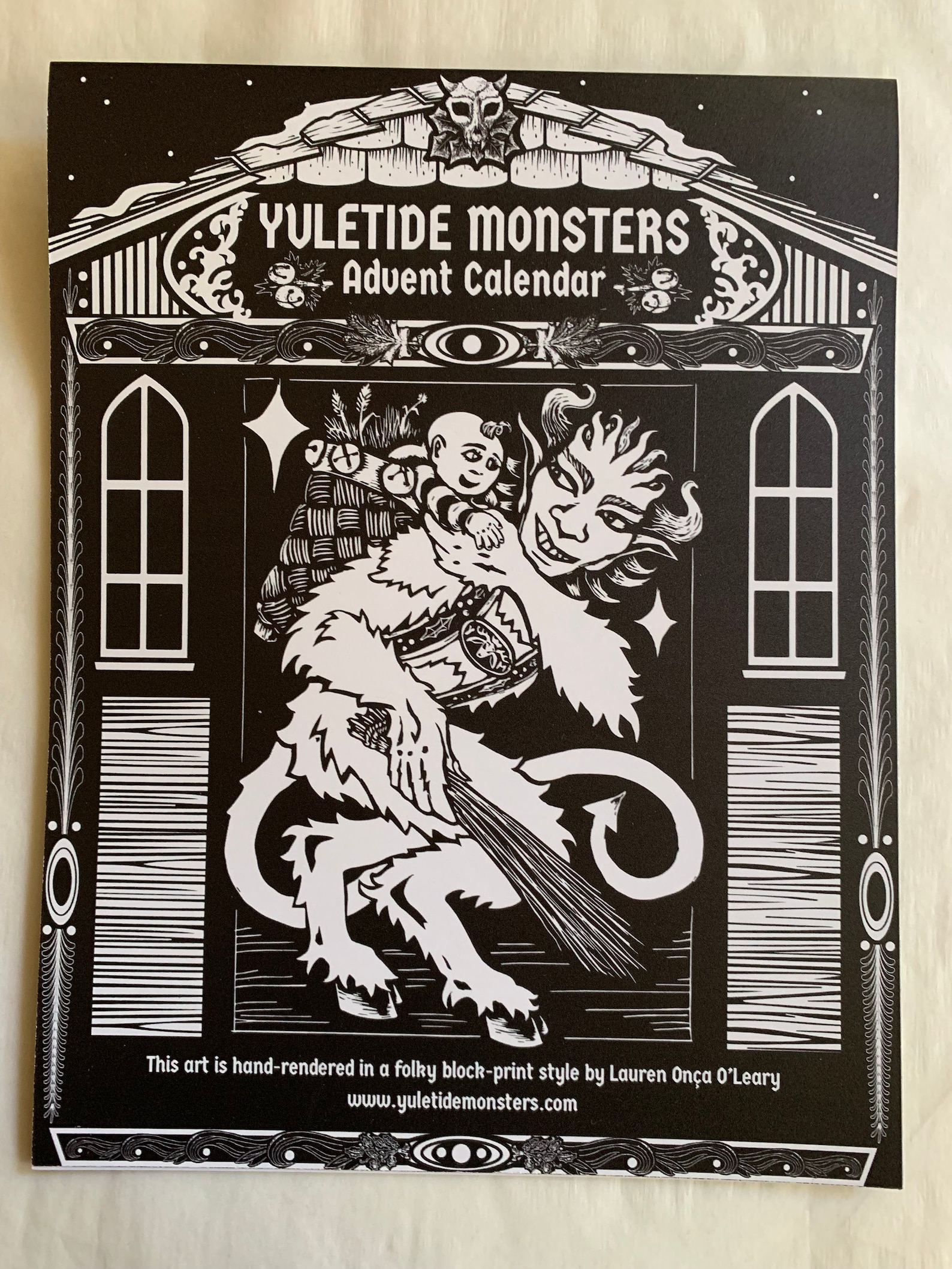 The Yuletide Monsters Advent Calendar

Marzipan Advent  Calendar
Top of the line Marzipan from Cafe Neideregger
Niederegger Marzipan – Cafe Niederegger Advent Calendar – 525 g/18.67 oz

Virginia's nature work Culinary Adventure Calendar
Every person & moment is special, individual and unique! Our elegant Advent calendar also fits this motto. This is lovingly stocked with our healthy and high-quality natural products. Health is the priority here because it is our greatest asset. The calendar is filled with natural salts, vinegars, special jams and more.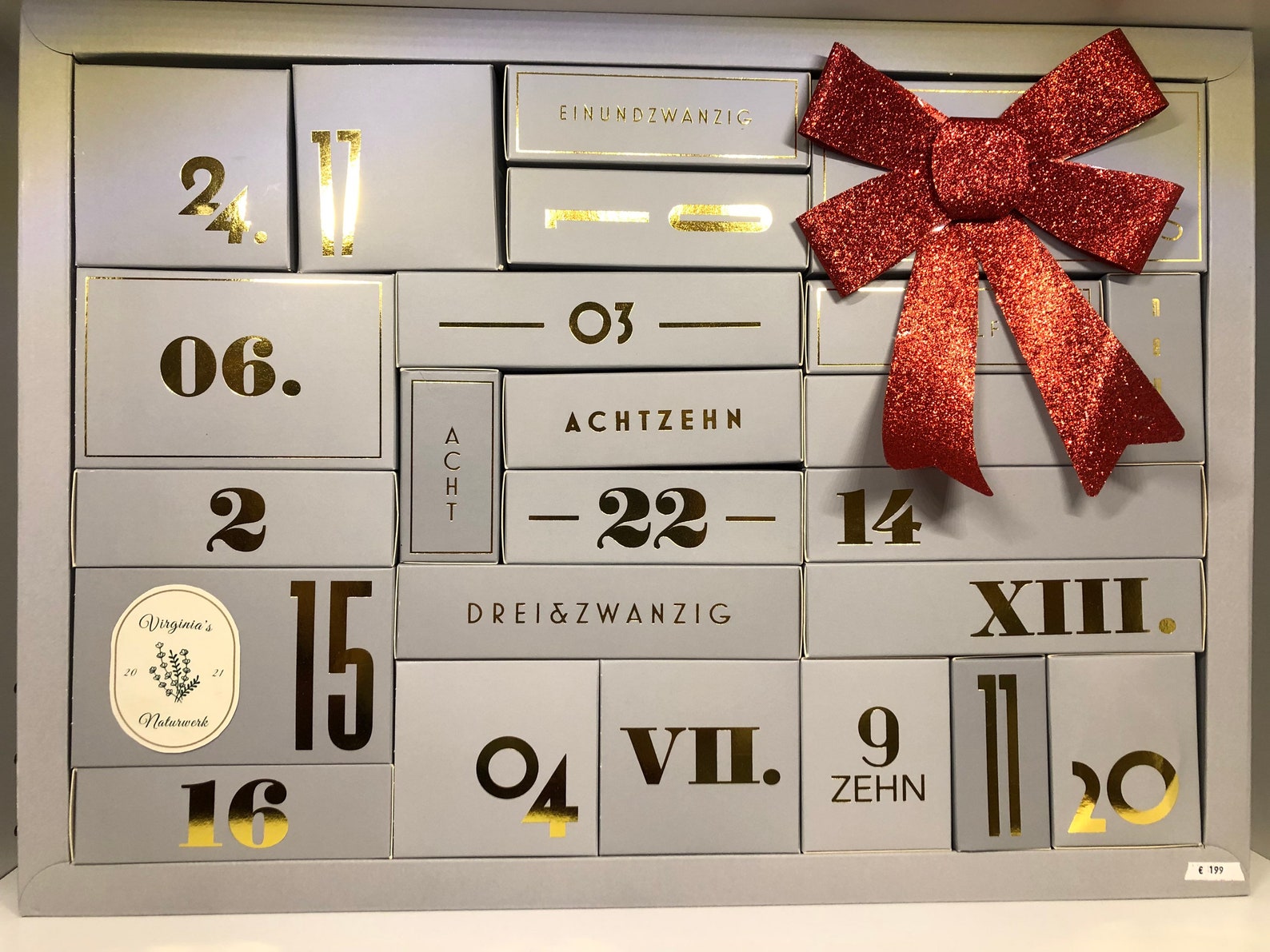 Culinary Advent calendar for special people & moments | Christmas 2023 | Virginia's nature work

Tea Advent Calendars
A different tea for every day in December in the lead up to Christmas means a few minutes break every day to try something new.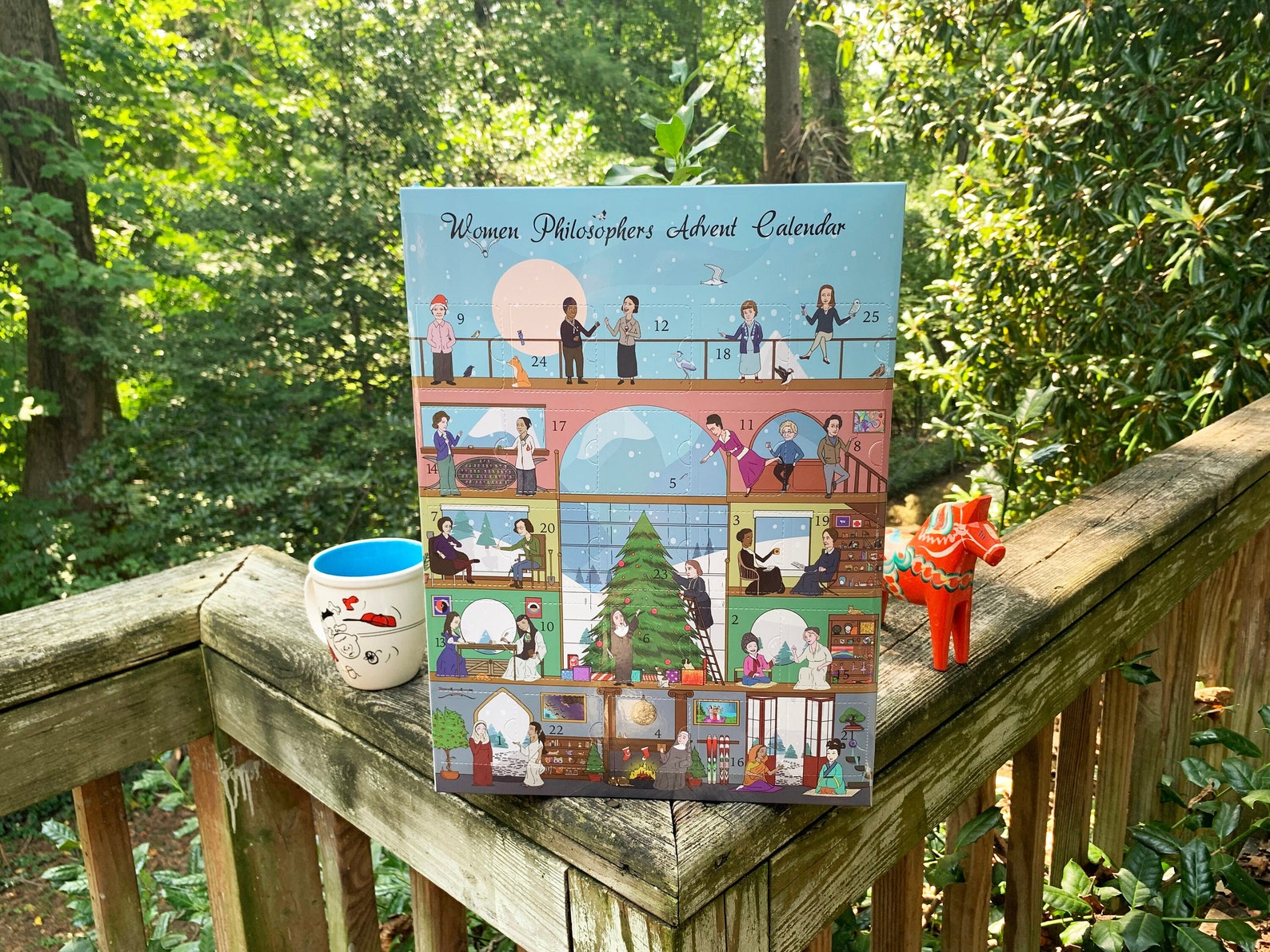 Women Philosophers Advent Calendar Tea Box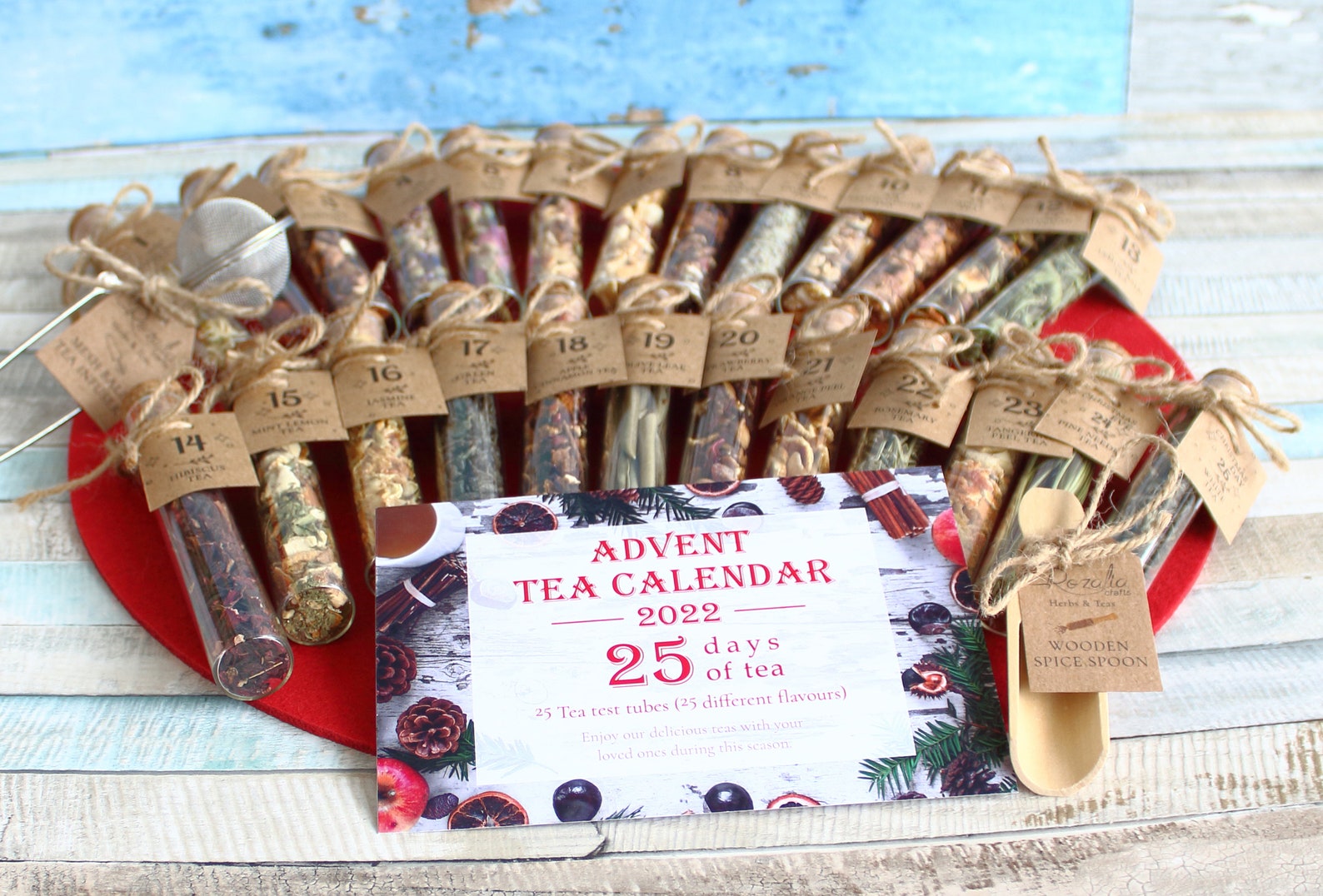 25 Days of Tea, Tea Advent Calendar 2022, Organic Tea, Countdown To Christmas, Advent for Adults, Mindfulness Christmas Gift, Advent Box

Tea Forte Warming Joy Tea Advent Calendar, Holiday Tea Gift Set of 24 Pyramid Infuser Tea Bags with Numbered Calendar, Variety Pack of 24 Assorted Premium Loose Leaf Tea Bags

Teekanne Adventskalender Tee 2022, mit 25 erlesenen Sorten, 56 gAMAZON.DE
Coffee Advent Calendars
Because Christmas is hectic… daily coffee will help
Coffee Advent Calendar 2023 Christmas |24 Days Flavoured Ground Coffee Gift Set Christmas Coffee Gifts For Men & Women, French Vanilla Coffee Hazelnut Irish Italian Cinnamon Coffee Christmas Gifts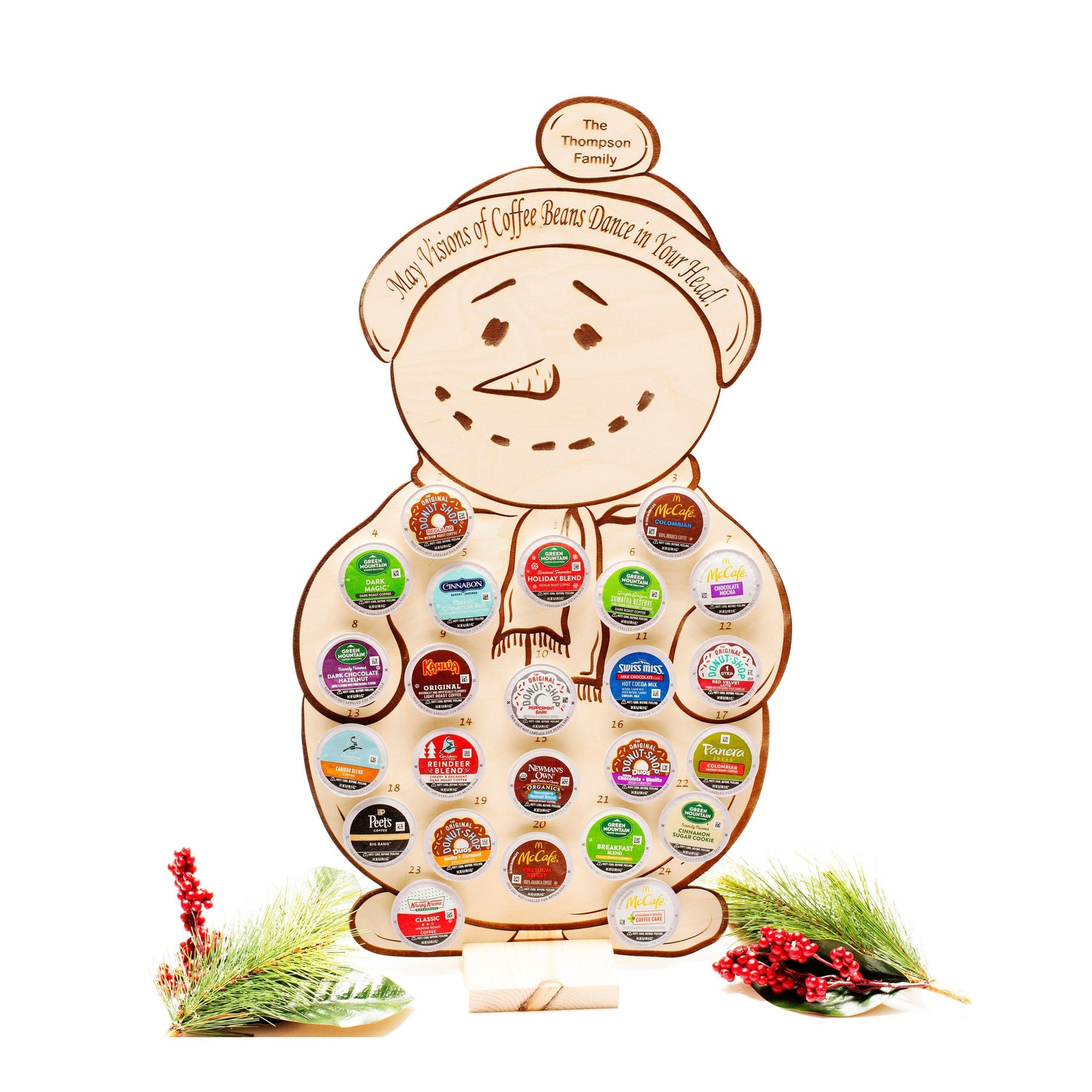 K- Cup Advent Calendar – Coffee Pods ARE included! | Personalized Coffee Pod Holder Snowman

Cocoa Advent Calendar
End every day in December with a cozy cup of hot chocolate!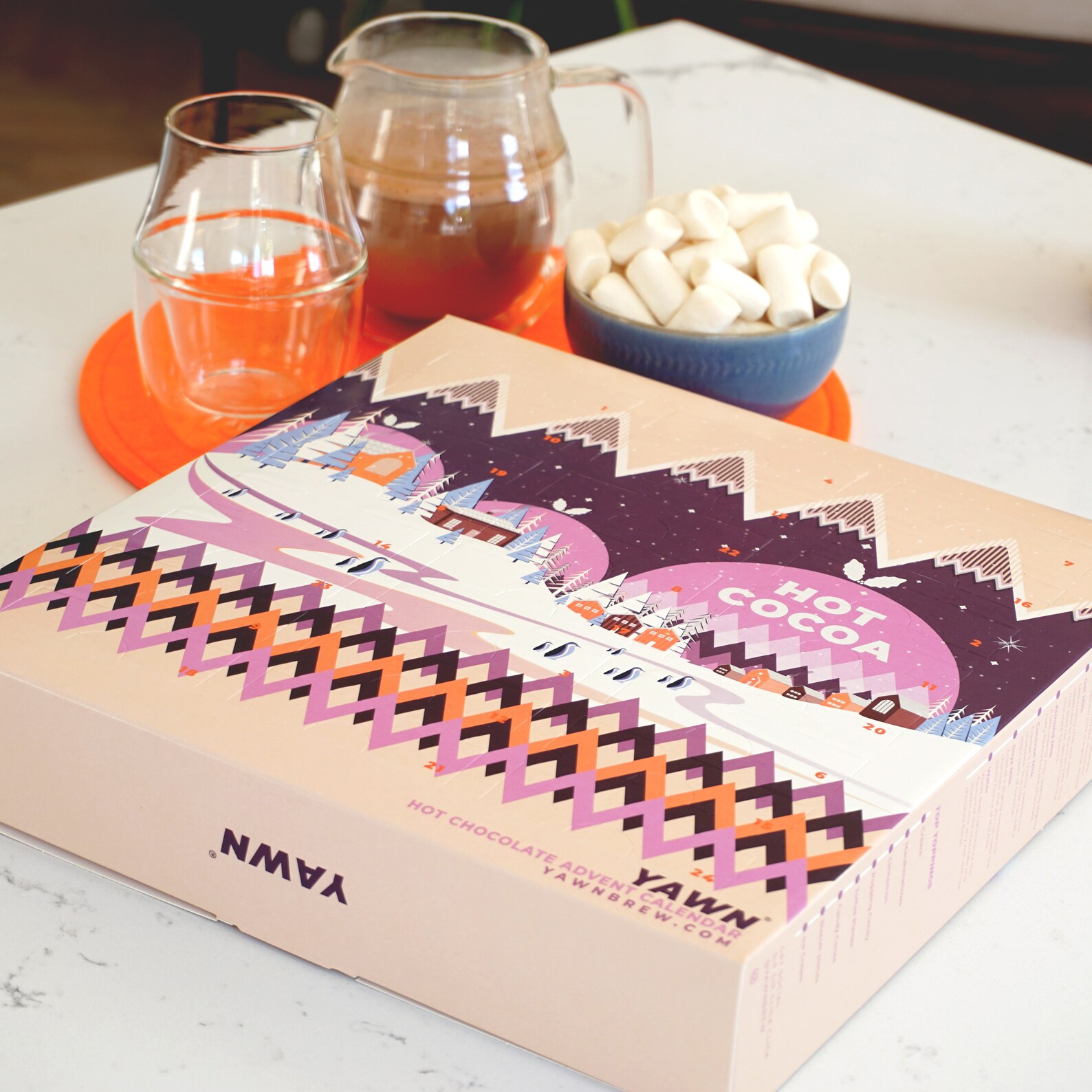 Hot Chocolate Advent Calendar 2023 | Real flakes of Silky Smooth Drinking Chocolate

Christmas Sampler Gift 12 Days of Cocoas (Hot Chocolate) Advent Calendar Gourmet Gift Box Set Flavored Cocoa – Best Xmas Present For Friends, Family, Corporate, Client, Coworkers, or Teachers (Cocoa)

Beef Jerky? Why not?
Some people prefer the savory salty snacks… so why not indulge daily with a beef jerky countdown?
Man Crates Jerky Advent Calendar Featuring

Nickel & Suede Advent
The Nickel & Suede Advent Calendar is a limited-edition holiday set featuring twelve must-have accessories including nine exclusive items. Our Advent Calendar comes in special edition embossed packaging, ideal for gifting or storing your N&S favorites. A $270 value!
2023 ADVENT CALENDARNickle & Suede
Self Care Advent Box
This Advent Calendar Gift Box is the perfect way to count down the days to Christmas, bringing you a daily dose of pampering and self-care. With a delightful assortment of luxurious products, each day brings a new surprise to make your holiday season even more special.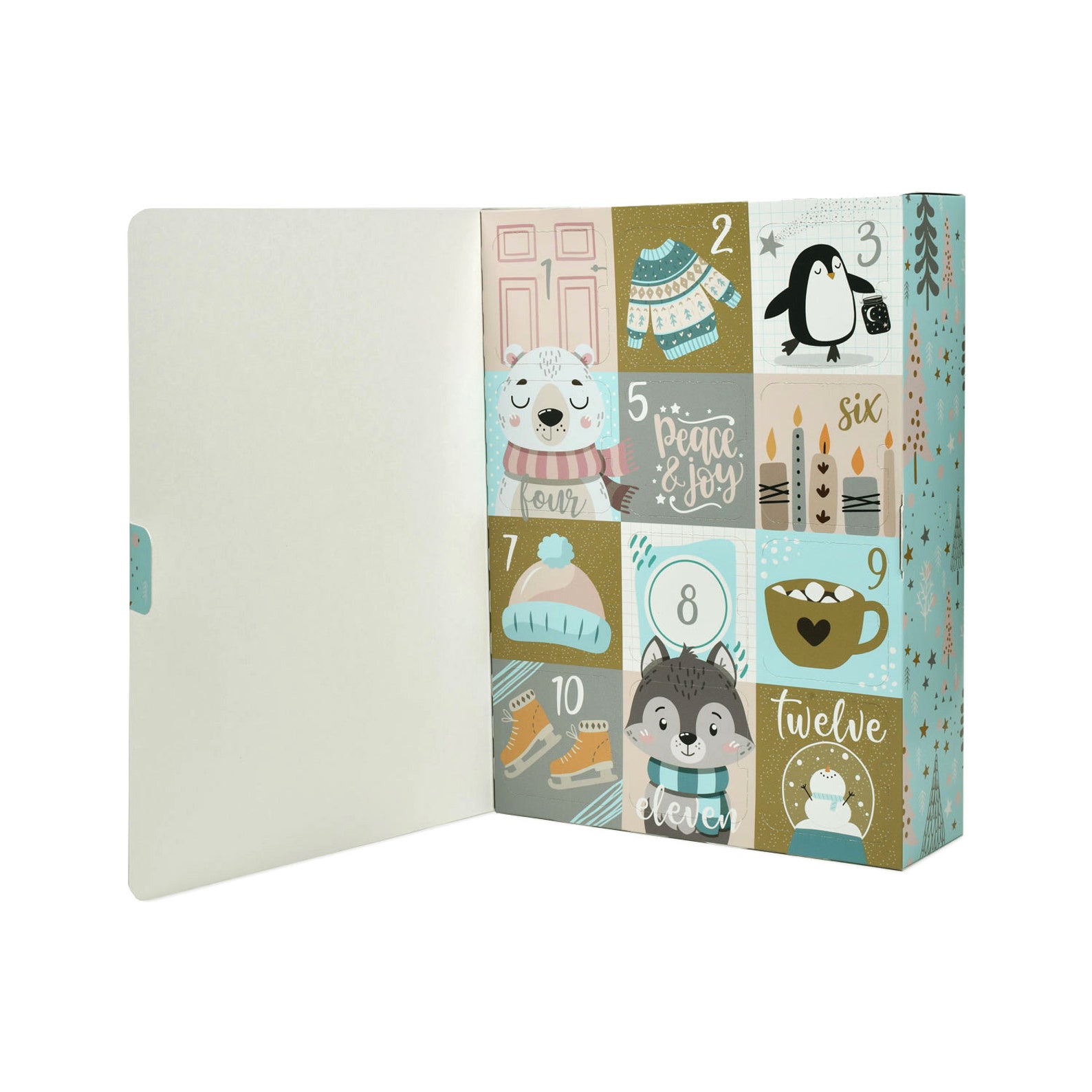 Christmas Advent Calendar Self Care Gift Box

Beauty and the Bath
A daily treat for anyone who likes a little pampering. Lotions, Fragrance, Bath Bombs, and Special Soaps…
Advent Calendar 2023-24 Days of Christmas Beauty Advent Calendar, BODY & EARTH Bath Sets for Women Gift Includes Hand Lotion, Shampoo Bar, Bath Bombs, Christmas Countdown Skincare Gifts for Women

Bath Bomb Advent Calendar
24 delightful soaks…
And for Men
Toiletries just for men… and beard essentials to keep it neat and shiny
Man' Stuff, Toiletry Advent Calendar for Men, 24 Day Christmas Countdown, SOL Retail Exclusive, Filled with Festive Mens Grooming & Toiletry Essentails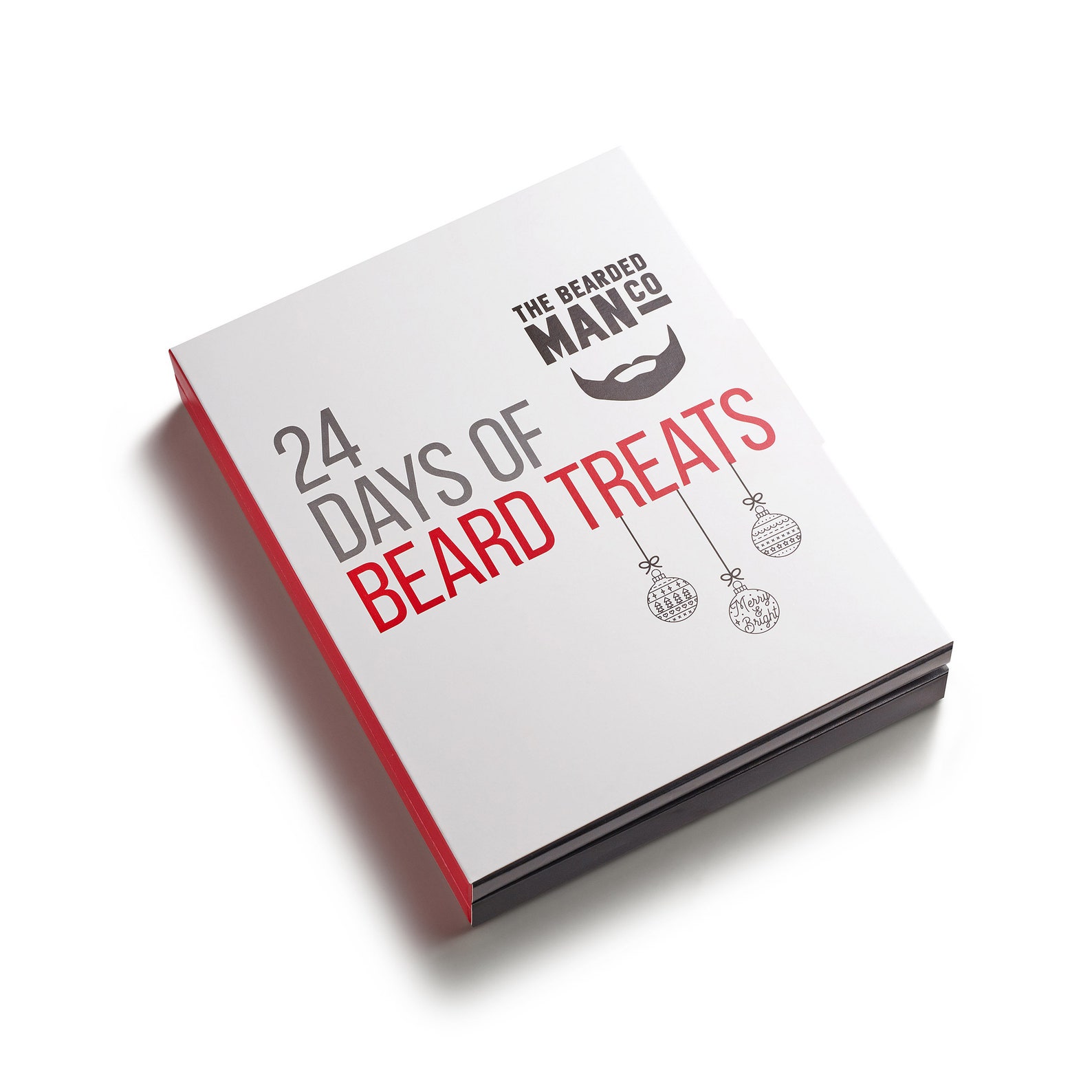 Christmas Beard Oil Advent Calendar

Puzzle Advent Calendar
For the  puzzlers in your world … why not gift a daily activity? Something to keep the brain busy.
New York Puzzle Company – New Yorker Advent Calendar – 24x 100 Piece Jigsaw Puzzle

Exit the Game
An mini- escape every day with this Exit Advent Calendar
EXIT: The Game – Advent Calendar – The Silent Storm Family Game Cooperative Game Puzzle a Day Escape Room

And DICE!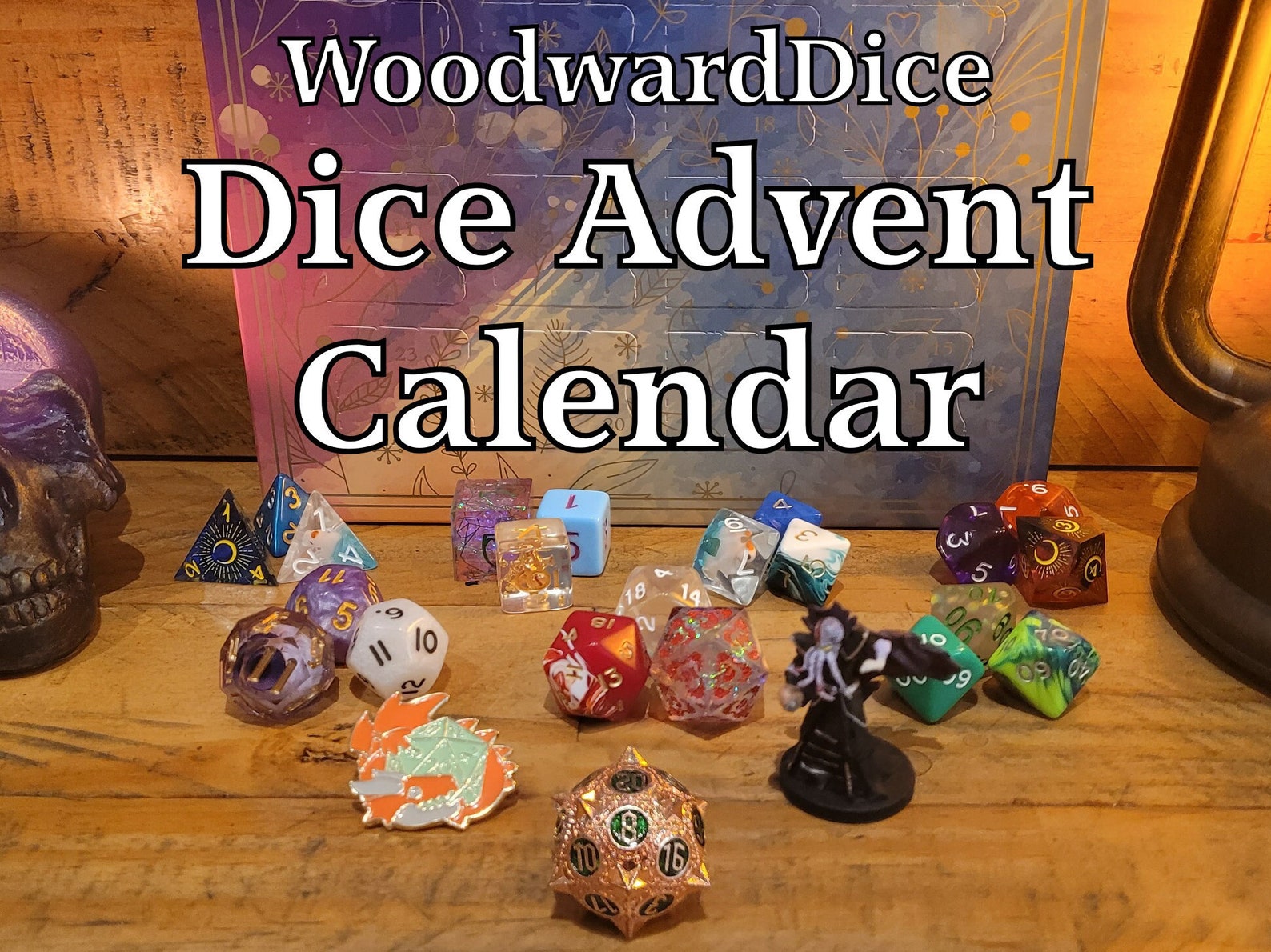 Dice Advent Calendar 2023 – Perfect for Dungeons and Dragons, D&D, RPG, polyset, d20 fans, nerdy, gaming, geeky – Great Christmas gift!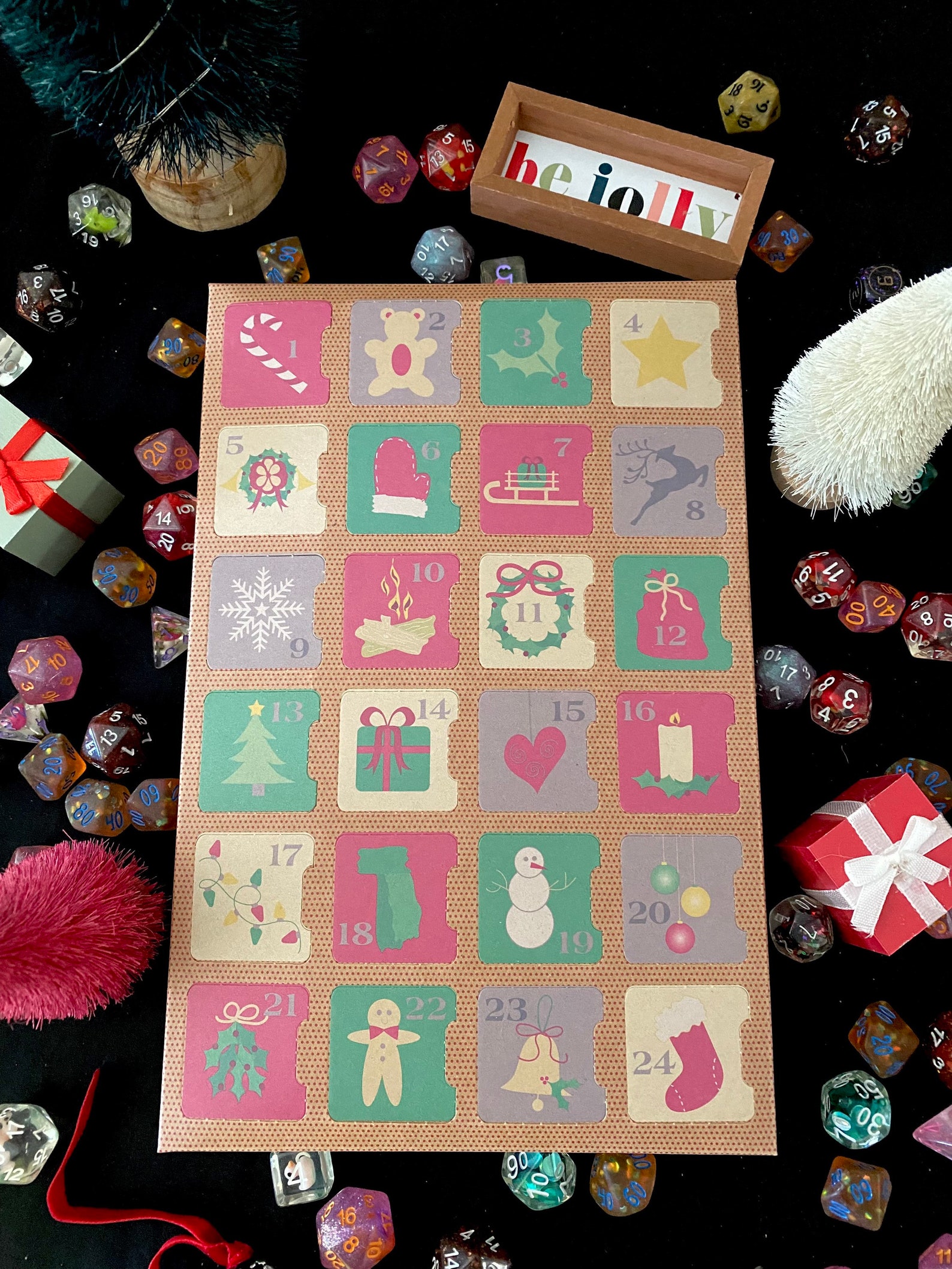 Dice Advent Calendar, countdown to Christmas dice, Polyhedral random Dice for D&D Pathfinder TTRPG's, Holiday Dice Surprise gift

Fresh Water Fishing Tackle!
There is a LOT to this one. Falvai Creative brings you the perfect gift for any fresh water fishing enthusiast. Introducing the 24 Day, 64 Piece, Fresh Water Fishing Advent Calendar.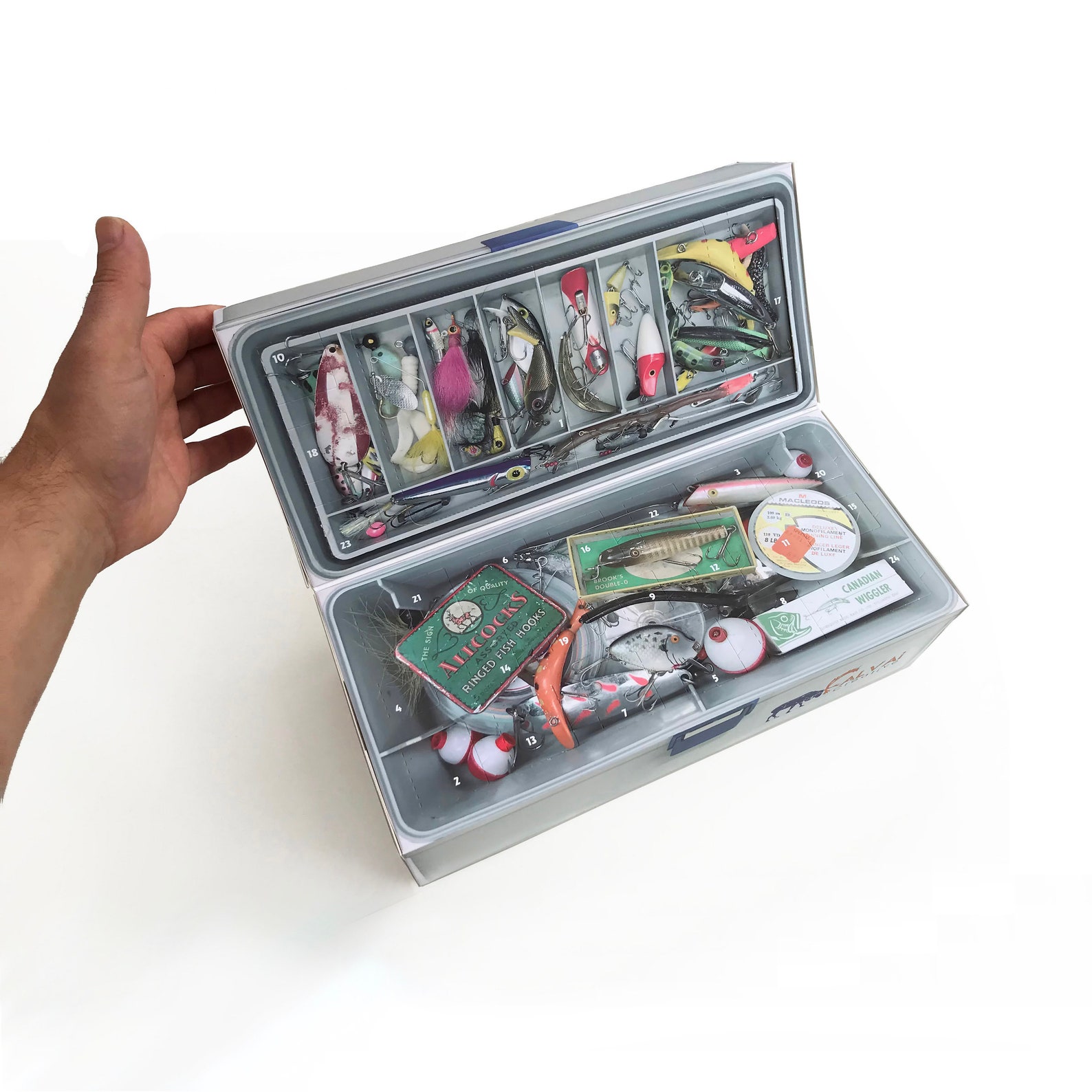 Fresh Water, Fishing Tackle Advent Calendar

Golf Advent Calendar
Open a new box each day to reveal a wonderful and practical gift that every golfer will need while out on the golf course!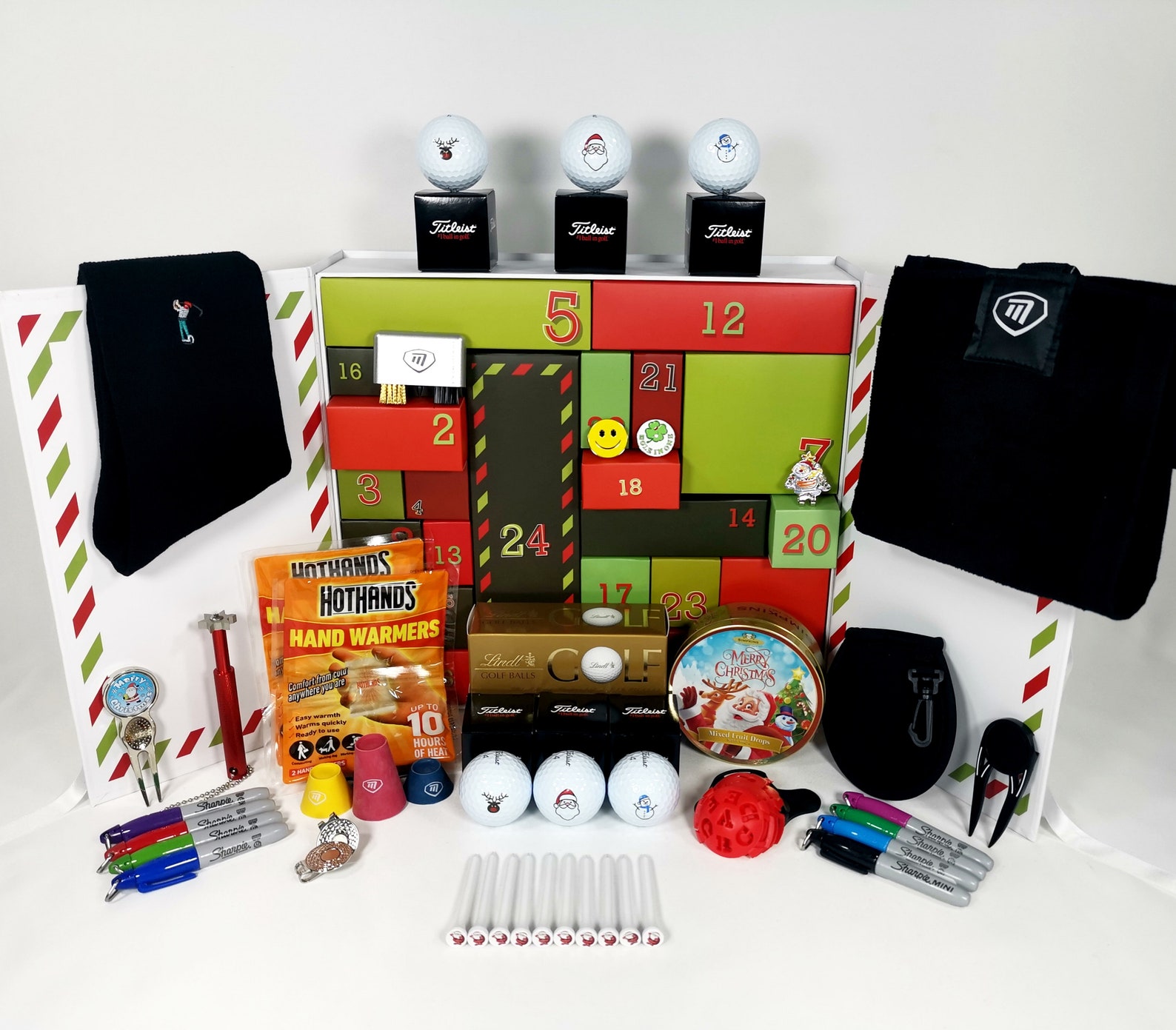 Golf Advent Calendar for Golfers Christmas 2023