Black Forest Cupcakes Recipe- Black Forest Törtchen for a Crowd
I'm pretty sure this Black Forest Cupcakes Recipe would confuse my Oma for a bit...but then she'd tuck right in. Granted, cupcakes aren't much of a German Thing. (Maybe we could call them Black Forest Törtchen…little cakes). So, why did I make them? You see… Black Forest Cake / Schwarzwälder Kirsch Torte is my daughter's FAVORITE cake, and she wanted me to make it for her birthday party. This is all well and good, but her party was at the park. Transporting, cutting and serving a beautifully decorated cake to a playground was must more than I wanted to juggle. The solution? Cupcakes.
The kids (and their grown ups) LOVED them! And what's not to love? Chocolate, cherries and a luscious whipped cream (to further Americanize the recipe, I added a bit of sugar to the Whipped Cream… you can leave this out). Every crumb was gone!
March 28th is Black Forest Cake Day!
Black Forest Cupcakes Recipe
The Black Forest Cake, also known as the Black Forest Cherry Torte, is called the Schwarzwälder Kirschtorte in German. It did not get it's name from the Black Forest of Legend and Fairy Tale, rather from the Kirschwasser, Kirsch Liquor used to flavor it. In the United States, it is seldom made with Kirsch…. in Germany, by law, it can't be called a Schwarzwälder Kirschtorte without Kirsch. So… since I'm a law abiding person (who likes to add a punch to her baked goods)…. I'm using Kirsch.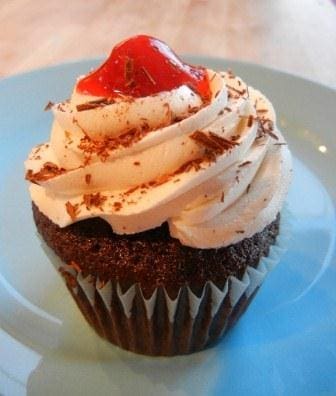 Black Forest Cupcakes Recipe
Ingredients
For the Cupcakes:
3

oz.

Unsweetened Chocolate

3/4

cup

Butter

2

cup

Flour

1 3/4

cup

Sugar

3

TBL Unsweetened Cocoa Powder

1 1/4

tsp.

Baking Soda

1/2

cup

Buttermilk**

2

Eggs

2

tsp.

Vanilla

1

cup

Boiling Water
For the Filling:
1

can Cherry Pie Filling

Or 1 Glass of Morello Cherries

I prefer the sour Morello Cherries, kids like sweet Pie filling... You choose

Kirschwasser
Whipped Cream and Topping:
2

cups

Heavy Cream

4

Tbl Superfine or granulated Sugar

Bar of Chocolate for Shaving

**note** if you don't have buttermilk

and don't feel like buying buttermilk, you can make this quick substitution- add 1 tsp of lemon juice to 1 cup of milk, let it sit 5 minutes, use as buttermilk. It will look curdled, this is normal.
Instructions
Preheat Oven to 350 degrees Fahrenheit

Line 24 cupcake cups with paper liners
Cupcakes:
Set some water on to boil (you'll need a cup of boiling water)

Melt the Unsweetened Chocolate and butter together. I usually use a Pyrex Measuring Cup and a microwave for this, but you can use a double boiler on the stove top.

In the bowl of a stand mixer, combine the flour, sugar, cocoa powder and baking soda. Mix it up a bit.

Turn on the mixer, and pour in the chocolate/butter mixture... mix to combine.

The mixture will look thick at this point, don't worry, it will loosen up.

Add the buttermilk, eggs and vanilla.... mix until combined.

Slowly add the boiling water... SLOWLY, or you'll be wearing it (you do have an apron on, right?).

Run mixer on medium until everything is all mixed up and smooth-ish.

Scoop the batter into the prepared cupcake liners. I use an ice cream scoop with a thumb release for this (keeps it neat), but you can use a spoon. (You want to fill the standard cupcake liners 2/3 full.)

Bake 20 minutes.

Let cool on a rack.... (Don't even THINK about trying to fill and frost these cupcakes until they cool.. what a mess.)

They cool? Did you touch them? On the bottom too?
Filling:
If you are using Cherry pie filling (the kids really like the sweetness) open the can.

If you are using Sour Morello Cherries, drain them in a strainer (I like to collect the juice to drink)
Put the Cupcakes Together:
Using a spoon or a scoop (I have a concave coffee scoop that is perfect for this job).... scoop the top out of the cupcake

Brush or Sprinkle the top of the cupcake and the cavity with Kirschwasser.

Fill the cavity with some cherry filling or a few cherries, and drop the bit back on top.

++you might have to cut a little of the bottom off of the scooped bit so that it fits better

If you like, sprinkle or brush on a bit more Kirschwasser.
Frost and Decorate:
It is traditional to cover a Black Forest Cake with Whipped Cream, so, Whip up the Cream along with the sugar until you get stiff peaks. Don't over whip and make butter.

Pipe or spread on the whipped cream. I like to make a swirl.

Spoon a cherry onto the top.

Chocolate Shavings- Take a chocolate bar and a vegetable peeler.... run along the edge of a chocolate bar like it was a carrot.

NOTE- do this over a plate, then sprinkle onto the cupcakes, this gives you more control over the look. HOWEVER- handling the chocolate curls with your fingers could cause them to melt. You decide what you want to do.

Serve / Eat
Looking for a Black Forest Torte Recipe? You'll find one in my Easy German Cookbook
Easy German Cookbook: 80 Classic Recipes Made Simple

Step By Step Instructions for Black Forest Cupcakes
Melt the Unsweetened Chocolate and Butter Together
Stir the Melted Chocolate and Butter until Smooth
Let Cool a few Minutes
Put the Dry Ingredients in a Stand Mixing Bowl- Combine
Add in Melted Chocolate, Eggs and Vanilla – It will look thick
Add the Boiling Water and Buttermilk
Take your time, and run it down the side of the mixing bowl so you don't get splashed.
The batter will look thin.
I Use a Scoop to Fill the Cupcake Liners
About 2/3 full

Bake 20 Minutes
Let Cool on Rack
Scoop a Bit Out of the Top
Use a small scoop or a spoon- Brush or sprinkle with Kirsch
Fill the Cavity with Cherry Filling or Morello Cherries
2 to 3 Cherries should be enough
Cut a Bit From the Bottom of the Scooped Bit (Eat it)
This way it fits on over the cherries

Put the top back on.
Sprinkle or brush with Kirsch again if you want

Whip Cream and Sugar To Stiff Peak 
If you prefer it without sugar, go ahead and make it without
Don't over-whip and make butter
Pipe or Spread On the Whipped Cream
I use this piping bag–> Ateco Piping Bag
I leave a little space in the top for cherries… but you don't have to
Drop a few Cherries or some Cherry Filling on Top
Shave Curls of Chocolate with a Vegetable Peeler
I do this onto a plate so they don't go everywhere. But you can do this directly over the cupcakes
Then Sprinkle the Chocolate Shavings onto the Cupcakes
Warning, the heat from your hands will melt the shavings, so work fast
Done