German Fairy Tale Wall Art -Colorful Wandfiguren for Children
See what I found while clearing out the closet? Like many German kids in the 1970s, my room was decorated with colorful wooden Fairy Tail wall art, Wandfigur, that depicted some of my favorite Fairy Tales. Made by companies like Mertens Kunst and Ravi Kunst, these bright and cheery wall hangings have become collectible today. Designs all came from fairy tales or animals. And for a German kid raised on Grimm (not Disney) the stories were instantly recognizable.
Fairy Tale Wall Hangings
I did a little digging online to learn more about this sweet Folk-Art form. The German Fairy Tale Wall Figures were truly made in Germany (not imports from out of country) between 1930 and the 1970s. The primary makers of these pieces were Mertens-Kunst, Heller and Ravi-Kunst. Most of the pieces were hand painted, and you can see the brush strokes. But they didn't just make the wall hangings! Measuring charts to track a child's height were very popular, as were colorful wooden Jumping Jacks. And of course, in every German child's room was a fairy tale coat rack, hung at child height to make it easy to use.
What is interesting to me is how bright the colors still are all these years later. Time and sun have not worn off any of the shiny bright paint. High quality shows. Simple thin pieces of wood and oil paint … and yet, it leaves a strong memory. I can still remember looking at them where they hung on the wall by the door, while Mama read to me in the evening before bed.
Coat Racks, Growth Charts!
When I was growing up, we had the Goose Girl ( Gänseliesel), the Miller's Daughter, who spun straw into gold for Rumpelstiltskin, and Little Red Riding Hood (Rotkäppchen). Gretel appeared somewhere along the way… Later, my aunt gave me Snow White and the Seven Dwarves (Schneewittchen und die Sieben Zwerge) for my daughter's room. Today one of the dwarves has gone wandering… and we hope to find him again soon.
We also had the coat rack with 3  Elves each with their own peg to hold our sweaters when we came in from school. (It was a never ending battle… the coat rack had 3 pegs… and my sister and I had to share)
Who Were These Wall Hanging Makers?
Hellerkunst or Heller began in a goat shed. Well, Georg and Magda Heller both went to art school to study graphic arts. She began to make a name for herself painting fairy tale images on Kindergarten walls in the Wuppertal area. He got the idea to transfer her paintings to wood. They took their business model and a jigsaw into their goat shed, where they began cutting and painting. Years later, the company headed by son  was still making wooden toys. The company prides itself on making the products by hand from high quality wood Today, their grandson, Jan and his sister Sabine are still making wooden decorations for children's rooms, but they are also taking the company in a new direction…musical instruments. Read more about them here– >Heller
Mertens-Kunst was very active from the 1960s to 1990s making wall hangings. Although the company was founded by Alfred Mertens,  it was his daughter, Ute Mertens, who came up with most of the designs. Today, although they no longer make the wall hangings, the company is still around making wooden children's toys.  The style has just changed to a more modern look.
Ravi began in 1940 when Erna Rath and Lisa Viertel combined their names and talents to make painted children's toys and decorations. The company stayed in operation until 1970. You'll find a stamp of a dancing elf on the back of their products.
It is a shame that some of these companies have vanished. But tastes change… and people move on. And if you are lucky, you can still find and collect these old pieces.
One thing I did notice is just HOW MANY different Fairy Tall Wandfiguren are still available! Every fairy tale and story from Germany must have been made into one… and like me… no one ever broke or threw them away.
Today these my Fairy Tale wall hangings live in a box. My kids are "too old" for such things. But, I'm not ready to let them go. They will stay with me until another child comes along. Then they will go back on the wall, and I will get to read the stories to new ears.
Buy Vintage Fairy Tale Wall Art from Mertens-Kunst, Ravi, and HellerKunst!
Because they aren't being made anymore… all of these are older/vintage. Still, they are quite cute!
mertens-kunst: 5 pieces of a wooden mobile for children's rooms. Boy in the garden. Made in Germany by Alfred Mertens, Pfullingen. VINTAGE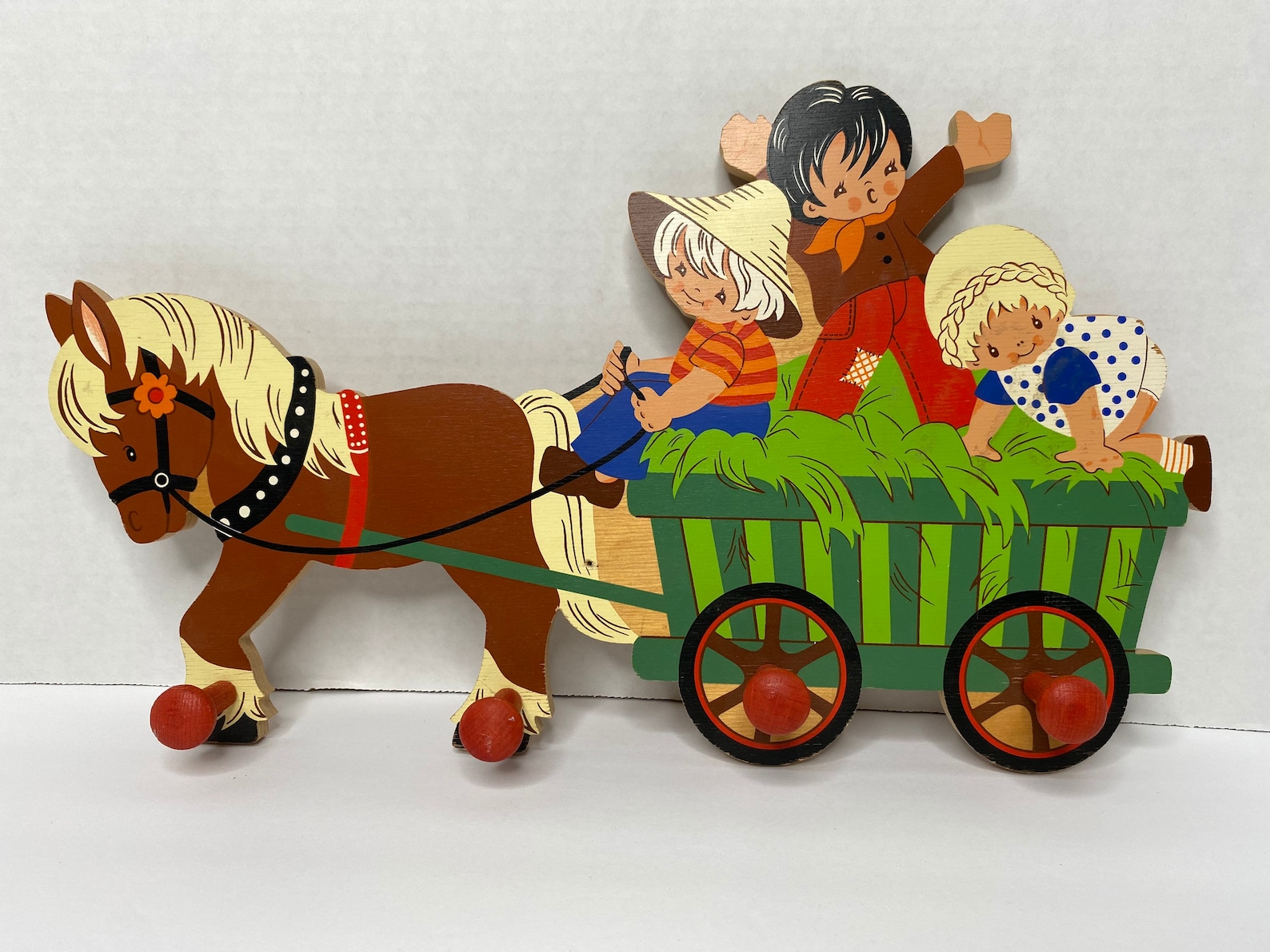 Vintage Alfred Mertens Kunst wooden wall Art kids room Nursery coat hooks German Artist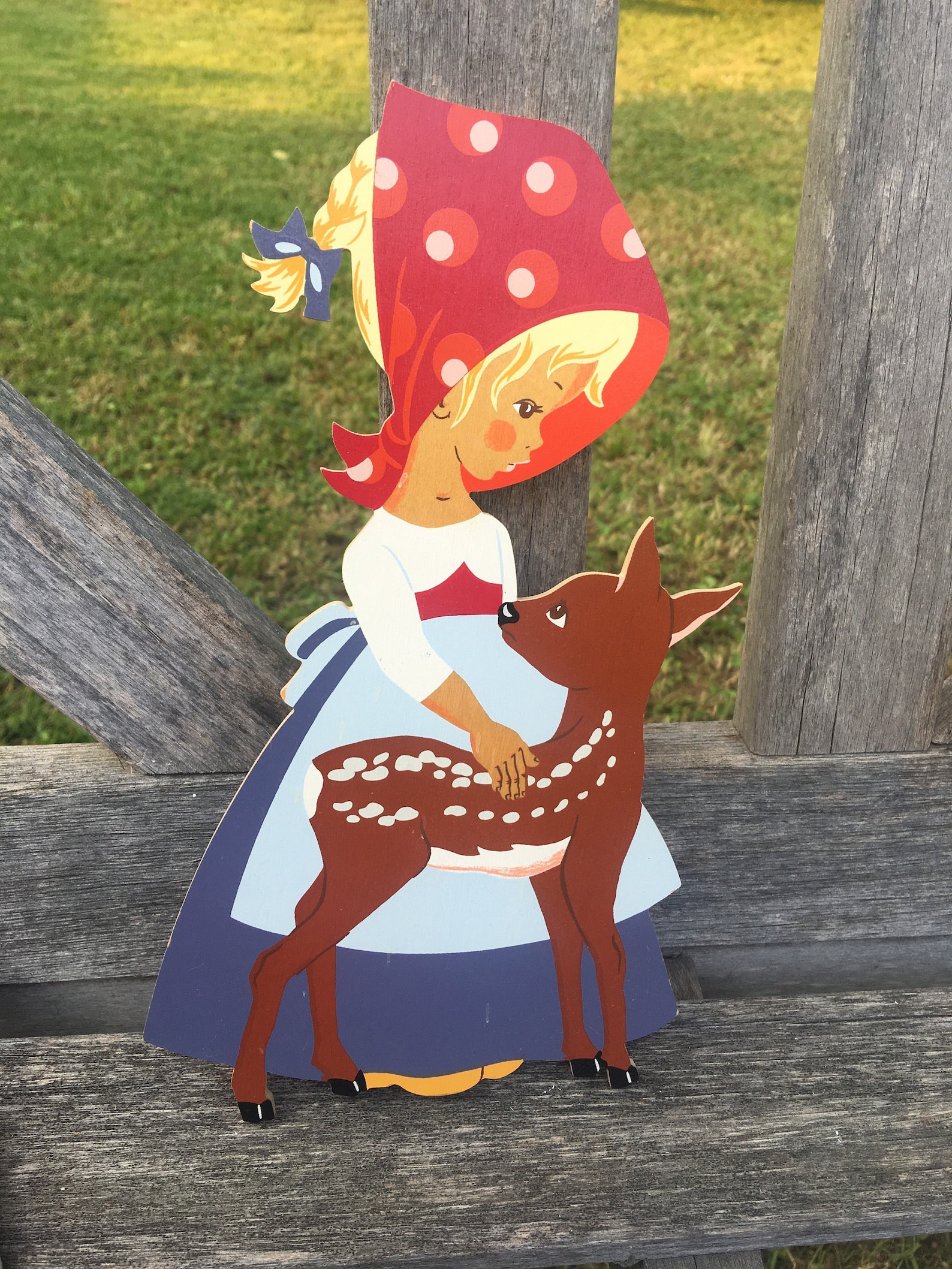 Vintage Wood Cut Out Mertens Kunst Girl and Baby Deer, Christmas, Woodland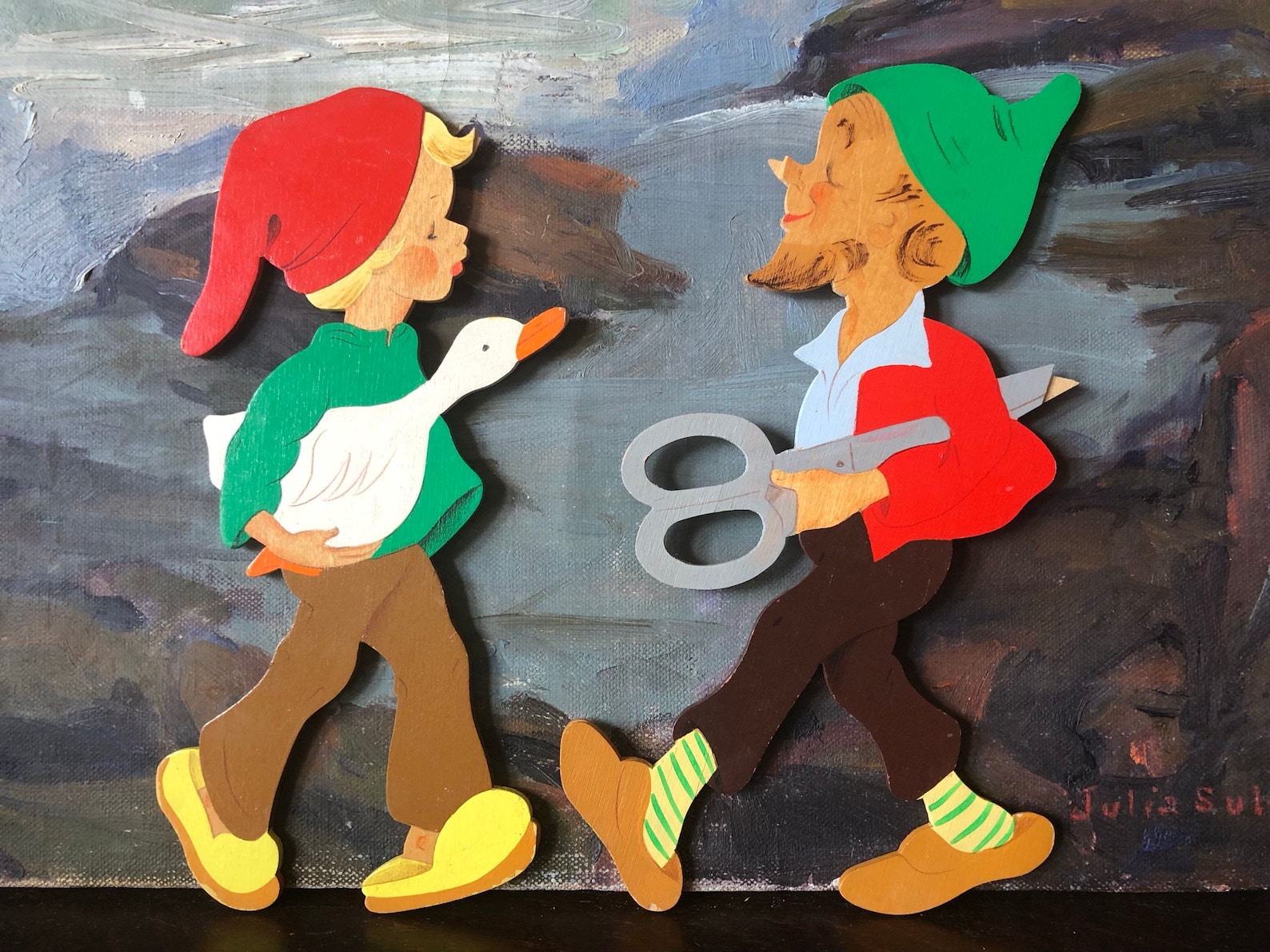 Vintage Ravi-Kunst Hand-Painted Hamburg Wall Art Vintage Ravi-Kunst Brave Little Tailor Vintage Ravi-Kunst John in Fortune Vintage German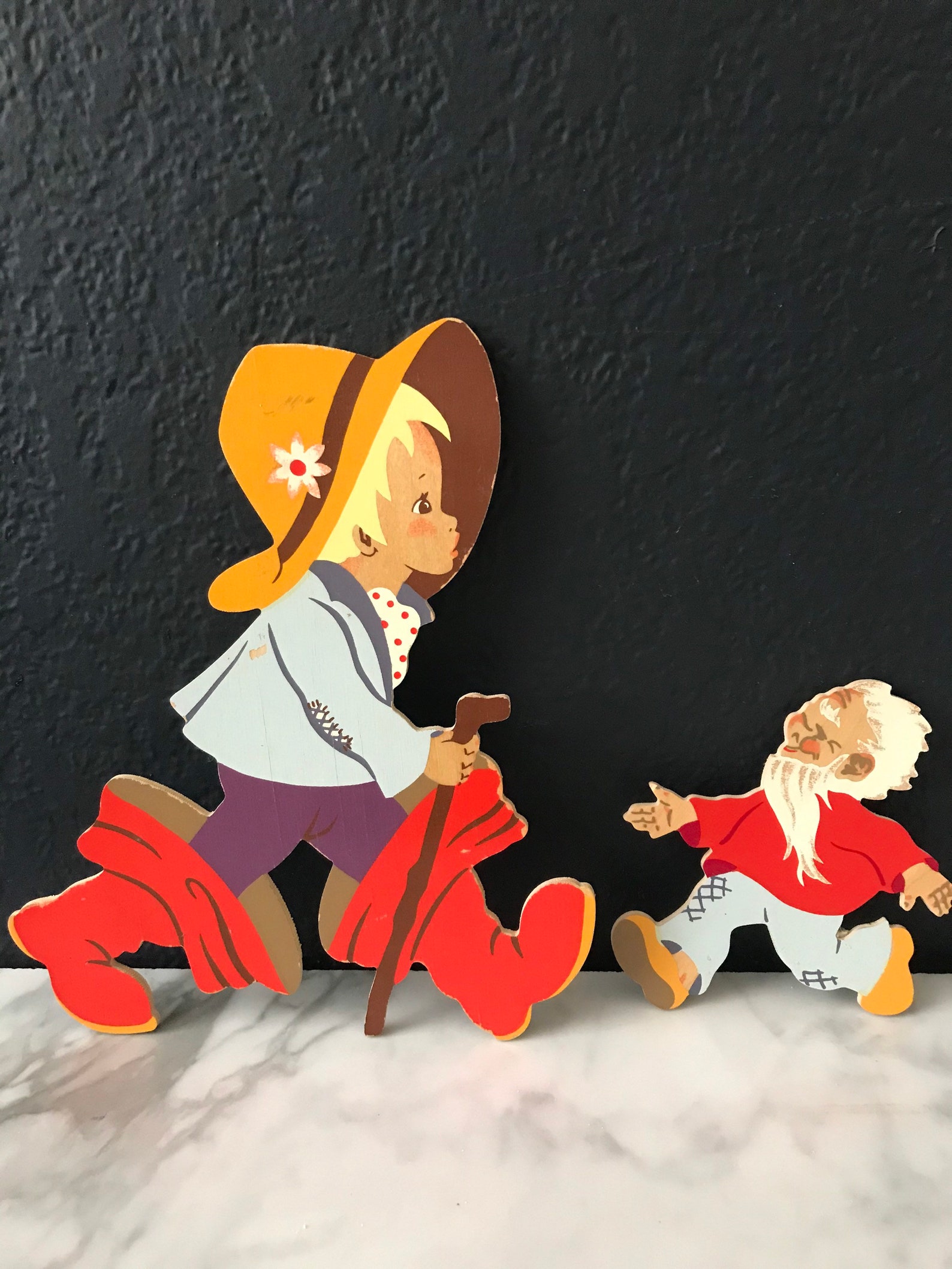 Mertens Kunst 1968 W Germany Wooden Wall Decor Dwarf N 16 and 17 Alfred Mertens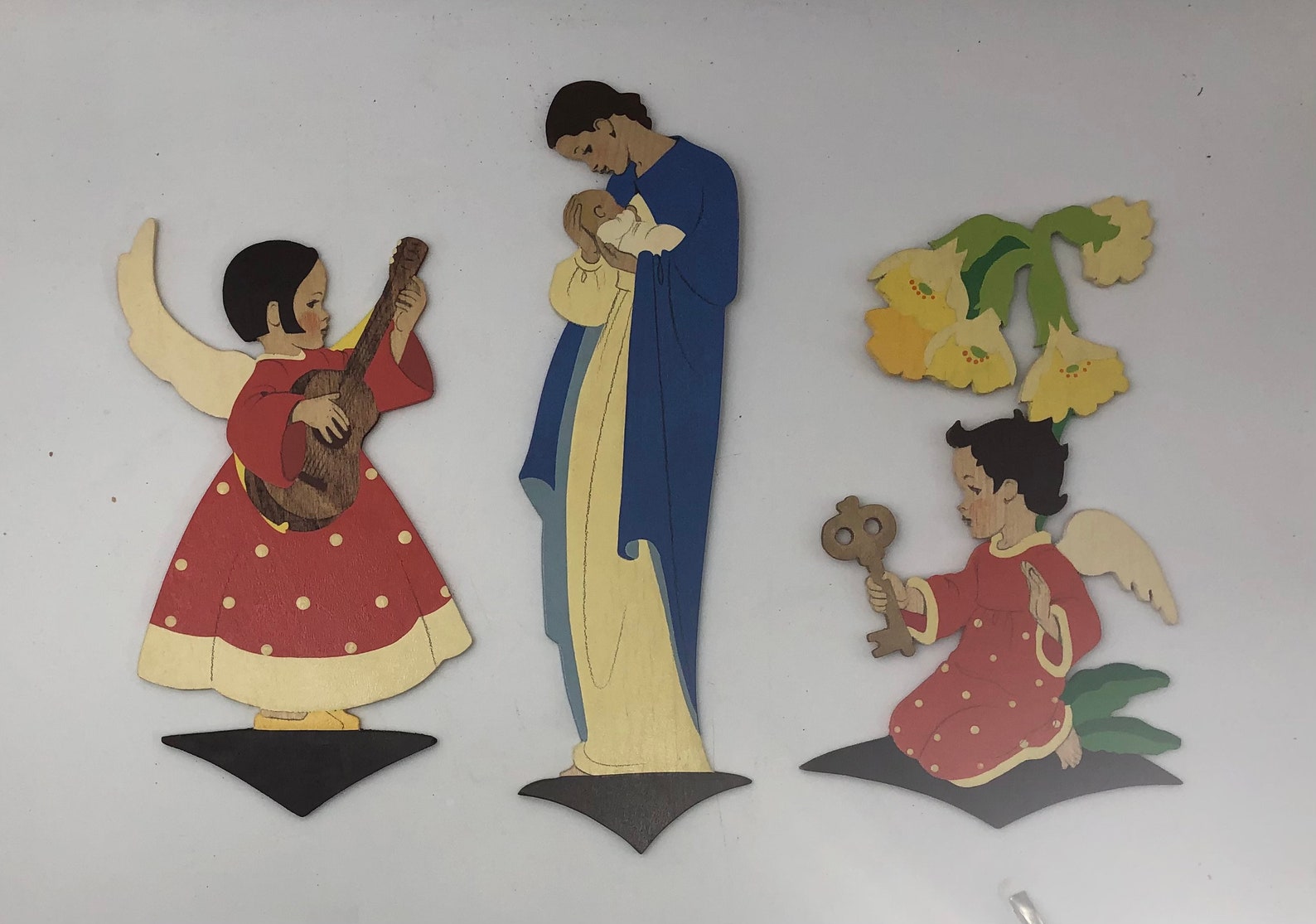 3 Vintage Wooden Blessed Virgin and Child Jesus and Angel Hellerkunst Plaques — Made in Germany, 1960s-1970s, for Christmas, Nursery Decor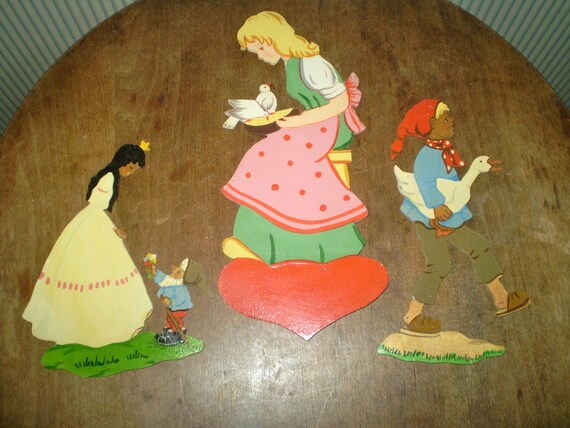 1930s Fairy tale wall plaques- hand made & hand painted Snow white, Goose boy, Cinderella- wall art- WWII era Germany-vintage wall plaques

Coat Hangers and Measuring Charts
Add a very colorful  German touch to any Child's room with these fun (and useful) art pieces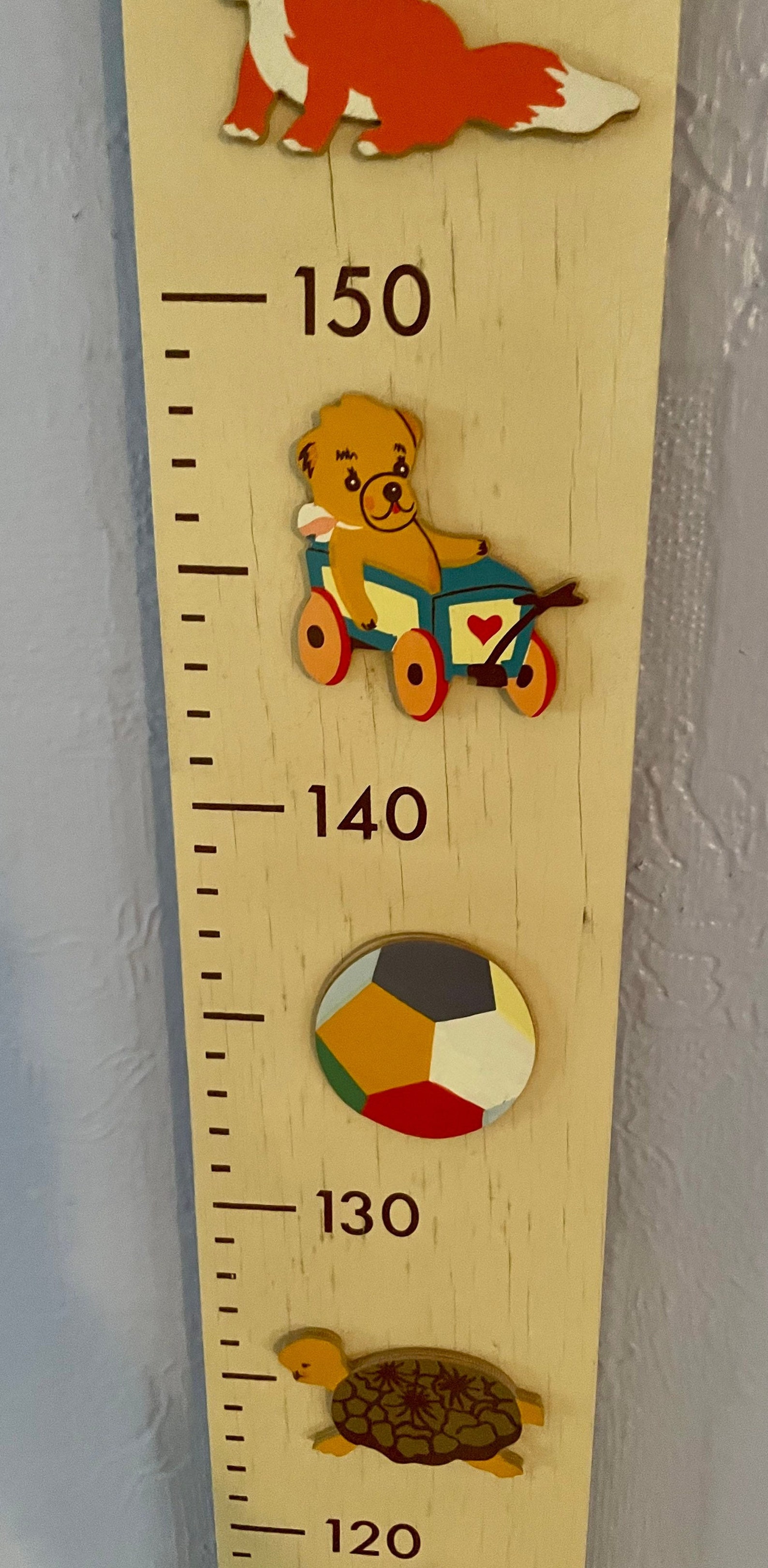 Vintage 1980s Mertens Gunst Wall Mounted Growth Chart Height Chart Made in Germany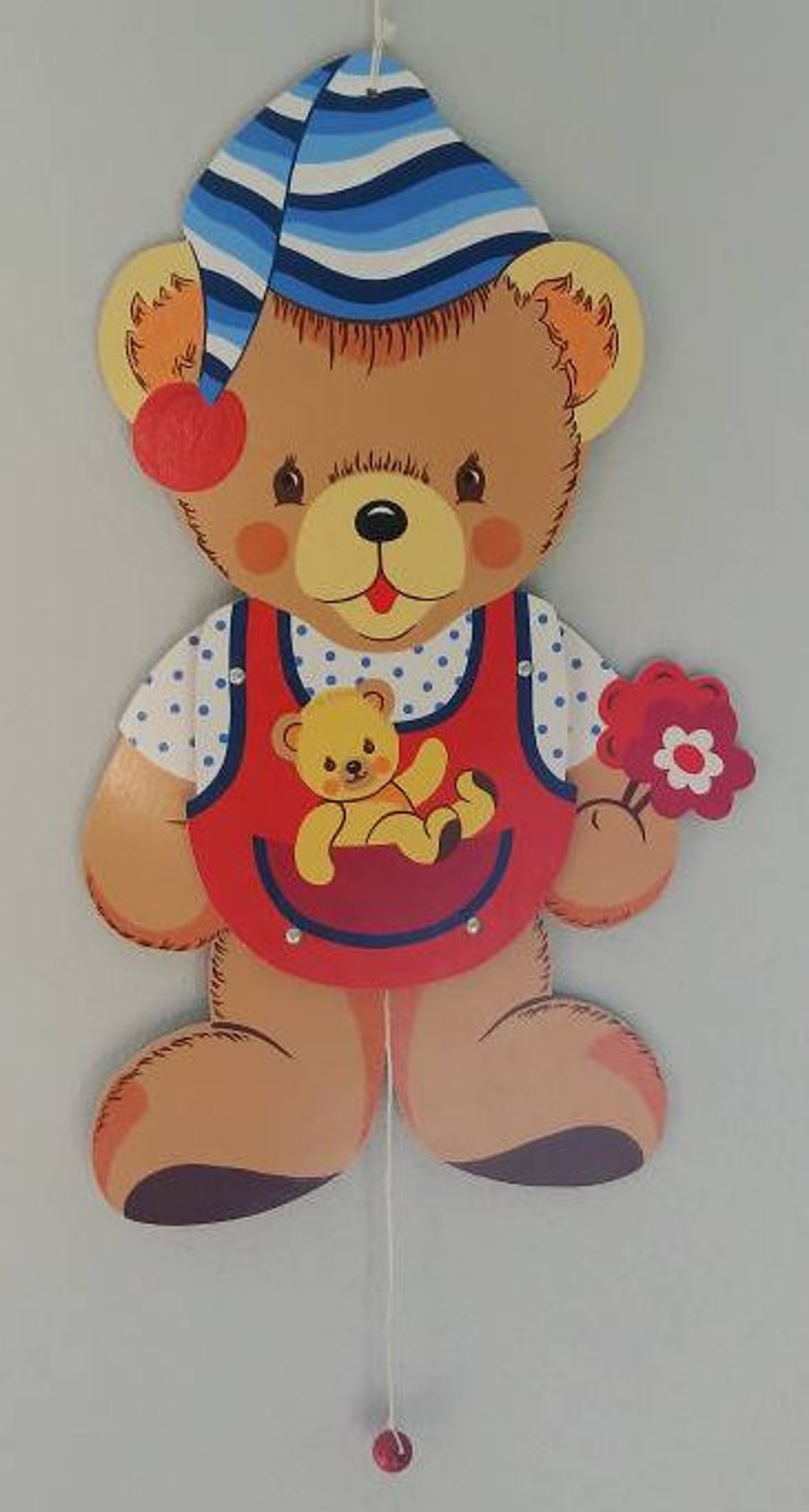 Child's Room Active Wall Hanging Mertenskunst Hamprlfigur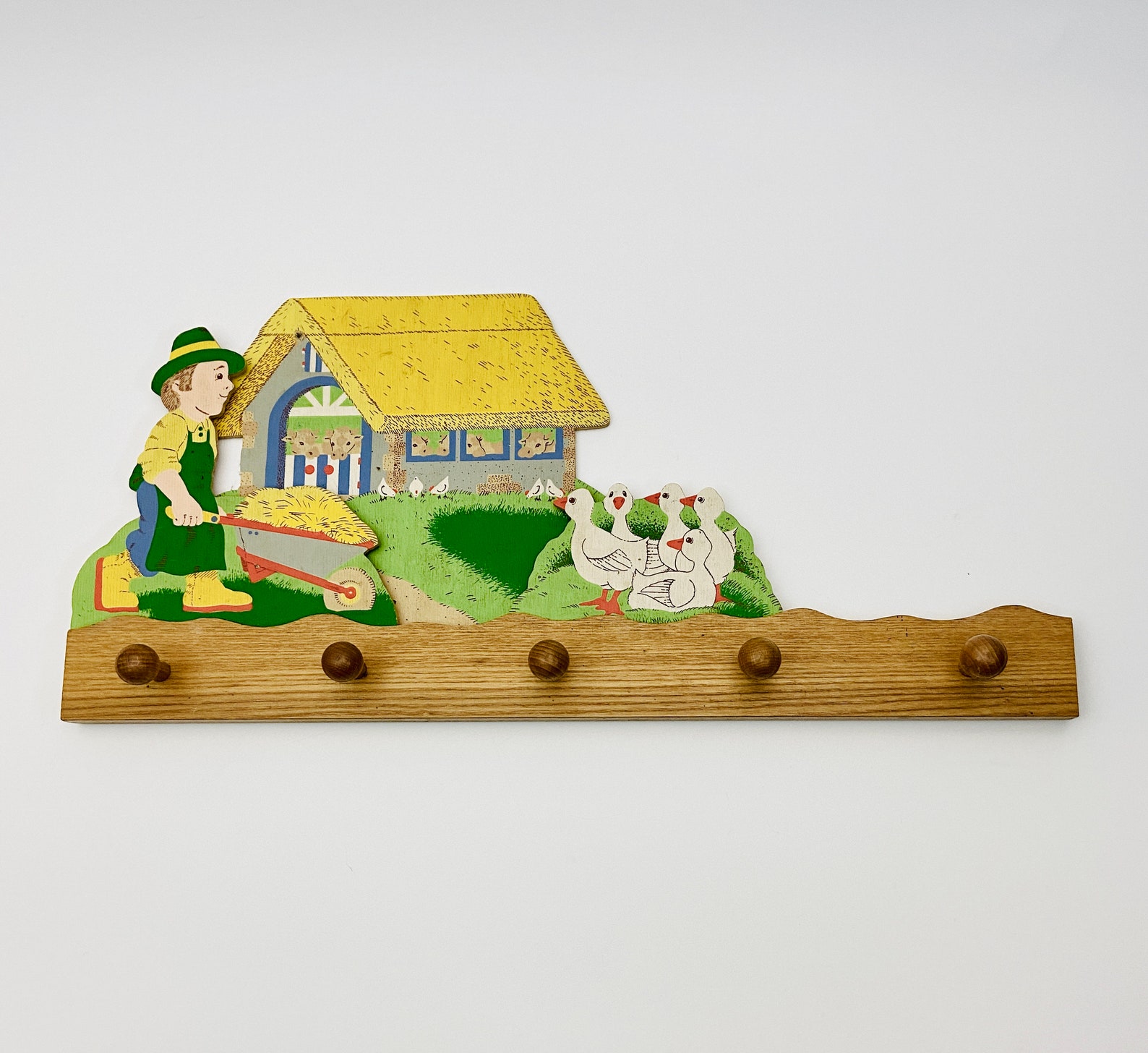 Vintage children's coat rack, Farm Yard with animals, painted wood by Mertens Kunst, 1980s kids furniture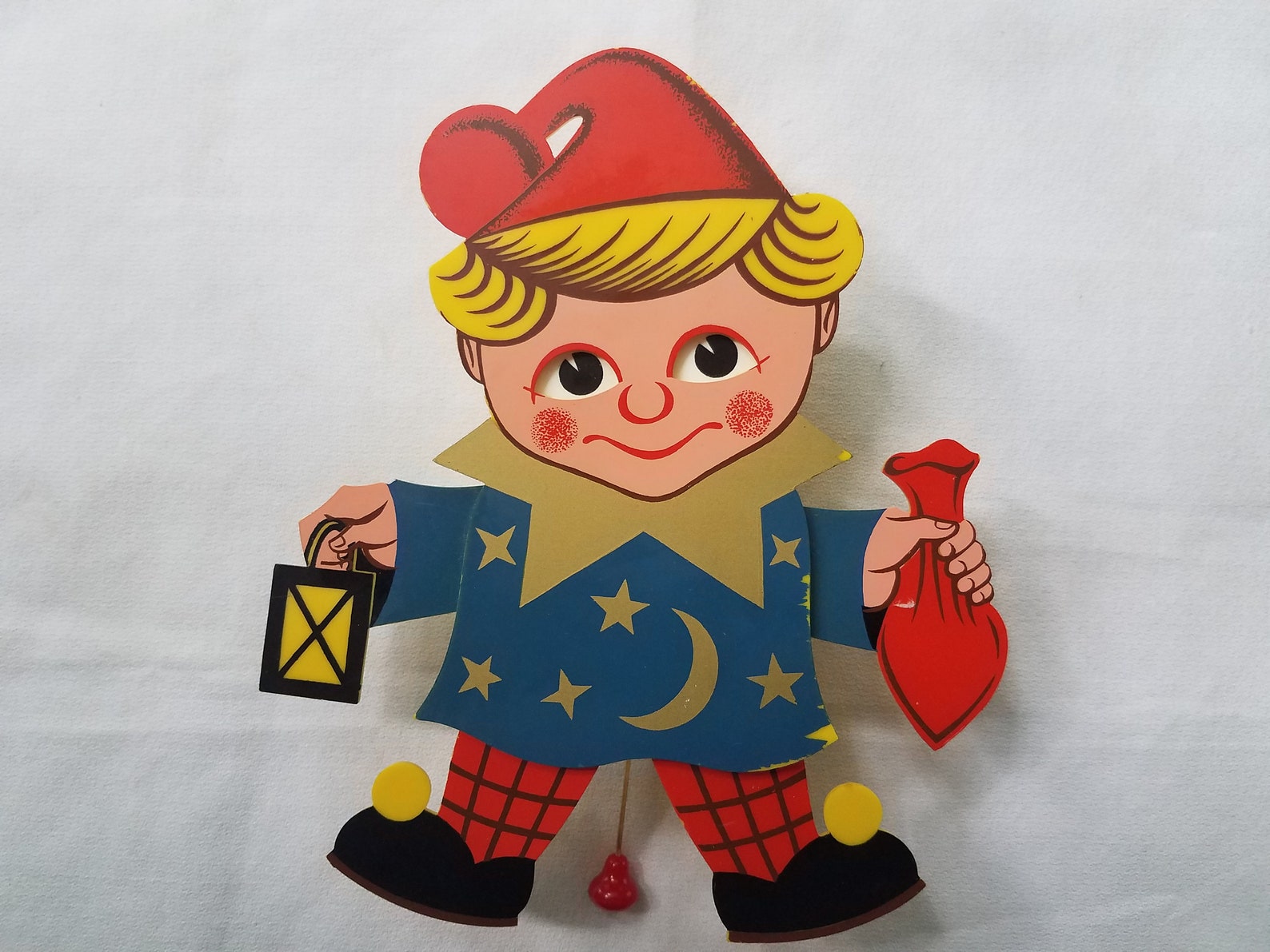 REDUCED – Jumping Jack Elf Music Box – Western Germany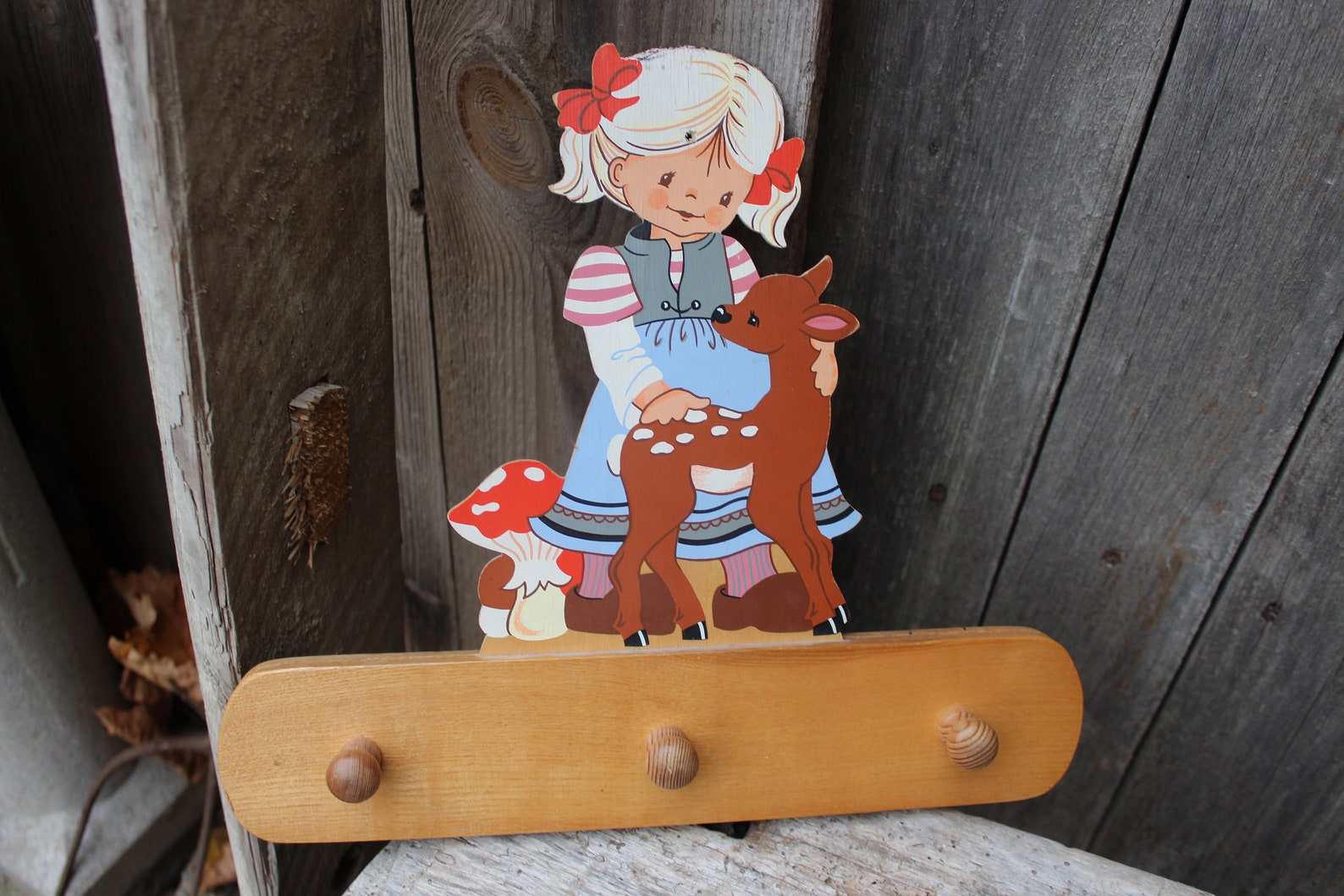 Vintage Children's Wardrobe Hook Bar Mertens Art 80s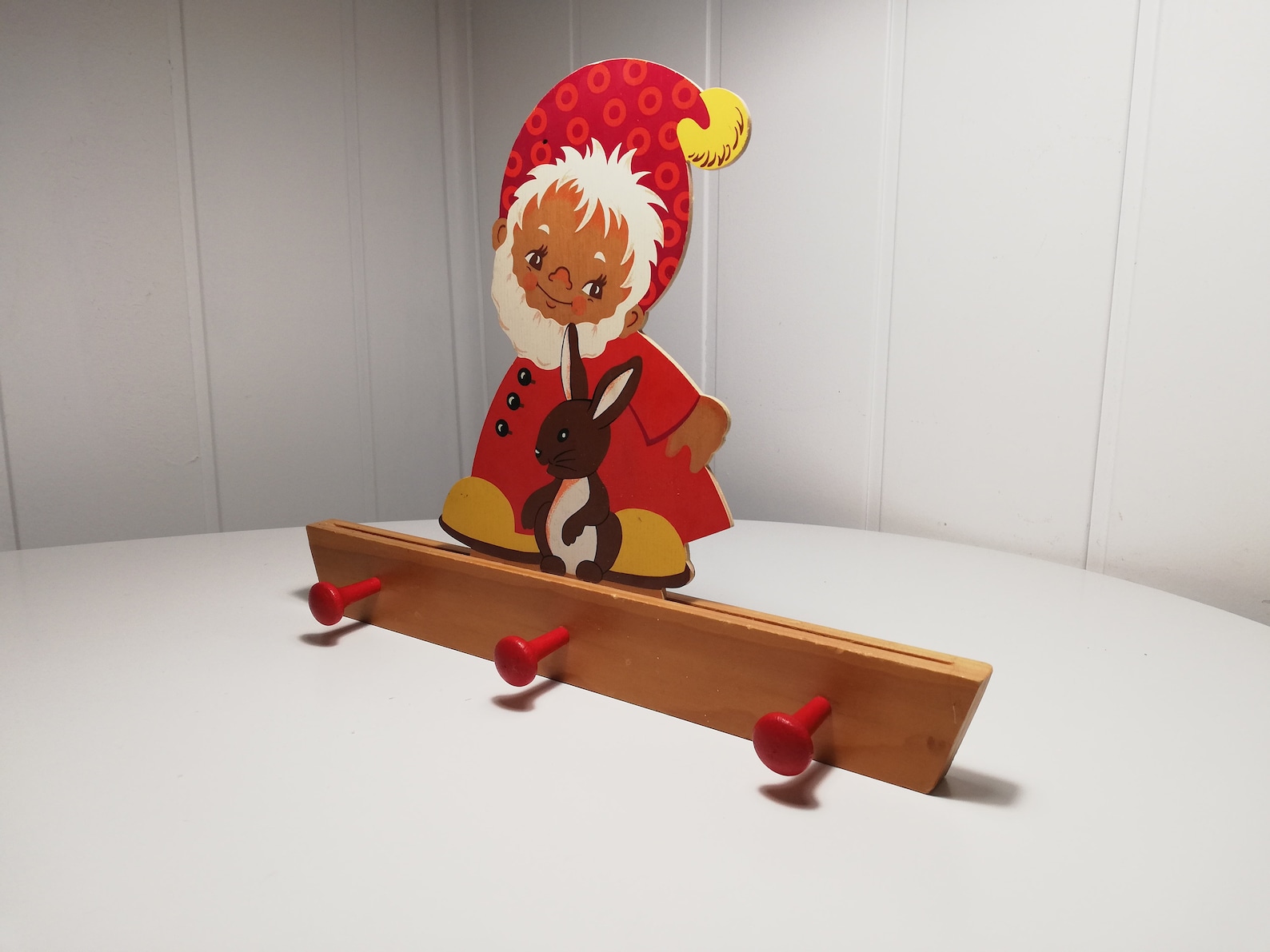 Germany Vintage 80s Mertens Kunst-Wall Hanger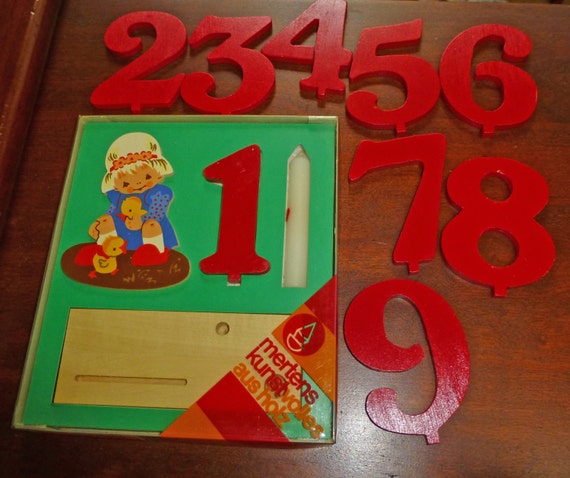 Alfred Mertens Baby's 's First Birthday Decor Vintage Made In West Germany 1-9

Want to see more of this Vintage Fairy Tale Wall Art?
Take a look at the Online Museum of German Wall Figures! Christiane Dietz has created a site to preserve images of these wonderful pieces of Folk Art.
Click Here–> Online Museum of German Wall Figures