German Bathroom Fixtures… What is the Deal with Those Toilets?
Germany and America are countries separated by both language and bathroom fixtures. The two main issues…Hand-held Shower heads, and Toilets. It's funny I traveled back and forth between the countries for years, and never had serious issues with German bathroom fixtures. In fact, I LOVE the hand-held showers in Germany …. As for the toilets? Well, they are better than the "squatters" I've dealt with in other places. But then, I traveled with an American… and boy did he have a lot to say.
Oh Those German Bathroom Fixtures!
Why do I have to hold the Shower Head in Germany?
For some reason hand held shower heads, are troublesome to Americans. I think they are FANTASTIC!!! You see, I'm a little on the short side, and I absolutely LOVE being able to raise and lower the water to a perfect height. If I don't want my hair to get wet, I can slide it down the pole. And if I want to spray water right on my knees, I can hold the sprayer at the perfect angle. Of course, the American I was with had nothing good to say … "it slides down!" (tighten it), "why do I have to hold it?" (to get all your bits clean!), "why can't this be like an American Shower" (because, sigh, you are in Germany… I can, however, arrange a flight home for you this afternoon).
(And… speaking as a Californian who has spend YEARS with low-flow timed showers, can I just tell you how indulgent if feels to stand under heaps of flowing hot water?? )
Best of all…. Cleaning the shower is 100 times easier when you have the hand held sprayer. You can actually get into the corners.
Why is there a Ledge in a German Toilet?
For those of you who have never experienced a German toilet (and wonder what could POSSIBLY be different), picture this….. a toilet with a shelf for your business to land on. AKA, a Reverse Bowl Design.  Hmmm. Now, there is a perfectly good, and almost scientific reason for this shelf. Germans have always been concerned about health and well being  (ask my kids…. I'm always saying "a clean colon is a healthy colon"). With a shelf, you get a chance to make a quick inspection to see that ….well… things are coming along nicely. It's also a great way to do a quick check for parasites, important in a world where pork is a major source of protein. (Granted, that hasn't been much of an issue in the past 70 years….) One article even pointed out that it was easier to retrieve any coins or jewelry that your child may have swallowed before it gets flushed away. But… that may have been a joke.
American Toilet design on left… German Toilet Design on right
Sadly, seeing your Hinterlassenschaften, and maybe worse, smelling your Hinterlassenschaften is an issue for many Americans. It is kind of yucky. And there is always a worry of the WHOOSH of water ricocheting and splashing out if you forget to close the lid. (Before you leave the room, please check to see if you need to give the bowl a swipe with the ever present Toilet Brush!)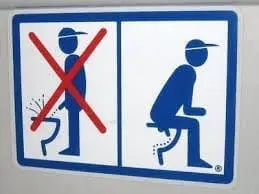 I understand there may also me a ricochet issue for men who pee enthusiastically… honestly,  I have never experienced this firsthand, so I don't feel I can comment on that… other than to say this is a HUGE concern for people who hate to constantly be wiping up the bathroom tile. But, I don't see the toilet as cause for international incident…. (Unlike SOME people who just can't finish up, and then move on with their lives). I really don't think you will get an entire nation to change their bathroom habits…especially if they are doing it just to please visiting Americans.
And remember, the Reverse Bowl Design Toilet is still better than a Porta Potty on a hot Sunday afternoon during a weekend long Youth Soccer Tournament.
And can I just say…. having the toilet hanging off the wall makes cleaning the floors SOOOOOO much easier!! Look at this set up… brush on one side… little bin on the other…  And the button is up on the wall so you don't have to bend over the bowl (and possibly lose your glasses) when you flush.

A modern German Toilet…no ledge… and suspended from the wall, so you KNOW the floor gets cleaned properly.
What is a WC?
A WC…pronounced Veh Zeh is a Water Closet… Small room with a Toilet and Sink. It has everything you need to take care of 80 % of your business. I don't know why they chose to call it a WC, it just is. I know there are several other words people use for Bathroom …Badezimmer, Toilette, Kloh…Deal with it.
Prim and Proper Decor WC Restroom Bath German International 6×4 (Choose Color) Custom Wood Sign

Abbott Collection

Assorted Other German Bathroom Fixtures….
Then there is the little stuff that seems to confuse non-Germans…
Why is the toilet paper covered by a metal flap? To prevent the toilet splash from wetting the paper… (You did remember to close the lid before flushing, right?)
Why are the towels on hooks?  It's more space efficient. Use them
Why is it always so COLD!? Because it's always cold in Germany…
Why does the toilet paper feel like sand paper?? It doesn't any more…well, not as bad as it used to be.  Now they have the same cushy soft stuff that American behinds are accustomed to. (Does anyone else remember the grey stuff that they had on the Deutsche Bahn back in the day?)
Why is there a Toilet Brush? Because in a civilized country, you don't leave evidence of your last visit….
Do I have to use the Bidet? Granted, you won't find one everywhere, but if you want to use it, that's up to you… just remember, it's NOT a drinking fountain.
Why is the Washing Machine IN THE BATHROOM? In older houses or small apartments, the washing machine might be tucked in next to the shower. Why? Because that's where the pipes are.
Embrace the differences… it's just a bathroom.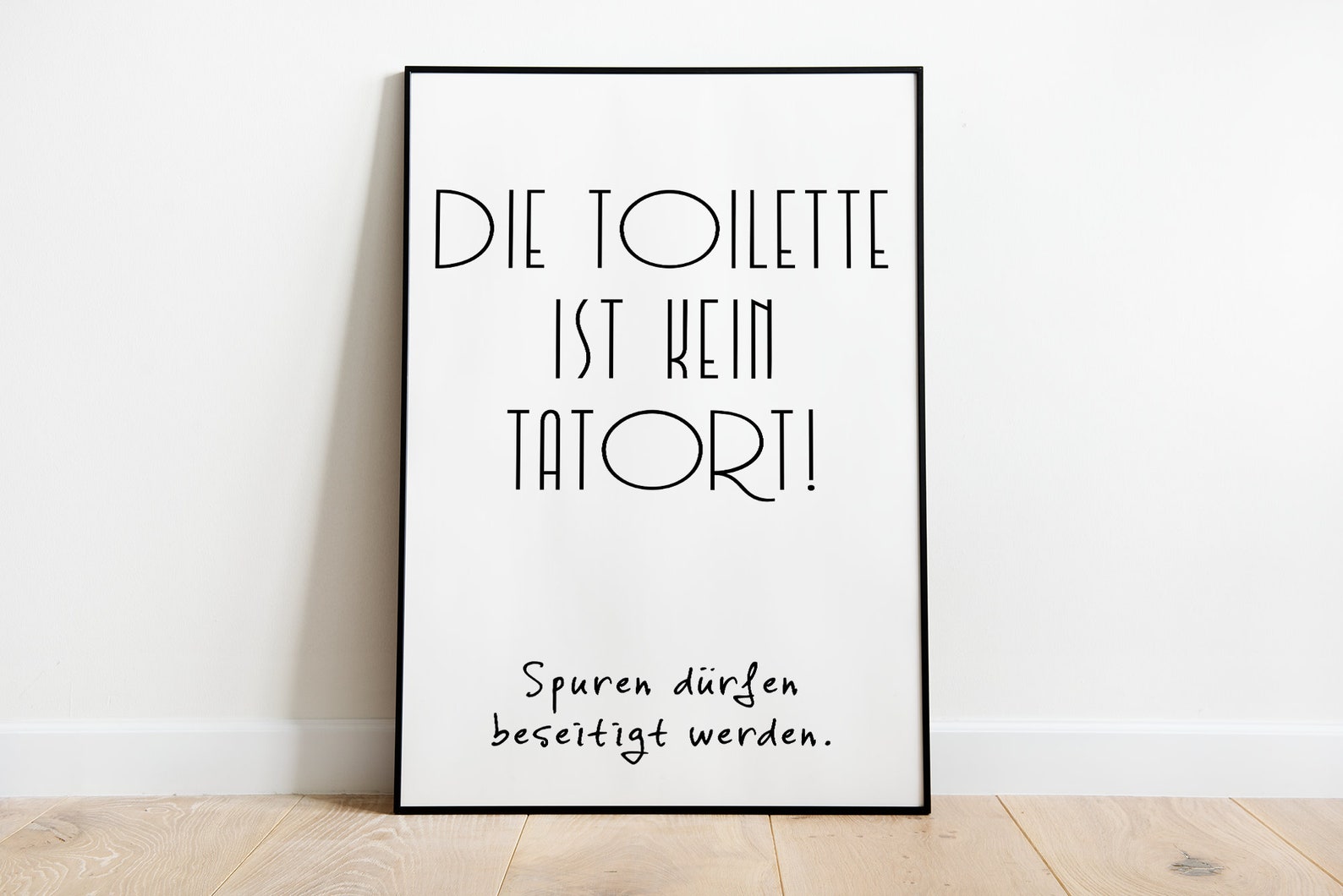 The toilet is not a crime scene! Traces may be removed.

German Bathroom Fixtures for YOUR Home
Wesco Single Master-German Designed-Small Step Trash Can, Powder Coated Steel, 2.4 Gallon / 9 L, Lime Green

BAKALA Brass Chrome Faucets Single Handle Bathroom Sink Faucet Household Wash Basin Faucets with German Neoper Ultra-thin Water Outlet Nozzle Core

GROHE Power and Soul 130 Shower Set with Hand Shower, Starlight Chrome
Essentials Guest Bathroom Set, 3-In-1
&