Creamy German Cucumber Salad- A Tasty Side Dish or Salad
My mother and my Oma came from different corners of Germany, so naturally, they each make different styles of cucumber salad. Oma passed along this Creamy German Cucumber Salad recipe. And from Mom passed I got the German Cucumber Salad recipe that uses an oil and vinegar base (find the recipe here). While both are quite tasty, this creamy version is the one more people seem to recognize.
What's the difference? Well, the creamy version uses Sour Cream (you can substitute plain yogurt if you prefer) and, much like her salad dressing recipe, it tastes sort of sweet. Also, there are no onions in Oma's creamy German Cucumber Salad Recipe. Although I add some chives for a hint of oniony flavor.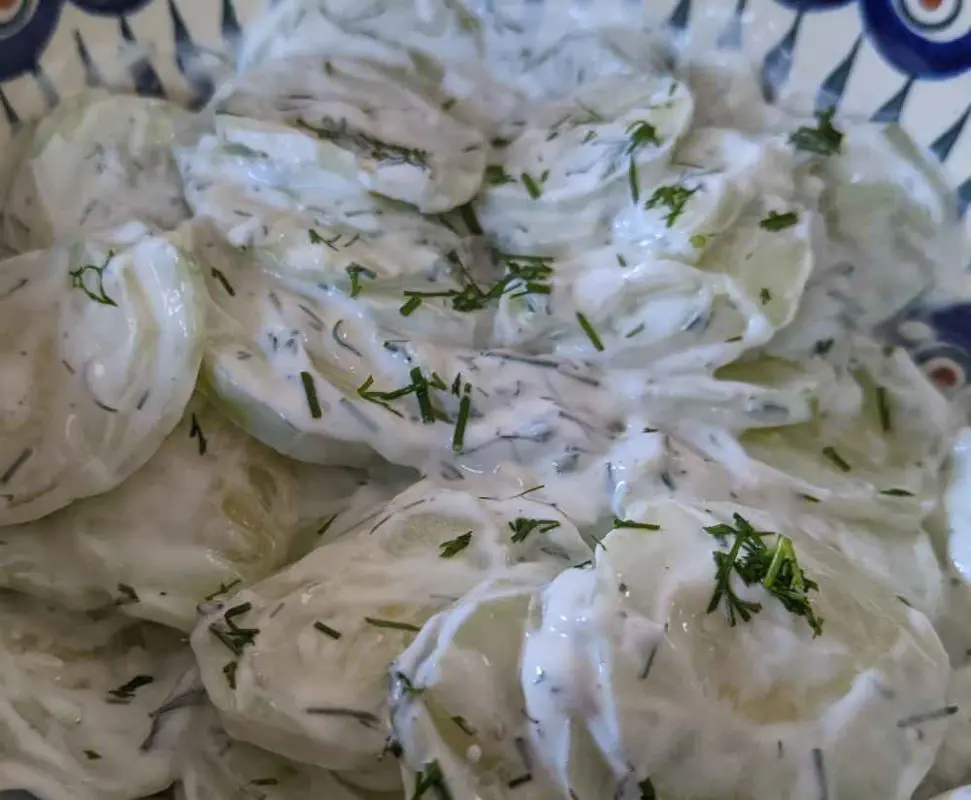 Cucumbers contain a lot (and I mean A LOT) of moisture, so it's good to let them dry off a bit before mixing with the sour cream dressing. Otherwise you have the cucumber water mixing with the sour cream, and the dressing gets diluted. It's not horrible, it just doesn't look as nice. (FYI- If you've left the salad in the refrigerator overnight, and the dressing looks thin and watery, drain it off, and then toss in a Tablespoon of Sour Cream to the Salad. Taste it… and correct the seasonings.)
I use regular Salad Cucumbers, and I peel them. If you choose to use English Cucumbers, you don't need to bother with the peeling. Also! If you make very thin slices, the cucumbers will soften up quick. Using thicker slices will keep the cucumber "firmer".  If I plan on serving the salad twice (like when I'm alone) I go with thicker slices. Also, I just use a knife, but a mandolin makes perfect slices (just watch your fingers).
Creamy German Cucumber Salad
Creamy German Cucumber Salad
Creamy German Cucumber Salad tastes delicious as a side dish to any meal... or add it to a German Salad plate for more variety.
Ingredients
1

large Salad Cucumber

½

cup

Sour Cream

3

Tablespoons

Vegetable Oil

1

Tablespoon

White Wine Vinegar

1

Tablespoon

Sugar

add half if you want it less sweet

½

Teaspoon

Salt

½

Teaspoon

Pepper

1

Tablespoon

chopped Dill

1

Tablespoon

chopped Chives

optional
Instructions
Peel and thinly slice Cucumber. To keep the salad from getting too wet, lay the cucumber slices on a paper towel while you prepare the dressing. (Up to 30 minutes, if you want. If you are less sensitive about wet cucumbers, transfer them to a bowl whenever you want to).

In a small bowl, combine the Sour Cream, Oil, Vinegar, Sugar, Salt, and Pepper. Stir until completely combined and the sugar/salt have dissolved (when you no longer feel the grains against the bowl with your spoon).

Place the Cucumbers in a medium mixing bowl or serving bowl. Add half of the herbs. Just before serving, add the dressing. Toss to completely coat. Sprinkle with the remaining herbs

Serve
Notes
The longer the creamy cucumber salad is refrigerated, the runnier it gets. You can carefully pour off the excess liquid... then taste it and make any corrections (add more sour cream or seasoning).
Like this Recipe? Check out my Easy German Cookbook!
80 Classic German recipes made SIMPLE 
Easy German Cookbook: 80 Classic Recipes Made Simple

If you live in Canada, you can order it HERE
See How Creamy German Cucumber Salad is Made
Got your Cucumber?
Peel and Slice the Cucumber
Let the cucumber slices rest on a paper towel to suck up some of the moisture
Chop the Dill and Chives
Mix the dressing ingredients
Put the drained cucumbers in a bowl… add about half of the herbs
Add the dressing- then toss
Sprinkle on the rest of the herbs – Serve
Did you enjoy this recipe? Try German Cucumber Salad with Oil and Vinegar
In our house we serve both (sometimes even on the same night!)