Eierlikör Torte Recipe – Perfect for Easter or the Kaffeeklatsch
I am not a trained baker. What I am is a woman who loves to eat baked goods, so I started baking at home. I had a theory… If I have to bake it myself, I won't eat as much, because it will take time/energy to create delicious baked goods, and I'm a bit lazy by nature. It turns out that baking isn't that hard. Decorating is hard,  and despite the community center adult education class, my results look a bit amateurish. Keeping ALL that in mind. I decided to tackle on of my favorite German Tortes. This Eierlikör Torte Recipe showed up as eye candy in Mein Schönes Land magazine. The base is just a chocolate cake fortified with ground almonds, and the frosting? whipped Cream. What makes this Torte special (and the part that gave me the most trouble) is the Eierlikör.
Where can you get Eierlikör in the United States?
It's funny to me that Eierlikör isn't a common tipple in America. It's sweet, rich, and makes a delightful dessert topping. You can buy it under the name Verpoorten Advocaat Egg Liqueur. Or, you can make your own using this quick Recipe–> Eierlikör Recipe (note- this recipe uses raw eggs)
The original recipe calls for pouring Eierlikör over the whipped cream topped cake (that's why you put the tufts of cream around the edges, it holds the liqueur in). Fine, easy, no problem… Until you slice into the cake. Then it pours off….
Still delicious, but messy (and the first slice gets most of the Eierlikör)
How to fix this problem?
I started out playing with Gelatin. But it's fussy. Too much, and the topping turns into rubber. Too little, and it still runs. If you are a Gelatin expert.. go for it! (Then let me know how you did it)
What I finally landed on for the best flavor? Pour the Eierlikör over the cake, then put it into the refrigerator. (Ideally overnight, but 4 hours should do it.) When you slice into the cake, you might still get some dripping, but it's not nearly as much. This is a cake for family. It may not win you first prize at a contest (or even a photo in a magazine… ) but the taste will take you back to a Kaffeeklatsch in Germany.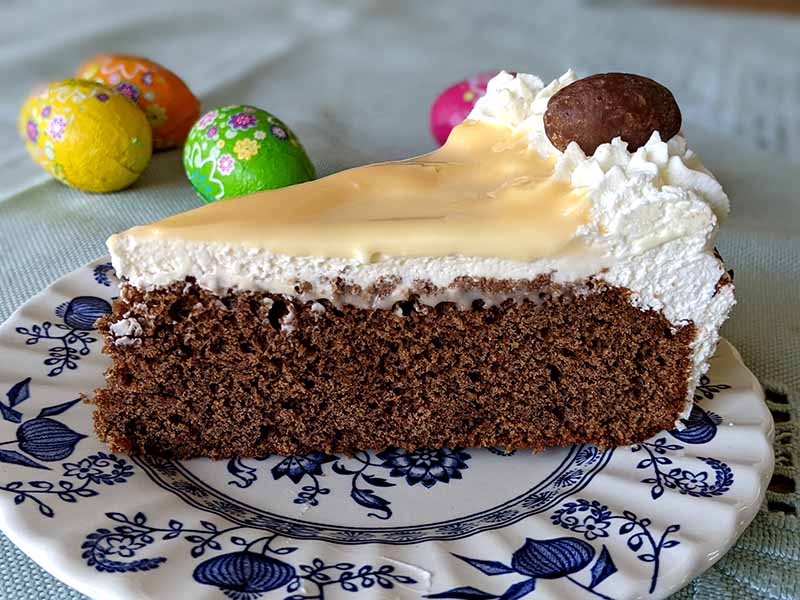 One more thing…  like many German Cakes, this one is not oversweet and spongy like a Birthday Cake you get from the store. Serve it with coffee, maybe extra whipped cream for anyone who wants it (or heck, put a small pitcher of Eierlikör on the table and let people go nuts). The original cake is made with 2 Tbl of powdered sugar in the cream… I bumped it to 4 Tbl for my people. Go higher if the people in your world love sweet.
By the way, if you are looking for a quick and super EASY Eierlikör cake, try my Eierlikör KUCHEN… You bake it in a Bundt Pan, and it's delightful with berries!
Eierlikör Torte Recipe
Ingredients
Cake Base:
100

gr

Semi-Sweet Chocolate

I used a bar of Chocolate and measured it. Also, works as 1/2 cup chocolate chips

75

gr

5 Tbl Butter

5

Eggs - separated

180

gr

3/4 cup Sugar

100

gr

1/2 cup + 2 Tbl Flour

50

gr

1/3 cup Cornstarch

50

gr

1/2 cup ground Almonds

1

Tbl Baking Powder

Pinch

Salt

4

Tbl Milk
Whipped Cream:
500

gr

2 cups Whipping Cream

2-4

Tbl Powdered Sugar

Germans prefer less, Americans expect sweeter cream

2

pkg Sahnesteif / Whip it
Finish:
40

gr

Chocolate shavings

I just used what was left from a chocolate bar...

120

ml

1/2 cup Eierlikör

Chocolate eggs or Marzipan eggs for Decoration if desired
Instructions
Preheat Oven to 350 °F or 180 °C
Cake Base:
Prepare a 26cm/ 10 in Springform cake pan by greasing it well with butter. Set aside

Melt the chocolate and butter together in a double boiler (or in a microwave like I did)

Stir, and set aside to cool completely.

Separate the eggs.

Beat/whip the egg whites to soft peaks. You want them to hold their shape, but not be dried out. (Go ahead and try holding the bowl over your head upside down. If nothing falls out, you are good) Set aside for a bit. (I usually just transfer them to another bowl, and use the stand mixing bowl for the next part)

Put the Egg Yolks and Sugar into the mixing bowl, and beat at medium speed until they are well combined and look almost white.

With the mixer running, slowly add the chocolate/butter mixture to the egg yolks.

Then add flour, cornstarch, ground almonds, baking powder. Mix

It will be stiff! Add milk, one tablespoon at a time, to soften things up.

Now you will add in the egg white. The egg white is what gives this cake its "lift", so be careful not to deflate it.

Put 1/4 of the beaten egg white into the chocolate mixture, and use a spatula to sort of fold/mix it in. It will look funny.. with blotches of white... and it will be stiff still. Add another 1/4 and do it again.

Then add the rest in 1/4 at a time. Fold and mix gently by hand.

In the end, the batter will look more like cake batter, and the white will be mixed in.

Spread the batter into the prepared pan and bake for 35 minutes (stick a toothpick in...if it comes out clean, it's done)

Set on a rack to cool.

After 10 minutes, run a knife around the edge and release the sides to completely cool it.
Whipped Cream:
Place cream, powdered sugar, and Sahnesteif or Whip it into the mixing bowl. Beat until stiff (don't OVER beat it... you will end up with butter). I have made the cake without Sahnesteif.. it works, but it doesn't last as long.
Assemble:
Place the cooled cake base on your serving plate. (I leveled mine off a bit to remove the dome. Just slice with a serrated knife)

Use 2/3 of the whipped cream to "frost" the sides and top. Use a spatula to make it smooth.

Create chocolate shavings by scraping the edge with a potato peeler over a plate.

Use cold fingers to kind of toss it onto the edge of the cake. (I lifted the cake a bit for a better angle) You can also use sprinkles. Use your spatula to fix any that overshoot the side.

Now, put the rest of the whipped cream into a piping bag with a star tip (A plastic storage bag can work... cut off the corner... it won't be "fancy" but it gets the job done). Pipe little rosettes around the edge of the cake.

SLOWLY pour the Eierlikör into the center of the cake.

Then place in the refrigerator for a few hours (or overnight) until you are ready to put it on your Table.

Decorate with chocolate eggs if you like.
Step by Step…To walk you through….
What this Cake Looks Like When I'm Making It
Whip the egg whites to soft peaks
Fold it into the chocolate mixture a little at a time.
This lightens the chocolate… and gives the cake lift

When it's mixed in, it will look like this
Bake 35 minutes. Don't OVERBAKE! 
Test with a toothpick. If it comes out clean, the cake is done
I flattened the top by cutting much of the dome with a serrated knife
A passing child got to enjoy the the top piece
Lightly Sweetened Whipped Cream goes on the top and sides… smooth with a spatula
(an offset spatula is perfect for this, a regular one will do)
Shave chocolate curls from a chocolate bar using a potato peeler
Sprinkle on the sides of the cake
Make sure your fingers are cold… you can tip the cake a bit for a better angle
(And any sprinkles that land on the top of the cake can be wiped off)
Now pipe rosettes or blobs around the edge of the top of the cake
It should look like this (hopefully better!)
Carefully spoon the Eierlikör into the center of the cake to cover the whipped cream


It could happen that some squeezes through the whipped cream… no problem, just plug the hole with more cream!

Decorate with chocolate eggs or whatever makes you happy
Refrigerate for at LEAST 4 hours (or overnight)
Then Serve….