German Herb Pancakes with Asparagus and Ham -Kräuterpfannekuchen mit Spargel und Schinken
I love when my visit to Germany falls into Asparagus Season. Germans take White Asparagus very seriously, to the point where you might consider it mania! Restaurant menus offer special Spargel Karten (Asparagus Menus), and you can taste it prepared in dozens of dishes. When I tasted Kräuterpfannekuchen mit Schinken und Spargel (Herb Pancakes with Ham and Asparagus) in the Black Forest, I knew I wanted to recreate it at home. These savory herb pancakes are folded over salty ham and steamed asparagus, then drizzled with a rich Hollandaise sauce. Sadly, white asparagus seldom appears in my grocery store or local Farmer's Market, but this recipe works very well with the Green Asparagus we find here in the United States. This satisfying meal with fill you up without weighing you down.
And you get to have Pancakes for Dinner!!
Herb Pancakes with Ham and Asparagus -Kräuterpfannekuchen mit Schinken und Spargel
Those of you looking for one of my easy "dump these ingredients in a pot and walk away" dishes might feel a bit overwhelmed at the number of steps and components. Don't panic! Just work through the steps one by one, and you will get there. A lot of the hard work happens in a food processor or in a frying pan. You can even take a few short cuts if you want (for example, use a packet of Hollandaise sauce mix instead of dealing with egg yolks.) Or you can prepare the Asparagus in advance, then reheat when it's time to assemble the dish. Because at the end of the day, it's just pancakes with some stuff on top.
side note- My daughter LOVES these savory pancakes. You can use them as a base for other savory dishes, or do what she does… sneak into mom's kitchen, fold one up, and eat it from the hand. 

German Herb Pancakes with Asparagus, Ham, and Hollandaise
Savory herb pancakes are filled with slices of salty ham and spears of steamed asparagus... then topped with a creamy, rich Hollandaise sauce. This dish makes a tasty lunch or dinner.
Equipment
1 Saute Pan

1 Blender or Food Processor

1 pot or pan for cooking asparagus
Ingredients
Herb Pancakes
2

cup

White Flour

250 g

2

cup

Milk

500 ml

3

eggs

½

Teaspoon

Salt

2-3

Teaspoons

Fresh Chopped Chives

3-4

Tablespoons

Fresh Chopped Parsley

2-3

Chopped Green onions

optional!

3

tablespoons

Vegetable oil

for frying
Asparagus
¾

pound

Green Asparagus

(can substitute white)

1

tablespoon

lemon juice

(not essential, but nice)

1

teaspoon

salt
Ham
¾

pound

Black Forest Ham

Thin Slices from the Deli Counter are fine
Blender Hollandaise Sauce
10

Tablespoons

Butter (⅝ cup/ 140 gram)

Unsalted

3

large Egg yolks

1

tablespoon

Lemon Juice

¼

teaspoon

salt
Instructions
Herb Pancakes
Place the flour, milk, salt, and eggs in a blender. Blend until smooth. Stop to scrape the sides occasionally. Let rest 20 minutes.

If you just have one blender bowl, transfer the batter to another bowl, and let it rest. Wash the blender so it's ready for the Hollandaise Sauce.

Preheat a saute pan with a small amount of the oil over medium heat. Set a platter next to the stove.

Reserve ⅓ of the parsley for decoration, then add the onion (if using) and herbs to the rested batter, stir until they are mixed in.

Use a scoop or ladle to add ½ cup of batter to the hot pan. Swirl it around. Then let it sit. Use a spatula to check underneath. When it's browning, flip it over. (about a minute or so). Let cook for another 45 seconds to a minute, check that it's browned underneath. Slide the pancake out of the pan onto the waiting platter.

Repeat until you've used up all the batter. Occasionally you will want to add more oil to the pan... I find that you need to do that every other pancake.
Asparagus
Wash and trim the asparagus to get the woody part off of the bottom. I usually snap the spear where it feels hard. (You can save the bottoms for stock).

Add 1-2 inches of water to the bottom of a large pan. Add lemon juice and salt. Bring to a boil, then reduce to simmer.

Add the Asparagus- Cook until tender.

Thin Stalks- 1-2 minutes

Thicker- 5-7 minutes

Poke with a knife...it should go in easily.

Drain the cooked asparagus, and rinse briefly in cool water to stop the cooking process. Put on a plate and set aside.
Hollandaise Sauce
Put the egg yolks, salt, and lemon juice in a blender bowl. Blend for 30-40 seconds. It should look lighter.

Melt the butter. I used a microwave, and it worked well. You want it melted and HOT, but you don't want to start evaporating the water from the butter. (In my microwave I went 1 minute in a glass measuring cup covered with plastic wrap.

With the blender running, SLOWLY pour the hot melted butter into egg mixture through the feed hole at the top.

It will begin to thicken and look like sauce.

If it breaks (looks curdled) add a tablespoon of water and blend again.

If it breaks again, use a packet mix.
Assembly
Lay an Herb Pancake on the plate (or serving platter, if you are going family style) Top with a slice (or 2) of the ham, add a few spears of asparagus, then fold.

Serve with Hollandaise Sauce.
Notes
I usually start with the pancake batter, and make the asparagus while the batter is resting. You will end up with 6-9 pancakes, depending on the size of your pan, and how generous you are with the batter. I used 1/2 cup for an 8 inch pan.
Generally I cook the asparagus in boiling water for this dish, but you can grill it, broil it, or use whatever method you prefer. If using canned white Asparagus, just drain and heat a bit. 
The Hollandaise looks its best when you eat it right away, so save that for last. (Or keep it warm in a double boiler.) Or just use a packet mix, and whisk it up when you are ready to eat.
You can make this a vegetarian meal by leaving out the ham. 
Easy German Cookbook
Looking for more German Recipes? Try my Easy German Cookbook! It's packed with 80 traditional recipes made simple for the American Kitchen.
Order from Amazon… or order a signed copy from my online shop.
Easy German Cookbook: 80 Classic Recipes Made Simple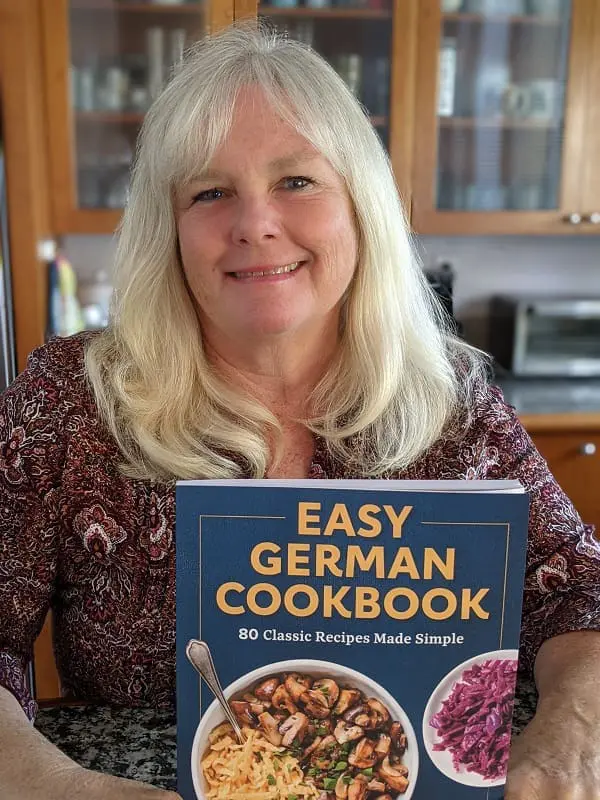 Easy German Cookbook SIGNEDGermanGirl Shop
 How to make Herb Pancakes with Asparagus and Ham
Mix the batter ingredients in a blender
Got your chopped Herbs?
After the batter has rested, add the herbs (and green onion if you are using it)
Add 1/2 cup of batter to an 8 inch pan (you can use a different size, just add more batter)
Fry until the pancake starts to brown underneath (you can peek). Then flip (this is why I use a smaller pan). Cook until the other side browns
Set the done pancakes aside until you are ready to fill.
(Beware of roaming hungry teenagers)
Honestly, you can stop here, and just enjoy the pancakes with any savory topping you like.
Or slice thinly and add to a broth for a delicious soup.
Cook the trimmed asparagus in a pan large enough to hold them all flat. Add lemon and salt to the cooking water
Cook thin asparagus spears only 1-2 minutes. Thicker asparagus needs to cook 5-7 minutes
Rinse in cool water … then set aside
Make the Hollandaise Sauce your favorite way
I'm sorry, I wanted to take photos, but my hands were full!
Assemble your Herb Pancakes with Asparagus and Ham -Kräuterpfannekuchen mit Spargel und Schinken
Fold
Drizzle with Hollandaise and Serve