Pflaumenmus Recipe- How to Make German Plum Butter
My husband followed his nose into the kitchen. "WOW! that smells so good!". Yesterday the house smelled of cooking fruit, a little spice, and a lot of yumminess. (Move over Pumpkin spice, the smell of Pflaumenmus cooking is amazing!) I love Pflaumenmus. Thick and flavorful, tart with a hint of spice from cloves, and the deep purple color makes it as beautiful as it is delicious. Although it's common on the German breakfast table, and as a tasty filling for Berliner and certain cakes… you generally don't find the American equivalent, Plum Butter, in the grocery store. As a child, my mother would carefully pack precious jars in our luggage, or make an expensive purchase from a German Grocery Store. This Pflaumenmus Recipe means no more worries about broken jars in suitcases… and I can enjoy this treat as often as I like without fear of running out!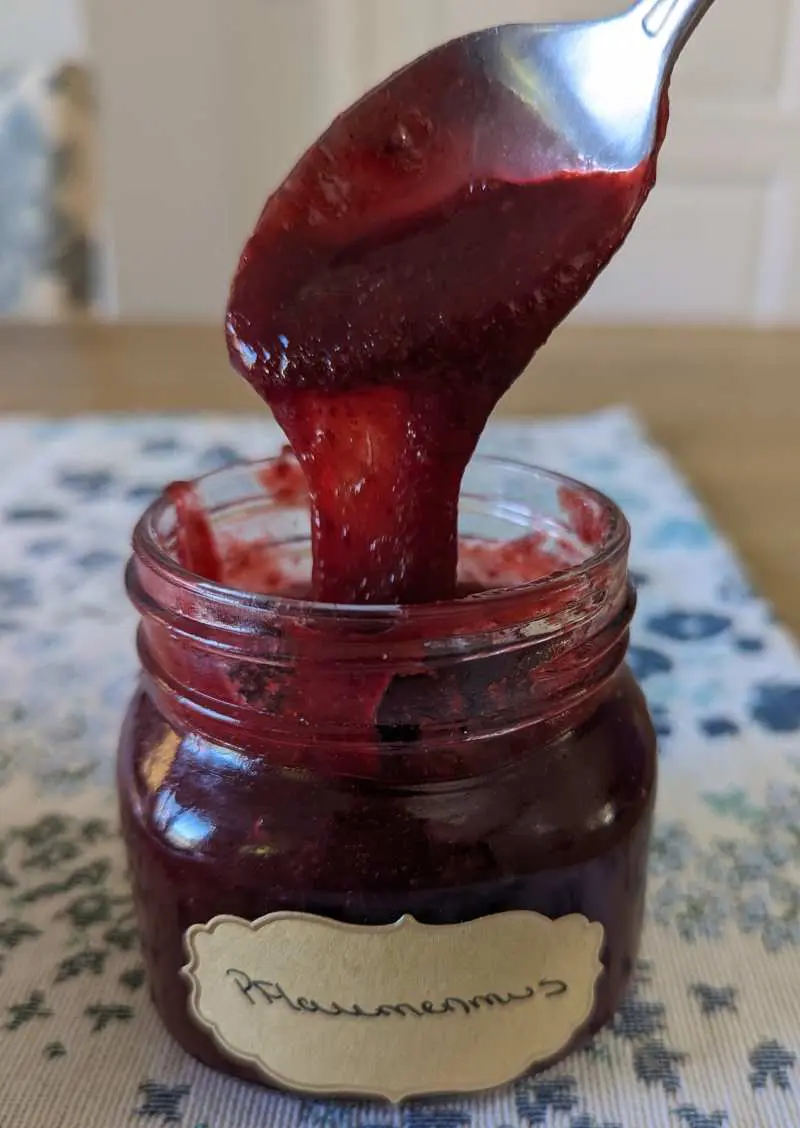 Honestly, the straightforward and simple recipe comes together with minimal work on your part. Most of the effort comes from pitting the plums… the rest happens in the oven. In fact, I'm pretty sure that the recipe can be made in a crockpot if you don't want to heat up the kitchen (watch this space for updates!).

For this batch I used Italian Prune Plums, the same ones that are normally used in a traditional Pflaumenkuchen (Plum Cake). And yes, I know that finding these special plums in American Grocery Stores or Farmer's Markets can be difficult. So go ahead and use any firm plums.
Pflaumenmus Recipe
Making this German Plum Butter doesn't take much effort, but it does take time. Don't rush. All the best things come to those who are patient.
Plaumenmus Recipe- German Plum Butter
Thick and delicious Pflaumenmus tastes delicious on bread! You can also use it as a traditional "Berliner" filling during Karneval Season. The recipe takes little effort... but it does take time.
Equipment
1 Dutch Oven or Heavy Oven Proof Pot

1 Immersion Blender/ Puree Stick

alternatively, use a blender

5-6 8 oz. Jars with lids

(you can use bigger or smaller jars)
Ingredients
4

pounds

Italian Prune Plums

just under 2 Kilo

1 ½

cup

Sugar

approx. 300 gram

1

teaspoon

Powdered Cinnamon

1 ½

teaspoon

Cloves
Instructions
Wash the plums. Cut them in half, remove the pit, and put the halves in a Dutch Oven.

Add the Sugar, cinnamon, and cloves. Stir it all together. Put a lid on the pot, and set in the refrigerator overnight. This will allow the plums to start releasing their juice.

(If you don't want to wait overnight, let them sit at least 8 hours)

Remove the lid from the Dutch oven, see the nice and juicy plums? Now set the Dutch oven into the oven without the lid.

After an hour, give the plums a stir. Then stir again every hour. As you get close to hour four, things will be thickening up.

Wash the jars with HOT water and soap. Make sure they are super clean. Then dry completely (I let mine air dry)

At hour 4, stir again... it should look thick. Use an immersion blender to puree the plums until the mixture is smooth. (If you don't have an immersion blender, ladle your mixture into a clean blender bowl, and puree a bit at a time. )

The Pflaumenmus should feel thick and sticky. If it still seems too liquid, put the pot back into the oven for another 30 minutes.

Ladle the Pflaumenmus into the prepared jars. Wipe the rims with a clean cloth. Put on the lid tight, and then let set the jar upside down to cool. (This should help seal the jar).

Label, store in the refrigerator, and enjoy within 3 months
Notes
The Traditional recipe calls for a cinnamon stick and 3-4 whole cloves. I never find all the cloves when I go fishing after cooking, so I find it easier to use the ground cloves. But go ahead and use what you prefer. 
Store the jars in the refrigerator. If you use a water bath, it can be store safely on your shelves for longer.
Mueller DuraCast 6 Quart Enameled Cast Iron Dutch Oven Pot with Lid, Heavy-Duty Casserole Dish, Braiser Pan, Stainless Steel Knob, for Braising, Stews, Roasting, Baking, Safe across All Cooktops, Red

Braun MultiQuick 5 Immersion Hand Blender Patented Technology – Powerful 350 Watt – Dual Speed – Includes Beaker, Whisk, 505, Black, MQ505

30 Pack Small Mason Jars 8 oz with Lids, Half Pint Canning Jars with 72 Free Labels, Regular Mouth Glass Jars for Canning, Preserving, Candle, DIY & Meal Prep

Easy German Cookbook
Looking for more easy German Recipes? Try my Easy German Cookbook! It's packed with 80 traditional recipes made simple for the American Kitchen.
Order from Amazon… or order a signed copy from my online shop.
Easy German Cookbook: 80 Classic Recipes Made Simple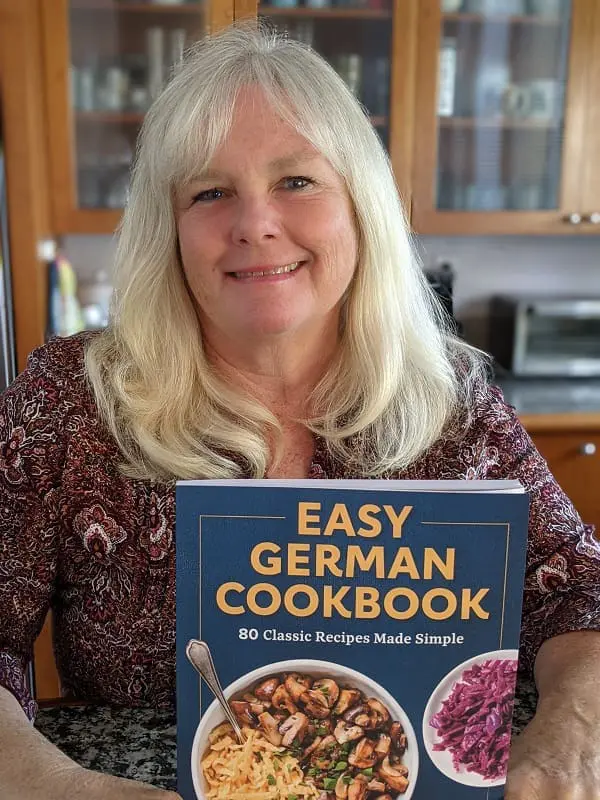 Easy German Cookbook SIGNEDGermanGirl Shop
Step by Step
Split the plums and remove the stems and pits. Place into a Dutch oven.
Add Sugar, Cinnamon, and Cloves
Stir, Cover, and let sit for 8 hours or overnight
After sitting, the plums will have started to release their juices
Take off the lid, and place the Dutch Oven filled with plums into a 300°F Oven
Stir, and cook for 3 more hours… stirring every hour.
If it looks dry, stop cooking and move to the next step. 
Puree the plums with an immersion blender
It will be thick enough to leave a mark when you drag a spoon through the mix. 
If it's still really loose, go ahead and put it back in the oven for 30 minutes. 
Be aware it will thicken as it cools.

Ladle the Pflaumenmus into prepared jars. 
Tighten Lid, and let cool upside down
When cool, enjoy within 3 months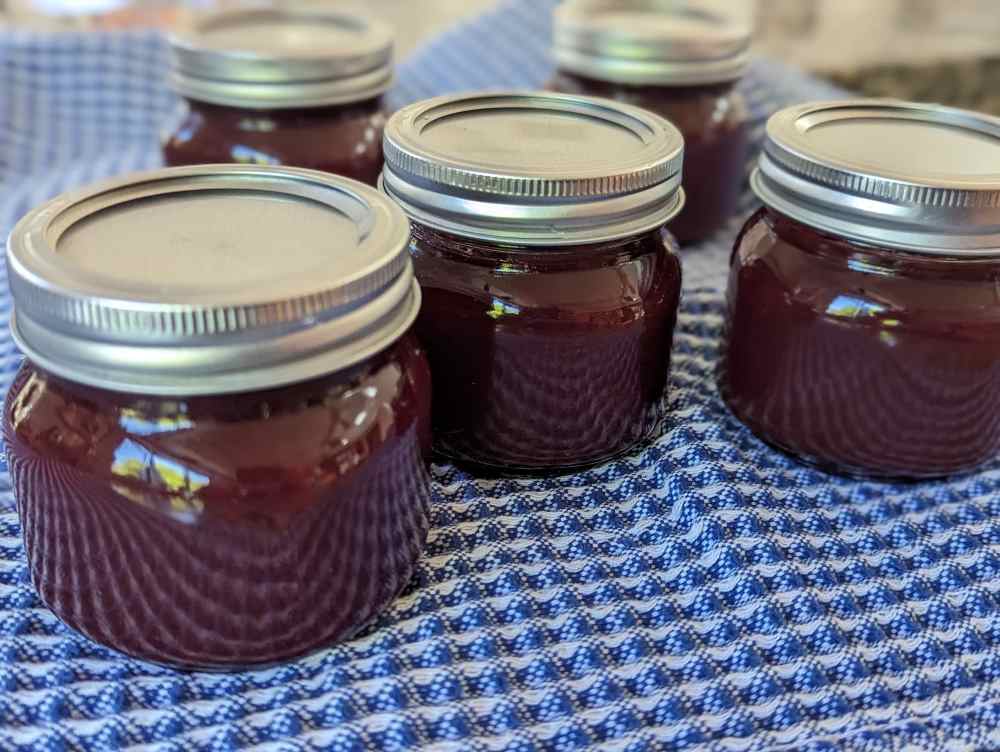 Pflaumenmus makes a great Berliner filling! -> Berliner for Karneval