Make this Fairly Easy Berliner Recipe for Karneval or Silvester
Fasching! Karneval! Even NEW YEAR! or maybe you just LOVE them, it's a good time for Berliner! Honestly, I seldom make them, because fried foods are not really great for the waistline, and we live down the street from one of the world's great Donut places (shout out to SloDoCo!). BUT it's Karneval season, and Berliner (which aren't really donuts, more like a donut cousin) are on the menu. Why? Because fried foods are off the menu during the Lent season, and Berliners are a fabulous way to indulge one last time. Since this is a fairly easy Berliner Recipe, you can make them for your family too. (Plus I've added loads of photos and tips to make it do-able).
Let's start off with the basics… What IS a Berliner?
Simply, a Berliner is a round fried treat made from enriched dough and filled with jam (or some other filling). Basically, a jelly donut.
But it's more! The dough is enriched with butter, milk and eggs (plus an extra yolk), then a bit of sugar and vanilla are added for flavor (note, some recipes even call for Almond extract, so it that calls to you, go ahead and add a teaspoon). The fillings vary. At Karneval you will often find Berliner filled with Pflaumenmuß, Rose-hip Jelly (yum), and Red Current Jelly, but other flavors of jelly are used, as are cream fillings like vanilla and chocolate.
(And who says Germans don't have a sense of humor? As a practical joke, some Berliners fill a few Berliners with MUSTARD to trick people…)
While you can find them as Berliner EVERYWHERE in Northern and Western Germany (and they are practically a staple in Cologne), somewhat ironically, people in Berlin and Brandenburg don't call them Berliners… There they are Pfannekuchen (which is what many Germans call pancakes… and it leads to endless confusion). And in the Southern parts of Germany, they are known as Krapfen… (which to me as a middle of Germany kid, gets confusing, because to me Krapfen are fried treats with raisins)…. They are also known as Kreppel, Fastnachtküchelchen, Fastnachts and those yummy jam filled fried things…
Whatever you call them, give them a try during Fasching/Karneval Season!
One last hurrah! Before the austerity of Lent!
Notes on Making this Easy Berliner Recipe
I used an old Dr Oetker Recipe, and made adjustments for the American kitchen. 
1. Mine are enormous because I used a drinking glass to cut my dough. (It is 4 inch across) If you want them smaller, find a smaller round cutter (after the holidays, my cutters got put away, and the round one is missing!)
2. Like all enriched Yeast Dough products, Berliner need time to rise. Don't rush… go read a magazine while you wait.
3. I used a Deep Fryer, because once upon a time, I was given a Deep Fryer. If you don't have a Deep Fryer, you can fry your Berliner in a pan. Just make SURE your oil is at 375 degrees Fahrenheit. Use a thermometer. Remember, the temperature will jump up and down as you add the dough to the oil.
4. You can coat your Berliner with regular granulated sugar OR powdered sugar. I like granulated sugar, so that's what I used.
I've updated the Recipe a bit to make it easier. Instead of using a piping bag to fill the Berliner, I fill them BEFORE frying.
Both ways work.
Pros and Cons
Pre-filling-
Pro:
– No one can see what's inside (great if you want to make a mustard one)
– You don't have to fuss with a pastry bag (less clean up)
Con:
– It can be tricky to make sure that the Berliner stays sealed
If you prefer to fill your Krapfen/Berliner AFTER Frying them, click HERE for instructions–> Berliner filled with a Pastry Bag
Fairly Easy Berliner Recipe- Perfect for Karneval!
Ingredients
1/2

cup

Butter

1 stick unsalted

1 1/4

cup

Milk

2 1/4

tsp

Dried Yeast

4

Tablespoons

Sugar

4

cups

/ 500 gr. All Purpose Flour

1

tsp.

Vanilla Extract

2

Eggs plus 1 Egg Yolk

1

tsp

salt

few Tablespoons Milk

Neutral oil

like Canola for Frying

Granulated or Powdered Sugar for Coating

Your Favorite Seedless Jam or Pflaumenmuß for Filling
Instructions
Melt butter in a pan (or in a pyrex cup in the microwave) and add to milk. Check the temperature... it should be around 110-115 degrees Fahrenheit (hotter will kill the yeast, colder won't activate it)

Stir in the Sugar

Stir in the dried yeast.

Let sit for 10 minutes until it begins to bubble so you know the yeast is active.

Sift flour into a mixing bowl.

Pour in the milk/butter/yeast mixture. Add the vanilla, salt and eggs. Mix to combine into a sticky dough.

Then Knead (by hand or with a dough hook) for 10 minutes.

Put the kneaded dough into a bowl, cover with plastic wrap, and set in a warm place to rise. It will take about an hour, and will double in size.

When dough is doubled...Lightly flour the counter, then take the dough out of the bowl, and knead it a few times. (Just pat it down, and give it a few kneads to wake it back up)

Roll the dough about 1/4 inch thick

Here is where you make a choice... I didn't have a smaller round cutter, so I cut mine with a glass. The glass was closer to 3.5 inches across, so I had BIG Berliner. Not really tragic, it just made fewer, and I had to cook them a few seconds longer.

Cut out your rounds of dough, and place them on a cookie sheet.

Re-roll the scraps and cut rounds out of the last bits (no waste!). These ones might look funny, so they are great for double checking cooking time!

Put a dough circle on a cookie sheet... drop a tablespoon full of filling into the center.

Using a pastry brush or your finger, wet the edges of the dough.

Then top with a second dough circle

Pinch or press the edges a bit to seal.

Repeat with the rest of the dough

Cover the dough circles with a towel, and leave to rise for 30 minutes.
Get your frying and sugar coating station set up!:
Heat oil to 375 degrees Fahrenheit ... either in a deep fryer or a frying pan.

If you use a pan, make sure that the the oil is at least 2 inches deep, and use a THERMOMETER. If oil is too hot, it burns, if it's not hot enough, you get greasy food.

I used a cookie sheet covered with Paper Towels to catch the Berliner as they came out of the oil... that went next to the fryer.

Next to that cookie sheet I put a bowl with sugar for coating... 1 1/2 cups is more than enough.

Finally, I put a cooling rack onto another cookie sheet to rest and cool the sugar coated Berliner.
FRYING BERLINER:
Carefully lower 2 or 3 dough blobs into the oil at a time. Don't crowd them!

For my 4 inchers, I went 3 minutes on the first side, and 3 minutes on the second side. Use a timer.

If you have smaller ones, try 2 1/2 minutes on each side.

They will be golden brown.

Remove with a slotted spoon to the paper towels. After a minutes, roll the warm Berliner in the sugar to coat completely.

Move to the rack to cool enough for filling

(I suggest you put one of the ugly ones in first... make note of how long you left it in. Then cut it open to see if it's DONE. It shouldn't be doughy inside, the dough will be done. If it's mushy, adjust your timing 30 seconds or a minute more or less when you fry the the pretty ones. )

(BTW. kids don't care what they look like... after you've got your timing right, you can fill the ugly ones with jam, and hand them to the kids who are hovering at your elbow waiting for a taste)

Eat them FRESH
Notes
This recipe made 12 4 inch Berliner. If you make them smaller, you will make more.
Keep the temperature at 375! And watch them so they don't go too brown. (I always cook an "ugly" one to test the temperature and time.)
Easy German Cookbook
Looking for more easy German Recipes? Try my Easy German Cookbook! It's packed with 80 traditional recipes made simple for the American Kitchen.
Order from Amazon… or order a signed copy from my online shop.
Easy German Cookbook: 80 Classic Recipes Made Simple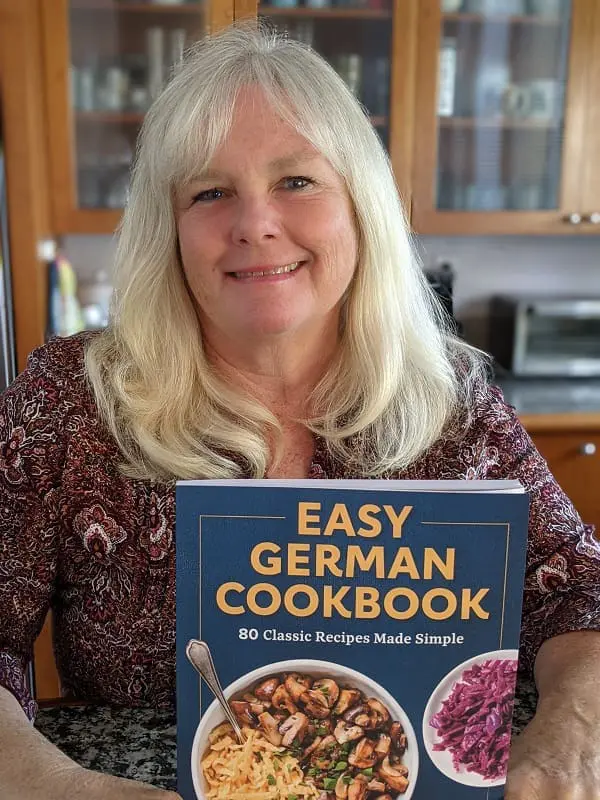 Easy German Cookbook SIGNEDGermanGirl Shop
Pflaumenmus is a Traditional Berliner Filling
Sweet and tart, with a hint of cinnamon and cloves… Pflaumenmus or Plum Butter, is a perfect flavor fit for Berliner. You can make it with the recipe here-> Pflaumenmus
Frisch-pflaumenmus (Plum Jam) – 16oz (Pack of 1)

Step By Step for Easy Berliner
Let the Dough Rise
Turn out onto a floured surface and punch down
Roll out the dough to around 1/4 inch
Cut Dough Circles (I made them 3 1/2 inches)
If you don't have a cutter, a glass will work.
Place a circle on a baking sheet
Add a blob of filling to the center
Let Rise 30 minutes
Fry to Golden on each side in 375 degree F oil
3 minutes per side (maybe 4… do a test Berliner)
Place on Paper Towels to absorb excess oil
Sprinkle with Sugar or decorate