Authentic German Pancake Recipe- Eierkuchen Goldgelb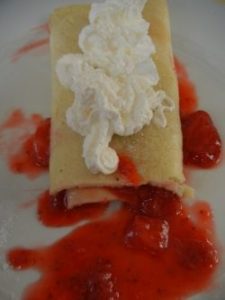 Today was a good day to pull out the
Authentic German Pancake Recipe
. You see, I wake up every morning with lists of 'what do I have to do today' running through my head. After closing my eyes again (in complete denial that morning has actually come), I stretch, and get out of bed chanting my mantra…. "I can do this, I can do this". I try to get everyone started with a full stomach, so we have enough energy to get through it all.
Eierkuchen, German Pancakes are just the ticket. They can be filled with any number of fillings- berry sauce,  fruit, jam, Nutella, or even sugar. They are more a crepe than a traditional American pancake, and oh so delicious.
I grew up on these. Mom made them for us, so did my Oma, and now I make them for my kids and their friends. They really are a hit at sleepovers!
We all use the same basic recipe, a pinch of this, a little of that, but since
"eyeball it"  doesn't work well in a recipe, I will share the one you find in the Dr. Oetker cookbook. Dr.Oetker is the Betty Crocker of Germany. His name is on loads of Cookbooks and cooking products. His School Cook Book (SchulKochBuch) is indispensable in my house. I've converted the ingredients from metric to make it easier for you to make.
All you need is a blender, a frying pan, and a spatula.
Add sugar if you are making pancakes with a sweet filling. If you prefer savory, leave the sugar out.




Authentic German Pancake Recipe
Authentic German Pancake Recipe- Eierkuchen Goldgelb
Ingredients
1 3/4 cup (250g) Flour
4 Eggs
2 cups (1/2 liter) Milk
1 tbl Sugar
canola oil or butter for frying
Instructions
In a blender, combine flour, eggs, milk, and a spoonful of sugar. Blend until fully combined.
Let sit for 5 minutes.
Now... here's where you make a decision.... if you feel really confident in your flipping ability.. use a large frying pan. If... like me... you tend to make a mess of things when you make them too big... get a smaller one.
Heat tablespoon of oil or butter in small nonstick frying pan. Pour about a half a cup, or more, of batter into the hot pan. Pick it up and swirl it around a bit to spread it out. You can add more. Fill the bottom of the pan... should go about 1/8 to 1/4 inch thick (don't get your rulers out.. eyeball it)
When bubbles start forming, peek under a corner (I know, I know, there are no corners on a round pancake! that was just a test) Peek underneath. If it's starting to get golden, flip it.
Let other side cook a while, peek occasionally. When golden, put it on a plate in front of a hungry child... or put it on a plate in a warm oven
Repeat until batter all gone. (you'll need to add butter or oil to the pan between every one or two pancakes... it's ok... tomorrow you'll be back to your fiber cereal)
Keep in mind, the first pancake generally doesn't work. Don't know why. Don't fret. Take it out back, throw it like a frisbee to the dog. He'll be happy.
Serve the pancakes with jam, fruit fillings, NUTELLA!! or sugar
https://germangirlinamerica.com/eierkuchen-goldgelb-german-pancakes/
Dr Oetker and Oma….Making Great Food Together for Years.
<
Best Recipes: German Cooking And Baking

Oma Says We Don't Need A Recipe, We're German! Apron and potholder set, German Moms, Grandmas, Grandmother, Mothers Day, Birthday, Gift, Present, cooks, chefs, bakers

Topping Your German Pancakes
Be Creative
When we make pancakes, I put a load of different toppings on the table and let everyone chose what they want to put on. My youngest likes to put on everything!!! Fruit, jam, sugar, and most of all whipped cream!
–Berry Sauce
-Jam or Preserves
-Fresh strawberries, blueberries, ANY berries!
–Sauteed Apples with cinnamon
-NUTELLA (this is a favorite)
-Powdered Sugar
-granulated sugar
-whipped cream
Apple Pancake Variation
To make Apple Pancakes….
2 Apples
Few Tablespoons Butter
Cinnamon Sugar (mix sugar with cinnamon)
Eierkuchen Batter
Instructions-
Mix up the batter for Eierkuchen (German Pancakes)… set aside for a moment.
Peel, core and slice a few apples. (I use the apple slicer, then cut the wedges in half lengthwise)
Melt a tablespoon of Butter in your pancake pan. Add enough apple slices to just about cover the bottom of the pan.
Sprinkle a little cinnamon sugar on the apple slices.
Saute for a few minutes, flip over and saute another minute.
Now, pour the Eierkuchen batter over the apple slices.
Cook until it sets… then flip over (this is kind of tricky, but you got this!)
Cook until finished.
Serve with cinnamon sugar.
German Pancakes can also be topped with Savory fillings.
This makes a nice dinner or lunch, and a great way to get rid of leftovers.
Try them with
Spaghetti Sauce
Beef Stroganoff (instead of noodles)
Sauteed Mushrooms
Sloppy Joe meat
And of course, my kids all firmly believe that ANYTHING tastes better with melted cheese on it.