German Marble Cake Recipe with Eierlikör- Eierlikör Marmorkuchen
A Marmorkuchen (German Marble cake) usually satisfies everyone everyone at the table… those who like chocolate AND those who like vanilla. Vanilla cake batter is swirled with chocolate cake batter, and the end result is a pretty "marbled" appearance.  This German Marble Cake recipe with Eierlikör ramps up the flavor with the addition of your Oma's favorite (and quite tasty) Eierlikör, which is mixed into both batters giving the cake an extra tasty flavor.
What is Eierlikör?
For those of you unfamiliar with it…an Eierlikör is a potant sipping liqueur made from egg yolk, vanilla, rum, and a little brandy. It's thick enough to be a dessert topping (and tastes quite delicious over ice cream). Imagine a slightly thicker egg nog, but with rum and brandy… and no nutmeg. (And yes, there is alcohol in it. It's my understanding that the alcohol bakes out, and it should be just fine for kids… maybe make the glaze with milk instead of the liqueur if you are concerned).
Don't have Eierlikör? Here's my recipe for making it at home. Eierlikör Recipe for Baking
German Marble Cake Recipe with Eierlikör- Eierlikör Marmorkuchen
You can bake this in the rounded American Bundt Cake pan… or use the traditional German Gugelhupf pan. (How did Gugelhupf become a Bundt). I you choose the narrower Gugelhupf, take the cake out 5 minutes earlier!
German Marble Cake with Eierlikör- Eierlikör Marmorkuchen
A simple marble cake of swirled Vanilla and Chocolate boosted with the addition of Eierlikör!
Equipment
Bundt Cake Pan

You can use a German Gugelhupf pan, bake 5 minutes less
Ingredients
Main/Vanilla Batter
1

cup

Butter, room temperature

227 grams

1 ¼

cup

Sugar

250 grams

1

Tablespoon

Vanilla extract plus 1 teaspoon Sugar

2 tablespoon Vanilla Sugar

1

pinch

Salt

5

large

Eggs

¾

cup

Eierlikör

200 ml

1 ¾

cup

Flour

220 grams

¾

cup

Cornstarch

100 grams

2 ½

teaspoon

Baking Powder
Chocolate Batter
½

cup

Eierlikör

130 ml

6-7

Tablespoons

Unsweetened Cocoa Powder

30-35 gram
Eierlikör Glaze
1

cup

Powdered Sugar

130 gram

3-4

Tablespoons

Eierlikör
Instructions
Grease and Flour a Bundt or Gugelhupf pan. Don't skimp on this, or the cake will stick.

Put the Butter, Sugar, and pinch of Salt in the bowl of your mixer. (Add Vanilla Sugar now if using) and beat on medium high for 5 minutes. Scrape down occasionally. You want it to get light and fluffy.

Add the eggs one at a time. Beat well after each one.

Add the ¾ cup Eierlikör and Vanilla extract +1 tsp sugar (if using), beat 30 seconds

Slowly add the dry ingredients, Flour, Cornstarch, and Baking Powder. Beat until fully combined. Scrape down the sides and under the beaters. Beat another 30 seconds.

Pour ½ to ⅔ of the Vanilla batter into the prepared baking pan. Set aside for a moment. (The more vanilla in the pan, the less chocolate you will have. Less chocolate will also have a stronger chocolate flavor)

To the remaining batter in the mixing bowl, addthe cocoa powder and ½ cup Eierlikör. Beat slowly to combine. Be sure to scrape the sides of the bowl and under the beaters.

Pour the chocolate batter over the vanilla batter.

With a spatula/spoon/knife create a marbled effect by swirling the spatula or spoon through and up under the batter. You don't want to mix it completely, just give it a swirl. (Almost like folding in egg whites)

Bake in the preheated oven at 350℉ for 50 minutes

Remove the cake from the oven and let cool on a rack for 10 minutes before turning it out of the pan. Then let cool completely before icing.
Glaze the Cake
Whisk powdered sugar and Eierlikör in a bowl until smooth. Drizzle over the COOLED cake.

Alternatively, sprinkle the cooled cake with powdered sugar and serve
Notes
This cake keeps well in an airtight container for 2-3 days. And in MY opinion, tastes better on day 2.
Like this Recipe? Find more great recipes in my Easy German Cookbook
Easy German Cookbook: 80 Classic Recipes Made Simple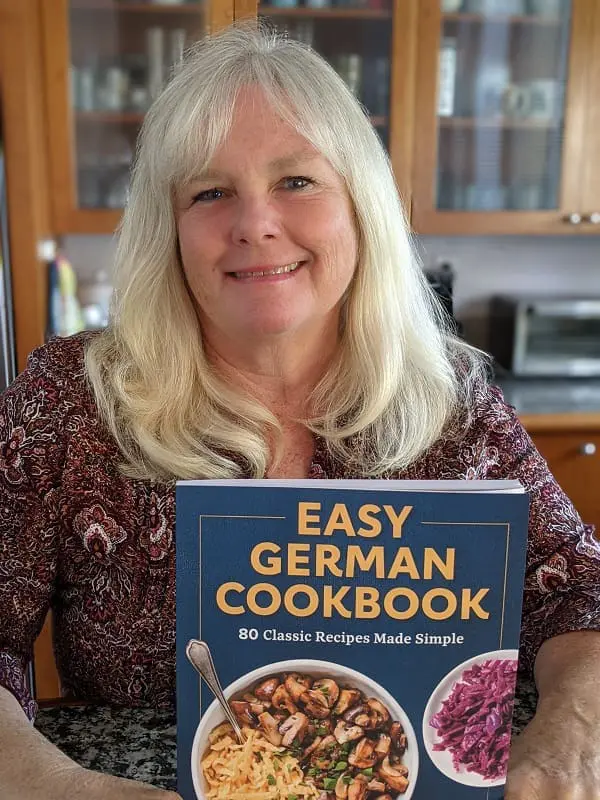 Easy German Cookbook SIGNEDGermanGirl Shop
How to make the German Marble Cake Recipe with Eierlikör
Beat the Vanilla batter ingredients, and pour 1/2 to 2/3 into the prepared Bundt or Gugelhupf pan
Mix cocoa and more Eierlikör into the remaining batter until smooth.
Pour the chocolate batter over the vanilla batter.
Then use a spoon to swirl them together with an over under motion.
Swirl all around the whole cake
Bake at 350°F for 50 minutes (45-48 minutes if using a Gugelhupf pan)
Turn out of pan after 10 minutes, let cool completely
Whisk Eierlikör and Powdered Sugar to make the glaze. If concerned about alcohol, use milk instead…  add a 1/2 tsp of vanilla extract for flavor
Drizzle over the cake. It's best to set the cake on the cooling rack over a lined baking pan for easy cleanup.
(yes, you can scoop up the drips, and put them back on the cake)
When the glaze is set, move the cake to the serving plate.
Slice and enjoy
Serve the cake with Whipped Cream… or even pour a bit of Eierlikör on your slice to make it extra yummy!