German Straw Christmas Ornaments -To Buy or Make
German Straw Christmas ornaments
have been used in Germany and also in Scandinavia for years. They are fairly easy and inexpensive to make, and since most people had some access to straw, they became quite common. But it's more than that… straw is closely tied to the symbolism of the Christ Child being born into a bed of straw. In fact, the legend of the first straw ornament is related to the Christmas Story.
One of my favorite German School memories were our Christmas pageants. We would stand on a small stage  and sing all of the familiar German Christmas Songs for our families. Because there wasn't much money for sets, the back of the stage was covered in German Straw Christmas Ornaments that our mothers made. They came together for a few hours in the weeks leading up to the show and turned straw into gold…well… into stars, which were then sold as a fundraiser (so, maybe gold isn't that far off).
Straw Ornaments… simple or complex… are a beautiful and inexpensive way to decorate for Christmas. Proof that even the most humble of objects can be fashioned into something special.
Quick Look at the Contents
German Straw Christmas Ornaments
In our home we put the Straw Christmas Ornaments on the tree… but mostly we use them to decorate the other greenery around the house. Mom always puts a vase of cut evergreen branches on the fireplace (usually from the branches cut off the bottom of a Christmas Tree). This gets decorated with the German Straw Christmas Ornaments… and in fact, makes its appearance BEFORE the Christmas tree comes into the house. I've seen them hung on greenery around doorways, and on fireplace mantles. These rustic and lightweight ornaments even make pretty mobiles!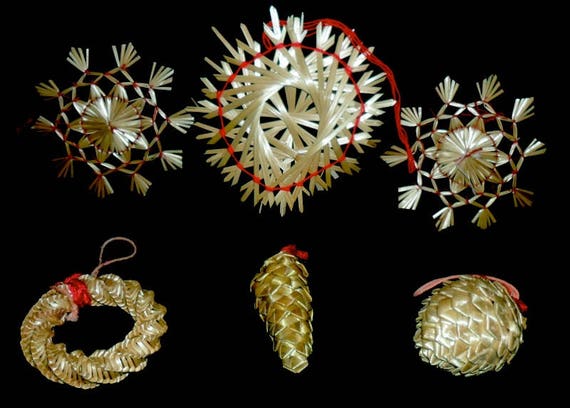 6 Vintage German Straw Christmas Ornaments~Vintage Christmas~Rustic Christmas Deco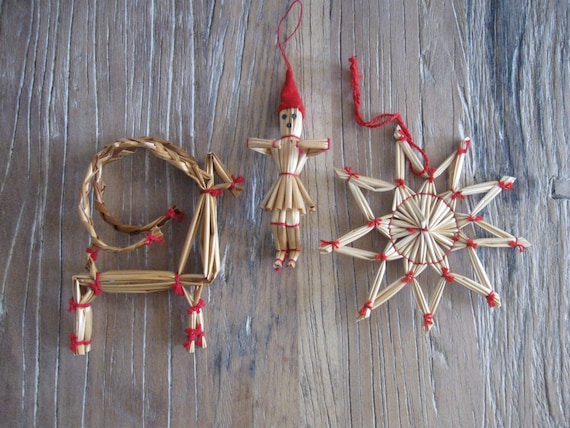 3 German Straw Christmas Ornaments

Legend of the Straw Stars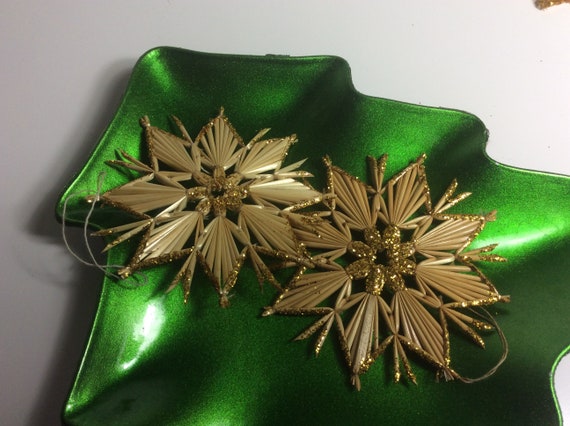 Vintage german christmas ornaments hand crafted straw stars golden glitter

The Legend of the Straw Stars is a wonderful story to share with children.
Once upon a time, a young shepherdess wanted to give a gift to the Baby Jesus. But she had no money to buy anything. She sat on her straw mattress staring up at the heavens, and saw the star of Bethlehem. Suddenly she knew what she should make! She wove the straw from her bed into a Star of Straw… and gave it as a special gift.
As the story goes, Mary laid her son Jesus in a bed of straw in a manger… so the straw ornaments are closely tied to infant Jesus.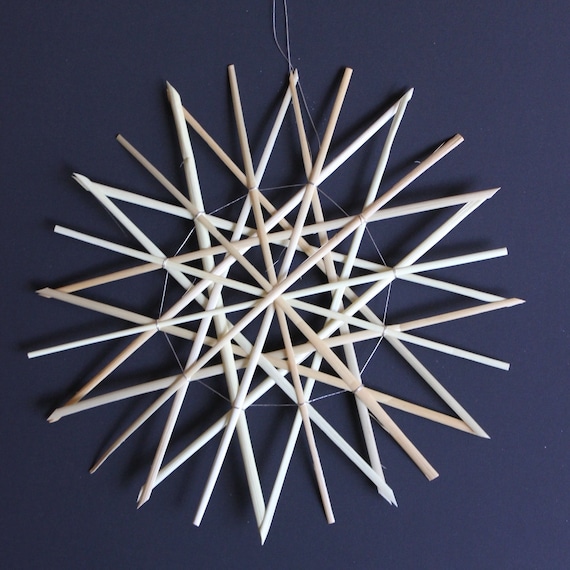 Straw Star Ornament, Straw Christmas Ornament – Large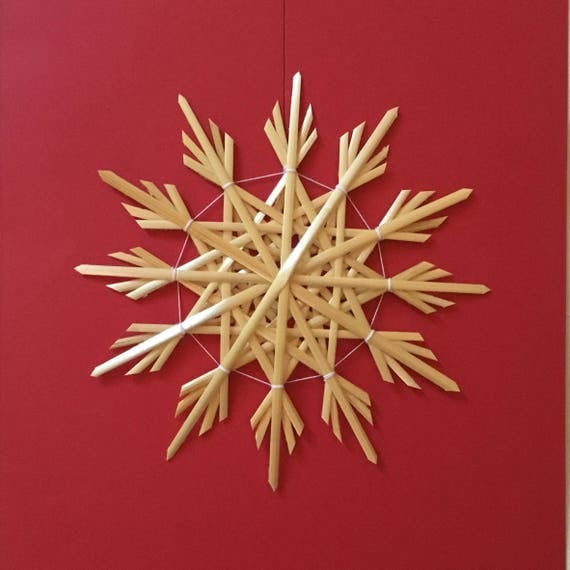 Christmas Tree Decoration – Handmade German Straw Star Ornament

Make Straw Christmas Ornaments
Making Straw Christmas Ornaments is not too difficult, once you get the hang of it. These books are in German, but they  have good step by step photo instructions. The mold/jig is helpful for holding the straw pieces in place, but it isn't essential. Also, you can buy the craft straw (if you don't happen to have a field behind our house).
Wunderschöne Strohsterne

Strohsterne zur Weihnacht. Detaillierte Anleitungen in Wort und Bild.

Strohsterne und Nachteulen (German Edition)

Neue Strohsterne. Schritt für Schritt zum Erfolg.

Bezaubernde Strohsterne. Ganz leicht selbstgemacht von klassisch bis modern.

See Straw Stars Being Made
This video very slowly and carefully shows how to make straw stars with the frame. This video has German and English Instructions.
Knorr Prandell Mould For Straw Star, Red

Knorr Prandell Straw Splitter with 3 Stripes, Red by Knorr Prandell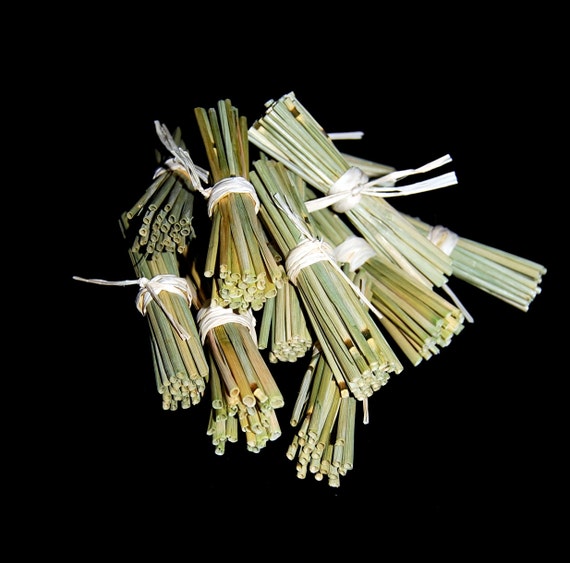 Dried straw bale, Dried grass bunch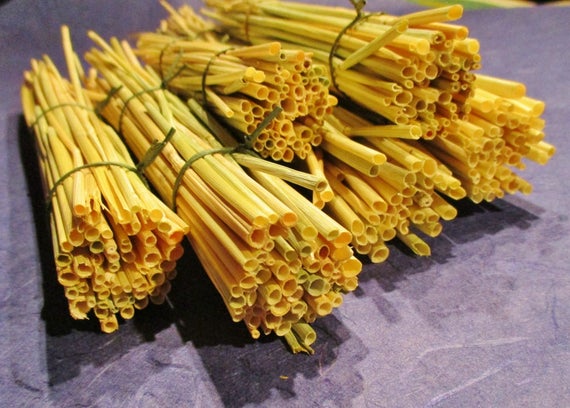 Dried Grass Stems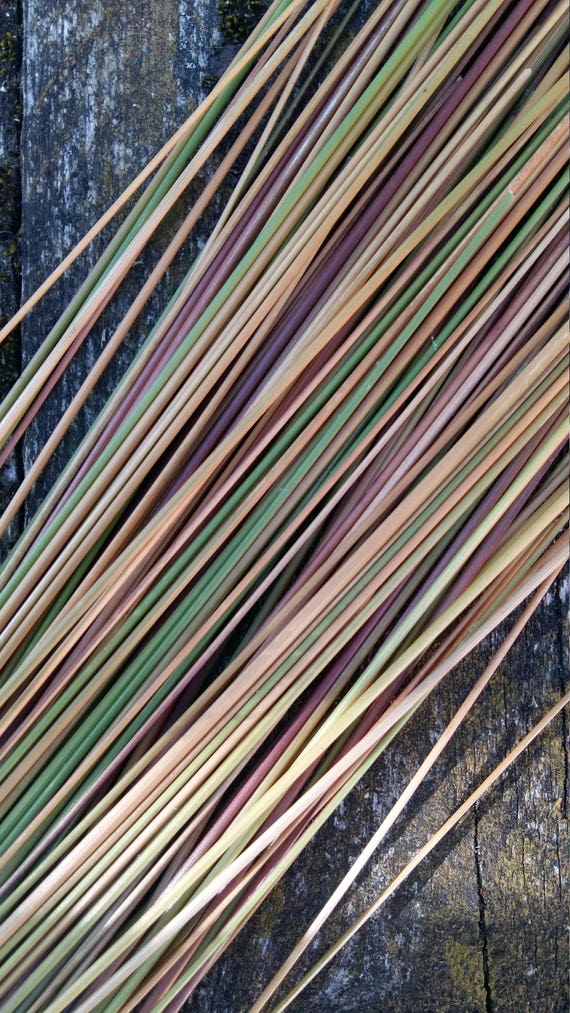 real straws tiny grasses stems straws for crafts

How to Make Straw Stars without a Frame
You don't need a frame to make simple stars. This video is in German, but it moves VERY SLOWLY…and isn't difficult to understand. She uses a needle to split the straw.
Where to Buy German Straw Christmas Ornaments
I understand… not everyone is crafty. Luckily, you can buy German Straw Christmas Ornaments to hang on your tree or mantle.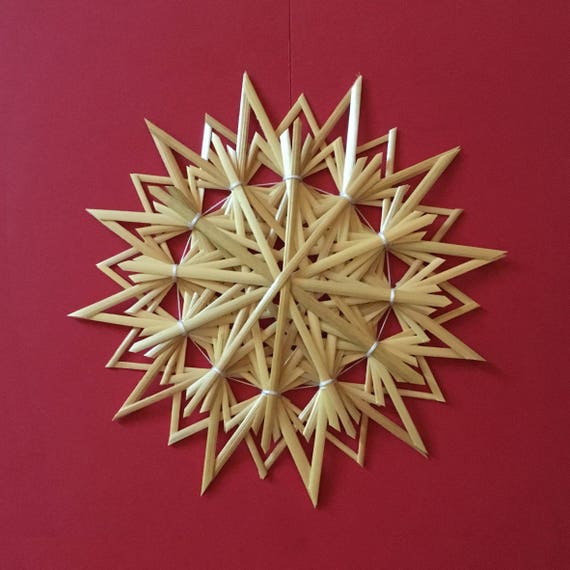 Handmade German Straw Star Ornament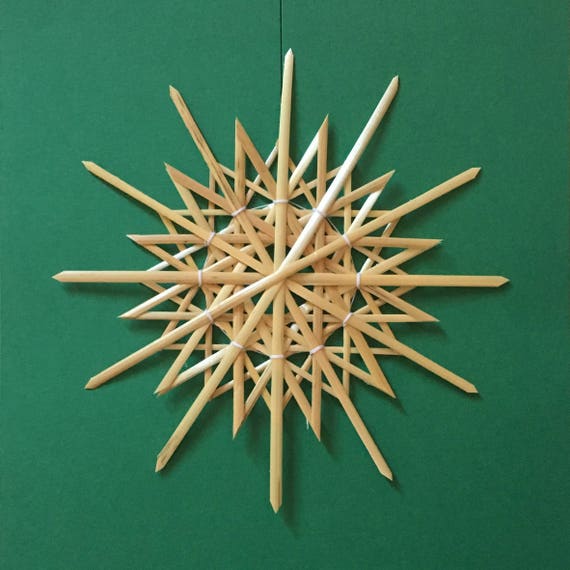 Handmade German Straw Star Ornament

Christmas Tree Decoration – Handmade German Straw Star Ornament – Design 6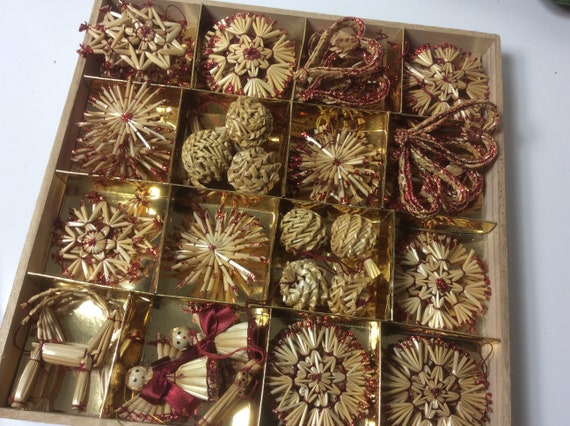 AVintage german christmas straw ornaments red glitter full box stars angels hearts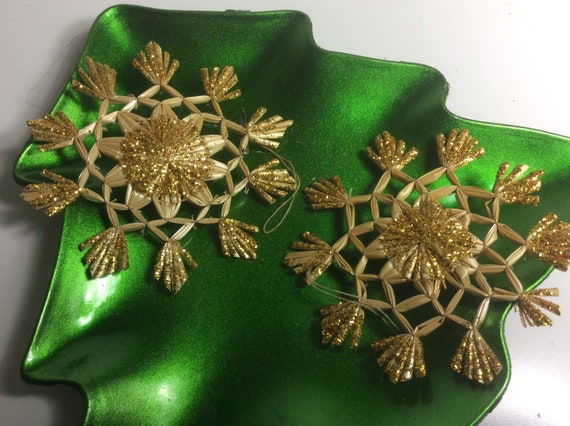 Vintage german hand crafted Christmas ornaments straw stars with golden glitter set of 2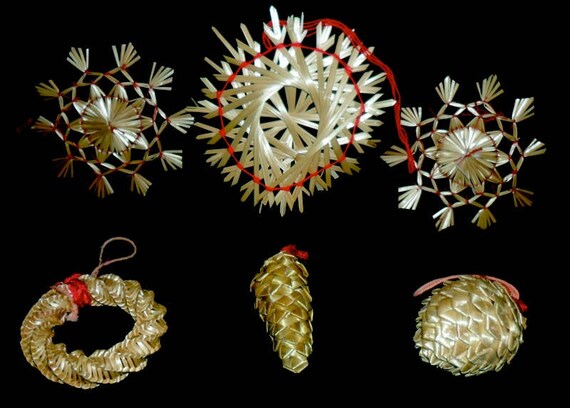 6 Vintage German Straw Christmas Ornaments~Vintage Christmas~Rustic Christmas Deco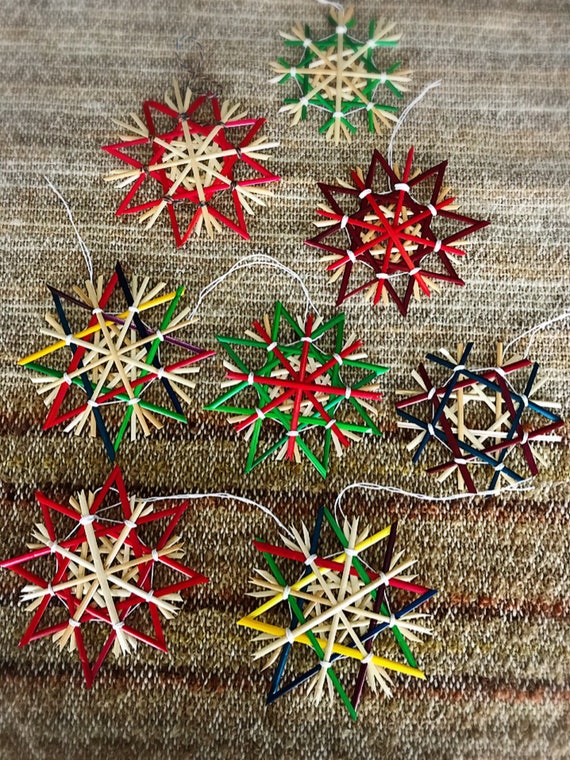 Handmade Traditional German Straw Stars Strohsterne Christmas Weihnachten Ornament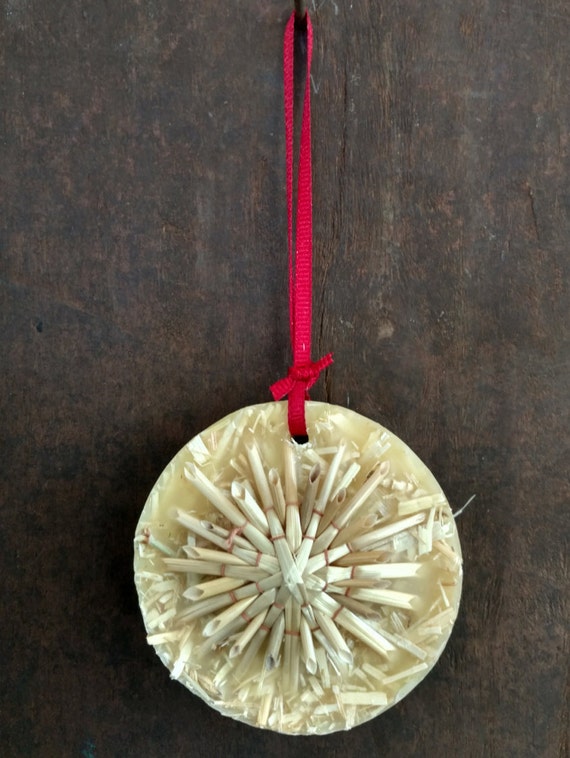 Straw & Wax Christmas/Yule Ornament: Star Motif

German Straw Mobiles
These light and airy mobiles look beautiful hanging over the table.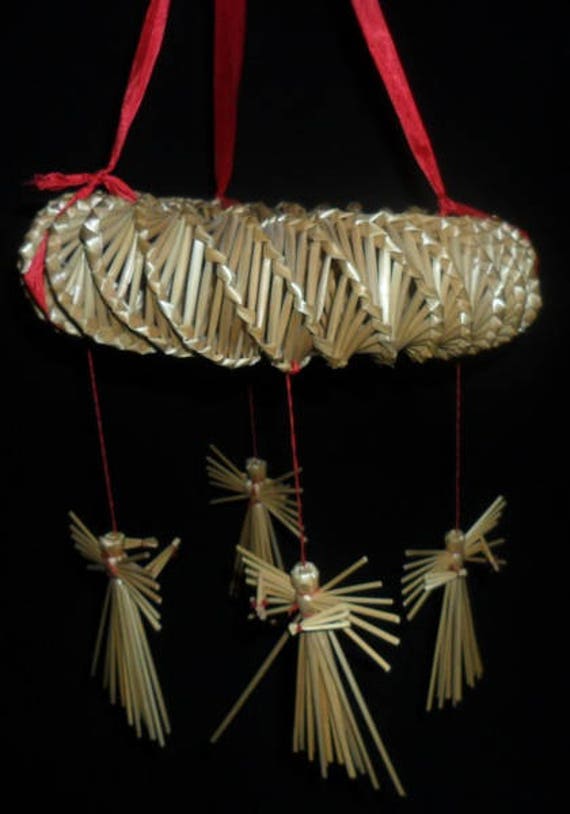 Vintage German Straw Christmas Hanging Wreath with 4 Straw Angels~Vintage Christmas~Hand Made Straw Wreath~Rustic Christmas Deco