My Oma's German Lemon Cake Recipe
I was in Costco today… picked up my usual car load of supplies….. fruit, veggies, 25 pound bag of flour, 25 pound bag of sugar, 10 pound bag of chocolate chips….. you know… the standards. Today they had Meyer Lemons. Real Meyer Lemons. Sort of orangy-looking, delicious Meyer lemons. I had to buy them. I love love love working with citrus (grew up in a Wholesale Nursery specializing in Citrus… citric acid flows through my veins!). What to make? That's easy, my Oma's German Lemon Cake Recipe.
I have this fantastic recipe for a German Lemon Cake that I got from my mom who got it from her mom. It's delicious. I love it in the middle of the afternoon with a cup of tea, but I have a friend who swears cake is perfect for breakfast. And naturally, Zitronenkuchen is an excellent addition to any Kaffeeklatsch table!
NOTE- I get it… some of you may not have Meyer Lemons, that's ok! Frankly, any lemon will work for this cake… I promise!
Oma's German Lemon Cake Recipe
Oma's German Lemon Cake Recipe
Bake the German Lemon Cake the day before you want to eat it.... it tastes better after soaking for a day.
Ingredients
Cake:
2

sticks BUTTER

1 Cup or 230 gr.

1

c.

sugar

200 gr.

1

Tbl. Baking Powder

1 3/4

c.

unbleached flour

225 gr.

4

eggs

1/4

cup

Lemon Juice and Zest of One Lemon

55 gr
Soaking Liquid:
3/4

c.

sugar

170gr

grated zest and juice of 4 lemons
Glaze/Guss:
2

c.

powdered sugar

220 gr

few tablespoons lemon juice

grated lemon peel
Instructions
Either butter or spray 9 inch round baking pan with non-stick spray

NOTE- To guarantee that you get the cake out perfect every time...line the bottom of the pan with parchment before buttering or spraying pan (or use a

Spring-form Pan

)
Cake Batter:
Cream butter and sugar for 5 minutes.

Add eggs one at a time until incorporated after each one.

Scrape sides of bowl.

Combine flour and baking powder, add slowly to butter mixture.

Add lemon juice and zest, continue mixing until just combined

Pour batter into prepared pan.. spread out evenly... pop into oven

Bake at 350 degrees- 50 to 60 min, until golden brown on top

Meanwhile.... make the soaking liquid
Soaking Liquid:
Mix 3/4 c. sugar with juice and grated zest of lemons in a saucepan

Heat over low to medium heat until sugar melts... then set aside

When cake is done, take it out of the oven, and prick it all over with a fork. Slowly pour the soaking liquid evenly all over cake.

Let cake sit overnight on counter, covered.

The next day, turn cake out of pan onto a serving plate.
Icing:
Mix 2 cups of powdered sugar with lemon juice until it looks like elmer's glue... or maybe a little thicker

Pour over cake

To make the cake look and taste more lemony,

grate

on some more lemon peel over the glaze before it sets.

Slice and devour
Notes
The odd amount of time includes letting the cake sit overnight to absorb the lemon flavor.
Like this Recipe? Check out my Easy German Cookbook
80 Classic German Recipes made simple!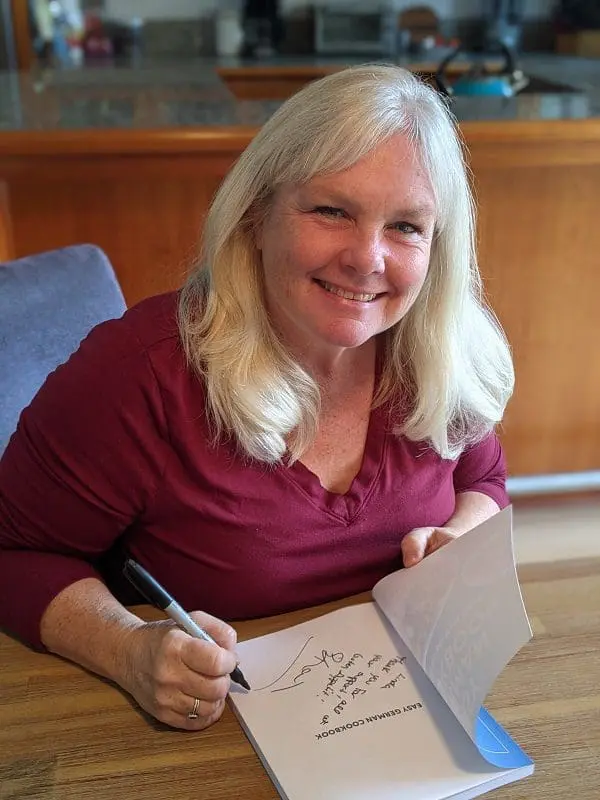 Easy German Cookbook SignedGermanGirl Shop
Easy German Cookbook: 80 Classic Recipes Made Simple

My Oma
Margarete Pangratz
I never had the chance to meet my Oma Pangratz, she died before my mom and dad married, and long before I was born. My mom is the little girl on the right side of the picture… it must have been taken around 1943 in Germany. My grandparents lived in Silesia, in a small town called Schreckendorf. At the end of World War 2 they were refugeed, and luckily, sent to the western part of Germany. They eventually landed in Nord Rhein Westfalia. The German borders were redrawn after the war, and the home that they left behind was taken over by a Polish family. My mother actually had a chance to go back and see the house a few years ago. She was amazed at how much she remembered, and how much was still the same.
My grandparents owned a small grocery store in Buldern after this. Times were hard, and my Oma worked hard. Her mother lived with them to help raise my mother and her sister. Even though her mother did most of the cooking, my Oma loved to bake. This is a recipe she loved, and it was passed to me from my mother.
Oma died in 1965 of ovarian cancer. I'm sorry I never got a chance to meet her, but maybe this cake is a way for her memory to live on.
Step By Step Photos for Making German Lemon Cake
Oma's German Lemon Cake Freezes Well
You can freeze this cake for up to two months.
Go ahead and soak it before freezing… but wait until thawing it out before glazing it with icing or the icing gets a bit soggy. (It doesn't taste bad, it just doesn't look as nice).
When the cake has cooled, wrap it up in plastic wrap, then either put it in a ZipLock Freezer bag, or wrap again in foil. LABEL it before you put it in the Freezer (what it is, and the date)
(yes, you will forget what it is… Label your Cake!)