The Best Shopping Malls Germany Has- Find Everything You Need, and a Few Things You Don't




[no_toc]
Even though going to the Mall isn't the same mandatory weekly activity that used to be here in America (in fact, recently, WYTV reported that big American retailers are off to a shaky start this year) , I LOVE LOVE LOVE to browse the shopping malls in Germany! Many of the shops and stores are along Fussgangerwege (Pedestrian Ways). Even the indoor malls have a special feel to them, with plants and art that make you feel like you are outside! I can happily spend hours window shopping or buying treats to fill my suitcases. Of course, with phenomenal the growth of e-commerce, it isn't really surprising that physical shopping malls are having a hard time competing. Face it, online shopping is so much more convenient. Even the simple act of browsing has changed. I used to love wandering through the stores for fun, now instead, kids (and adults) will even imaginary shop with digital games like Shopping Mall Girl from Google Play and Shopping Spree from the makers of the Slingo game. Still… there is something wonderful about an afternoon Bummel through a German Shopping Mall. (And sometimes, I even have to buy new suitcases… because… well… real things take up more space than digital purchases). Added bonus… the food in German Shopping Malls is always SO MUCH BETTER! Open air Cafes or even top floor cafeterias… I can stroll and eat all day!
There are so many fantastic shopping malls in Germany! Here are some of the best ones.

Best Shopping Malls Germany Has to Offer
Zeilgalerie in Frankfurt

Architecture and the spectacular views are the biggest draws for Zeilgalerie. The design of the mall is modern and almost futuristic, with spiral shaped interiors and the use of concrete, glass and steel, which has a contemporary museum feel to it. And if you head to the roof, you'll have a breathtaking view of the entire city, so be sure to catch the sunset on the roof terrace.
Fünf Höfe in Munich
For that perfect mix of old and new, the Fünf Höfe (which translates to five courtyards) is located in a historical building but uses modern elements in its passageways. Not only is there a vast collection of international designers, but Fünf Höfe also contains art galleries, restaurants, fountains and hanging gardens, so that you can spend an entire day in one place and still get so much done. Best of all… the hanging gardens float above your head so you feel as if you are in a jungle, instead of in a city…
Das Schloss in Berlin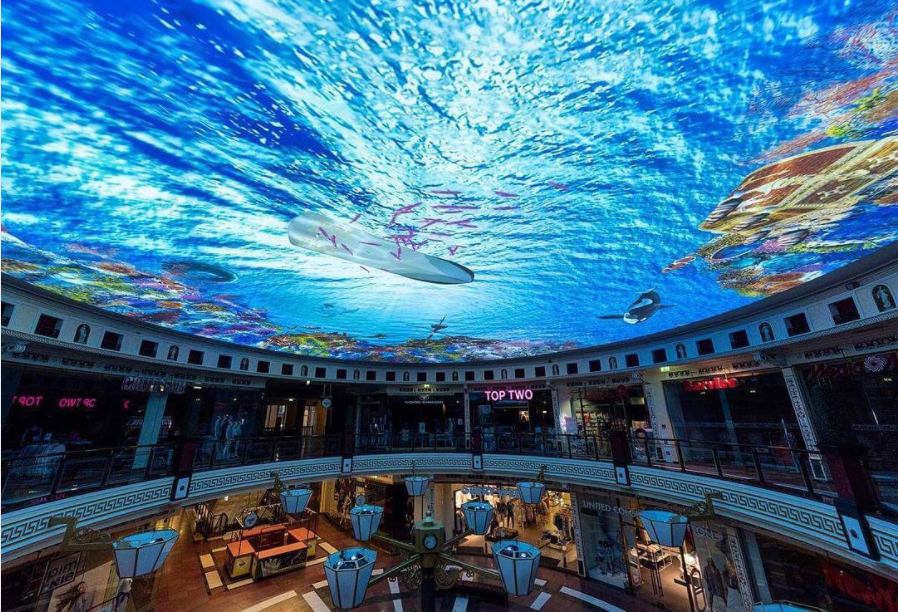 Das Schloss is a shopping experience like no other. Playing to all your senses, this galleria fully immerses visitors into this ocean-themed lifestyle mall that is decorated with gold, stucco, sculptures and palm trees, with light projections on the ceiling of seawater creatures. Ocean scents and whale songs complete the scene. The ceiling animations change according to the holiday or season. You may even forget to shop, and just sit to watch the show!
CentrO Oberhausen
The BIGGEST shopping mall in Germany (and probably the most "American style Mall") is the CentrO Oberhausen in North Rhine Westphalia, with over 220 shops from all over the world. Luckily, there are also 20 restaurants, so you have loads of opportunity to recover from all that browsing/shopping.  You will also find a theater and a children's activity area. It's a great escape on a cold rainy day.
Prinzipalmarkt Münster
The Prinzipalmarkt Münster is by far my favorite shopping mall in Germany. By American standards, it's not really a  "mall" (and it certainly doesn't smell like Cinnabon), rather it is row of shops and beautiful stores along a pedestrian way that have been selling quality goods since the 12th century. It's the perfect place to find that special gift or fashionable article of clothing. And, there are some amazing cafes…. added bonus, the arcade allows you to walk comfortably and protected in all weather.
Book Your Trip to Germany NOW