What is a Zuckerhase? Learn More about these Nostalgic Easter Treats!
Every Easter, someone asks me if I remember the Rote Zuckerhase (red Sugar Rabbit). Truth is, a Zuckerhase is new to me. I'm a child of chocolate bunnies. And I finally  saw them in Berlin when I visited Germany at Easter. Since so many people have fond memories of them, I decided to do some digging. Turns out, there's a reason they existed, and a reason you don't really see many of them anymore. But, don't despair,  the Rote Zuckerhase is making a nostalgic comeback… and I found a source for you to get them!
What is a Zuckerhase?
A Zuckerhase is a Sugar Rabbit. Before the 18th century, sugar was an expensive commodity, since cane sugar had to be imported. However,  by the beginning of the 18th century making sugar from Sugar Beets made sugar far more affordable, to the point where candy and treats could be purchased by the average person. Around this time Confectionery and Pastry shops would produce Easter Bunnies made of candy for Easter.
These Zuckerhasen…  Sugar Rabbits… were made by pouring red dyed melted sugar into hinged molds. The excess is poured out, leaving a coating of melted candy on the inside of the mold. After setting, the molds would be opened, and the Rote Zuckerhase would be popped out…. all ready for some lucky child. You could also get yellowish Rahmhasen (cream rabbits) made with melted sugar combined with cream and butter. The yellow Rabbits were a little softer and less brittle, because of the cream.
Watch Zuckerhasen being Made
Why Were the Rabbits made Red or Yellow?
The colors are highly symbolic of Easter time. Red symbolizes life… and Yellow, the bright sun after the dark night. While red dye would be added to the sugar for the Rote Zuckerhasen… the Rahmhasen just got their creamy yellow color from the addition of dairy products.
What Happened to the Zuckerhasen?
Nothing really HAPPENED to the Zuckerhasen, they just fell out of fashion a bit. In the mid-1950s, chocolate got cheaper, and more popular, so Candy Makers started using their Rabbit Molds for chocolate. Also, you can make a chocolate bunny with a machine… it takes a certain hands-on touch to make a Zuckerhase.
Finally, the Zuckerhasen faded away.
Today, there seems to be a small resurgence of interest in Rote Zuckerhasen. Nostalgia for old-fashioned candies is bringing them back. Also, they are being marketed to kids (and sweet toothed adults) with allergies to chocolate.
photo from WIkipedia Creative commons taken by Xocolatl
Buy a Zuckerhase HERE
These little Zuckerhasen stand around 4 inches tall…
Kerner's Traditional Red Sugar BunnyGerman Shop 24
Kerner's Creamy Brown Caramel Sugar BunnyGerman Shop 24
Kerner's Brown Sugar Bunny, Cola FlavorGerman Shop 24
Kerner's Sugar Bunny, BlueberryGerman Shop 24
Kerner's Sugar Bunny, WoodruffGerman Shop 24
I found this sweet story in the Augsburger Allgemeine about Hans-Joachim Kurkowski a German candy maker, who is slowly bringing the Zuckerhase back. Mostly by trail and error, and some tips from an older generation who still remembers making them. The article is in German… but if you read it in the Chrome browser, hit the 2 squares on the right end of the URL bar for a translation. – Ein Zuckerhase für die Oma 
Want to Make Your own Zuckerhasen?
Zuckerhasen Rezept and Instructions

http://www.krisenkueche.de/zuckerhasen-selber-machen-rezept/
You will need a Rabbit Mold…. find them HERE
Some of the antique molds are expensive. But most are reasonable.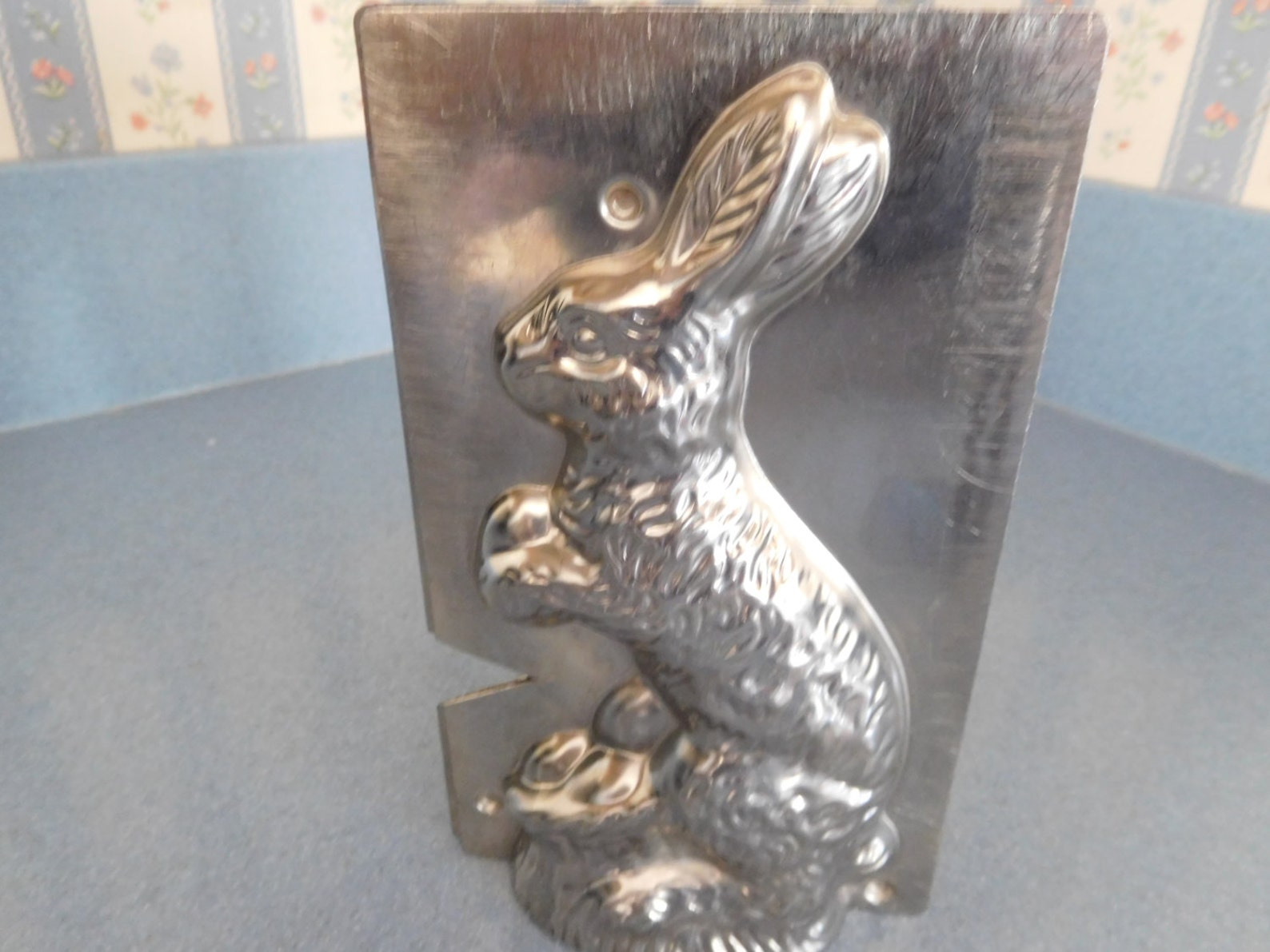 Vintage Antique Rabbit with Egg by Weygandt Vintage Metal Candy Mold #24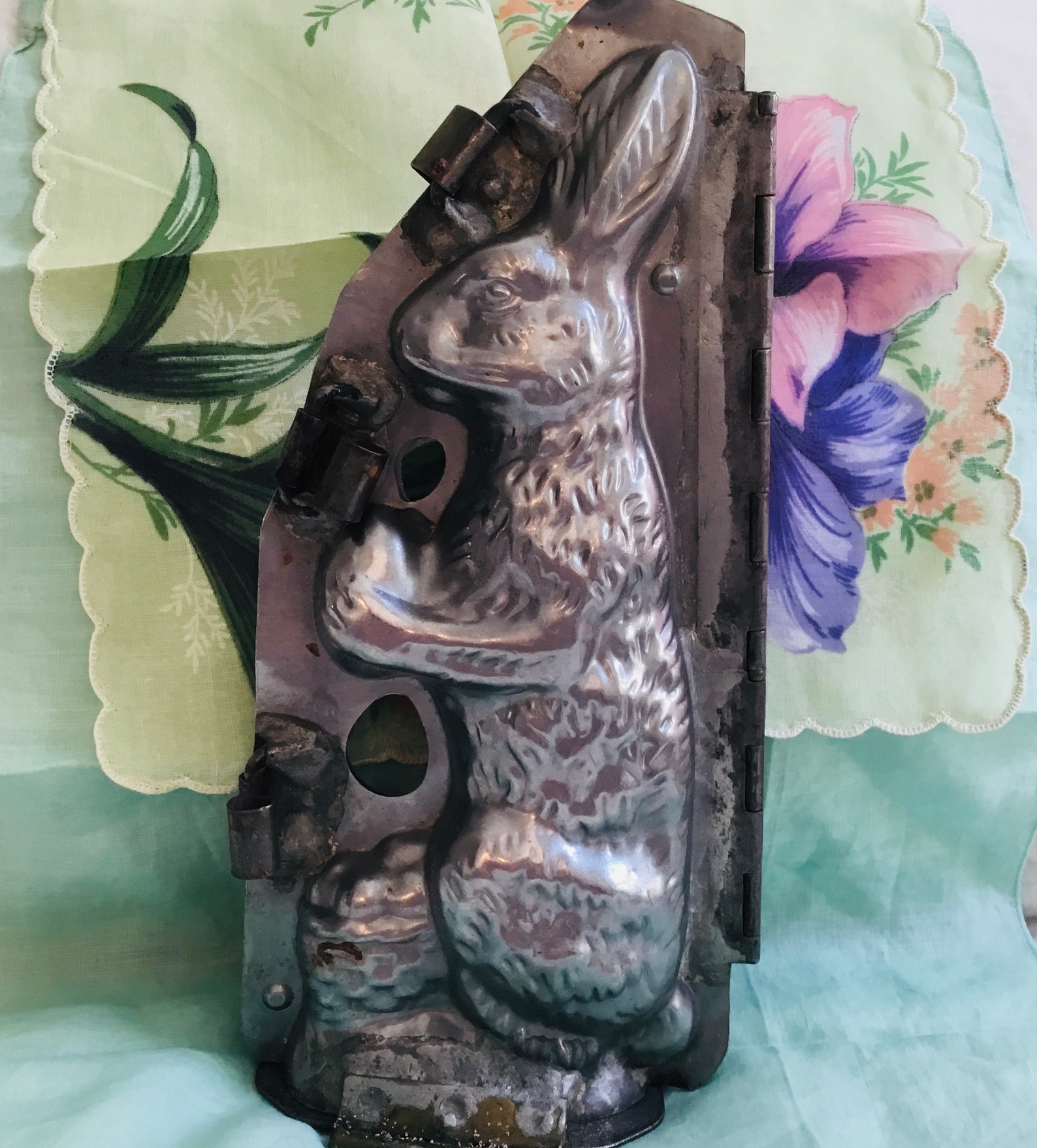 Antique metal ,chocolate ,rabbit mold