Best Travel Books Germany- Plan Your Trip with these Guides
As I may have mentioned before, I'm a planner and a list maker. This means that before I take a trip, anywhere, I do lots of research and get my travel plans organized. Travel is expensive, believe me, I know, so I don't want to waste time when I get there wondering…. "what do I do now?". Now, don't go thinking I have every minute of my day and night scheduled, I just like to have a basic plan or outline, so I can hit the ground running! To kick start my planning process, I always refer to guidebooks. When you look at the shelves in the bookstore, it can seem kind of overwhelming. Let me share some of my favorite Germany travel guide books.
Best Travel Books Germany
What makes a good Travel Guide book… to me, it isn't the listings of hotels or restaurants (these things will make a book dated rather quickly)… I love photos and insider tips. I am a huge fan of walking tours (with maps and noted sights along the way). I also like a guide book to have a little history or background about the region I'm visiting.
So you know… on longer trips, I carry one or two of my favorite Germany travel guide books. On shorter trips I photocopy pages (or cut out the pages I need) and take them along (with a map or two).
I have a habit of using a
portable accordian file
(just a slim 6 pocket one) for each trip I take. Information about different cities goes in each file, along with reservations I will need along the way. Reciepts and ticket stubs, brochures and business cards go back inside.

DK Eyewitness Travel Germany-
Hands down, my favorite Travel Guides of all time come from DK Eyewitness Travel. These guides have never let me down. The DK Eyewiness Travel Germany guide is FULL of information that any traveler would need. States and major cities are divided by a color coding on the page edge, so they are easy to find. Then within the state you get a breakdown of smaller cities, as well as maps. The smaller cities then have a Visitor Checklist, a map , and a numbered walking tour. Each location has a paragraph of information, including exact location, hours of operation, and even a phone number. For example… heading to North Rhine Westphalia? The first page is a history of the area, then comes a 2 page spread with walking information for the city of Münster, and then a driving tour of the surrounding area… as well as other cities in the state you will want to see.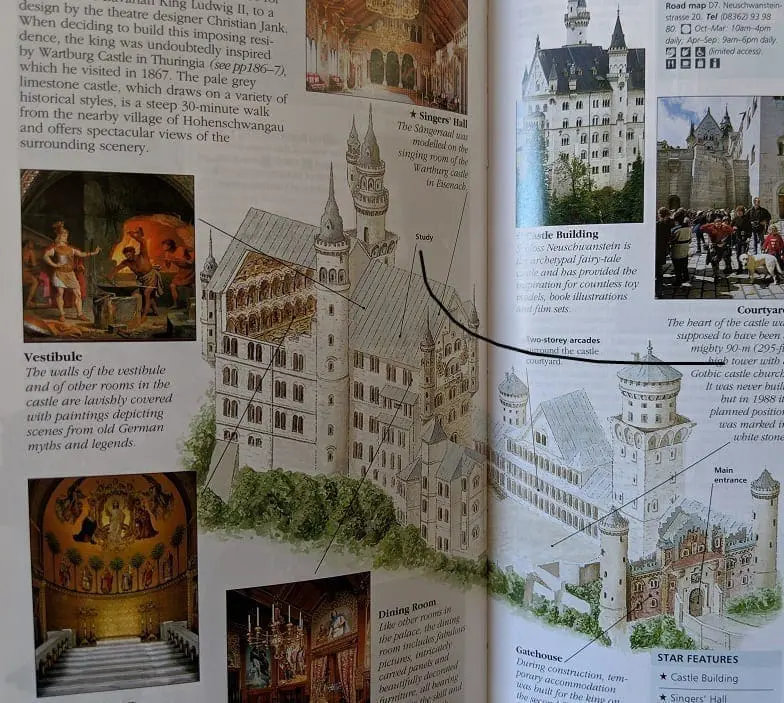 Photo taken of the DK Eyewitness Travel Guide Germany
The bigger the city, the more the book drills down. Heidelberg has a 3D image of the Castle, complete with tags showing what each part is, and when it was completed. The Gemäldegalerie Alte Meister (Dresden Gallery of Old Masters) shows the layout of the museum, including the exact locations of some of the major works with a bit of information about them. And the section on Wine Growing in Germany breaks down everything you ever wanted ot know about the different types of wines, and where they come from. This book is the next best thing to having a personal all knowing guide at your side (or in your pocket).
You will also find practical information… like post office hours and federal holidays. There is a chapter on restaurants and hotels, should you be looking.
Find the DK Eyewitness Travel Guide Germany Here–>
DK Eyewitness Germany (Travel Guide)

Rick Steves Germany
We all know Rick Steves from his travel show on PBS, but his books are LOADED with advice for planning your trip. You do get information about sites, but Rick focusses on the details… transportation, money, how to get as much out of your trip as possible, what to see, and what to avoid. He also updates his hotel and restaurant guides every year, so if you buy the latest book, you will be up to date on what's available. These books are focused on the budget conscious traveler who doesn't want to be encumbered by luggage or things (instantly, this makes it hard for me… I like packing more than 3 shirts… and I always need an extra bag for the things I buy to take home.). Still, if this is your first time in Germany (or your 5th) and you want that extra help without having to do the research yourself, these are the books for you. (I would suggest getting this book AND the DK Eyewitness Germany book to cover all bases).
Rick Steves Germany (2023 Travel Guide)

National Geographic Traveler Germany
When you are looking at National Geographic, your expectation is that the book will be loaded with FABULOUS photos, and it is. With National Geographic Germany, it's more about the experiences outside the cities. For example, the city of Münster gets a short page… but the Münsterland, and the area around Münster are quite detailed with facts and interesting things to do. This is the perfect Germany Travel Guide book for getting to know the countryside. Want to take a walk up to the Summit of the Brocken (where the witches gather at Walpurgisnacht)? You will find detailed information on walking or taking a train part of the way in either direction, along with a list of what is not to be missed, how hard the walk is, and how long it will take you. This is one of the few books to mention smaller interesting towns (like Bad Homburg) that are near the big cities. (This is why I have multiple books)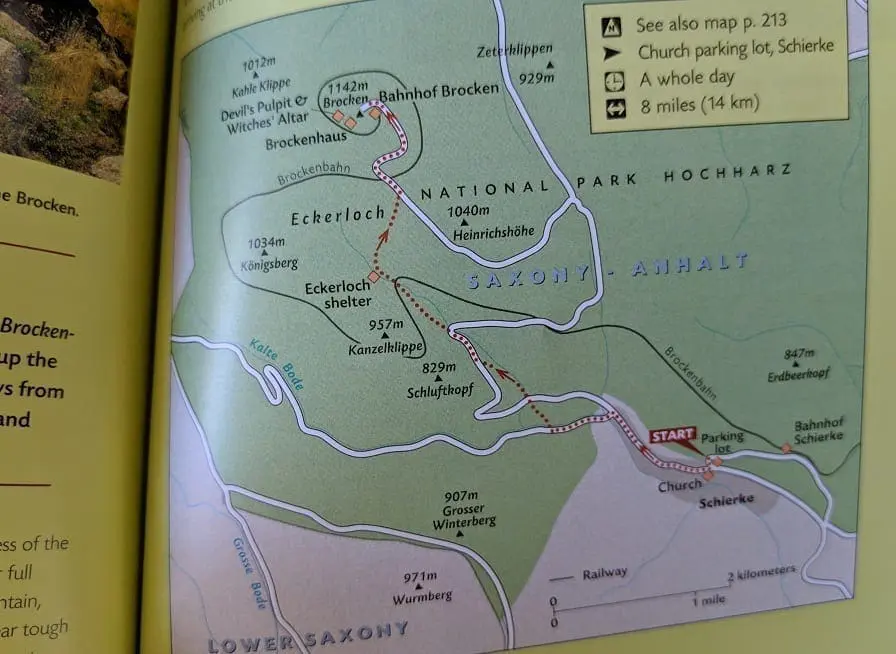 Photo taken of the National Geographic Traveler Guidebook
Again, there is also practical information. You will find some listings for hotels and restaurants by price in the blue section at the back of the book, as well as a few important vocabulary words.
Find the National Geographic Traveler Germany Guide Book here–
National Geographic Traveler: Germany, 4th Edition

DK Back Roads Germany
I really just picked up this book a week ago, and I'm completely excited by it. For part of my next trip to Germany we will be renting a car and driving. Back Roads Germany is the perfect way to make the most of your time on the road! Get off the Autobahn, and take the regular roads. Get to know the countryside! Each "drive" is completely laid out for you with distances and time it takes to travel… and there are highlights to visit along the way. It's like you have someone to hold your hand a bit, or nudge you into a direction you may not have considered. And don't think it's ALL about driving. The driving bit is just to get you there… walks and hikes are also described.  The book is filled with maps and pictures. It even recommends where to park (you may scoff… but it's not always obvious where to park in some cities). This one is going in the travel bag FOR SURE (all marked up!).
Back Roads Germany (DK Eyewitness Travel Guide)

Insight Guides Germany
The Insight Guides Germany book is more about history and maps. You do get a lot of background on each of the cities you might want to visit. Also, there are loads of maps showing the details of downtown areas. The book isn't broken down as much as the other guide books. It's almost like the story of a town or a specific area is being told… and then special names are highlighted and numbered to match the map. This book is fine for self-guided tours (especially if you are driving). For walks, it may be a little bulky, and the information travels over a few pages, instead of being all on one page. It could be a great book for reading at home, to get to know the areas you plan to visit… and find out what's near by.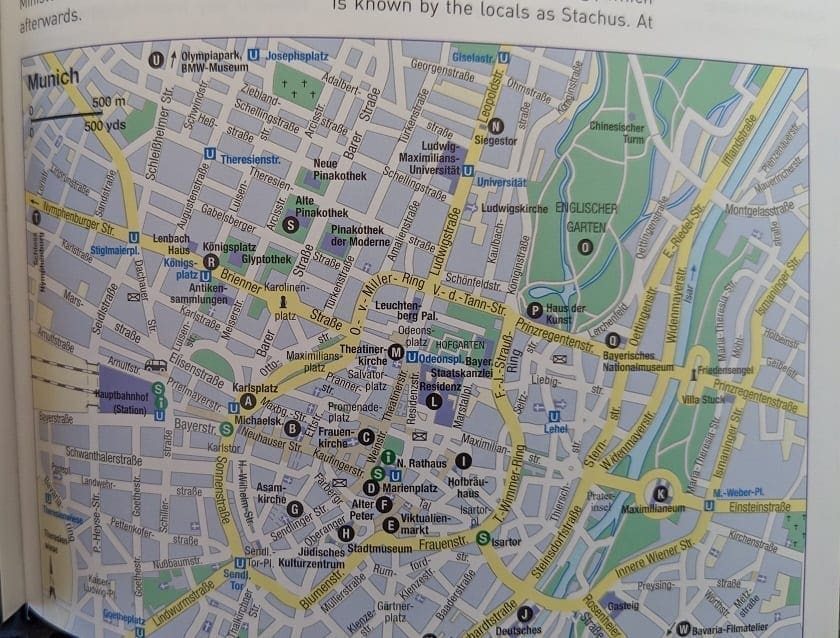 Photo take on Insight Guides Germany
You will find some travel tip about Germany in the back of the book, but Insight Guides do not list hotels. Some cafes or restaurants are mentioned in the description of the area, sort of as another feature.
Find the Insight Guides Germany book here–>
Insight Guides Germany (Travel Guide with Free eBook)

Berlin Walks
My daughter kept this book in her satchel at ALL times while studying in Berlin. This is the book you need when you really want to get to know a city well. There are guided walks through neighborhoods with turn by turn instructions (wonderful for exploring). Unlike the other guide books, I do appreciate the restaurant guides and suggestions, because they really know the neighborhoods (and she found some of her favorite cafes using the guide). A pull out map is included…
Moon Berlin Walks (Travel Guide)

And, of course… I LOVE MAPS
The Michelin map of Germany is HUGE! So I spread it out across the dining room table. This way I can really see where everything is, and how far it is from the next place I want to visit.
Bliss…. (And naturally, I do it with DRAMATIC FLAIR…. swoooosh, everything is swept aside, and the map is spread out.) I add those little sticky arrows to places I want to see. Then follow the roads with my finger to see what else is along the way.
Germany Map (National Geographic Adventure Map, 3312)

While searching the map… I double check my Brown Signs along the Autobahn book. Is there something worthy of getting off for? Usually there is. This little book tells you where all the brown signs are, and what you see when you get there.
Sehenswürdigkeiten entlang der Autobahn: Touristische Hinweisschilder – wofür sich ein Abstecher lohnt

Planning can be fun
As you can see, I LOVE planning my trips to Germany. For some of you, it may sound terrible… where's the spontaneity? Don't panic! I always leave space (you'll find me spending hours in a cafe, lingering with a coffee and cake)  and I'm flexible about changing things up. It's just that my time in Germany is often too short, so I want to make sure I don't miss something that's just off the road…. So. Guidebooks, notes…. make lists, then GO!